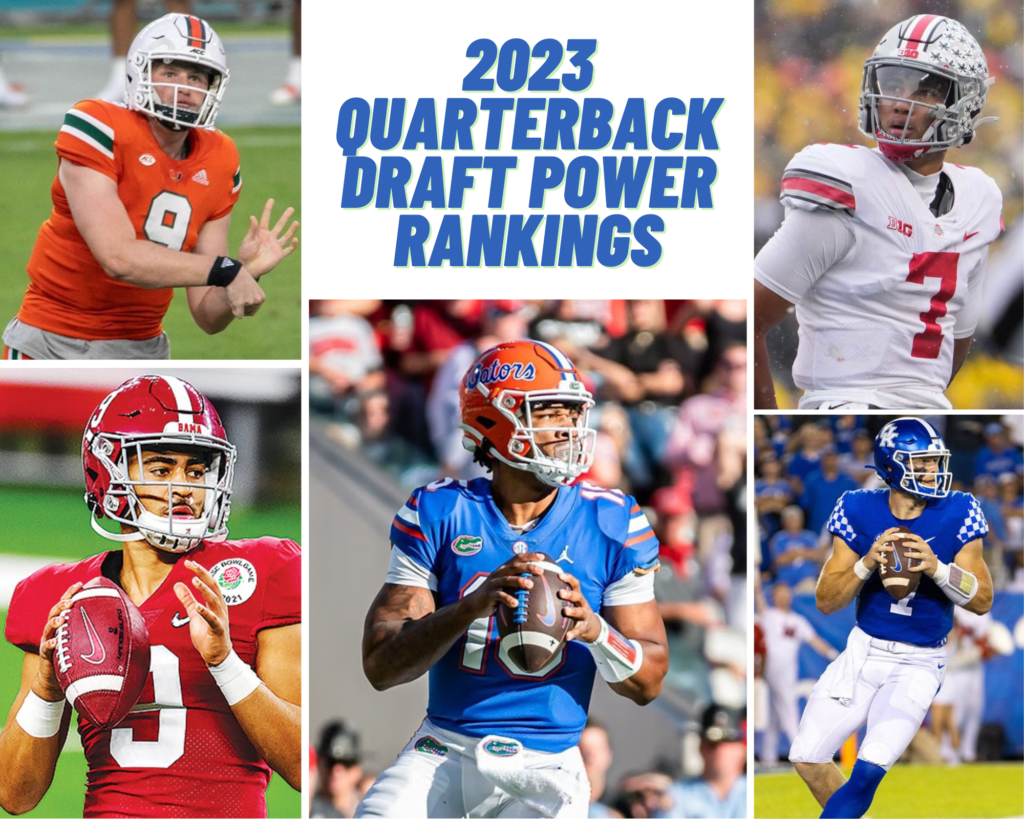 I will update these power rankings as we go along. It's a bit of fun — but also a review of how the players with first round potential are progressing through the season. It's also not a ranking. This isn't necessarily the order I expect them to be drafted (and it'd be too early to make any predictions anyway).
I will add names to the list if needed as we go along. It will only ever be the players I expect to garner first round interest, though.
#1 Anthony Richardson (QB, Florida)
There are a few reasons why Richardson tops this list. Firstly, the obvious physical tools. He's 6-4, 240lbs and runs like a gazelle. His scrambling touchdown against Utah — for 45-yards — showed off his speed and twitch as he made a final defender miss on the goal-line. He can improvise and extend plays because of his athleticism. His arm strength is top-level. He ticks every box in terms of traits. Then, there was the mastery of his offense. It's a pro-style scheme with a lot of motion, shifting and play-action. He was organising everyone at the LOS, making adjustments and just looked in complete control. He showed fantastic composure in the pocket and in his drops and led Florida to a big win against a difficult opponent. It's only one game, admittedly, but if he continues on this path he could be a contender to go as high as anyone in this class.
#2 Will Levis (QB, Kentucky)
It wasn't Levis' best performance against Miami-Ohio but there are reasons why I have him at #2. Firstly, he had to handle being hit or sacked seven times in the first half and came through the onslaught. Secondly, he flashed his big-time physical tools with one exceptional off-balance throw to the left sideline. Thirdly, he drove his team forwards. This is a Kentucky squad that has lost key players to the NFL and as we saw with the offensive line, they need to find answers. The quarterback is the glue that keeps them competitive. Then you see technical quality — the way he throws from a sound base, with his shoulders aligned properly and yet when he needs to deliver off-platform he has the traits to do it. After Richardson, Levis is the best package of physical tools and talent. The pair square off on Saturday in a box-office meeting between two top draft prospects. Finally, Levis' command of the Shanahan offense, having previously worked in the McVay scheme a year ago, is a real plus point for his pro-prospects.
#3 Tyler Van Dyke (QB, Miami)
You could easily put TVD at #2 for the control and natural talent he showed against the hopelessly overmatched Bethune-Cookman. He is a powerhouse thrower who also delivers passes from a strong base. His release is slightly elongated but the talent he shows as a passer is comparable only to Bryce Young. As noted yesterday, there were two throws in particular that leapt off the screen on Saturday — a fantastic touchdown throw dissecting three defenders and a brilliant lofted pass to the right sideline in behind two defenders. He has good footwork for a big man and can still get out of the pocket and make a play with his legs. There's a lot to like here, he deserves more attention. Since he took over the starting job, Miami has jumped to a new level. They might be the best team in the ACC. I just fear, when they play better teams, Mario Cristobal will play things too close to the chest on offense and do what he did at Oregon — resort to bubble-screens, slants and check-downs.
#4 C.J. Stroud (QB, Ohio State)
As I said in my write-up of the Notre Dame game, it's more of the same from Stroud. There's always been a flash of brilliance to him. He can fit throws into difficult windows, he makes passes that you expect top-level NFL passers to make. Throwing on the run he can, at times, be exceptional. He has the ability to make the trendy off-platform throws that teams love to see. He is athletic enough to scramble away from pressure, extend plays and produce some magic. His arm strength is good. His accuracy and decision making is just erratic though — far more than the three names ahead of him here. Against Notre Dame he skipped passes, threw behind, mis-read open plays, threw too high. On an intermediate level you just want to see more. The tools are there but his processing and execution needs to be more consistent.
#5 Bryce Young (QB, Alabama)
Alabama playing Utah State was a 'men against boys' moment on Saturday and Young had an easy afternoon. He still showed off what makes him an intriguing prospect. His processing is excellent and he is an accurate passer with clear natural talent. It's hard not to be impressed with the way he delivers the football — from his technique to his accuracy to his touch. That said, it's impossible not to wonder how teams will view a frame that is listed at 6-0 and 194lbs but might not even be that. When you have quarterbacks who run like Richardson and Levis at 230-240lbs, or you have a big gun-slinger with plus mobility in Van Dyke, or you have a slightly lighter but physically impressive Stroud — it's easy to think Young might be knocked for his size. Even Kyler Murray is 207lbs — which is still 13lbs heavier than Young's listed weight of 194lbs (I suspect he's more like 185-190lbs). He doesn't have the thick frame of a Murray, Russell Wilson or Drew Bees and it has to be noted. There isn't anyone like Young in the league who is succeeding and he lacks the physical traits of Wilson or the dynamism of Murray to compensate for a lack of size. Even so, he deserves first round chatter because as I said — he is a highly impressive, natural thrower of a football.
If you enjoy the content on Seahawks Draft Blog, why not consider supporting the site via Patreon? (click the tab below)