The Pro Football Network simulator is the best on the internet. None of the others come close really.
Last year we had a lot of fun playing around with it. The Seahawks had a cluster of picks in the first two days.
This year things are a little different with just three picks.
However, it's still a worthwhile exercise. Firstly, the ability to trade down presents scenarios where the Seahawks add stock. Secondly, while I disagree wildly with some of their rankings and projections, it does provide an opportunity to consider what might be possible in this draft.
I'm going to re-post my horizontal board. As you can see below, there are certain players such as the Texas A&M trio Kellen Mond, Bobby Brown and Buddy Johnson that I have ranked a lot higher than the PFN simulator: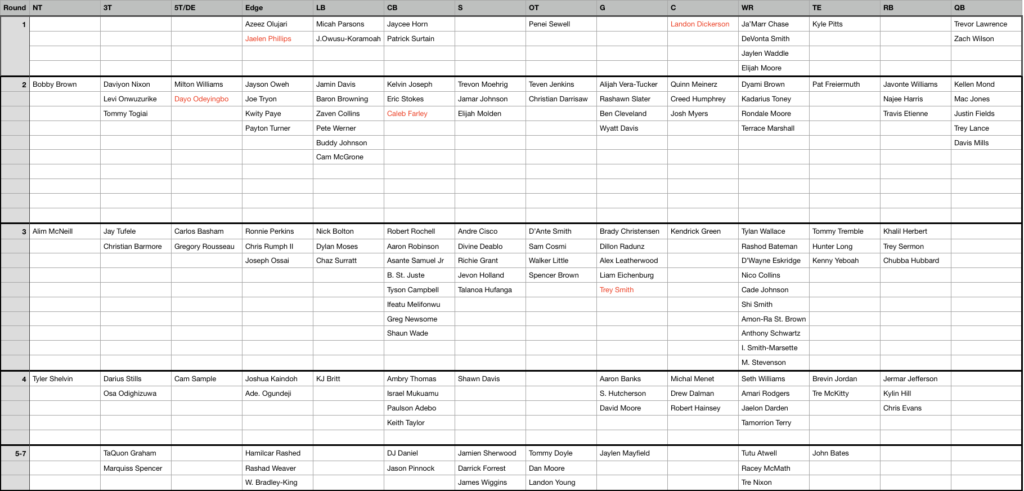 Other players, such as Quinn Meinerz, are nearly always available in round three. I can't fathom a situation where a highly explosive, long-armed center who excelled at the Senior Bowl lasts that long.
Yes — he's a small school prospect but so was Ali Marpet (who went in round two). Meinerz is more explosive than Marpet and he's bigger.
Nevertheless — I do think this is going to be a draft where we're somewhat surprised at the names available from round three onwards.
Therefore, it stands to reason that the Seahawks will trade down multiple times from #56 to fill out their board. In this simulation, that's what I wanted to portray.
Having played around with the simulator, it's possible to get the Seahawks to about 11 picks if you want to. I'm not sure this is realistic. Yet I wouldn't totally rule out a situation where the Seahawks basically punt on the top-75 and decide to take their chances in the second half of the draft.
Even so, it'll be incredibly painful to witness some of the names that will come off the board when Seattle should otherwise be picking.
One other thing to note is while many people are identifying Seattle's key needs, I suspect this might be a draft where a long-term view is taken. As we've discussed — the left and right tackle, center, tight end, both starting cornerbacks, free safety and other players are all out of contract after 2021. If Jamal Adams is extended, money will be tight.
The Seahawks have little choice but to try and solve some longer term answers in this draft. Remaining needs could be addressed in the free agent market afterwards.
Here's how the simulation played out:
#56 — traded to New Orleans for #60, #133
This is the kind of deal I wanted to kick things off. You don't have to move down too far but you acquire an extra pick. The target was to trade down multiple times, bit by bit, in order to keep adding stock.
#60 — traded to Houston for #67, #147, #233
Having originally moved down four picks, the Seahawks move down a further seven spots. Going from #56 to #67 has so far delivered three additional picks, doubling Seattle's stock. And they're still in the top-70. Perfect.
#67 — traded to Denver for #71, #191
One final deal before making a pick. The Broncos offered a 2022 pick to jump four spots but I bartered for #191 instead. It all means that while the #Seahawks won't make their first selection until #71 — at least they'll be able to add seven players from this class.
#71 — D'Ante Smith (T, East Carolina)
With Duane Brown out of contract after 2021 and approaching his 36th birthday, it's unclear how much longer he intends to play. Brandon Shell's contract is also up after this year, so it's worth spending a pick on a tackle to potentially fill either void. Smith ticks a lot of boxes. The Seahawks value length and he has 35 1/4 inch arms. He's a 2.97 TEF tester which is in their range for explosive traits. He had a superb Senior Bowl where he showed attitude and skill. Spencer Brown could be another option if he lasts into this range (he went the pick before in this simulation). Dan Moore at Texas A&M or Tommy Doyle at Miami (Ohio) are later-round alternatives.
#129 — Buddy Johnson (LB, Texas A&M)
Let me be clear — I don't think Johnson will last into round four. I think he deserves a second round grade. That said, I wasn't going to pass him up here simply to prove a point. If he's available at #129, the Seahawks might consider him to provide linebacker depth — especially with K.J. Wright unsigned. They've found linebackers who run elite short-shuttle times irresistible in the Carroll era. Johnson's 4.07 would put him in the top-10 among linebackers since 2010. On top of that, he jumped a 38.5 inch vertical and a 10-8 broad. He was incredibly popular at Texas A&M and while he's undersized (6-0, 230lbs) he plays big and physical.
#133 — Robert Hainsey (C, Notre Dame)
The center position is a tricky one to work out. It's the one position the Seahawks might be willing to take an offensive lineman with sub-33 inch arms. If Quinn Meinerz and Kendrick Green are available with their first pick, either could easily be the guy. Yet it's very possible the board works against them. Hainsey played right tackle at Notre Dame but switched to center at the Senior Bowl and received positive reviews. He's 306lbs with 32 1/8 inch arms and 9 7/8 inch hands. His TEF scoring was reasonable (2.97). He was a three-year captain and he's a tough, physical blocker. Drew Dalman was off the board prior to Seattle's picks in round four, removing an alternative target.
#147 — Israel Mukuamu (CB, South Carolina)
This is all about body type. You only have to look at him. He might as well have 'Seahawks cornerback' tattoo'd on his chest. There's been a lot of mocks and projections recently pairing the Seahawks with a cornerback at their top pick. Yet in the Carroll era, they've traditionally waited until this range to tap into the position. They like to target a profile. Mukuamu is 6-4, 212lbs with 34 inch arms. He has an 80 3/4 inch wingspan and was the only cornerback measured during the pro-day schedule with a +80 inch wingspan. The Seahawks are always willing to draft a player with his frame and length.
#191 — Tamorrion Terry (WR, Florida State)
The Seahawks could take a receiver earlier than this but rightly or wrongly, they might use the depth at the position to their 'advantage' again this year. Terry is a terrific athlete who looks the part. He can get downfield. The Seahawks only really target receivers who run a 4.4 or faster and he ticks that box (4.45). He's nearly 6-3 and 207lbs with long 33.5 inch arms. He's certainly got to reach a level of consistency to make it in the NFL but he's also got a shot to be really good. You don't often say that about players going in this range. I'm really torn on how Seattle might approach receiver in this class. There are so many productive slot types — and they could do with one of those.
#233 — Jason Pinnock (CB, Pittsburgh)
Pinnock's a shade under 6-1 and 204lbs with 32 3/8 inch arms. He ran a 4.49 at pro-day and then added a 39.5 inch vertical and a 10-8 broad. Pinnock looks the part but he's allowed six touchdowns of +25 yards since 2019. Staying 'on top' is a big deal for the Seahawks and those numbers are somewhat concerning. Yet in this range, it's no risk at all to take on the body type and profile and see if you can create something.
#250 — John Bates (TE, Boise State)
This pick came down to Chris Evans or Bates. Evans as a running back has the explosive traits they love. They're always willing to draft an explosive inside runner with untapped potential. He could be an UDFA target or maybe they find a way to get back into round seven to get both. I went with Bates because he's an in-line blocker who ran a superb three cone and short shuttle. That's the kind of tight end Seattle drafts. His 6.85 three cone at 250lbs is remarkable. As with Buddy Johnson and his short shuttle time, they might find Bates too good to pass.
Full draft class
#71 — D'Ante Smith (T)
#129 — Buddy Johnson (LB)
#133 — Robert Hainsey (C)
#147 — Israel Mukuamu (CB)
#191 — Tamorrion Terry (WR)
#233 — Jason Pinnock (CB)
#250 — John Bates (TE)
If you missed my interview with leading draft insider Tony Pauline yesterday, check it out below (and subscribe to the YouTube channel):
You can now support Seahawks Draft Blog via Patreon by clicking the tab below