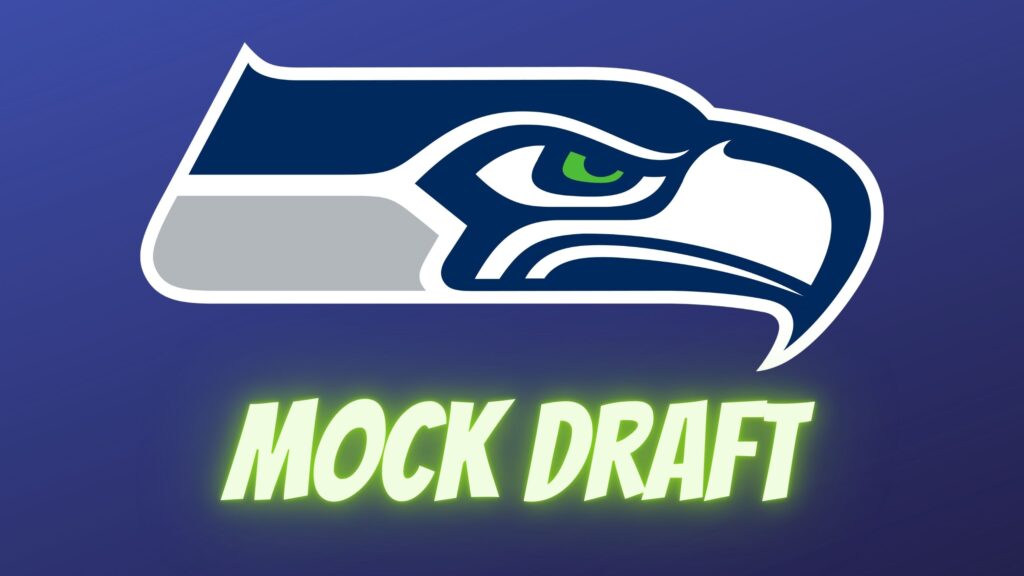 Time for my second mock with the Seahawks currently in a very interesting position with the #3 and #12 picks in the draft.
I've included two trades in this latest projection, one involving Seattle.
The focus is very much on the trenches. Since the game in Germany, the Seahawks have been dominated up front on both sides of the ball. They simply haven't been competitive on the O-line or D-line during this 1-5 run. If that doesn't change in the future, they will continue to be a mediocre team.
I will post the mock below with a blurb for each pick. I will then include projections for Seattle's picks in rounds 2-3 before producing the full first round in list-form.
Mock draft #2
#1 Houston — Will Levis (QB, Kentucky)
Levis has the physical tools, the character and potential to be another Josh Allen or Justin Herbert. For those reasons, he has a chance to go first overall. Don't focus on his 2022 numbers playing behind an O-line that gave up four times as many sacks per game as any of the other top QB's in this class, while playing in a pro-style offense and not one of the wide-open spread schemes many of the others featured in. Mahomes, Allen and others all had issues in college. The key is to project and Levis projects very well to the league.
#2 Carolina (v/CHI) — Anthony Richardson (QB, Florida)
Owner David Tepper has been seeking 'special' at the position for several years. Richardson has special qualities. The Panthers have a good defense, O-line and a talented top receiver. They can justify trading up to try and find 'the guy'. They give the Bears an attractive package that includes a 2024 first round pick.
#3 Seattle — Jalen Carter (DT, Georgia)
This would be an ideal scenario for the Seahawks. They badly need an interior disruptor. Will Anderson is more of a project as a 243lbs EDGE or OLB and while he would likely be the alternative pick, Seattle already has players like that on the roster that they haven't been able to develop. Carter's reported character question marks, per Todd McShay, are a concern and there are no such issues with Anderson. Yet it's been too long since Seattle had someone who can blow things up from the inside.
#4 Arizona — Will Anderson (EDGE, Alabama)
The Cardinals will likely do cartwheels if Anderson lasts to this spot. They badly need a quicker edge who can fill the void left by Chandler Jones.
#5 Indianapolis — Bryce Young (QB, Alabama)
Being about 5-10 and 185lbs will be an issue for Young and could lead to a slight fall. Yet with so many teams desperate at quarterback he would provide a winners mentality, leadership and natural ability to a mess of a franchise.
#6 Atlanta — Bijan Robinson (RB, Texas)
GM Terry Fontenot has been very consistent so far as a 'BPA' GM. He's also collected skill players in the previous two drafts. Some Falcons fans will hate this pick but Robinson has a truly special skillset, will likely be the highest graded player on some boards and could help create one of the most dynamic offensive rosters in the league with Drake London and Kyle Pitts. He does everything well, a brilliant player.
#7 Detroit (v/LA) — Michael Mayer (TE, Notre Dame)
It might seem redundant to trade T.J. Hockenson only to select another tight end in the top-10. However, Mayer is just an absolutely fantastic player who fits the mentality of the Dan Campbell Lions. He is a complete tight end.
#8 Chicago (v/CAR) — Tyree Wilson (DE, Texas Tech)
The Bears trade down to acquire needed stock for their rebuild. It's really hard to justify any offensive lineman here and the feeling is the league loves Wilson's combination of size and amazing length. Chicago has a lot of cap space to improve their O-line.
#9 Las Vegas — Quentin Johnston (WR, TCU)
This isn't an ideal spot for the Raiders, just missing out on some players they'd probably covet. Johnston will produce an elite combine performance and likely propel himself into the top-15.
#10 Philadelphia (v/NO) — Myles Murphy (DE, Clemson)
He's an excellent athlete with good size but the truth is he's a pussycat. He plays in flashes only and you can get after him in the running game.
#11 Houston (v/CLE) — Jalin Hyatt (WR, Tennessee)
His ability to create late separation by going into a sixth gear is extremely impressive.
#12 Washington (v/SEA) — CJ Stroud (QB, Ohio State)
Although this franchise recently wasted a pick on a quarterback from Ohio State, the Commanders are in a desperate position. They are competitive but the constant question marks at QB are an issue. If one of the 'big four' starts to fall, they will surely be tempted to make their move. Jobs are on the line unless they find a good QB. They give the Seahawks pick #53 and a third round pick in 2024 to move up.
#13 Tennessee — Peter Skoronski (G, Northwestern)
For me he's a pure guard rather than a tackle. I think he's a bit overrated and I don't think he'll go as early as some are predicting. With the top two receivers off the board, the Titans pivot to the O-line.
#14 New England — Joey Porter Jr (CB, Penn State)
Great bloodlines obviously but Porter Jr's personality is the polar opposite to his father. He's extremely grounded and likeable. I think teams will love his size, competitive nature and ability to recover and play the ball.
#15 NY Jets — Brian Branch (S, Alabama)
He's a Rolls Royce in coverage at times who can line up in the slot and cover. He occasionally packs a punch as a hitter. He's a very versatile player who can line-up in a variety of positions.
#16 Pittsburgh — Mazi Smith (DT, Michigan)
Just the kind of player you can imagine the Steelers loving. He will destroy the combine with his testing, he's incredibly disruptive and can anchor from the nose.
#17 Green Bay — Darnell Wright (T, Tennessee)
An incredibly underrated tackle who deserves far more attention. He shut-down Will Anderson.
#18 Detroit — Christian Gonzalez (CB, Oregon)
The Lions have a 'type' and the sparky Gonzalez just fits it like a glove. Very athletic, very competitive.
#19 Tampa Bay — Calijah Kancey (DT, Pittsburgh)
The closest thing to Aaron Donald since 2013. Even so, some teams will be cautious about drafting a 280lbs defensive tackle with short arms. I suspect whoever has the bollocks to draft him won't regret it.
#20 Jacksonville — Jordan Addison (WR, USC)
The Jaguars are building nicely and can afford to draft a player to further enhance Trevor Lawrence's chances of becoming a top player.
#21 Seattle (v/WAS) — Sedrick Van Pran (C, Georgia)
The more I've watched of Van Pran the more impressed I've been. Seattle's blocking scheme hasn't called for a big investment at center and I do wonder if that will make this unlikely. They've basically written off the position for years, too. However, they need to be better in the trenches. Van Pran has an outstanding combination of power, aggression, an ability to progress to the second level and I suspect he can play in any system. For me, he's the top center eligible for 2023.
#22 Miami — forfeited
With the season imploding for Miami, this is a big loss.
#23 NY Giants — Cedric Tillman (WR, Tennessee)
Tillman's body control, size and quickness make for a very intriguing prospect.
#24 LA Chargers — Bryan Bresee (DT, Clemson)
I think a fall for Bresee is possible. He simply hasn't been able to stay on the field consistently and his play is so erratic. You see great flashes from a brilliant athlete but there's also a lot of 'meh' tape.
#25 Baltimore — Kelee Ringo (CB, Georgia)
Great size, great speed and he had some tremendous plays on tape. He was also beaten far too often in 2022.
#26 Denver (v/SF) — Cam Smith (CB, South Carolina)
A gritty player with good length and an ability to stick in coverage. I think some teams are really going to like him.
#27 Dallas — Devon Witherspoon (CB, Illinois)
Intensely competitive and he put together a very impressive 2022 season. Testing will determine how early he goes.
#28 Cincinnati — Paris Johnson Jr (T, Ohio State)
I don't really understand Johnson Jr being mocked in the top-10. For me he's an OK prospect who will need great testing numbers to reach those heights. I have him in round two as a grade. The Bengals need to keep building their O-line.
#29 Kansas City — Zay Flowers (WR, Boston College)
His change of direction ability is unmatched. Flowers is a tremendous player who could do real damage in a prolific, creative passing attack.
#30 Minnesota — K.J. Henry (DE, Clemson)
For all the hype surrounding Murphy and Bresee — it was Henry who was the most consistently disruptive and reliable this year.
#31 Buffalo — Lukas Van Ness (DE, Iowa)
He's big and strong and looks like a Disney character with his helmet off but there's something there. How do you judge a flash player though who wasn't a full-time starter who moved around the line? His testing will dictate his stock.
#32 Philadelphia — D.J. Turner (CB, Michigan)
As the year went on he gave up a few plays but the combine will be a big day for Turner given his excellent athleticism.
Seattle's day two picks
R2 — #36 — J.L. Skinner (S, Boise State)
Skinner is a player I can well imagine the Seahawks see as a 'must have'. I'm not one for hyperbole but he's the closest thing we've seen to Kam Chancellor since the 2010 draft. He's a big, rangy safety with great length who delivers an absolute killer blow in the open field. He will strike fear into the hearts of any receiver tasked with running a crossing route. He sifts through traffic brilliantly before drilling a ball-carrier. His coverage ability is very good too and he had four interceptions in 2022. He screams 'Seahawks' and it's time for Seattle to revamp the safety position and get younger, quicker, healthier and more violent. I did contemplate taking a receiver here for the value — with Jonathan Mingo and Josh Downs being the two players I seriously considered.
R2 — #50 — Jordan McFadden (G, Clemson)
I think he's such a tremendous player and better than the other offensive linemen being highly touted. He played left tackle in 2022 but his natural home is at guard. He's only 6-2 and that helps win many leverage battles but he has fantastic length for his height (reportedly around 34 inch arms) which Seattle really focuses on. For me he had a terrific year at tackle and he'd be an excellent option to kick inside. I've been thinking the Seahawks wouldn't spend big on their interior line but it's played so poorly over the last few weeks I have them taking a center and a guard in the top-35.
R2 — #53 (v/WAS) — Byron Young (DT/DE, Alabama)
This is the pick acquired from Washington for moving down from #12 to #21. As with McFadden, Young is such a massively underrated player. I've watched all of Alabama's games from 2022, as I've done with Clemson and their D-line. Young had impact plays every single week. He constantly broke into the backfield to disrupt. He had a couple of games where he threatened to takeover and while his stat line (four sacks, 5.5 TFL's) doesn't speak to his impact — it was well and truly there. He played the edge for Alabama at 6-3 and 292lbs and occasionally kicked inside but at the next level he'd be an ideal 3-4 DE or a potential three-technique. Is he ever going to be a game-wrecking dynamo in the NFL? No. What he will bring is consistency, a surprising number of pressures, an ability to hold the point of attack and help defend the run and he'll attack his gap to move quarterbacks off the spot. I can well imagine him, in this scenario, lining up very close to Jalen Carter and causing chaos as a duo due to the 1v1 matchups he'd receive.
R3 — #81 — Chris Rodriguez (RB, Kentucky)
It feels like the Seahawks need to add a partner in crime for Ken Walker. I seriously considered UCLA's Zach Charbonnet in round two. I think he's a player the Seahawks will love due to his combination of explosive traits, size and ability to run through contact. Kenny McIntosh could be another player they covet. A player described, literally, as a 'BAMF' by his coach Kirby Smart — McIntosh's ability as a pass-catcher complements an aggressive running style that would work together as an ideal third-down runner who can spell Walker. However, I think both players will be off the board by this point. Rodriguez wears #24 and idolises Marshawn Lynch. He has tried to copy his playing style and it shows. There are so many games on tape where you sit up in your seat and feel like you're watching a poor man's Marshawn. He carries tacklers, drives through contact, finishes every run and would be a tremendous battering-ram partner for Walker.
Seattle's picks
Jalen Carter (DT, Georgia)
Sedrick Van Pran (C, Georgia)
J.L. Skinner (S, Boise State)
Jordan McFadden (G, Clemson)
Byron Young (DE/DT, Alabama)
Chris Rodriguez (RB, Kentucky)
What are you getting from this group? Reinforcement in the trenches. Increased toughness on both sides of the ball. Aggressive, tone-setting players at positions of need. Players with the potential to be contributors early.
First round in list form
#1 Houston — Will Levis (QB, Kentucky)
#2 Carolina (v/CHI) — Anthony Richardson (QB, Florida)
#3 Seattle — Jalen Carter (DT, Georgia)
#4 Arizona — Will Anderson (EDGE, Alabama)
#5 Indianapolis — Bryce Young (QB, Alabama)
#6 Atlanta — Bijan Robinson (RB, Texas)
#7 Detroit (v/LA) — Michael Mayer (TE, Notre Dame)
#8 Chicago (v/CAR) — Tyree Wilson (DE, Texas Tech)
#9 Las Vegas — Quentin Johnston (WR, TCU)
#10 Philadelphia (v/NO) — Myles Murphy (DE, Clemson)
#11 Houston (v/CLE) — Jalin Hyatt (WR, Tennessee)
#12 Washington (v/SEA) — CJ Stroud (QB, Ohio State)
#13 Tennessee — Peter Skoronski (G, Northwestern)
#14 New England — Joey Porter Jr (CB, Penn State)
#15 NY Jets — Brian Branch (S, Alabama)
#16 Pittsburgh — Mazi Smith (DT, Michigan)
#17 Green Bay — Darnell Wright (T, Tennessee)
#18 Detroit — Christian Gonzalez (CB, Oregon)
#19 Tampa Bay — Calijah Kancey (DT, Pittsburgh)
#20 Jacksonville — Jordan Addison (WR, USC)
#21 Seattle (v/WAS) — Sedrick Van Pran (C, Georgia)
#22 Miami — forfeited
#23 NY Giants — Cedric Tillman (WR, Tennessee)
#24 LA Chargers — Bryan Bresee (DT, Clemson)
#25 Baltimore — Kelee Ringo (CB, Georgia)
#26 Denver (v/SF) — Cam Smith (CB, South Carolina)
#27 Dallas — Devon Witherspoon (CB, Illinois)
#28 Cincinnati — Paris Johnson Jr (T, Ohio State)
#29 Kansas City — Zay Flowers (WR, Boston College)
#30 Minnesota — K.J. Henry (DE, Clemson)
#31 Buffalo — Lukas Van Ness (DE, Iowa)
#32 Philadelphia — D.J. Turner (CB, Michigan)
If you enjoy the blog and appreciate what we do — why not consider supporting the site via Patreon — (click here)