This is a guest post by Curtis Allen…
In anticipation of a very intriguing offseason, we have covered the Seahawks' salary cap situation from the summer to the fall.    
As has been stated several times, the Seahawks do not have as much cap space for 2023 as has been discussed in the general media.  In fact, some difficult decisions are going to need to be carefully considered by the Seahawks.  Every option should be thoroughly explored.
With the season over, it is now time to take a serious look at what the team is facing.  Decisions made this year will have a ripple effect into 2024 and 2025, which will be crucial years for the franchise.  Particularly given the young, talented and inexpensive base the team is currently building.  They could set themselves up in a timely manner for much bigger things or handcuff themselves badly.
We will get into that shortly.  For now, where do the Seahawks stand as far as cap space is concerned?  Get out your knife and fork and let's dig in.  
Here is a brief snapshot to get started with:
There is a lot there.  Let's start from the top and work our way down.
Overthecap (OTC) projects the salary cap and deducts the known information of contracts already on the books for 2023.  They have the Seahawks with 36 players on their roster and have $48 million of cap room available to spend on 15 players to fill the roster out to 51.
Before we get into any player transaction discussion, we need to update that cap number with a couple of contract adjustments that OTC has yet to account for.
Damien Lewis gets a Proven Performance Escalator for 2023 for his playing time on his rookie contract.  Lewis has earned the RFA tender amount of $2.629 million plus $250,000 for his playing time, for a total salary of approximately $2.879 million.  Add that to his bonus proration and Lewis' cap hit in 2023 is approximately $3.16 million, an increase of $1.6 million on the cap.
Geno Smith has $3.5 million on the cap for incentive money earned in 2022.  Where did that come from?  If you recall, Smith signed a one-year contract with the Seahawks last year for $7 million.  We found out later that $3.5 million of that was salary and the other half was earnable through incentives.  These incentives are classed as Not Likely To Be Earned (NLTBE) incentives and as such are charged to the 2023 salary cap.
Bob Condotta confirmed Geno earned all the incentive money.
Moving on, we have the draft picks.  This year, with the quantity and quality of their picks, the Seahawks need more cap room than normal for their draft pool.  OTC projects their nine current draft picks as costing them $16 million on the cap.
Ryan Neal is a Restricted Free Agent and with his excellent year is a lock to be tendered this offseason with a contract to keep him a Seahawk in 2023. I chose to give him the Second-Round tender of $4.3 million instead of the Right of First Refusal tender of $2.629 million, given his excellent play and the extent of Jamal Adams' injury. They will want to protect their interests should Neal get a healthy offer from another team.
That brings us to a subtotal of $23 million in cap room with 46 players under contract.  They need 5 more players to fill out the 51-man roster.
I set aside $10 million for a contingency fund.  The Seahawks need to keep some money on the books during the season for practice squad players and to replace players that go on Injured Reserve.  There is also some churn at the bottom of the roster during the season – an $800k player replacing a $775k player in the top 51 that count towards the cap, etc.  
It is also beneficial to have a little bit of a slush fund to cover some incentive bonuses and acquire some players through trade or as street free agents during the season.
Next, we come to what I am calling 'Key Players'.  Those five spots on the roster are important, if not critical.  I put in $18 million spent on those guys.  Where did I get that number from?  I took it from the 2022 cap hit of players and positions not currently on the 2023 roster but had key roles on the team:  Jason Myers ($5m), Rashaad Penny ($5.6m), Nick Bellore ($2.75m), Cody Barton, Tyler Ott and Travis Homer ($1m each) and rounded up for inflation.
All those players will need to be re-signed or replaced.  It is a reasonable expectation that the Seahawks can do that for a cumulative total of $18 million.
That leaves us over our cap limit by $4.9 million.
Are All These Numbers Carved in Stone?
Absolutely not.  For one, the cap is always fluid.  We are just working with what we have at this moment in time.  There's also some fat built into the projection.  I will also never claim to have every single inch of the ins and outs of the cap covered perfectly.
There are some areas where I am likely overestimating the impact.  The league might provide a salary cap number higher than what OTC is projecting.  The Seahawks' cap rollover from 2022 might be more due to some incentives not being reached (the prelim number is $1.59 million).  The team might trade down in the draft, reducing the cap impact.  Having $10 million in the contingency funds might be too excessive.
Maybe they feel Ryan Neal's market will only merit the $2.629 million tender?
And those Key Players?  Perhaps the Seahawks can use some rookie players in those roles – costs which are already accounted for in the draft pool money.  Maybe they offer Penny a contract for far less and he accepts it.
You get the idea.
When we are looking at the big picture though, overestimating is a healthy exercise.  Having some cushion for expenses is always wise. As is building team depth. 
For instance, the Seahawks could not have possibly budgeted their 2022 season in January on starting a fifth-round rookie, a fourth-round rookie and a street free agent at cornerback.  They put $5 million into the position by getting Sidney Jones, Justin Coleman and Artie Burns.  All of them ended up being mostly unnecessary but it was wise to have some depth on the roster for coverage.
So, a little sandbagging is in order.  Budgeting on the razor's edge is not a fruitful exercise.  
Also, in most instances, a million saved here and there is beneficial but in the big picture it does not tip the scales and turn a team into a Super Bowl contender.  
In fact, it pales in comparison when you consider…
The Seahawks Need a Quarterback on Their Roster
That's right.  You probably have noticed the Seahawks do not have a veteran quarterback on the roster or in this plan yet.
They have already overextended themselves in this projection and they will need to find some money to bring in a veteran.  That is where the challenge lies and some tough decisions need to be considered.
Geno Smith.  His best play might be to stay in Seattle.  The system, the talent on the roster and the coaching staff presents him with the best option for success.
The Seahawks' best play might be to bring Geno back for at least another year.  He has demonstrated chemistry with the receivers and the tight ends and knows the system.  Even if and when the Seahawks draft a top quarterback this spring, having Smith on the roster benefits them in a number of obvious ways.
The question is then:  Can the Seahawks craft a contract he would consider that pays him market value, does not cause too much damage on the 2023 cap and has some options in 2024 for the Seahawks to move on?
We have worked up a contract that can meet all those requirements.  Granted, it is bold and very aggressive.  But the framework of the deal presents a workable path forward for both sides.
Let's select the 3-year, $75 million option and put Geno Smith down for a $9 million cap hit in 2023 (we will address the big cap hit in 2024 shortly).
With our earlier deficit, that means the Seahawks now need to find $13.9 million of cap room on the roster in order to get their heads above water.
Where can they get that kind of cap room?  Let's go to work.
The Options Available to Them
The first option to gain cap room is by cutting Gabe Jackson.  He has an $11.2 million cap hit in 2023 and $6.5 million of that can be reclaimed by cutting him loose.  
This appears to be an easy choice.  He has struggled to stay on the field this year, frequently splitting reps with Phil Haynes.  In fact, he was only able to play 100% of the snaps in five games in 2022.  His PFF grade (54.8), his age and his large cap hit all make for some low-hanging fruit.
The second option is in a similar boat but is a harder choice to cut:  Shelby Harris.  I personally like Harris but he will count for $12.27 million on the cap in 2023 and the Seahawks can gain $8.9 million by cutting him before March 22, when a $2 million roster bonus is due.  They likely would do it well before then in order to give Harris a chance to get a jump on the new league year that starts March 15th.
Between those two players the Seahawks will have created $15.4 million of cap room, enough to handle Geno Smith's cap hit, cover the deficit and give the team about a $1.5 million surplus.
The concern though:  Cutting players to save cap dollars is an obvious option but it should not be taken lightly.  There is a downside, in that you now must replace those players on the roster.  Which usually means more cap outlay.  
If there is one lesson we all must understand about the salary cap more clearly, it is this:  when you pull on one lever oftentimes that moves another lever.  Actions and reactions.  Rarely is anything done with just one simple motion.
Perhaps both Jackson and Harris' spots can be covered by draft picks.  Perhaps Jake Curhan is ready to step in as the starting Right Guard? Perhaps the Seahawks can bring Exclusive Rights Free Agent Myles Adams back for less than a million dollars and he can step up in a major way and take most of the 55% of defensive line snaps that Harris' exit has created and provide consistent play?
As we discussed above though, it can be a very dicey proposition to plan on young players making big, big leaps in the upcoming season.  Even more so when you figure that the Seahawks' biggest weaknesses in 2022 were the interior lines of both sides of the ball.
Planning to weaken the lines and then fill them with mostly untested players would very likely result in the same kind of play in 2023 we have witnessed the last few seasons.  The Seahawks need more.  Particularly when you consider the potential of 2024 and 2025.
They would be very wise to explore all the options available to them for improving both lines and thus the team.
Which brings us to our two favorite punching bags.  The Seahawks have 100 million reasons to strongly consider their future with the team right now.
The Options with Jamal Adams and Quandre Diggs
Adams and Diggs will account for $36.2 million on the cap in 2023 and $38.7 million in 2024.  Adams also has an additional $24.61 million commitment for 2025, making it a staggering $99.51 million of cap space for these two players.
Considering recent performances, injury history and the Seahawks' lack of resources for other positions, it would be negligent if we did not work through what the options are going forward.
We covered the options for Adams extensively in this post:
Cut Adams outright.  That means all $23.89 million hits their cap in 2023 and they are clean going forward.  There is no cap saving in 2023.  In fact, that is about a $5.8 million extra hit on the cap.  Doable — but that restricts your available room.
Cut Adams with a June 1st designation.  This would split the dead cap between the next two years, with approximately $9.69 million hitting in 2023 and $14.2 million hitting in 2024.  This would open up $8.44 million for the team to spend in 2023 after June 1st.
Contact Adams and initiate talks to renegotiate his contract.
Cutting him outright is not advisable at this point.  It would cost them extra money on the cap in 2023.
The other two options have potential.  Cutting him with the June 1 designation and splitting up the dead cap is doable.  If the Seahawks choose to make a move this year, they could easily reason that they have given Adams three seasons to reward their faith in him and made the hard choice to move on.
Renegotiating could be a way to give Adams another chance to stay on the roster and rehabilitate his value with a good season free of major injury.
For instance, the Seahawks could tell Adams that he will have to play on his guaranteed $2.56 million salary if he wants to stay on the team this year.  For 2023 that would create the same $8.44 million in savings as if Adams was cut June 1.  In fact, it might be a better option since it would free the cap space immediately, whereas the June 1 cut space would not be available until June 2, after the draft and the bulk of the free agency season is completed.   Even better if Adams rewards them with a good season.
Admittedly, getting Adams to agree to that amount is a whole other conversation though.
Again, I cannot emphasize this enough:  the Seahawks must address Adams' contract in one way or another this offseason.  There is no justification for not considering all the options, no matter what Pete Carroll says about looking forward to having Adams back this fall.
What about Quandre Diggs?
He will count $18.1 million against the cap in 2023.  Given his performance this year – even accounting for plenty of time to recover from a leg injury and that crucial interception in the Rams game – that big cap number bears a close examination.  
Pete Carroll made a little Freudian slip two weeks ago when commenting about Diggs' interception and his celebration during live play in the Jets game when he said Diggs 'has come alive with his playmaking' – a tacit admission that the Seahawks had long stretches with pedestrian play from their star free safety.  Indeed, the number of missed tackles and the lack of sparky plays add up to make 2022 not one of his better seasons, despite the Pro Bowl nod.
Spotrac has a note on Diggs' contract: his 2023 salary becomes fully guaranteed on the fifth day after the waiver period begins (after the Super Bowl).  OTC usually has these kinds of notes but does not for Diggs.
What does that mean?  Two things:  the Seahawks will have to decide on Diggs very, very quickly.  In the next few weeks in fact.  Secondly, the June 1st cut is not an option this year.  There is no practical benefit for 2023 to be had with it because his salary locks in as guaranteed.
It does force a decision though — and soon.  The Seahawks can pick up $9.9 million of cap room if they cut Diggs before February 17.  It also gets his dead money handled in 2023 and off the 2024 books.
A trade is not a great possibility, unless the Seahawks can talk a team into trading for a 30-year-old safety and paying him $9.9 million guaranteed.  A renegotiation is possible but hard to visualize with Diggs. 
Cutting or trading Diggs and renegotiating or June 1st cutting Adams would at the most net the Seahawks $18.34 million of cap room for 2023.  With the surplus from the other moves, that would get them about $20 million of cap money that is free and clear.  They could spend it all in the market if they like.
Of course, they would need to dip some money and/or draft picks back into the safety position to replace those players.
Yet with Adams missing so much time and Diggs being invisible for large chunks of 2022, I am compelled to ask – could the Seahawks not get the same level of play or better with Ryan Neal, a mid-level free agent and a draft pick, for far less on the cap?  Particularly when you consider that Sean Desai and Karl Scott have been able to steer Neal to a great season and develop three young corners into starters 2022?  
The question is worth some serious consideration.
Using the cap room gained, they could refocus their resources on both lines by bringing in some strong free agents and drafting young talent to pair with them.
Perhaps they consider pairing a top free agent center or guard with one of the strong centers or guards available in this draft class?
On the defense, perhaps a top free agent defensive tackle paired with a draft pick could have a profound impact in the middle of the defense?
The thought of shifting resources back to the trenches is extremely persuasive.  If the Seahawks can be more effective in those areas, that would provide all kinds of benefits to their whole pattern of play and bolster their core principles of running the ball and stopping the run to a degree they have not experienced in recent seasons.
If they decide to move on from both Diggs and Adams, it opens up all kinds of options to both dramatically increase their competitiveness now and clear the decks for 2024 and beyond.
Investing in the trenches is always wise.  A home run strategy.  Even if that home run strategy does not produce home run results, we have already seen the results of investing heavily in the linebacker and safety spots – year after year of poor defense.  Returning to their roots by utilizing their draft capital and the ability to manufacture some cap space to invest in the lines is an unimpeachable decision.
However, there exists an option within that strategy that is also particularly enticing — adding some low-cost free agents in the trenches for 2023, developing their core young players further, keeping some cap room intact and pushing the surplus into the following season.
Freeing themselves from the two safety contracts and rolling a cap surplus allows the Seahawks to set up a real war chest to make serious moves in 2024.  Let me explain.
The Impact of These Moves on the 2024 Cap
The importance of 2024 cannot be overstated.
The Seahawks can be largely free of their wayward spending on expensive, underperforming veteran players in recent years.  Their biggest free agents will be Jordyn Brooks (I am guessing they will decline the $11m fifth year tender for 2024), Damien Lewis, Noah Fant, Colby Parkinson and Uchenna Nwosu.  Some would be replaced in the draft; some would be let go.
The excellent 2022 draft class will have their training wheels off and be ready to exert some dominance in their third season.  The 2023 class will have cut their teeth and have a year under their belt.  A good portion of their roster will be on rookie contracts and contributing at key positions.  
They have their bookend tackles, a dazzling running back, a corner who has already turned his immense physical gifts into serious production on the field and a pass rusher who has shown in limited stretches he belongs in the NFL.  Imagine the impact of adding two first-round picks and two second-round picks in 2023 and two more high picks in 2024 to that group.
Put another way, they will have some of the most expensive positions in the league covered with quality players on rookie contracts.  If they draft a quarterback with their top pick this year, they will have had him on the roster for a year and ready to take the reins in 2024 and complete the puzzle of matching immense talent to value at the most difficult positions in the NFL.
Take a look at where the Seahawks stand for 2024 using the same chart I had for 2023 and we will do the same exercise to true up their projected cap room: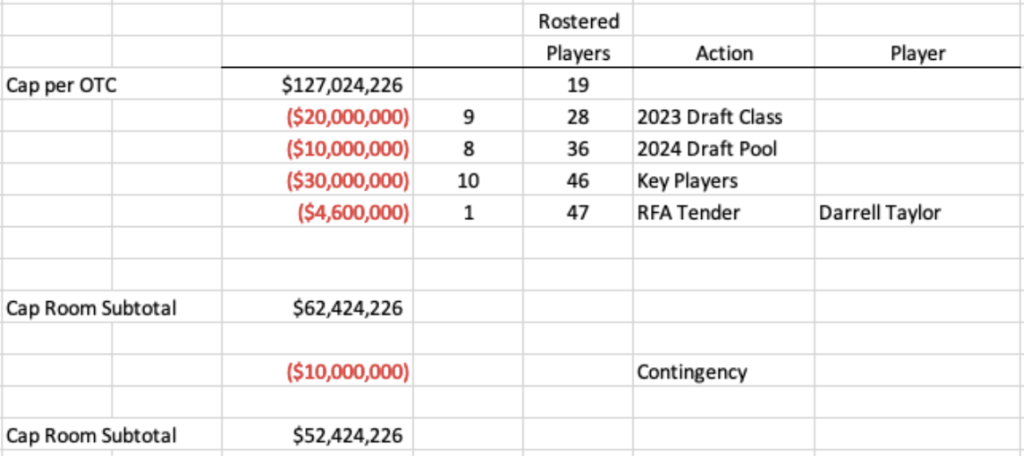 OTC has the Seahawks with $127 million for 19 rostered players at this moment.  The 2023 Draft Class will take a chunk for the second year of their contracts, and the 2024 Class less so since the Seahawks will most likely not have four high picks in the top two rounds again.  I added $30 million for eight 'Key Players' plus two of those lower-cost trench players we discussed, tendered Darrell Taylor at the Second-Round rate and gave the tender a raise and put in another $10 million for the rainy-day fund.
That leaves approximately $52 million of cap room with 47 players rostered.  That is very, very good.
However, if they have cut Adams and Diggs loose in 2023, that adds another $24.49 million to OTC's number.  Now we are at $77 million of room with 45 players rostered.
We are not done.  If the Seahawks decide to roll over any of the $20 million surplus gained by cutting Jackson, Harris, Diggs and Adams, that adds to the total.
It would not be the whole amount.  Let's be conservative and roll over just third of that – $6 million – and call that $83 million of cap room for six players.
We do have a wildcard that needs discussing though and that is Geno Smith.  If the Seahawks sign him to the contract with a very cheap $9 million cap hit in 2023, they will have a price to pay in 2024.  His cap hit under that contract for 2024 would be $31 million.
That takes the cap down to $52 million of spending room for only five players.  However, the options we built into the proposed Geno contract give the Seahawks opportunities to reclaim some of that $31 million.
They can tear the contract up and renegotiate.  Or…
If they want to keep Geno, they can restructure the roster bonus and gain $9 million
If they trade Geno, they can recoup as much as $21 million
If they want to cut Geno with a June 1st designation, they gain $17.5 million in June
If I have completely overvalued the Geno Smith contract and the Seahawks get him for much less, there is even more room to operate.  
If they move on from Geno in 2024, they will need six players to get to 51.  But the lowest number in this projection is $52 million to get those six players.
You see where this is going.
With the young and inexpensive talent at critical positions filled already, any available cash can be utilized to shore up any weak spot on the roster or just to add even more talent to the trenches.  Or another offensive weapon.  Or both.
Think this is too pie in the sky?  It very well could be.  Maybe I am too optimistic.  Let's address that.
Let's cut that in half and take the available cap room down to just $26 million for the six remaining roster spots.  Call the other $26 million wasted money, inflation or bring back a couple of their own free agents.  
The Seahawks can still add two very good free agents and some key veteran role players to this young talented squad with that much money.  
Remember, we have already accounted for our draft picks, some important veteran spots and the injured reserve contingency fund.  This is money they can spend every dime of.  The beauty of it is, we are not proposing mortgaging the entire future for a shot at a championship run in 2024.  
In 2025, they will still have all those critical players on rookie contracts plus another $24.6 million of cap room from the last year of Jamal Adams' contract being handled already.
Also, I have just talked about a couple ways to create cap space.  There are others available to the Seahawks if they desire them.
For this discussion though, a great chunk of that flexibility comes from the Seahawks deciding to add $67.44 million to their cap by freeing themselves from the contracts of Quandre Diggs and Jamal Adams as soon as possible and using it strategically to benefit the team.  You can draw a straight line from that proposed $26 million of 2024 cap room to the $24.49 million you gain in 2024 by ridding yourselves of these two players.
Considering the great potential of the 2024 team and that precious Super Bowl window opening wide, would a 31-year-old free safety with a $15 million cap hit and a 29-year-old strong safety with a $23 million cap hit and a history of season-ending injuries really fit on this team?  Honestly.
The classic phrase 'better a year too early than a year too late' perfectly describes the situation with these two.  Moving on jumpstarts the next phase of this rebuild.  Not doing so could hinder it.
Concluding Thoughts
This is a lot to process, I realize.  If you have made it this far, you deserve a hearty handshake for sticking with me.
I want to be clear about something – this is not what I think the Seahawks will do.  My taste and ambitions for team building have long leaned towards being more aggressive than theirs are.  I am also very good at spending other people's money.  It's a gift.
And let's be right, there is a reason the front office has their jobs and I do not.
It also needs to be acknowledged that there is an assumption that the 2022 draft class continues their ascent and the 2023 class delivers a similar impact.  As well as a desperate hope that Pete Carroll will not block any more young talent with expensive, marginally impactful veteran players in the future.
On the whole, this work-up has been an attempt to show what is possible within the framework of the current cap situation for the Seahawks.  If they make hard choices.  If they draft well.  If they avoid the pattern of overpaying veteran players whose best years are behind them and not developing their young talent more.
There is a lot of dead money involved in this plan.  The Diggs and Adams moves I propose leave over $30 million of cap room as dead and unusable between 2023 and 2024.  Geno Smith will incur some dead cap money at some point if the contract we outlined is signed.
Those are costs that need to be weighed and counted.  
How bad is dead money?
Regularly collecting dead money is never an advisable strategy but we also need to develop a balanced viewpoint about it.  It is not the anchor weight to a franchise that many view it as.  It can actually be an effective tool when utilized properly and young talent is developed.  
The Rams won a Super Bowl with $46 million in dead cap money.  The Eagles this year are carrying $65 million of dead money and are one of the best teams in the NFL.  Our own Seahawks carried $56 million and they squeaked into the playoffs.
My point is dead money on the books does not automatically translate to losses on the field.
I also want to briefly address a narrative that the Seahawks are conservative when it comes to the salary cap.
While that may largely be the case, it should be noted that the Seahawks have leaned toward being more aggressive in their moves the last three seasons.  
In August of 2020, they traded two first-round picks for a pass-rushing safety without securing a long-term extension in the transaction.  That was beyond aggressive.
The following year they gave that safety a market-bending contract.  Aggressive.
They also utilized void contract years in 2021, in order to make up for the salary cap shortfall due to the pandemic's effect on ticket revenue.  That was a strategic procedure change borne out of a need to adapt.
They bucked their typical structure for the large Diggs and Adams contracts, making them light on the cap in the first year of their deals and heavier later.  Another necessary change.
They removed two franchise icons from the roster in the span of 48 hours in March last spring and committed to eating almost $30 million of dead cap to do it.  After being such a strong point of contention, absolutely no one is upset with the $26 million of dead cap for Russell Wilson 10 months later.
So there is evidence of this organization acting boldly in recent years.  They need to do it again in 2023.
This offseason, the team stands at the threshold of a completely new era of Seahawks football.  More options are open to them than ever before.
Money is not the problem.  Draft capital is not the problem.  Cap room is not the problem.  
In truth it is simply:  Does this organization have both the desire and will to act?  To take bold steps to push this team to the level of being a bona fide Super Bowl contender?
They have a chance to definitively answer that question this offseason.
Fans of all teams absolutely love to speculate about what you can do with a star quarterback on a rookie contract and rightly so.  We should be doing more of that when we talk about Seattle's future plans.  
If the Seahawks wait until they have had that quarterback on the roster for a couple of seasons and ready to contribute before they start clearing up their finances and planning accordingly, they will not be able to effectively maximize that small window of premium cap room.  
They got a fantastic start in 2022 by making two very tough decisions on popular players and followed it up with a smashing draft class.  I am proposing they do exactly that again this year.
It will take some moves that are very clearly aggressive.  However, the potential reward could be historic:  Completely rebuilding a Championship-worthy roster without the painful experience of several seasons of treading water at the bottom of the NFL hierarchy.