Note: This is a guest post by Curtis Allen and the latest piece in a weekly series. Curtis looks at the Seahawks and their opponents and discusses key factors.
I'd also like to encourage all members of this community to celebrate how awesome this series has been. This has been a challenging season for the Seahawks, yet Curtis continued to dig into the details and provide amazing content.
I would personally like to thank Curtis for his weekly article. They have been fantastic and have really added something special to the blog.
Thank you.
We are almost at the finish line of this incredibly disappointing season, with only a stop in Arizona to visit the Cardinals left.
And so it must be. Witnessing what might be the final game of the Pete Carroll / Russell Wilson era being played out in a stadium where the Seahawks have won so frequently but also endured some of the most wrenchingly agonizing moments a franchise can possibly be subjected to is just so ironically fitting it hurts.
Among the many, many lowlights experienced in Arizona:
-Super Bowl 49
-Losing Richard Sherman and Kam Chancellor to injuries in Week 9 of 2017 for good in the same game
-Losing Earl Thomas the very next time they came to Arizona to a season-ending leg injury – Week 4 of 2018, and watching Thomas give Pete Carroll the middle finger while being carted off
-The Week 7 game last year featuring the second-half collapse, also known as the 'If Game'…if Damien Lewis makes the right block, if Benson Mayowa doesn't jump offside on the field goal try, if Bobby Wagner doesn't get that ticky-tack roughing penalty, if David Moore doesn't commit a needless holding penalty on the DK catch and run TD winner…
Why not witness what is likely to be the final iteration of the franchise in this house of horrors?
This season, this tenure, this run as a franchise could not end any other way but on the field that has marked so many painful memories.
While it appears there would not be much more left to play for than pride, there are some markers to think about that could have an impact on the books of this season:
-They can play division spoiler by forcing the Cardinals to play as a wild card instead of hosting a playoff game at home as division champion.
-A final season record of 7-10 looks far, far better than 6-11. A seven-win season would also oddly bookend Pete Carroll's first season with the team.
Here are some things to keep an eye on in this matchup…
The defense simply must not miss tackles
Last season, the Seahawks defense was not great but it did finish fifth in the NFL with only 88 missed tackles. That is something to hang your hat on.
How are they doing this season? Well, they reached 88 missed tackles three weeks ago in the Houston game. They have slipped from fifth in the NFL last year to twenty-second this year, which does align with the defensive challenges we have seen.
Have a look at this quick chart showing their missed tackles per game since Week 10, the time of possession difference and the game outcome: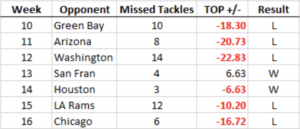 Have the Seahawks lost the time of possession battle and games specifically because of this one stat? No — but it does point to their troubles.
This issue is a chicken-and-egg problem for the team. They cannot get off the field as a defense, so they get tired and the opportunity for missed tackles increases. Which means they still cannot get off the field.
Why is it being brought up now, against the Cardinals?
Unfortunately, 17 of those 88 missed tackles last year came in their two games against the Cardinals, including an awful thirteen in Week 7. As you can see from the chart above, they didn't do themselves any favors by missing eight tackles against this team in Week 11 this year.
They must tackle better in order to keep pace in this game.
Guys vying for jobs in 2022, this is an opportunity to showcase yourselves
This aspect at the end of the season always seems a bit overrated to me. A guy who has not turned the coaches' heads enough in practice to get on the field and get real game reps may not be able to make his case in a relatively meaningless game at the end of the season enough to really change any minds.
However, with this team in its current state of potential flux, almost twenty roster spots up for grabs next year, and several injuries that have been sustained lately, there is an opportunity to see some of the players that may have a real chance to contribute to 2022's success on display this week.
-Colby Parkinson is the only tight end contracted for 2022. He has rarely been targeted this year, let alone featured in the offense. The Seahawks have used him for blocking and special teams more than as a pass-catching weapon. A few catches for first downs and maybe even a touchdown would relieve a lot of anxiety about the position.
-Cody Barton will likely feature heavily at linebacker. He had perhaps his best game as a professional Sunday against Detroit, filling in for the injured Bobby Wagner. Chances are he will play quite a bit again this week but against a much better opponent. Can he force his way into the conversation and be more than just a special teams player and backup next season? The team has twenty million reasons to want him to take a major step forward.
-Jake Curhan has been filling in for the injured Brandon Shell at right tackle and playing well. Have the Seahawks found something there? The possibility of paying a rookie salary for a starting right tackle for the next three seasons would go a long, long way towards helping this team to quickly get back on their feet roster-wise. How will he play against Chandler Jones and Marcus Golden?
-Dee Eskridge seems doomed by the Seahawks Rookie Curse, which demands that first-year players just spin their wheels in the trainer's room or on the practice field for the entire season. A weapon of his ability needs to be integrated into this offense in order to introduce an element of unpredictability that gives defenders just enough pauses to open up some other areas. Is it too much to ask for a couple plays of this nature on Sunday to give us something positive to talk about this offseason?
-Rashaad Penny has done extremely well against poor defenses and yet has not been able to establish himself against good defenses. The Cardinals are the 11th-ranked defense against the run this year. These last few games have been an extended interview for the Seahawks and other teams to show what he can do next year. A good to great game against the Cardinals would put a punctuation mark on that resume and push it further up the pile.
Contain Kyler Murray
This will probably be a watch point for a Seahawks-Cardinals matchup until he retires or moves on to another team. He has taken a big, big step up this year and is leading the Cardinals into the next echelon of teams.
I put his 2021 play this way in my Week Eleven Watch Points piece:
He is maturing as a passer and taking it out on defenses across the league.

Is he playing the same style he always has, just at a higher level? No. He has changed his play significantly. He has vastly reined in his rushing attempts in 2021. So far this year he only has 147 rushing yards in eight games. For comparison, he gained more rushing yards in only the first two games last season.

The Cardinals have given him so many weapons for the passing game, and supplemented that with good runners, Murray does not need to run the ball as much to provide the team with offense.

He is still deadly with his feet though. He just uses them differently. Primarily this season, it is to escape the pass rush and buy time for receivers to get open — and he is doing an absolutely incredible job at it.
The ball just zips out of his hands. Which is nothing new — but now it comes out with more touch and accuracy than ever before. He is currently completing 69% of his passes, which is higher than Russell Wilson has ever achieved in a season.
He appears to not have as much trouble as you would think with his height and seeing his targets clearly. As I noted in Week Eleven, he is able to use his feet to move away from blitzers and at the same time, get a good view of the field. Now he can do it without sacrificing much accuracy in his throws.
I suggested a way to defend Murray in the piece:
Is there a way to take the edge off of his play, perhaps at a few key times that can disrupt him and frustrate this brilliant player? There is.

The Seahawks need to employ a delayed blitz / spy role defender against Murray on Sunday.

…

He has developed a habit this year that has yet to be properly exploited. He scrambles to get a better view of the field and buy some time – not simply because he is being chased by a rusher and is an amazing escape artist.

Someone like Jordyn Brooks, Jamal Adams, Ryan Neal or Bobby Wagner would be an ideal weapon to just stay put for half a heartbeat after the snap, see the play develop and where the lanes are open to Murray and then use all your speed to take off into that lane.

At worst, you block his view and clog a passing lane. Maybe even get your hands up and defense a pass. At best, you frustrate him by taking a way a comfortable habit he has developed and make him stay in the pocket more often — containing those incredible feet and making him susceptible to being sacked.
Watching the highlights of the last few weeks, it does appear that Murray has addressed this weakness to a degree. He seems more assertive in the pocket and willing to rely on his protection and his receivers running good routes than he did earlier this season.
However, this still would be a valid method to employ on defense in order to keep him contained. If he can consistently either create time to throw and/or find lanes to take off and gain some yards and first downs on the ground, it will be a very long day for this defense.
Contain the Cardinal running backs in the passing game
The Seahawks have continued to be the worst team in the NFL by a wide margin in this area. They have given up a massive 18% more passing yards to running backs this year than the second-worst team. That is inexcusable.
They badly miss K.J. Wright in this area of their game.
Chase Edmunds and James Conner have excelled for the Cardinals, giving Kyler Murray a perfect way to move the offense forward without expending any of his miracle-creating energy.
Combined they have 74 catches for 645 yards and 27 first downs.
Watch Conner help his quarterback out with a beauty of a one-handed grab early in the game against the Rams:
James Conner back with the one-handed grab 👋

(via @NFL)pic.twitter.com/WyprtHZifj

— ESPN (@espn) December 14, 2021
The Cardinals use this game as a real part of their offense, not as a mere 'get me out of danger' dump-off but a real way to move this defense down the field that is very dangerous. With Murray's legs and a plethora of options at tight end and wide receiver, passes to the running backs are that 'straw that broke the camel's back' element to this offense.
As we noted above, the defense must tackle well.
Jordyn Brooks, Cody Barton, Ryan Neal and D.J. Reed must be excellent in coverage in order to keep this part of the Cardinal offense in check.
A final note to the community
A special thanks is due to Rob Staton, who has generously shared his personal platform in order that these posts can get a wide distribution. It never occurred to me over the years that I would have this kind of an opportunity in the community. It is a place I value highly and enjoy thoroughly. Your support and encouragement made it happen. Thank you.
Thanks to all in the community for reading along with my watch points this year, and for all your positive feedback. It is actually because of you that I got the motivation to put these posts together in the first place.
Last year, what started as a lockdown-fueled exercise to stave off the boredom of inactivity quickly took off with all the commendation and support from the community when I would scrawl some thoughts down in the comments section.
It has been a joy and another nice distraction during this drudgery of a season to commiserate, dissect the good and the bad and attempt to put words and thoughts together to properly understand the mess we witness on most Sundays. Thank you for that.
Here is hoping the 2022 season is filled with all the excitement we can possibly handle.
Please consider supporting the blog via Patreon (click the tab below)…