It's fair to say this is one of the most complex off-seasons the NFL has ever witnessed.
With no combine and 12 teams currently over the cap for 2021, the global pandemic continues to have a long-lasting effect on elite level sport.
For the Seahawks it's especially tricky — given their long list of needs, minimal available cap space ($1.7m), small number of draft picks (four) and the fact the quarterback is making it very clear he's not happy.
If Russell Wilson moves on, Seattle's world changes completely. Finding a replacement quarterback suddenly becomes a massive priority. Unless one is included in a trade, you're probably looking at a stop-gap option such as Alex Smith (who, it was revealed today, is leaving Washington) and then drafting to develop.
What a time to be alive.
If they somehow manage to work out a truce with Wilson, then there's serious work to be done on the roster.
Not only will they need to fill a big hole at cornerback, they'll also need to bolster their offensive arsenal and pass protection.
As I've noted a few times, at the moment the Seahawks don't even have the cap space to offer Poona Ford a second round tender as a restricted free agent.
Something's got to give.
Brady Henderson recently reported/speculated on the possibility of Carlos Dunlap being cut. This would free up $14m immediately, providing some wiggle room for the Seahawks to do business.
In terms of freeing up money, it makes sense. Combined with a couple of restructures, the Seahawks would have the room to get a lot done.
There are a couple of significant consequences though.
Cutting Dunlap would mean, for the third year in a row, the Seahawks parting with their best pass rusher.
They struggled to replace Frank Clark in 2019 and they struggled to replace Jadeveon Clowney in 2020.
The Seahawks can't carry on this way.
Even if the aim would be to bring Dunlap back at a cheaper cost, there's no guarantee he'll return. What then? Another mad scramble to find a replacement? Starting the 2021 season, as they did in 2020, with an inadequate D-line? Hope that a last-gasp solution presents itself before the trade deadline again?
It's a huge gamble — but one the Seahawks almost are obliged to consider, given the situation they find themselves in.
The other issue is that while cutting Dunlap creates cap space, it doesn't necessarily provide a pathway to filling a lot of holes.
It's certainly true that the market this year could be full of bargains. With the cap lowering, the expectation is many players will take 'prove-it' deals to get back into free agency next year, when hopefully the NFL economy has improved.
However, this hasn't exactly provided options for the Seahawks in recent years. When's the last time they pulled off a coup in free agency? 2013?
My fear is they'll see his $14m salary as an opportunity to sign 5-7 cheaper veteran players. This is not a strategy that has paid dividends in recent years. Look at how much they spent last year on average, below average or ageing players.
A lot of people will tell you this is a draft to avoid. The lack of testing numbers, proper medical checks and meetings create a lot of mystery.
However, the simple fact is the draft provides a unique opportunity to acquire cheap talent.
Damien Lewis cost the Seahawks $800,000 in 2020. Being able to get a quality starter at that price only happens through the draft.
When you have a whole bunch of holes, you need young players like Lewis to come in and contribute.
The Seahawks, realistically, only have a second and fourth round pick this year in which to find possible cheap starters.
Corbin Smith recently reported Seattle's interest in Jonnu Smith. He suggests they're set to make 'an aggressive run' at the Tennessee tight end.
That kind of move will be expensive.
And while Smith is talented and very athletic — he's never had more than 448 yards in a season. In four years with the Titans, he has 1,302 total receiving yards.
I can't help but think — what's the best move here? Be aggressive to sign someone like Smith? Or get back in the draft and target someone else?
Miami's Brevin Jordan is an outstanding athlete. As noted in another article recently, the Seahawks pay a lot of attention to agility testing at tight end.
Jonnu Smith ran a 4.18 short shuttle at 248lbs at the 2017 combine.
At SPARQ, Jordan ran a 4.21 short shuttle at 250lbs. So he's right in Seattle's wheelhouse.
The difference between Smith and Jordan is one player will cost millions per year, while the other — if drafted in the top-50 — will cost an average salary of about $1.6m for the next four seasons.
I would argue that given the Seahawks have struggled to truly incorporate the tight end position into their passing game, a lower-salary arrangement would be best. There'd be nothing worse than investing millions (as they did with Greg Olsen) for another mediocre stat-line.
Sure, using a high pick on the position could also be a waste of resources. Yet the difference between a $7m salary and a $1.6m salary is more significant than ever this year. If you want to prioritise the position, the draft provides the solution.
This is why I think it's vital the Seahawks acquire extra draft stock in the coming weeks. Having three picks between rounds 1-3 instead of only one pick can be the difference between three cheap starters and having to rely on what you can get on the veteran market.
In this draft class you should be able to get a tight end, left guard and a receiver in the first three rounds that you really like. There's a lot of depth at cornerback too.
Here's a reminder of the horizontal board I published recently, showing some of the potential options: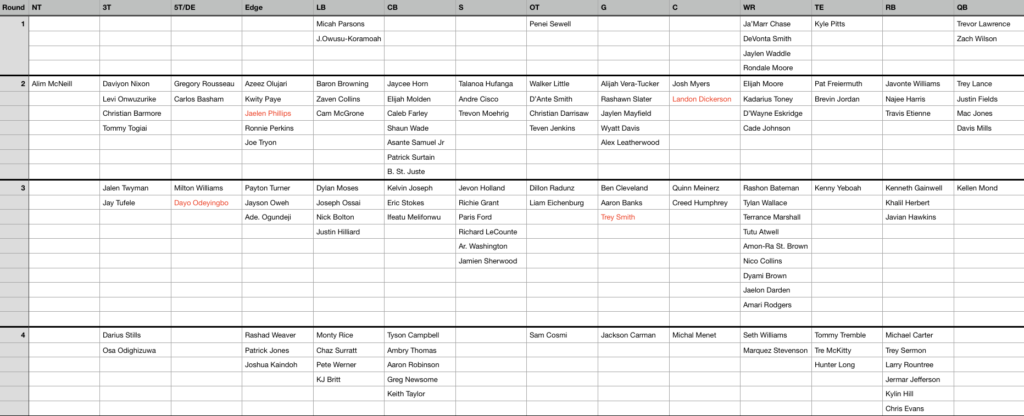 I don't want to sound like I'm beating a dead horse but I still think the best way to acquire more draft stock is to trade Jamal Adams.
I won't rehash all my old arguments about his scheme fit and expected salary. I wrote a lengthy argument here, so if you missed it the first time I'd recommend checking out why I think moving Adams is the best decision.
Start Marquise Blair at strong safety (you did draft him in round two, after all) and see what you can get. Will the Dolphins give you #36 and #50 for Adams, for example? Can you get a first and a third off the Browns?
Yes, it's a discounted price. I think it's necessary though. And with the $18-20m you're saving by not paying Adams in 2020, you're in a far better position to lend from the future cap to provide short-term relief.
It'd mean being able to offer a structured, competitive contract to Corey Linsley. You could bring back Richard Sherman and possibly K.J. Wright.
You can talk about blue-chip players all you want. You're basically deciding between one player (Adams) versus having three cheap rookies (R1, R1, R3) and about $15m in available cap space to spend elsewhere. That's 4-6 players.
With the Seahawks in their current state — and with the NFL economy in its current state — Adams is a luxury. He's good enough to make some eye-catching plays but he's not a difference maker, capable of elevating this team to greatness and justifying the massive outlay spent on him.
Give me Linsley at center instead, with one of the quality interior offensive linemen in this draft at #56. Give me one of the top young tight ends — Brevin Jordan or Pat Freiermuth. Give me a dynamic #3 receiver from this terrific class at the position or an exciting young corner such as Benjamin St. Juste. Have the resource to bring Sherman home and make sure you cling on to Carlos Dunlap (or replace him properly).
That's a much better package than possessing a blitzing safety, taking up $18-20m of your salary. If it's an either/or — for me it's a no-brainer.
Of course if you end up having to trade your franchise quarterback — money and draft stock isn't going to be a problem.
You can now support Seahawks Draft Blog via Patreon by clicking the tab below.