Here it is — my final horizontal board…
(click to expand)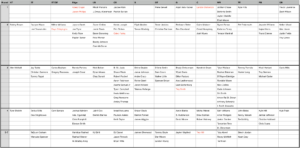 You'll see I'm higher than most on the following players:
Bobby Brown (DT, Texas A&M)
Buddy Johnson (LB, Texas A&M)
Kellen Mond (QB, Texas A&M)
Dyami Brown (WR, North Carolina)
Cam McGrone (LB, Michigan)
Ben Cleveland (G, Georgia)
Javonte Williams (RB, North Carolina)
I think there could be real value to be had in days two and three. This is an offensive draft but there is reasonable depth across the board.
For example, at some point taking a chance on a Dayo Odeyingbo or Shaun Wade could pay real dividends. Players will fall for a variety of reasons — opting out, injuries, poor play in a weird 2020. It does feel like, more than usual, there could be opportunities to deliver value.
The Seahawks will probably trade down from #56 to add to their paltry tally of three picks. There's plenty of offensive line depth to make a strong pick even in round three. That feels like a very viable option in what is the most explosive O-line draft in years.
Receiver is another possibility but with so many options, they might prefer to wait (as they did a year ago, selecting Freddie Swain in round six).
Darrell Taylor's status plus Aldon Smith's legal issues could make an EDGE more of an option than it otherwise would be. Tony Pauline paired Seattle with Jayson Oweh in his mock draft. It would be their type of pick.
Adding at running back, cornerback and linebacker also feels very possible.
Tomorrow we'll post our 'watch-list' for day two.
I'll be hosting a live blog later, reacting to each pick. I may do a live stream at the end of round one. I had a Covid-jab yesterday and it's hit me like a ton of bricks, so I'll play it by ear.
If you missed our pre-draft podcast check it out here…
If you've enjoyed the draft coverage this year, please consider supporting the blog via Patreon (click the tab below)…