This is a guest post written by Russell Cook
Maximizing the Seahawks defensive potential – a switch to the 4-2-5
We know the Seahawks are at a crossroads right now.
They have a beleaguered starting quarterback, are staring down the barrel of paying a player that might not fit their defense and have very little in the way of resources to address a number of needs.
So what can the Seahawks do about it? A lot actually. If you haven't seen it, check out Rob's mini-dissertation on the subject showing us what that could look like.
But what if they don't do anything?
The last 2 years, Rob and many of us in community kept saying they needed to get help on the D-line. And what happened? A hail mary trade for Clowney and a horrible start to the year defensively until we were bailed out again by the Carlos Dunlap trade.
Until they make moves, we can't assume the Seahawks are going to do anything. We have to look at the roster as it stands and see what the vision could be. Today, I'll focus on the defense and look at a change that was proposed a few years back.
In 2017, this blog's esteemed proprietor wrote a couple of pieces discussing how the future of the Seahawk defense could be the 4-2-5.
I think that time is now.
What's the scheme?
A 4-2-5 is a scheme with four linemen, two linebackers and five DBs.
Instead of rewriting blog posts through my amateur eyes in an attempt to tell you how the scheme works, I'm just going to steal a bunch of information from Rob's posts.
From Rob's April 2017 piece, here are the key intentions of the 4-2-5 as described by TCU's Gary Patterson and a quote from Rob to tie it all together:
— Provide a simple scheme that promotes execution and athleticism
— Take away an opponents run game
— Establish an eight-man front
— Find a way to counter-punch while playing 'bend-but-don't-break'
— Out-hit the opponent, create takeaways and eliminate big plays
— Find ways to blitz using your DB's
"Patterson writes about the 4-2-5 like he's just finished watching the Seahawks defense"
Stealing from Rob's February 2017 piece, here's a discussion around the "Buffalo Nickel" defense and why we would have considered it back in 2017:
"There's a defensive scheme based around the concept, as explained by John Turney:
"Buffalo was a 4-2-5 defense that showed a Cover-3 look with a post safety (or middle-of-the-field safety)."
"Nickel defense was the same personnel, but it was a 4-2-5 defense that showed a Cover-2 look, with the safeties near the hashes."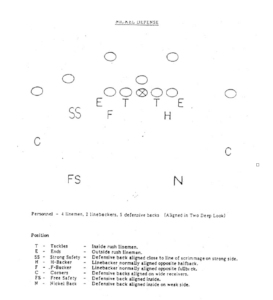 "It's unclear how prepared the Seahawks are to adopt this type of formation. By now we know what they are — a defense focusing on execution.
That said, the Buffalo defense isn't straying too much from Seattle's current scheme. As Thurney notes, it's a single-high safety cover-3 concept. The only difference is instead of a SAM you're fielding a nickel. This DB still has some of the responsibilities of the SAM (defend the run, cover the TE) but you're giving up some size to have a better athlete on the field.
This wouldn't be a great departure for the Seahawks considering how often they fielded two linebackers and a nickel corner (Jeremy Lane) in 2016.
While they might prefer to simply acquire a really good SAM — if that player isn't available, this seems like an alternative."
Would the Seahawks really consider this?
Pete likes to have his SAM on the field in base formation and we saw just how intense that could be in 2019 when the Seahawks were in base defense 68 percent of the time.
But we have seen years where the Seahawks used a ton of nickel. In 2016, Jeremy Lane played 71.39% of snaps, third most from a CB behind Sherman and Shead.
In 2018, Ken Norton Jr's first year as DC, Justin Coleman played 67.81% of the defensive snaps. Lano Hill played 32.29% and was occasionally used as a big nickel.
2018 is also the year where Wright was injured and only played five games. If we look at all three of these seasons, we see the potential for flexibility. Pete will play base or nickel at varying rates depending on who he believes gives them the best possibility for success. In 2016, that was Jeremy Lane. In 2018, that was Justin Coleman. In 2019, that was Mychal Kendricks.
Last year we saw another evolution in that adaptation in the form of a 33.5% blitz rate. Pete prefers to get pressure rushing four and dropping seven into coverage. Yet last year the Seahawkws didn't have the personnel to get pressure rushing four, so he and Ken Norton Jr. blitzed like crazy with Jamal Adams, Bobby Wagner, and KJ Wright.
I'm not saying that a 30%+ blitz rate is the ideal end-state but it shows some flexibility to do what it takes based on who you're putting on the field.
So why switch to 4-2-5 now?
For the same reason we played base defense 68% of the time in 2019 and blitzed 33.5% of the time last year – personnel.
Football Advantage does a nice job of outlining a 4-2-5 and the personnel needed to make it successful. I'll start off each section with some key quotes from that article as I discuss Seattle's personnel for the 4-2-5 to set expectations for what the scheme is looking for.
So how does Seattle's current roster stack up for the 4-2-5?
Defensive Line
"A strong, big-bodied, traditional nose tackle who can clog up the middle of the offensive line."
"Defensive ends and linebackers who are smaller in size but quick on their feet to cause problems in blocking"
The defensive line is the weakest argument for the 4-2-5. Defensive ends are often hybrid outside linebacker types, ala Bruce Irvin, and should be able to create pressure with a quick first step and good speed.
That being said, the key thing is to be able to create pressure. Carlos Dunlap was able to create 16 pressures in eight games. Kerry Hyder Jr. created 32 as Nick Bosa's replacement. Regardless of what scheme they run, the Seahawks will be counting on them for significant contributions in addition to needing growth (or at the very least, not regression) from Alton Robinson, Darrell Taylor, LJ Collier and Rasheem Green.
As far as the nose tackle, or 1-tech in the current scheme, both Al Woods and Bryan Mone fit that like a glove. Poona Ford could spend some time at nose as necessary, though I'm expecting he'll be the primary 3-tech in base formations.
Linebackers
"The Mike is probably the one player on the field in this alignment that needs to play with a little hesitation, reading an offense quickly first and then picking up his responsibilities based off what he sees, rather than just rushing straight to the line to plug a hole."
"The Sam is one of the most versatile players on the field in a 4-2-5 alignment, as he is tasked with putting pressure on the quarterback, making stops in the run game, and covering receivers as well"
Right now, on this roster, the Seahawks don't have a proper SAM linebacker to fit Pete's standard scheme. Brooks is likely penciled in as the starting WILL.
Neither Barton or BKK project as a SAM in a 4-3 under scheme. With limited cap space and limited draft capital, it'd be difficult to find an impactful player to play the Bruce Irvin role in this defense.
What the Seahawks do have is an ideal linebacking core to handle the 4-2-5.
Bobby Wagner has been anchoring the MIKE position for years and this scheme asks him to do what he does best. Read the defense, flow to the ball and be solid in coverage. That's what we want from Bobby Wagner. We don't want a repeat 100 blitz season.
Jordyn Brooks is a great fit at the 4-2-5 SAM especially on early downs. He's got terrific athleticism, showed a knack for flowing to the ball and had some flashes in pass coverage. While the position calls for blitzing versatility, I wouldn't expect a ton of blitzing from Brooks in this position. I'd expect extra pressure to come primarily from other places on the field.
Which brings me to the DBs.
Defensive backs
"The most important attribute in the secondary is speed and coverage ability."
"The free safety and strong safety have similar assignments to defenses in other more "base" alignments. However, they are used to either blitz more often or provide run support near the line of scrimmage, or when a cornerback blitzes, they have to compensate with more coverage responsibilities."
If you think about this 4-2-5 argument as a multi course meal: The defensive line is an amuse bouche, the linebackers are an appetizer and the DBs are the main. (Don't worry, there's dessert).
Combining descriptions from Gary Patterson and Football Advantage, the 4-2-5 is looking for speedy DBs that can afford to be undersized, that you can also use to bring pressure.
In that sentence, we've just described 5 DBs on the Seahawks roster: Jamal Adams, Ugo Amadi, Damarious Randall, Marquise Blair, and DJ Reed.
At this point we've seen Jamal Adams blitz more times a game than anyone else in the PCJS regime, so we've got that covered. Amadi has already shown some propensity to be able to blitz (22 times in 2020). Damarious Randall had a nice season in Cleveland in 2019, getting 2.5 sacks on only 19 blitz attempts, and has played nickel before. The jury is still out on Blair but we know they feel comfortable starting him at nickel. Reed wasn't asked to blitz much last year (nine times, one pressure) but with his great quickness and awareness, even at 5-9, he's a perfect fit as a 4-2-5 CB and is all but guaranteed to get the starting nod at one of the outside positions.
If you look back at the Buffalo Cover-3 diagram you can find a DB to fit every position. Jamal Adams stays at SS but gets to live near the LOS. Quandre Diggs still slots in as the single high FS — a position where he's done very well in since coming to Seattle. Reed takes one of the outside corner spots. Competition at the nickel between Amadi, Randall, and Blair. Competition at the final outside spot between Witherspoon, Flowers, Desir, and Randall (if not Amadi and Blair as well).
Switch to a Cover 2? Jamal essentially moves to the WILL role and the Nickel moves back to the 2nd high safety. Who on our roster has experience in nickel and safety? Right, the same 3 names we have in competition for nickel role.
So at a high level, we have quick, versatile, read and react DBs playing downhill and competition to determine the best player at a couple of the starting positions. I could almost hear the echoes of excited gum chewing as I was typing that sentence.
We don't know what the rest of the offseason will bring. We could see Russell Wilson traded, we could see Jamal Adams traded, we could see contracts restructured to bring in another key piece, we could see the Seahawks pick 3 players in a draft and call it a day.
But if the season were to start tomorrow, I'd really hope that the first snap of the season, we see the defense line up in a 4-2-5.
The best reason to switch to a 4-2-5 (Dessert)
Seattle's area code is 206 (pronounced 20sickness, shout out Blue Scholars) but the eastside 12s dial 4-2-5 to start their phone calls. Defensive calls could all be shout outs to Seattle's eastside brethren and sistren across the bridges. Imagine game day where you hear Bobby screaming out "REDMOND REDMOND REDMOND" "KIRKLAND KIRKLAND KIRKLAND" "QUAH QUAH"
Run out of towns for calls? No worries – just start using Kirkland brand products from our lovely local Costco, "MARCONA ALMOND! MARCONA ALMOND!"
If that's not enough of a reason to switch schemes, I don't know what is.
You can support Seahawks Draft Blog via Patreon by clicking the tab below