Free agency to fill needs, then draft for talent. You hear that a lot.
The reality is, most teams have a key need to fill going into the draft.
Even the more active teams in free agency have needs. The Eagles badly need a wide receiver. The Bengals need their quarterback, O-line reinforcements and a linebacker. The Cardinals need more help on their O-line. The Dolphins have holes everywhere.
Ideally you address as many areas as possible and match up your remaining needs with the strength of the draft. This is why the Eagles are in a strong position. They've set themselves up to take a receiver with their first pick, tapping into the strength of the class. They filled other needs in the veteran market.
The problem for the Seahawks this year is they have a long-ish list of needs.
While they've padded their O-line depth and added a much needed cornerback, they've struggled to add a serious influx of talent to the defense. The pass rush remains pitifully weak. They need a defensive tackle. They don't have any long term answers on the O-line despite all of their new additions. Russell Wilson deserves more talent at the skill positions too.
They do have an extra second round pick this year to try and fill some of these needs. Yet picking in large numbers hasn't necessarily worked out for the Seahawks in recent drafts.
This is also the first draft in recent memory where the Seahawks haven't matched up their biggest need (D-line) with the strength of a class.
They might not be able to let the draft come to them. That's arguably where they've done their best work in recent years. Capitalising on elite athletes Frank Clark and D.K. Metcalf falling to the late second round. Correctly identifying two terrific players in Jarran Reed and Tyler Lockett who were worth trading up for. None of these players, at the time, filled 'glaring' needs.
That mix of opportunity and proactiveness has worked well.
Hopefully they will get a chance to do that again in 11 days time. They do have some serious holes to fill though.
They need to address the following positions as a priority:
Pass rusher
Defensive tackle
This will be the case whether they re-sign Jadeveon Clowney or not. The difference between the 2019 pass rush being terrible and the 2020 pass rush being stronger will not be Benson Mayowa and Bruce Irvin replacing Ziggy Ansah and Quinton Jefferson. They've not replaced Al Woods at defensive tackle and are currently only holding Jarran Reed, Poona Ford, Demarcus Christmas and Brian Mone on the roster.
They have two secondary needs:
Offensive tackle
Running back
Brandon Shell's contract screams draft hedge. Duane Brown turns 35 this year. It's not a bad class to try and add someone who can potentially compete with Shell to start in 2020 and eventually replace Brown. Chris Carson's injury history and contract situation warrants monitoring — as does Rashaad Penny's knee injury. Plus let's not forget how Seattle requires depth at the position to function. Pete Carroll has always sought a stable of backs.
There are two other potential needs to be addressed:
Wide receiver
Linebacker
It's a quality receiver class and it'd be pretty remarkable not to take one in the first four rounds. The addition of Phillip Dorsett takes the pressure off a bit to take one early but you also don't want to miss out. The Seahawks need speed and quality at linebacker. Their two starters are older and expensive. Cody Barton didn't play well as a rookie and Ben Burr-Kirven appears to have been drafted for special teams.
It's unlikely the Seahawks are going to be able to draft all six positions in a wholly satisfactory way. Some of these areas will need to be addressed after the draft — such as a year ago when they traded for Jacob Hollister after not drafting a tight end and signed Ziggy Ansah to try and help the pass rush.
A few people have requested I put together a horizontal draft board. This is how teams actually draft. A vertical board is essentially just a long list of players in order. A horizontal board does a better job breaking down players by position and grade.
I've given it a go but I'm not completely satisfied with the effort. For starters — I have barely any information on players that will be targeted on day three. There are no pro-day numbers. Usually by now we have a list of players who've visited the VMAC too. Now teams can talk to any player on FaceTime. There are no 'official 30' visits. It's a crude attempt at a horizontal board on my behalf.
So while I can project the first few rounds, the later rounds are an abomination. And this will be the case for any person who writes about the draft and tries to do this. We have even less information than we usually have. If you showed my board to someone who works for a team, they would probably laugh. But I won't be alone.
Here's my initial attempt (click to enlarge):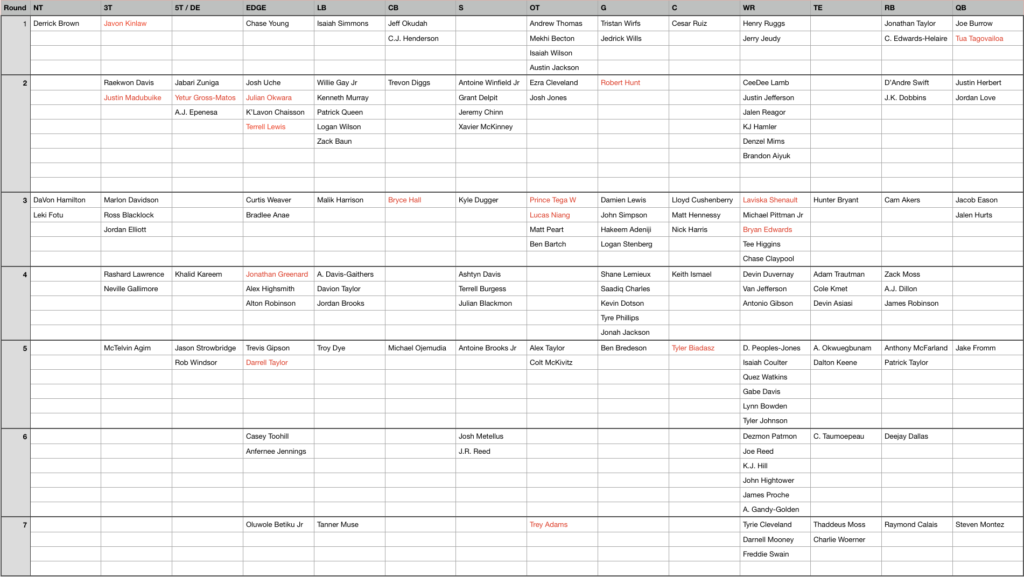 The players in red have either current injuries that they're still recovering from, missed significant time in college with injury or have been reported to have issues teams cannot reconcile before the draft.
As you can see, I have 19 first round prospects. That feels about right for this class. I've been really strict with the receivers. I suspect a lot of teams won't have Jonathan Taylor and Clyde Edwards-Helaire in round one either. But a fair projection of 15-20 genuine first round grades seems about right.
My takeaways from putting this together would be the following:
— The Seahawks could consider spending their first pick on a running back, receiver or offensive tackle. It'll be their best chance to get a top talent from this draft. Whether they can justify it though with a glaring D-line need remains to be seen. They've also invested a lot of cap space in the O-line in free agency, the positional value at running back is always challenged and they do have young talent at receiver already.
— The sweet-spot for defensive linemen in this draft appears to be round two. That likely means either trading back from #27 into the 30's or using your picks at #59 or #64 to solve those needs. They could also trade up from #59 or #64 to target a specific player — especially with an extra fourth rounder in their back-pocket.
— The board remains really thick at receiver in rounds 5-7. Recently Eric DeCosta suggested you could find a contributor in the fifth round. I'm not saying it's definitely going to happen or should happen — but there's at least an opportunity here for the Seahawks to wait for their favourite range (fourth round) to draft a receiver and focus on other needs. Of course, you can also make a great argument for targeting the likes of Jalen Reagor, K.J. Hamler, Brandon Aiyuk or Denzel Mims with the top pick.
— They need to add a defensive tackle badly. They could do that after the draft. Some options remain available — such as Damon Harrison, Marcell Dareus, Brandon Mebane or Caraun Reid (who they took a look at a year ago). It's hardly a glorious list though. Players near the end of their careers, players who have flirted with retirement and journeymen. However — that's often the market they've shopped in at defensive tackle. Not signing anyone prior to the draft, however, suggests they at least have some younger players in mind first and foremost. It's one of the few positions they haven't hedged in the build up to the draft.
— What are the DT options? As you can see on my board — there aren't many. If they're looking for an Al Woods replacement in the first three rounds — I've only got DaVon Hamilton and Leki Fotu in an acquirable range. Hamilton is a fringe second round talent who might need to be taken at #59 or #64 — or after a small trade down. Fotu is more of a third or fourth round type. At three technique the options are limited to Raekwon Davis, Justin Madubuike, Marlon Davidson and Rashard Lawrence. I listed Ross Blacklock and Jordan Elliott but they both have sub-33 inch arms (and the Seahawks have never drafted a defensive tackle with sub-33 inch arms) and are unlikely targets (the same goes for Neville Gallimore). So what do you do? If you want to address this position, it probably needs to be with one of your high picks. Otherwise you're dipping into that veteran market.
— One of the big unknowns is also what kind of range you'll need to take someone like Raekwon Davis or Marlon Davidson. Davis has early round talent as a defensive anchor with power and versatility plus untapped pass rush potential. Yet there are reports that some teams are worried about his maturity and lack of production. Davidson was a top-level recruit with massive physical potential and he has unnatural quality as an edge rusher despite his three-technique frame. Yet Auburn also took him out on running downs a lot — and that's a concern for a player who should be an every-down contributor at that size.
— It's a similar story with pass rushers. They need to take one. They need to come out of this draft with someone who can get after the QB. Yet the options are somewhat restricted and the value is best in round two. If you don't take one with your first three picks — you might miss out. The board is not thick here. If you want the speed and quickness they lack you're really looking at Josh Uche, Julian Okwara or K'Lavon Chaisson. If you want strength and power it's Terrell Lewis. If you want someone really athletic and versatile it's Jabari Zuniga. Yetur Gross-Matos is about potential really but he leaves you wanting more on tape. Curtis Weaver had an outstanding short shuttle and his pass rush win percentage is exceptional but it's difficult to project his body type (and lack of length) to the next level.
— The linebacker position will be really thick and attractive from #27 going into round two but then it drops off a cliff. Unless Willie Gay Jr hasn't convinced teams about his character and he lasts. It could be that this is a position they avoid because the need vs the availability range doesn't match up. They do need youth, speed, talent and ferocity at this position though.
You always have to make compromises. I sense that will be an even bigger discussion point for the Seahawks this year.
It comes down to a few questions:
— What exactly is the plan with Chris Carson? Recent history says don't pay big money to running backs, especially ones with an injury history. Yet they seem to love what he brings to the team. So how much do you want to target a Jonathan Taylor type early, if he's available, knowing he's everything you want at the position and has star potential? Yet if you do that — you're avoiding the top offensive tackles and you're putting a lot of pressure on #59 and #64 to find defensive solutions. How big is the drop to Cam Akers in the late second or early third? And how big is the drop to Zack Moss, James Robinson and A.J. Dillon? Or are you putting your trust in Carson/Penny, knowing you have the likes of Isaiah Crowell or Marshawn Lynch to potentially add down the line?
— Do you have to go defensive line first up and address that need? You might run the risk of reaching. Or if you trade down into a more comfortable range you might pass on better players just to fill a need. It's the one position capable of pulling the Seahawks down so you need to get this right. If you wait too long — you could end up in the same position as a year ago, missing out on the best options and having to settle.
— How motivated are you to draft an offensive tackle first up that might be a redshirt? For example — if you take Austin Jackson or Ezra Cleveland, are you comfortable investing a first round pick in a player to simply be the future? It sounds great on paper. Securing an important position for the long term. Yet the Seahawks are a team trying to win now. Spending your first pick on a player who doesn't play in year one can be problematic. With early picks you typically want a return.
— How much belief do they have in Brandon Shell? Or is he simply a physical fit that they took a low cost gamble on? They could target someone like Isaiah Wilson to be the long term future at right tackle. Yet he's a pure right-sided blocker. And if training camp is delayed, shortened or there's less time for a rookie to learn the ropes — do you again run the risk of spending a high pick on a redshirt if Shell is in pole position to start? It might be better finding out where Robert Hunt is slated to go and focusing on a player like that who also has great positional versatility.
— There's also been a different O-line approach recently. They've signed a lot of veterans, not just this year but for the last three off-seasons now. They seem to prefer experience on the offensive line and then drafting to develop in the mid-to-late rounds. Will that continue to be the case in this draft? It's not a thick board at offensive tackle after round one but it's very thick in the interior.
Tony Pauline recently reported the Seahawks would focus on the lines early and often. I suspect that will end up proving to be the case. Whether it's an offensive tackle first and then a focus on the defense line — or an acknowledgement that they need to sort the pass rush out first before turning to other needs.
In my latest video mock draft (see below) I had the Seahawks taking Josh Uche (pass rusher), Robert Hunt (OL) and DaVon Hamilton (DL) with their first three picks. It's equally possible they go OL-PR-DL first up. And if they're willing to draft to develop for the O-line later on, we could see a focus on DL and one or both of the skill positions (RB/WR).
The key is going to be solving as many of these needs as possible, rather than necessarily selecting the best players. That's where the current Seahawks are.
You can now support Seahawks Draft Blog via Patreon by clicking the tab below.