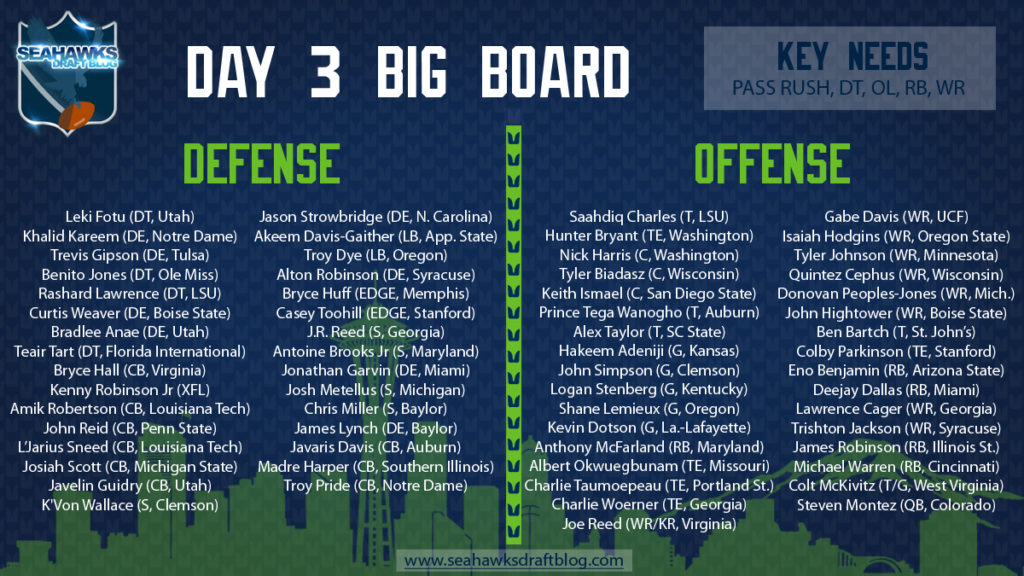 Seahawks picks
Round four (#133) — Colby Parkinson (TE, Stanford)
He's a tall, lean, move-TE. The Cardinal used him as a receiver and he didn't do much blocking. He's 6-7 and 252lbs with 33 1/4 inch arms. He ran a 7.15 three cone — which is in the ballpark. Again — it's the three cone that's the big thing here. He only ran a 4.77. But a good three cone puts you on the radar at this position. According to PFF, he didn't drop a single pass in 2019. Going into the 2019 season he was being talked up as a player who could rise into the first round range. It never happened — but that's the potential he has.
Round four (#144) — Deejay Dallas (RB, Miami)
Yet again, we've been able to identify a Seahawks running back. He was on our physical profile list from the combine. He fits their size and explosive trait ideals. He's 5-10, 217lbs and jumped a 33.5 inch vertical and a 9-11 broad. He finishes his runs. He's tough — just as they like. This isn't a surprise at all — and they badly needed to add some depth at the position.
Round five (#148) — Alton Robinson (DE, Syracuse)
He ran a superb 4.32 short shuttle (second best time at the combine) and that's a test we've identified that really matters for defensive lineman and Seattle. His 4.69 forty shows off his athleticism and he had an explosive 35.5 inch vertical. They probably had him this low due to a lack of length (32 3/8 inch arms) but in this range you can take a shot. His pass rush win percentage was only OK — it's 15.9%.
Round six (#214) — Freddie Swain (WR, Florida)
Once again, the Seahawks target a 4.4 (4.46) runner at receiver. I had him on the horizontal board as a seventh round possibility. Seattle uses their last pick to tap into the deep receiver class. He's considered a contender to return punts in the NFL and a dynamic slot receiver. However, he's also been knocked for his attention to detail when running routes.
Round seven (#251) — Stephen Sullivan (TE, LSU)
The Seahawks traded their 2021 sixth rounder to Miami to jump back into the seventh round. Stephen Sullivan had an incredible journey to LSU and he has incredible length (35.5 inch arms) on a 6-5, 248lbs frame. He ran a 4.66 at the combine and jumped a 36.5 inch vertical. His agility testing, however, was dreadful. That's one of the main reasons he's lasted this long. He's a high character team player who could develop into a big target (much like Colby Parkinson).
2020 draft class
R1 — Jordyn Brooks (LB)
R2 — Darrell Taylor (EDGE)
R3 — Damien Lewis (G)
R4 — Colby Parkinson (TE)
R4 — Deejay Dallas (RB)
R5 — Alton Robinson (DE)
R6 — Freddie Swain (WR)
R7 — Stephen Sullivan (TE)
Here's a short podcast Brandan and I recorded reflecting on day two…