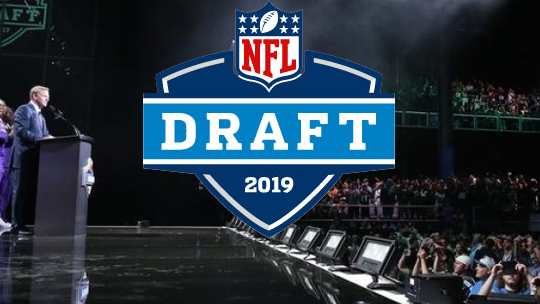 Headlines
— The Seahawks trade down with the Packers, moving from #21 to #30
— They acquired two fourth round picks from Green Bay (#114, #118)
— They spent the #29 pick on TCU defensive end L.J. Collier
— Pick #30 was traded to the New York Giants for #132 & #142
— They now possess nine total picks
Welcome to the live blog, I'll be posting thoughts on every pick as they come in. After the first round I'll write a review and we'll be recording a podcast.
Join in via the comments section but please — no tipping picks.
#1 Arizona — Kyler Murray (QB, Oklahoma)
On January 3rd I wrote an article saying the Cardinals should take Kyler Murray first overall. He's the most talented player in the draft. He has the same magic as Patrick Mahomes. The Cardinals needed to make the most of this pick and I believe they did. Now they need to try and get value for Josh Rosen.
#2 San Francisco — Nick Bosa (DE, Ohio State)
What makes Nick Bosa 'special'? Simple. He's 266lbs and ran a 4.14 short shuttle. That's incredible agility to work the edge and it shows. Some players just look better than everyone else in college. Nick Bosa fits that category. He's a complete defensive end and the NFC West just got a lot better with Bosa and Kyler Murray.
#3 New York Jets — Quinnen Williams (DT, Alabama)
It feels like a long time ago now but Williams absolutely destroyed the SEC in 2018. He was a one-man show some weeks. He was an absolute terror against LSU — a game where it's often difficult to stand out with both teams grinding through running plays. He battered Elgton Jenkins at Mississippi State.
#4 Oakland — Clelin Ferrell (DE, Clemson)
Well, I had the Raiders trading up to get Ferrell in my mock. I didn't anticipate they'd make this call here. However — here are some things to remember. Going into the year a lot of people, myself included, considered Ferrell a possible top-five pick. They want tone-setters and leaders. That's Ferrell. He's an alpha.
#5 Tampa Bay — Devin White (LB, LSU)
He was recruited to be the next Leonard Fournette at running back. He ended up at linebacker and there are three key points to his game. First — he's a natural leader. Second — he runs a 4.42. Third — he sets a tone and is highly physical.
#6 New York Giants — Daniel Jones (QB, Duke)
Like most other people I mocked Daniel Jones to the Giants albeit at #17. If you identify a quarterback and have the conviction that he's great — take the guy. Jones is athletic and has functional skills. Is anything outstanding about his game? Not yet.
#7 Jacksonville — Josh Allen (EDGE, Kentucky)
There are things to really like about Allen. His pressure percentage of 29.1% was by far the best in college football in 2018 (the next best mark was 23.5%). He's an intelligent pass rusher who sets up blockers. He also had some rough games where he was targeted in the run game or handled by tight ends.
#8 Detroit — T.J. Hockenson (TE, Iowa)
This is an outstanding pick. Hockenson's going to play a long time in the league. He's a sensational blocker, he makes big plays in the passing game and he dominates against safety's and linebackers at the second level. This was a no-brainer for Detroit. Exceptional choice.
#9 Buffalo — Ed Oliver (DT, Houston)
He's fast, explosive and he plays with great effort. Here's the issue. He has 31 3/4 inch arms and he's 6-2 and 287lbs. Where do you play him? He could get smothered inside. He lacks the length for DE and the Bills are an orthodox 4-3 so he's not a five-technique. Love the quickness but this carries some risk. He only had a pressure percentage of 9.6%.
#10 Pittsburgh (via Denver) — Devin Bush (LB, Michigan)
The Steelers trade up from #20 to #10, giving up a second round pick (#52) and a 2020 third rounder. I had the Broncos trading down to #23 in my mock. Bush runs and hits with incredible intensity. This is a classic AFC North pick. He runs a 4.43 and will replace Ryan Shazier who they miss so much.
#11 Cincinnati — Jonah Williams (T, Alabama)
I think he's overrated. He's a marginal athlete and his best position might be center (they took a center in round one a year ago). Williams has a fantastic attitude, approach and he's A-star in terms of character. It's tough playing O-line at the next level though if you lack power, length and agility. He ran an 8.01 short shuttle and a 4.79 short shuttle.
#12 Green Bay — Rashan Gary (DE, Michigan)
So much for Gary lasting to the Seahawks at #21. There's been far too much negativity about him recently. It's funny how some guys just get targeted like that. Jim Harbaugh loved him. He has Jadeveon Clowney-level athleticism. He's a superb fit at DE in Green Bay's scheme. He ran a 4.58 at 277lbs.
#13 Miami — Christian Wilkins (DT, Clemson)
This is a quality pick for the Dolphins. They are rebuilding in the trenches. They need to shift the culture in Miami. They need new leaders, people who set a tone. That's Wilkins. High character, infectious and he plays his tail off. Impact player.
#14 Atlanta — Chris Lindstrom (G, Boston College)
This was rumoured earlier in the day. It had been reported that some teams ended up grading Lindstrom in the top-20. Clearly Atlanta was one of them. He's very athletic and ran a good forty (4.91) and short shuttle (4.54). He might need to get stronger though to maul and grind at guard.
#15 Washington — Dwayne Haskins (QB, Ohio State)
This was gathering steam this week. The Redskins can't cut Alex Smith this season or next. They're tied to his enormous contract. Therefore they were handcuffed to go and acquire a cheap quarterback. Drafting one was inevitable. I'm wary of Haskins. He's a one year wonder playing in an offense that is always kind to quarterbacks.
#16 Carolina — Brian Burns (EDGE, Florida State)
There are extreme positives and negatives with Burns. He has fantastic athleticism, speed and quickness. He has great length. He had a pressure percentage of 19.7% in 2018. However, he played at about 228lbs last year. Can he keep weight on? Can he play the run? Can he convert speed-to-power or is he just a speed guy?
#17 New York Giants — Dexter Lawrence (DT, Clemson)
Lawrence, like Rashan Gary, got a lot of unnecessary criticism. Maybe it's because they were the #1 and #2 national recruits and expectations went overboard? He had 33 pressures in 2018 — one fewer than Jeffery Simmons and seven more than Ed Oliver. He can rush, he's an incredible athlete for his size and he's stout. Great pick.
#18 Minnesota — Garrett Bradbury (C, NC State)
Pat Elflein was a weak link last year. Bradbury has incredible hips and he can twist his body to make reach blocks like very few interior O-liners. This stood out so much at the combine — I don't think I've ever seen a lineman with hips like Bradbury showed that day. It's a solid pick and makes sense based on their needs.
#19 Tennessee — Jeffery Simmons (DT, Mississippi State)
Some believe Simmons was the best player in the draft and it's a compelling argument. He has a frame similar to Ndamukong Suh. He's all muscle at +300lbs. He handles double teams with ease and flashed great pass rushing ability against Iowa in the Bowl game. He dropped because he tore his ACL during combine training.
#20 Denver (via Pittsburgh) — Noah Fant (TE, Iowa)
The Broncos were after a tight end. They traded down ten spots and get the second one off the board. Will Denver move back into the first round to get Drew Lock later on? If so, #29 could be an option for them. The Seahawks dealt with the Broncos on the Paxton Lynch trade. Fant is big, fast and highly athletic.
#21 Green Bay (via Seattle) — Darnell Savage (S, Maryland)
For the second year in a row, the Seahawks trade down with the Packers. Seattle moves from #21 to #30 — so they now own back-to-back picks at the end of the first. In return they get two fourth round picks (#114 & #118). They now have seven picks. The Packers are spending all their high draft stock on defense under their new GM. I really hope Seattle mimics that approach give the current state of the roster. Savage ran a 4.36 and you can't teach speed.
#22 Philadelphia (via Baltimore) — Andre Dillard (T, Washington State)
The Eagles trade up from #25 and give the Ravens a fourth and sixth round pick. Andre Dillard ran an absurd 4.40 short shuttle at 315lbs and ran a 4.96. He's the best pass-protecting lineman in the draft. The Eagles secure their tackle position for the long haul with Jason Peters now aged 37. This is good value for Dillard.
#23 Houston — Tytus Howard (T, Alabama State)
A lot of people liked Howard. Tony Pauline raved about him at the Senior Bowl. He did have that one rep against Montez Sweat that didn't go well. The Texans needed to draft an offensive tackle. Bob McGinn noted in his mock draft that Jawaan Taylor has a knee issue.
#24 Oakland — Josh Jacobs (RB, Alabama)
Marshawn Lynch retired this week and set the stall for this pick here. Undoubtedly Jacobs emerged in 2018 and had some really fun plays. However — he didn't have a great pro-day and you have to question his upside. He had 120 carries last season and that was by far his biggest tally.
#25 Baltimore (via Philadelphia) — Marquise Brown (WR, Oklahoma)
Antonio Brown's cousin lands in the AFC North. The Ravens needed a receiver or an offensive lineman. Brown had a fantastic season in 2018. Yes he benefited from playing with the #1 pick on a loaded roster but he just gets open and makes big catches. Lamar Jackson can get it downfield.
#26 Washington (via Indianapolis) — Montez Sweat (EDGE, Miss. State)
The Redskins took Dwayne Haskins and then gave up their second round pick in 2020 to move up from #46. Chris Ballard now has three second round picks. He gets it. There were concerns about a heart condition. His 4.41 forty at 260lbs was incredible and he has 35 3/4 inch arms.
#27 Oakland — Johnathan Abram (S, Mississippi State)
Oakland's draft was all about setting a tone, finding intense alpha males and that's what they've added. Three physical players with leadership quality. They're trying to build a tough group. The worst thing a team can do is not have a clear plan. The Raiders have that in this draft.
#28 Los Angeles Chargers — Jerry Tillery (DT, Notre Dame)
Recruited as a left tackle, Tillery's physical profile is highly impressive. He's 6-6 and 295lbs but still ran a 4.44 short shuttle. He had a weird game against USC where he kicked one player in the head and stamped on another's ankle as both lay on the turf. Had a pressure percentage of 12.2%.
#29 Seattle — L.J. Collier (DE, TCU)
The Seahawks trolled the first round by using their back-to-back picks to essentially create a 20-minute on-the-clock window. They used pick #29 and traded pick #30. L.J. Collier is a beast. As I wrote earlier today, he wins with speed, speed-to-power, bull-rush, engage/disengage. He's one of my favourite players in the draft and it's a great pick. His pressure percentage was a high 19.2% in 2018.
#30 New York Giants (via Seattle) — De'Andre Baker (CB, Georgia)
The Seahawks traded down from #30 to #37 and gained a fourth (#132) and fifth (#142) round pick. Baker had a weird off-season and reportedly didn't take combine training seriously. The Seahawks have done what we expected and traded down aggressively.
#31 Atlanta (via LA Rams) — Kaleb McGary (T, Washington)
The Falcons double down with the O-line and pair Chris Lindstrom with Kaleb McGary in round one. McGary is a tough physical, punishing tackle. He'll give up some pressures but he's very athletic and you've got to admire the commitment to the O-line.
#32 New England — N'Keal Harry (WR, Arizona State)
Harry believed he wouldn't get by pick #33 and that proved to be correct. He's a smart, intelligent personality with great YAC ability. Many believed he would be on Seattle's radar.
That's it for round one. Thoughts on the way shortly. I'm also just about to record a podcast with Brandon Schulze so stay tuned.
#29 (R1) L.J. Collier (DE, TCU)
#30 (R1)
#92 (R3)
#114 (R4)
#118 (R4)
#124 (R4)
#132 (R4)
#142 (R5)
#159 (R5)