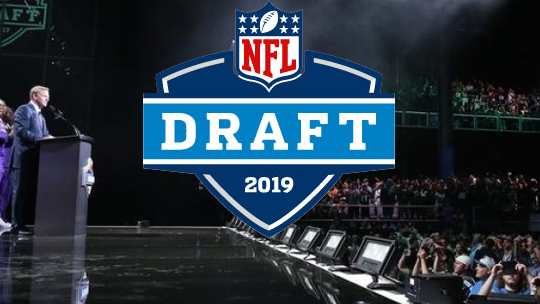 Here's today's live blog. Keep refreshing for immediate reaction on every pick.
And remember — no tipping picks please in the comments section.
Headlines
— The Seahawks trade down from #37 to #47 with the Panthers
— As compensation they gained another valuable round three pick (#77)
— They select Marquise Blair (S, Utah) with the #47 pick
— The Seahawks trade up from #77 to #64 with the Patriots giving up #118
— They select D.K. Metcalf (WR, Ole Miss) with the #64 pick
— Adam Schefter reports Doug Baldwin might be set to retire
— The Seahawks trade up again from #92 to #88 giving up #209
— They select Cody Barton (LB, Utah) with the #88 pick
Seattle's board
#29 (R1) L.J. Collier (DE, TCU)
#47 (R2) Marquise Blair (S, Utah)
#64 (R2) D.K. Metcalf (WR, Ole Miss)
#88 (R3) Cody Barton (LB, Utah)
#114 (R4)
#124 (R4)
#132 (R4)
#142 (R5)
#159 (R5)
Second round
#33 Arizona — Byron Murphy (CB, Washington)
The best cornerback in the draft goes to Arizona. He goes back home and he'll be excited about that. Considering they already have Budda Baker he'll likely play outside corner. At his size and speed, I'll take that matchup in the NFC West (even if I really like him as a player).
#34 Indianapolis — Rock Ya Sin (CB, Temple)
He's tough and competitive. He's a little bit undersized even if he has +32 inch arms. He's been a big riser. The run on cornerbacks is on with DeAndre Baker, Byron Murphy and Rock Ya Sin going between #30-34.
#35 Jacksonville (via Oakland) — Jawaan Taylor (T, Florida)
The Jaguars trade up from #38. There were concerns about a knee issue with Taylor, leading to this fall. Many people mocked him to Jacksonville at #7. Taylor's a bit overrated for me. Didn't play his best until his last year and I'm not sure he's as tough as some people are suggesting.
#36 San Francisco — Deebo Samuel (WR, South Carolina)
Samuel showed at the Senior Bowl that he knows how to get open. He has special teams value as a returner. He didn't show much as a downfield threat but he competes. He's stocky and explosive — a bit like a running back.
#37 Carolina (via Seattle) — Greg Little (T, Ole Miss)
The Panthers trade up from #47 so the Seahawks drop down ten spots and collect another third round pick (#77). Greg Little to me is best moving inside to guard. He's a former big-time five-star recruit but his body type looks better suited to working inside. He had a poor 2018 season, a poor combine and he dropped well out of first round contention.
#38 Buffalo (via Oakland) — Cody Ford (T, Oklahoma)
The Raiders trade down for the second time in round two. Ford is great value here. Ian Rapoport suggested he fell because he thought he was better than he is. He has great feet for a guy with his size, he's very stocky and powerful. Could be a big mauling guard yet his drop and kick-slide could keep him at tackle.
Meanwhile…
I'm told the Jets were targeting either pick 34 (Colts) or 37 (Seahawks) in an attempt to move into round two but did not have enough ammunition to get the deal done.

— Tony Pauline (@TonyPauline) April 26, 2019
#39 Tampa Bay — Sean Bunting (CB, Central Michigan)
Bunting competes. Watch his game against Michigan State and you'll see that. He had 31 3/4 inch arms but ran a great forty and is explosive. He's been a big riser during the off-season and he ends up going before some of the bigger names.
#40 Oakland — Trayvon Mullen (CB, Clemson)
Mullen is a typical Clemson player. By that I mean during interviews he goes into great detail on scheme and concepts. They're all so well coached and they recruit students of the game. He's not big and long but he fits Oakland's desire for accountable individuals.
#41 Denver — Dalton Risner (T, Kansas State)
In the first game I watched Risner during the college season, he was dumped flat on his back by a defensive lineman. That moment kind of stuck with me throughout the process. But he's a great guy so hopefully he has a great career in Denver.
#42 Denver (via Cincinnati) — Drew Lock (QB, Missouri)
The Broncos move up ten spots (they gained an extra second rounder after trading down from #10 to #20 last night). They end up with back-to-back picks in round two. All the talk early in the process was John Elway loved Drew Lock. He dropped into round two and this is worth a flier here. It's no gamble.
#43 Detroit — Jahlani Tavai (LB, Hawaii)
Tavai isn't someone I spent much time on but I saw enough to think he'd be a great fit for the Patriots. Thus, it's no surprise he's ended up in Detroit with Matt Patricia.
#44 Green Bay — Elgton Jenkins (C, Mississippi State)
He had a good year in 2018 and then a good Senior Bowl. He looks the part. The only negative was his game against Quinnen Williams where he was destroyed. He was announced as a guard so clearly the Packers intend to shift his position. He can handle that. He's got the frame for it.
#45 New England (via LA Rams) — Joejuan Williams (CB, Vanderbilt)
The Pats move up from #56 and the Rams have now dropped from #31 to #56 and are yet to make a pick. They've acquired two third rounders to move down. This is a good match. Williams is incredibly intelligent and tough. He's battled adversity. He's a 4.64 runner but Bill Belichick will put him in a role to succeed.
#46 Cleveland (via Indianapolis) — Greedy Williams (CB, LSU)
The Browns traded up three spots to move above the Seahawks. Was that deliberate? I can't imagine the Seahawks were going to draft a corner with sub-32 inch arms who won't tackle. This was probably just a deal the Browns wanted to make and in fairness — for their team it's a value pick here. Browns fans will be excited.
#47 Seattle — Marquise Blair (S, Utah)
This guy is a Seahawks safety. He hits like an absolute hammer. He takes no prisoners. I'd been mocking him in round two practically throughout the process. He's a 4.48 runner, not the biggest guy but he'll bring competition at safety and he can play big nickel. If you like hitting you'll like Blair.
#48 New Orleans (via Miami) — Erik McCoy (C, Texas A&M)
I love this pick. McCoy was the only center I saw in 2018 who battled Quinnen Williams and had some wins. He squares up and finishes. They lost Max Unger and the replacement could be one of the steals of day two.
#49 Indianapolis — Ben Banogu (EDGE, TCU)
Banogu's a great athlete and has everything you want physically. The problem? He can't rush the passer. He's going to need coaching from scratch. I'd move him to linebacker because his best quality is read/react in space and closing speed.
#50 Minnesota — Irv Smith Jr (TE, Alabama)
The Vikings were said to be keying on the tight ends. Smith Jr is a big slot receiver. He's not going to be a big blocker. He's a guy who's very fluid in finding the soft spot in a defense and making plays. He's not that big or fast but he's a natural receiver.
#51 Tennessee — A.J. Brown (WR, Ole Miss)
I'm not sure the Titans needed another medium-sized, lumbering receiver. They took one in the top-10 a couple of years ago. For me he's a big slot who does his best work in the short range. It's not bad value for what he is but Brown isn't sudden or quick and that's what seems to win these days (just look at the statistical top receivers).
#52 Cincinnati — Drew Sample (TE, Washington)
I need to go and find that guy who said in the comments section that Sample wouldn't go as high as round three. Teams loved Sample. He was a boss at the Senior Bowl — whipping all the big name safety's. He blocks, he's athletic. He can be Zach Miller.
#53 Philadelphia — Miles Sanders (RB, Penn State)
I'm a big fan of Sanders'. He's fast and explosive. He's elusive. He finishes runs. When you put on the tape he just screams successful NFL runner. Philly loves to use multiple backs but I wouldn't be shocked if he gets the bulk of the carries in 2019.
#54 Houston — Lonnie Johnson (CB, Kentucky)
Love Lonnie Johnson. He could be the top outside corner in this class. He's big and long and looked like an ideal Seahawks corner. If only he'd lasted until the middle rounds. This was a big need for the Houston.
#55 Houston — Max Scharping (T, Northern Illinois)
There are people who said during the season that he was better than Eric Fisher. Clearly that didn't prove true in terms of draft stock. The Texans needed tackle help and they take two small school guys. I hope they're ready.
#56 Kansas City (via LA Rams) — Mecole Hardman (WR, Georgia)
The Rams trade down yet again. They've moved from #31 to #60 and are still yet to make a pick. The Chiefs moved up to get Mecole Hardman who's a physical comp to Tyreek Hill. Clearly they just tried to replace Hill. Hardman has raw hands and catching technique but you can't coach his speed.
#57 Philadelphia — J.J. Arcega-Whiteside (WR, Stanford)
Arcega-Whiteside can box-out and win contested catches. He shows strong hands in those situations and he'll be a major red zone threat. Do they need Arcega-Whiteside and Alshon Jeffery? I like the fit but they do already have a similar player.
#58 Dallas — Trysten Hill (DT, UCF)
This is a great pick for the Cowboys (their first of the night). Nobody performed better in drills at the combine. He's highly athletic and active. He was an explosive tester with great quickness. Love the pick for Dallas.
#59 Indianapolis — Parris Campbell (WR, Ohio State)
This is why the strength of the draft is day two. Getting Campbell at #59 is great value for the Colts, fresh after Trysten Hill coming off the board. Indy took Rock Ya Sin, Ben Banogu and Campbell with their three picks in round two. He's a 4.31 runner and plays like a bigger Percy Harvin.
#60 LA Chargers — Nasir Adderley (S, Delaware)
I thought he was overhyped when he was getting first round talk. His highlight reel is great but the full tape was littered with inconsistencies. He didn't run at the combine and didn't make much of an impact in the Senior Bowl.
#61 LA Rams — Taylor Rapp (S, Washington)
Finally the Rams make a pick after trading down 30 spots. And it's a familiar face. They take Taylor Rapp to play in the secondary. Rapp's a good player and he's never been a speed guy. His sub-4.00 short shuttle is top-level and that's what he is — agile and tough.
#62 Arizona (via Miami) — Andy Isabella (WR, UMass)
The Dolphins have traded for Josh Rosen. The Cardinals drafted him at #10 a year ago. Now they're giving him away for a late second round pick. There was talk a few weeks ago that the Cardinals loved Isabella. For me he needs to get into his release. He dances around too much. He has speed though.
#63 Kansas City — Juan Thornhill (S, Virginia)
He was announced as a DB and that's because he's a hybrid and will be used as such. I didn't really like the top-40 talk. His tape was average. You can't argue with his athletic profile though or his six interceptions in 2018.
#64 Seattle (via New England) — D.K. Metcalf (WR, Ole Mis)
The Seahawks trade up from #77 to get the final pick in round two and make a splash. Pete Carroll has wanted a big target since forever. Now they have a 6-3, 228lbs beast who runs a 4.33. He's one dimensional. He's a go-route specialist. The good news? That's what Seattle wants. Deep shots. This is an exciting pick this late in the day. They gave up pick #118 (round four) to move up 13 spots.
Third round
#65 Arizona — Zach Allen (DE, Boston College)
Allen took over games in 2018 and had a great season. His short shuttle of 4.36 is fantastic for a player with his size. He had a disappointing Senior Bowl where he barely had an impact at all.
#66 Pittsburgh — Diontae Johnson (WR, Toledo)
Some people love Diontae Johnson. I personally didn't spend much time watching him but the Steelers have done a terrific job in recent years finding big-time talent at receiver. He has a similar physical profile to Antonio Brown.
#67 San Francisco — Jalen Hurd (WR, Baylor)
I'm not a huge fan of Hurd's. He's mixed around, switched positions. He had that one play where he had the ball punched out on the goal line because he was sauntering in for a touchdown. I know a lot of other people like his upside though.
#68 New York Jets — Jachai Polite (EDGE, Florida)
Polite had a disaster of an off-season. He gained bad weight, ran poorly and complained about injuries. His stock collapsed from top-20 to round three. The Jets needed a pass rusher and take a chance here.
#69 Jacksonville — Josh Oliver (TE, San Jose State)
Some people in the league thought he was the best tight end in the draft. Oliver loves football. He was popular with team mates. He didn't block and basically acted as a big slot. The Jaguars have been trying to solve their tight end problem for a while.
#70 LA Rams (via Tampa Bay) — Darrell Henderson (RB, Memphis)
The Rams trade up to go and land a running back. They clearly need some insurance for Todd Gurley based on what happened at the end of last season. He's only 5-8 and 208lbs but he leaves a mark when he runs. He finishes runs.
#71 Denver — Dre'Mont Jones (DT, Ohio State)
He had a big impact in 2018. Every time you watched Ohio State he was making plays. The problem is he's built like a specialist rusher. Can he play end and kick inside? Debatable. That likely limited his stock and it's why he's here in round three.
#72 Cincinnati — Germaine Pratt (LB, NC State)
They needed to add a linebacker. Pratt has extreme highs and lows on tape. He blows up screens like very few linebackers entering the league in recent memory. However, there are also snaps where he doesn't read the play, gets hammered by a blocker and ends up flat on his back.
#73 Chicago (via New England) — David Montgomery (RB, Iowa State)
This is a shame for Mike Davis. Does he want to come back to Seattle? Montgomery got a lot of publicity during the season. I thought he looked ok. Nothing overly spectacular. He didn't have a good combine at all.
#74 Buffalo — Devin Singletary (RB, Florida Atlantic)
Round three provides a run on running backs. Like Montgomery, I thought Singletary was pretty average. He also didn't test well. Damien Harris is a better player for me. It's a bit surprising he's going after some of these other runners.
#75 Green Bay — Jace Sternberger (TE, Texas A&M)
I like this fit for Green Bay. Sternberger contorts his body to make difficult catches. He's a reliable target. He's very much a move-TE and not a Y-tight end. Aaron Rodgers should be able to take advantage of his ability to slip into soft zones and find space. He has a shot to be a high-target receiver.
This is not good news…
At the age of 30, Seahawks WR Doug Baldwin might be unable to play again due to the cumulative effect of multiple injuries, per sources. There is a real chance that Baldwin, one of the Seahawks' best and most popular players, has played his last NFL down, a source said Friday.

— Adam Schefter (@AdamSchefter) April 27, 2019
#76 Washington — Terry McLaurin (WR, Ohio State)
And just as I post that Schefter tweet above, McLaurin goes off the board. I thought McLaurin could be a potential Baldwin replacement in Seattle. He's just a fantastic receiver — great speed, tenacity, willingness to do whatever it takes to win. This is a quality pick for the Redskins. He gets to catch passes from Dwayne Haskins again.
#77 New England — Chase Winovich (EDGE, Michigan)
This was so predictable. Winovich is a perfect fit for the way New England loves to operate on defense. You could see this coming a mile away. One of the New England coaches or Belichick was going to get him. He's fast, agile and passionate but he lacked explosion and might need to play in space. He'll be a great player for the Pats. Book it. It's not just the hair that's like Clay Matthews. His profile is very similar.
#78 Miami — Michael Deiter (G, Wisconsin)
The Dolphins had a need at guard and chose Deiter. His 2018 tape is good. He plays tough, had some great snaps in the running game and he looked like a day two pick. Then at the Senior Bowl he was awful. Which was weird. I'm surprised Dru Samia is still available.
#79 LA Rams — David Long (CB, Michigan)
The Rams had a need in the secondary and David Long is a bully despite his relatively small frame. This is a solid pick for the Rams. He doesn't fit every scheme but he's the type of player you'd rather not see playing in the NFC West.
#80 Cleveland — Sione Takitaki (LB, BYU)
Takitaki had mixed reviews. He was considered a big riser during draft season and many people in the media were talking up his rise. Plenty of people saw him as a priority UDFA though. He ran a decent 4.28 short shuttle and a 4.63 forty.
#81 Detroit (via Minnesota) — Will Harris (S, Boston College)
The Lions traded up here to get a player who was considered a big leader and an alpha. He had a really good combine. The one thing he doesn't really do though is turn the ball over. It's interesting that he's gone before players like Chauncey Gardner-Johnson.
#82 Tennessee — Nate Davis (G, Charlotte)
Here's another small school guy who, over the last few weeks, has been gaining some serious traction. He's big and moves people in the running game. It's hard to project these guys to the next level but what limited stuff I saw with Davis I liked.
#83 Pittsburgh — Justin Layne (CB, Michigan State)
There are so many good players still on the board and here's one of them. He's a converted receiver who sticks in coverage. He needs to do a better job playing the ball but he's a classic Seahawks-style cornerback and this is good value for the Steelers.
#84 Kansas City — Khalen Saunders (DT, Western Illinois)
One of the stars at the Senior Bowl where he was just excellent in practise and then made big splash plays in the game. He's a big defensive tackle who can do back flips. On tape he tired in games so you need to spell him initially but he has talent and upside.
#85 Baltimore — Jaylon Ferguson (DE, Louisiana Tech)
He's incredibly raw but he got after the quarterback at LA Tech. He recorded 45 sacks in college and had a pressure percentage of 23.4% in 2018. His pro-day was a let down and he wasn't permitted to work out at the combine. This is good value.
#86 Houston — Kahale Warring (TE, San Diego State)
Surprisingly we've not see a consistent run on tight ends. They've trickled out so far. I liked Warring on tape. He gets into his routes with smooth fluidity and made some big catches in key situations. He has a ton of potential. This is good value at a big position of need.
#87 New England — Damien Harris (RB, Alabama)
The draft doesn't have to be difficult. The Pats get Chase Winovich and Damien Harris for great value. Both are ideal fits. This is why they win every year. Harris is explosive and an exceptional pass protector.
#88 Seattle (via Minnesota) — Cody Barton (LB, Utah)
The Seahawks have traded up for a second time, moving from #92 to #88 giving up pick #209 (sixth rounder). They select a linebacker Cody Barton. Why did they take him? Simple. He ran a 4.03 short shuttle and a 6.90 three-cone. They love those times at this position. He's a converted safety and continues the theme of toughness.
#89 Indianapolis — Bobby Okereke (LB, Stanford)
Makes you wonder if the Seahawks jumped above the Colts to get Barton, considering they both took linebackers. Okereke has good length and his tape was pretty good. I thought he could've gone in the back-end of round two.
#90 Dallas — Connor McGovern (G, Penn State)
McGovern might have his issues in pass protection but as a run blocker he's one of the best in this class. He'll be Zeke Elliott's best friend if he can win a starting role. He's the antithesis of Connor Williams (they should've traded that pick last year for Earl Thomas).
#91 LA Chargers — Trey Pipkins (Sioux Falls)
I can't tell you anything about Trey Pipkins other than Daniel Jeremiah says he had a good Shrine Game.
#92 New York Jets (via Minnesota) — Chuma Edoga (T, USC)
I like the Jets taking a chance on Edoga here. He was superb at the Senior Bowl. He dominated at left tackle and made a big impression. He's been accused of pulling himself out of games at SoCal. With limited draft stock and a need at tackle, this is worth a flier by New York.
#93 Baltimore — Miles Boykin (WR, Notre Dame)
His combine was unexpectedly outstanding. He's a complete athlete in terms of size, speed and explosive traits. However, his tape was pretty average. Part of that is the quarterback play. He has the physical tools.
#94 Tampa Bay — Jamel Dean (CB, Auburn)
He ran a 4.30 forty and jumped a 41-inch vertical. He has the physical profile but he's suffered several knee injuries and that impacted his stock. I thought he'd last into day three but you can't coach his speed.
#95 New York Giants — Oshane Ximines (EDGE, Old Dominion)
He's high character and loves the game. His pressure percentage of 23.5% was second only to Josh Allen in college football last season. This is about the range he was expected to go.
#96 Buffalo — Dawson Knox (TE, Ole Miss)
I was hoping Knox might drop to Seattle in round four. He's tough and loves to block. There's no complaining about a lack of targets. He ran a sub-7.00 three cone. He can block. The tight end options are thinning out.
#97 LA Rams — Bobby Evans (T, Oklahoma)
I have to say this is a good pick for the Rams. Evans isn't a flashy athlete but he just gets the job done. My guess is by second contract time, Evans has established himself enough to get a good deal.
#98 Quincy Williams (LB, Murray State)
Here's another small school player that I haven't studied. I'm not alone. Even Daniel Jeremiah says he hasn't done a report on him on the NFL Network. Apparently he's Quinnen Williams' brother.
#99 Tampa Bay — Mike Edwards (S, Kentucky)
It'll be interesting to see how he's used — nickel or safety. He didn't do any testing at the combine.
#100 Carolina — Will Grier (QB, West Virginia)
There were reports doing the rounds that the Panthers were looking at quarterbacks. Grier is very talented. He has mechanical issues that impact his arm strength at times but he's an excellent downfield thrower and he plays with grit. It won't be a shock if he ends up starting for Carolina down the line with Cam Newton's injury concerns.
#101 New England — Yodny Cajuste (T, West Virginia)
I thought the Seahawks might consider him as depth and competition. He's said to be an amazing athlete but he couldn't test at the combine due to injury. He has major upside and this could end up being yet another wise, value pick for the Pats.
#102 Minnesota — Alexander Mattison (RB, Boise State)
I love Mattison's running style. He's so physical and finishes runs. He reminded me of Alex Collins without all the fumbles. I thought the Seahawks might look at him on day three.
That's it for day two. The Seahawks will be busy tomorrow with three fourth round picks and two fifth rounders. Stay tuned to the blog I'll have my day review posted in a few moments.