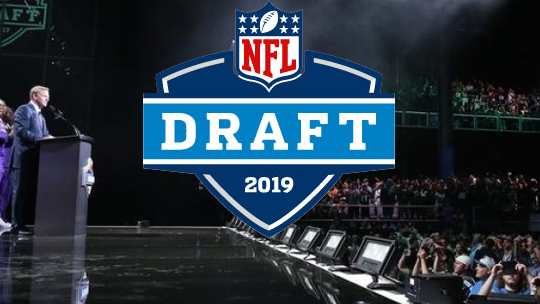 Here's today's live blog. Keep refreshing for immediate reaction on every Seahawks pick. If you missed it early, here's 42 profiles on possible day three targets.
And remember — no tipping picks please in the comments section.
Seattle's board
#29 (R1) L.J. Collier (DE, TCU)
#47 (R2) Marquise Blair (S, Utah)
#64 (R2) D.K. Metcalf (WR, Ole Miss)
#88 (R3) Cody Barton (LB, Utah)
#120 (R4) Gary Jennings (WR, West Virginia)
#124 (R4) Phil Haynes (G, Wake Forest)
#132 (R4) Ugo Amadi (S, Oregon)
#142 (R5) Ben Burr-Kiven (LB, Washington)
#204 (R6) Travis Homer (RB, Miami)
#209 (R6) Demarcus Christmas (DT, Florida State)
#236 (R7) John Ursua (WR, Hawaii)
The Seahawks traded the #114 to Minnesota for #120 and #204. With the pick, the Vikings selected Oklahoma guard Dru Samia.
#120 (R4) — Gary Jennings (WR, West Virginia)
In practically every seven-round mock draft we did for 2019, Jennings was involved. This was one of the most predictable picks for the Seahawks this year. He's a classic Seahawks receiver and ticks every box. Jennings ran a 4.42 and jumped a 37-inch vertical. He's 6-1 and 214lbs. He had a 75% catch rate in 2018 and showed he a very capable deep receiver who can operate in the slot too. He clocked a top speed of 21.03mph at the Senior Bowl. We had him in round four to the Seahawks in our final mock projection.
#124 (R4) — Phil Haynes (G, Wake Forest)
When we did our TEF scores this year, Haynes was the second most explosive offensive lineman in the class scoring a 3.22. Only Iosua Opeta (3.62) beat him. The next five names were Chris Lindstrom (3.18), Garrett Bradbury (3.15), Andre Dillard (3.13), Erik McCoy (3.05), Kaleb McGary (3.02), Elgton Jenkins (3.01). He's a four-year starter, a team captain and he has great size (6-4, 322lbs, 33.5-inch arms). He's known for durability and leadership.
#132 (R4) — Ugo Amadi (S, Oregon)
He was voted a permanent team captain. Are you noticing a theme? Leadership, toughness, accountability. He's described as good in run support which is important for the Seahawks. We'll see how they use him — I think it's pretty likely they'll let him compete at nickel. He ran a 4.51 forty and a 4.19 short shuttle. He had big production in 2018 including five TFL's, 1.5 sacks, three interceptions (two returned for touchdowns), eight pass breakups and he scored on a punt return.
#142 (R5) — Ben Burr-Kiven (LB, Washington)
There have been a few themes this year — toughness, leadership, physicality. Ben Burr-Kiven is another one who fits that. There's another blossoming theme too — special teams. It looks like the Seahawks are going all out to build up that unit after some disappointing seasons on kick coverage. Marquise Blair, Cody Barton, Ugo Amadi and Burr-Kiven look like they were all drafted with improving special teams in mind. Like Cody Barton he ran an exceptional short shuttle (4.09). We noted two years ago how the short shuttle appeared to be a primary test for Seattle at linebacker. He also ran a 6.85 three cone and a 4.56 forty. Those are great times.
Bob McGinn's report on Ben Burr-Kiven listed him as a third round pick with the following blurb:
Led FBS in tackles last season with 176. "He goes against everything I believe in as far as size," said one scout. "He's Dat Nguyen. He makes every tackle." Finished with 338 tackles (only 11 ½ for loss), four sacks and 13 takeaways. "He's a (expletive) good player," said a second scout. "He's just small. Guy's all over the field. Fun to watch. Tough and instinctive. Plays with his hair on fire. Good athlete. Good in space. All-out effort. Most productive player that I saw. High motor, finds the ball, runs well. Just undersized. Gets bounced around. Really smart." Wonderlic of 35. "Makes about 20 tackles a game," a third scout said. "Only problem is, if he doesn't beat the block initially he gets engulfed." From Menlo Park, Calif.
#204 (R6) — Travis Homer (RB, Miami)
Highly explosive and fast running back who ran a 4.48 forty and jumped a 38.5 inch vertical. He's smaller than the Seahawks usually like at 5-10 and 201lbs. According to Lance Zierlein, Homer is "a little undersized, but runs big and he already possesses NFL-level toughness in pass protection". If his pass protection skills are strong, there's a good chance they've drafted him to compete to be the third down runner. Charles Davis mentioned he's a big time special teams player.
#209 (R6) — Demarcus Christmas (DT, Florida State)
This is an interesting final pick for a few reasons. Firstly, Christmas has 32 3/4 inch arms and ran a 5.07 short shuttle. Those are two things the Seahawks have avoided in the Carroll era. Christmas was once considered a possible mid-round pick but never quite took the next step at Florida State. He's 6-3 and 294lbs. He'd flash plenty of times at FSU but consistency was an issue. He's a worthwhile flier at this stage and they needed some defensive tackle depth.
#236 (R7) — John Ursua (WR, Hawaii)
The Seahawks trade back into the seventh round, giving up a 2020 sixth rounder. They select John Ursua — who led the FBS with 16 receiving touchdowns in 2018. He's been carrying a hamstring injury but still competed at his pro-day, running a 4.58 forty, a 6.78 three cone and jumping a 10-0 broad jump. He's 5-9 and 178lbs. The fact they've drafted three receivers only further emphasises the doubt surrounding Doug Baldwin's future.
That's it for the Seahawks 2019 draft. A big review piece is on the way shortly.