Welcome to the live blog for the 2021 NFL draft. I'll be giving reaction to every pick as they're made. Feel free to use this as an open thread but please no tipping picks.
At the end of round three I'll be hosting a live stream offering reaction to Seattle's move(s).
Here's a watch-list for Seahawks fans…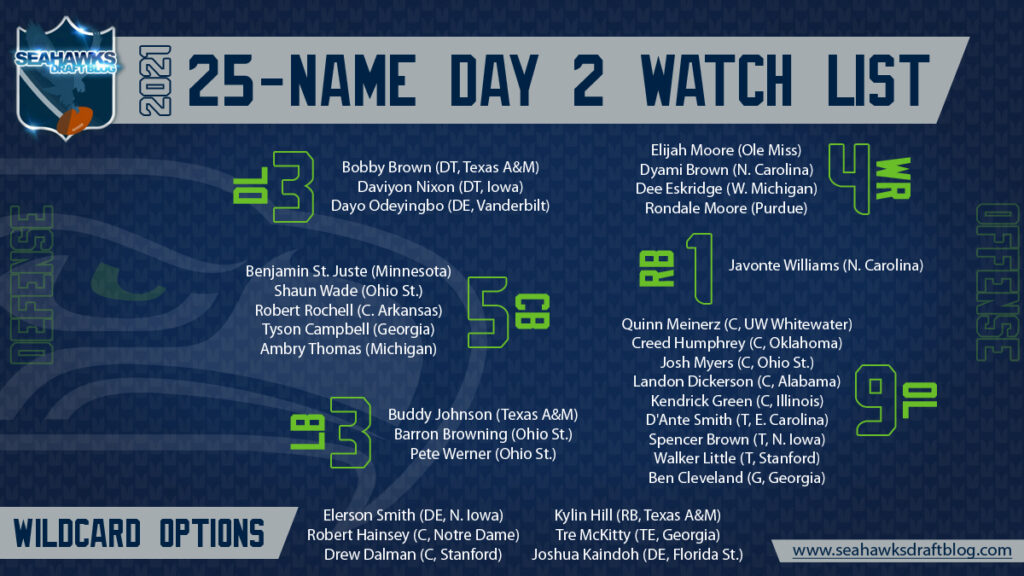 #33 Jacksonville — Tyson Campbell (CB, Georgia)
This was rumoured. I have no idea why the Jaguars have taken another corner. For me Campbell doesn't contest enough passes and his agility testing bothers me.
#34 New York Jets — Elijah Moore (WR, Ole Miss)
This is an outstanding pick. The Jets are having a tremendous draft. AVT and Moore to pair with their new pick, not to mention Mekhi Becton a year ago? What a start for Joe Douglas.
#35 Denver (v/ATL) — Javonte Williams (RB, North Carolina)
Outstanding player. In a couple of mocks I had Denver moving up for a running back. Their GM came from Minnesota. Williams is tough, physical and will run you over.
#36 Miami — Jevon Holland (S, Oregon)
He was receiving a lot of late buzz but I'm still a bit surprised he went this high. There's not a lot of tape to get into.
#37 Philadelphia — Landon Dickerson (C, Alabama)
The Eagles take a shot on Dickerson's health. There's no doubting his personality and his character. Yet there's no getting away from the fact he's had an injury every year of his college career.
#38 New England (v/CIN) — Christian Barmore (DT, Alabama)
The Patriots trade up for a player I thought was pretty overrated. I'm not convinced he's the dominating, disruptive DT many think he is.
#39 Chicago (v/CAR) — Teven Jenkins (T, Oklahoma State)
The Bears move up for the second time in the draft. Jenkins fell for health and character concerns. He's explosive but I think some of the chatter about him has been OTT. He's not as good as some will have you believe.
#40 Atlanta — Richie Grant (S, UCF)
He made a big impression at the Senior Bowl but his testing was mediocre and it feels like a forced need here.
#41 Detroit — Levi Onwuzurike (DT, Washington)
The Lions are rebuilding through the trenches and good for them. He has great agility and movement for an interior player. He has power and motor. There's a lot of potential here.
#42 Miami (v/NYG) — Liam Eichenburg (T, Notre Dame)
He was getting a lot of talk late in the process. He has short arms, his kick-slide isn't much to write home about. He's a solid player who I'd prefer inside at guard.
#43 Las Vegas (v/SF) — Trevon Moehrig (S, TCU)
Another trade. There's a lot of movement early in round two. He's a solid safety. Nothing blows you away but he's consistent and does a bit of everything. A calming influence in the secondary.
#44 Dallas — Kelvin Joseph (CB, Kentucky)
He really came on in 2020. He's a top athlete with the LSU pedigree and profile. They needed a corner and they get a good one here.
#45 Jacksonville — Walker Little (T, Stanford)
This is very interesting. He was once considered a top-20 talent. An ACL injury and an opt-out later, nobody had a real grasp of where he would land. He holds in the top-50. He has all the tools to be a starting tackle.
#46 Cincinnati — Jackson Carman (T, Clemson)
I didn't have him on my board. I didn't see anything. I thought he looked heavy and sluggish. He has short arms. There were no testing numbers. Not sold.
#47 LA Chargers — Asante Samuel Jr (CB, Florida State)
They had a need and he has a pedigree. I think the name recognition helped him but the tape was pretty good. I preferred other CB's in this class though.
#48 San Francisco — Aaron Banks (G, Notre Dame)
I liked Banks' tape but was completely put off by his pro-day and dropped him two rounds. He ran a 4.92 short shuttle and he's not explosive. His split was a 1.91.
#49 Arizona — Rondale Moore (WR, Purdue)
It's an interesting pick. He's a gadget player for me. He had some injury issues. Bit boom or bust really. Doesn't really offer any downfield threat despite his size and athleticism.
#50 New York Giants — Azeez Olujari (DE, Georgia)
Obviously the injury issues have dropped him significantly and that has to be taken into account. However, he was excellent at Georgia and he has top-level potential.
#51 Washington — Sam Cosmi (T, Texas)
He's very explosive and he has starting potential. However, he needs to learn how to finish and he has technique issues.
#52 Cleveland (v/CAR) — Jeremiah Owusu-Koramoah (LB, Notre Dame)
His lack of size was seen as a concern but there's no doubting what he does well. It's a surprise he lasted this far.
#53 Tennessee — Dillon Radunz (T, North Dakota State)
I think he's a guard, although admittedly he looked decent at tackle at the Senior Bowl. He's just not very big or long.
#54 Indianapolis — Dayo Odeyingbo (DE, Vanderbilt)
I love this pick. Odeyingbo was a top-15 player for me before he tore his achilles. He's well worth taking a chance on.
#55 Pittsburgh — Pat Freiermuth (TE, Penn State)
I love the value here and the Steelers added two excellent weapons with their first two picks.
#56 Seattle — Dee Eskridge (WR, Western Michigan)
I'm stunned they didn't trade down. They really do appear to be punting on the draft overall. Eskridge is a dynamic, exciting player. For me he's a poor man's Tyreek Hill. He can get downfield, he competes for the ball in the air, he can move the chains. He's an excellent kick returner. He's an older player but he has speed and talent.
When I interviewed Jim Nagy before the Senior Bowl, we spoke about Eskridge:
In January I interviewed @JimNagy_SB before the Senior Bowl and he brought up D'Wayne Eskridge. If you want to know why the #Seahawks drafted him, just watch this… pic.twitter.com/iYMLNJoJyD

— Rob Staton (@robstaton) May 1, 2021
The Seahawks get a terrific wide out in Eskridge, someone who can stretch the field, return kicks and even line up in the secondary. Eskridge was unstoppable during Senior Bowl practices. https://t.co/JNQVj89IBm

— Tony Pauline (@TonyPauline) May 1, 2021
I don't have an issue with this pick. I like Eskridge. I just wish they had more picks. There's so much talent left on the board. They have future holes that need to be filled.
#57 LA Rams — Tutu Atwell (WR, Louisville)
I think this is an odd selection, given his size and testing. It suggests they might've been targeting Eskridge. They surely had far bigger needs?
#58 Kansas City — Nick Bolton (LB, Missouri)
He's an old-fashioned thumper. This isn't a typical Chiefs pick — they usually go for upside and freaky athleticism. He is a physical tone-setter.
#59 Carolina — Terrace Marshall Jr (WR, LSU)
He played well in a disaster zone season for LSU last season. They have some weapons in Carolina but do they have the chops up front?
#60 New Orleans — Pete Werner (LB, Ohio State)
He's explosive, athletic and he's just always around the ball.
#61 Buffalo — Carlos Basham Jr (DE, Wake Forest)
He's athletic but his tape is underwhelming and he blows hot and cold.
#62 Green Bay — Josh Myers (C, Ohio State)
This is a terrific value pick. The Packers smash it out of the park, landing a potential 10-year starter at center. He is legit.
#63 Kansas City — Creed Humphrey (C, Oklahoma)
I'm surprised the centers lasted this far. He's explosive and tough and the Chiefs have prioritised their trenches yet again.
#64 Tampa Bay — Kyle Trask (QB, Florida)
I wouldn't have taken him ahead of Kellen Mond or Davis Mills.
I'm going to end the live blog now and jump on a live stream reacting to the Eskridge pick. I'll start a new blog post for that.