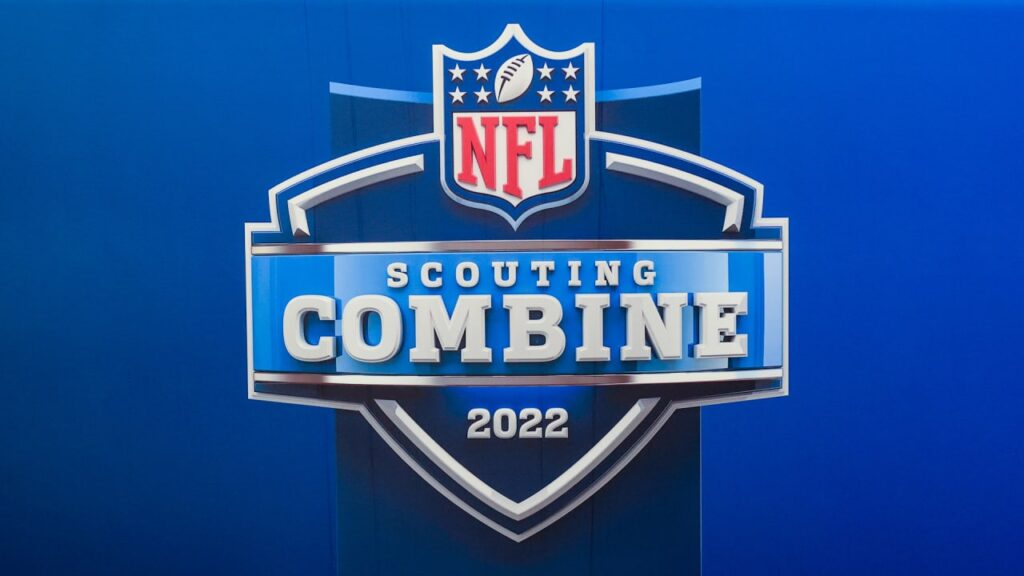 Welcome to the 2022 NFL combine coverage on Seahawks Draft Blog.
Throughout the next few days I'll be reacting live to everything happening in Indianapolis. I will also post a daily recap article and be producing live streams offering thoughts.
On top of that, my podcast partner Robbie Williams is attending the combine and will provide insight from his perspective inside Lucas Oil Field.
We want you to get involved too so use the comments section to have your say on everything happening at the combine.
Keep refreshing this page for updates.
Before we get started, check out the podcast below I recorded this week with Brandan Schulze from the Seahawkers podcast:
Injury news
It has been revealed that Tyler Linderbaum will not be doing any testing as he recovers from an injury. It's already been announced that Derek Stingley won't be doing any drills either.
I've since discovered several other key names will not test:
Jeremy Ruckert (TE)
Malik Willis (QB)
Matt Corral (QB)
Nakobe Dean (LB)
Hassan Haskins (RB)
Drake London (WR)
Carson Strong (QB)
Andrew Booth (CB)
Sam Howell (QB)
Hopefully there won't be many more names added to the list.
Horizontal board
I've made slight tweaks before the start of the combine.
Click the image to make it bigger:
More Russell Wilson talk
A quick digression from the combine talk. Mike Florio raises an interesting point:
Neither John Schneider nor Pete Carroll dismissed outright a Wilson trade when they spoke yesterday. Their language was very carefully considered.
Carroll:
"At this time of year, there are conversations about everybody. We talk about everybody. It's commonplace to have conversations with other teams about all of the players, particularly marquee players, and that's not changed. It's been the same every year we have been here, so it's the same as it's been. We have no intention of making a move there."
Schneider:
"I wouldn't be doing my job if I didn't listen to it, if I just blew people off. When it's out there in the media and all that, of course if I was with another team I'd call and be like, 'Hey, what's up with Russell Wilson?'. Just because you field those calls and questions doesn't mean we are out there actively shopping him."
I don't think any of this is going to mean anything. I don't imagine any scenario where they trade Wilson because ultimately, there are not alternatives and the Seahawks can't afford another bad season. Neither are they in a position, with Carroll approaching 71-years-old, to launch a long-term rebuild.
Trading Wilson to enter the Mitchell Trubisky market isn't realistic. Thus, no deal is going to happen this year.
However, I think both men were keeping their options open. You could even say they encouraged people to get in touch by not squashing the whole thing.
After all, Andy Reid would slam the phone down if someone called about Patrick Mahomes. I doubt he'd be telling the media 'it's commonplace to have those talks'.
Perhaps if the Seahawks are blown away by an offer, they'll consider it? Wilson would still have to agree to a trade but we all know by now that he too is keeping his options open. Is there still an offer that could tempt Seattle, somewhere?
They keep talking about 'difficult decisions', after all.
Florio raises a good point. Wilson and the Seahawks will need to talk contract next year. Those talks will happen a year after Aaron Rodgers signs a deal worth +$45m a year. If the Seahawks have no intention of matching or topping that contract, then trading him in 12 months is very realistic anyway. So if a great offer comes in now, you might as well weigh up your options.
Of course, I still think they'll determine 'going for it' with Wilson in 2022 will be better and they'll kick the can down the road.
Eventually, they'll have to pick that can up though. So they might as well see what Denver, Washington and others are willing to spend now.
Wilson is due a $5m roster bonus on March 20th so this is likely a 16-day window for talks. I get the sense Seattle's top brass are on a fact-finding mission this weekend, even if they ultimately rebuff any offers.
The NFL is ruining the combine
The move to prime-time was asinine and counterproductive. A lot of prospects won't do the short shuttle or three cone because they'll be asked to do it at 10pm.
This year they've decided to move the bench press to the same day as on-field drills.
It's the dumbest thing they could do.
Just one wide receiver did the bench press today. The rest skipped it. Why? Because why the heck would you want DOMS from benching right before you do drills, when you're a speed/skill player?
There's nowhere near enough recovery time. These receivers are being asked to bench 225lbs when they weigh about 200lbs. It's a lot easier for offensive linemen who weigh +300lbs (although the test ends up being cardio for them, not a true test of power). It's about time they switch to the powerball throw (which can easily be done on the same day as drills).
These days we've got a prime-time combine with loads of key players not testing, or not doing a complete test, and several position groups likely to skip certain workouts.
Great job, NFL.
They are destroying this event. For teams and fans.
Forty yard dash times (tight ends)
Austin Allen — 4.79 & 4.84
Daniel Bellinger — 4.63 & 4.68
Grant Calcaterra — 4.63 & 4.63
Greg Dulcich — 4.61 & 4.73
Jake Ferguson — 4.77 & 4.82
Jeremiah Hall — 4.79 & 4.98
Peyton Hendershot — 4.80 & 4.83
Connor Heyward — 4.73 & 4.77
Curtis Hodges — 4.83 & 4.86
Chigoziem Okonkwo — 4.54 & 4.52
Cole Turner — 4.76 & 4.77
Jelani Woods — 4.61 & 4.62
The following players did not run a forty:
Trey McBride
Jalen Wydermyer
Isaiah Likely
Charlie Kolar
All four are doing field workouts but didn't run a forty.
We also know Jeremy Ruckert isn't doing anything.
My list of 'combine complaints' are starting early.
The music they are playing at Lucas Oil Field is incredibly irritating. It's so faint in the distance and echoing around the empty stadium. Rich Eisen compared it to elevator music because it's just the type of standard 'NFL music' you hear on commercials for the league.
I do not care about Peter Schrager's opinion when the tight ends are running their forty yard dashes. Nobody watching this wants to hear his overall assessment of the draft class. If you are watching this you are a NFL geek. You don't want this to be 'Good Morning Football'.
The sled is back and several are the tight ends struggled with it. Unsurprisingly, Tre McBride had the best rep. He's the best blocking tight end and combines power with leverage. Many of the other TE's were stood up by the sled. Jelani Woods also had a good rep, after running well in the 40.
McBride looked really good in the gauntlet too. He's making his case to be the top-TE. Chigoziem Okonkwo was incredibly hesitant during his rep. Isaiah Likely's catching looked sharp — he had a really nice catch away from his body.
Jalen Wydermyer caught a lot of balls close to his body but arguably looked the smoothest athlete running his gauntlet. Greg Dulcich's second rep was also impressive and Jake Ferguson caught a very difficult pass well over his head, showing great hands.
Isaiah Likely just looks the part. So does Tre McBride.
Dulcich is an incredibly quick, smooth athlete as everyone should've expected. He's running with purpose and suddenness. This is why I've had him as a second round pick since early in the college football season. With his profile he will challenge opponents with his athleticism.
Okonkwo is running his reps far too carefully. He's way too tentative.
Official forty times (tight ends)
Chigoziem Okonkwo — 4.52
Jelani Woods — 4.61
Grant Calcaterra — 4.62
Daniel Bellinger — 4.63
Greg Dulcich — 4.70
Connor Heyward — 4.72
Cole Turner — 4.76
Peyton Hendershot — 4.80
Jake Ferguson — 4.81
Austin Allen — 4.83
A quick reminder — the most important testing result for this group is the short shuttle and three cone.
Some of the passes on these tight end drills have been horrendous. Give the guys a chance.
Dulcich again on the comeback drill. He just looks fantastic out there. Fluid movements, good hands, everything just connected and natural. Jake Ferguson is fighting things a bit and doesn't look as good as hoped.
Charlie Kolar has a quick change of direction but is a bit of a coaster on his routes. McBride and Likely continue to look terrific. They, along with Dulcich, have impressed the most with their movement skills.
Ferguson has a better rep on the corner route drill and looked quicker than he has done so far. I'm really, really impressed with Likely. More than I expected to be. Smooth again from McBride. It's the same names popping up on every drill. When they switched the drills to the other side — Dulcich sprinted into his route with great speed and then adjusted, without losing any momentum. Superb.
They've turned the music off. Hallelujah.
Another fantastic route from Likely, tracking the ball brilliantly. Serious crush based on what he's showing here.
Dulcich shows a really quick release off the snap and gets into his routes far quicker than any other tight end is showing. Curtis Hodges just had a really nice high-pointed catch. Likely got his body twisted on his but still came up with it. McBride had a really nice grab, as did Cole Turner. Jalen Wydermyer went for a nice one-hander.
That concludes the tight end drills.
I'm really hoping with the tight ends finishing first today, most will do the shuttle drills and three cone. Keep your fingers crossed.
Some of the receiver jumps are coming in.
Treylon Burks jumped a 33 inch vertical with a 10-3 broad. That's only a so-so result.
Calvin Austin, who I've been grading in round three, had a 39 inch vertical and an 11-3 broad.
Jahan Dotson managed a 36 inch vertical and a 10-1 broad.
Forty yard dash times (quarterbacks)
Jack Coan — 4.87 & 4.93
Dustin Crum — 4.79 & 4.74
That's it. Two quarterbacks are running from this group. There are two quarterback groups.
Forty yard dash times (receiver)
Calvin Austin — 4.32 & DNP
Kevin Austin — 4.37 & 4.43
David Bell — 4.64 & 4.62
Slade Bolden — 4.63 & 4.62
Treylon Burks — 4.55 & 4.50
Dai'Jean Dixon — 4.66 & 4.58
Jahan Dotson — 4.41 & 4.47
Dontario Drummond — 4.65 & 4.61
Ty Fryfogle — 4.55 & 4.49
Danny Gray — 4.33 & DNP
Johnny Johnson III — 4.62 & 4.51
Velus Jones Jr — 4.34 & 4.32
Bo Melton — 4.39 & 4.34
Skyy Moore — 4.39 & 4.41
Jalen Nailor — 4.47 & 4.46
Not great times for Treylon Burks. Yes, he's a bigger receiver. But I'm not sure you can justify an unofficial 4.50 and a 33 inch vertical in the first round — let alone the early first round.
Calvin Austin and Velus Jones — two players I had rated in round three, both ran superbly. I will need to adjust my grade on David Bell after two disappointing runs in the 4.6's.
Jahan Dotson looked terrific running the gauntlet. So smooth, so confident.
The receiver jumps have been published.
Vertical jumps:
Alec Pierce — 40.5
Calvin Austin — 39
Ty Fryfogle — 39
Kevin Austin — 39
Christian Watson — 38.5
Bo Melton — 38
Jalen Nailor — 38
Erik Ezukanma — 36.5
Jahan Dotson — 36
Wan'Dale Robinson — 34.5
Braylon Sanders — 34.5
Skyy Moore — 34.5
Dontario Drummond — 34
Da'Jean Dixon — 34
Danny Gray — 34
Kyle Phillips — 33.5
Charleston Rambo — 33.5
George Pickens — 33
Velus Jones — 33
David Bell — 33
Treylon Burks — 33
Slade Bolden — 32
Chris Olave — 32
Johnny Johnson — 32
Makai Polk — 31
Reggie Robinson — 29
Broad jumps:
Christian Watson — 11-4
Calvin Austin — 11-3
Isaiah Weston — 11-3
Devon Williams — 11-1
Kevin Austin — 11
Tyquan Thornton — 10-10
Jalen Nailor — 10-8
Ty Fryfogle — 10-7
Erik Ezukanma — 10-6
Danny Gray — 10-6
Skyy Moore — 10-5
Mike Woods — 10-5
Dai'Jean Dixon — 10-5
Khalil Shakir — 10-4
Garrett Wilson — 10-3
Jalen Tolbert — 10-3
Dontario Drummond — 10-2
Treylon Burks — 10-2
Velus Jones — 10-1
Jahan Dotson — 10-1
Bo Melton — 10-1
Braylon Sanders — 10-1
Johnny Johnson — 10-1
David Bell — 9-10
Wan'Dale Robinson — 9-10
Charleston Rambo — 9-10
Slade Bolden — 9-8
Tre Turner — 9-5
Here are the jumps from the tight ends…
Vertical jump:
Isaiah Likely — 36
Chig Okonkwo — 35.5
Curtis Hodges — 34.5
Daniel Bellinger — 34.5
Austin Allen — 34
Greg Dulcich — 34
Chase Allen 33.5
Trey McBride — 33
Connor Heyward — 32.5
Peyton Hendershot — 32.5
Jake Ferguson — 31.5
Jeremiah Hall — 29
Cole Turner — 27
Broad jump:
Daniel Bellinger — 10-5
Greg Dulcich — 10-2
Austin Allen — 10-1
Cole Turner — 10
Jake Ferguson — 9-10
Curtis Hodges — 9-9
Chase Allen — 9-9
Peyton Hendershot — 9-9
Trey McBride — 9-9
Jeremiah Hall — 9-3
Not a great set of jumps from the TE's.
I like the way Jack Coan is throwing. Kaleb Eleby is throwing a little too hard at times.
It's very difficult to track who is catching the football during these drills. The camera angles are poor and they keep splitting the screen to do interviews. Thus, the presenters are not talking about the players.
Bring back Mayock next year, please.
Treylon Burks looks like he's carrying too much bad weight. He looks heavy and sluggish.
Sam Howell isn't doing anything to convince me he's little more than a fourth rounder. Cole Kelley looks better. Even on the deep-out he threw out of bounds, then short and incomplete. Just poor.
Skyy Moore had a really nice grab on his deep route, completing the catch with his fingertips at full stretch on the run. I think Coan has done the best job throwing deep so far. He just had a superb fade pass, perfectly placed.
That ends the first group session of quarterbacks and receivers. The NFL Network coverage has been unimpressive. Too much time interviewing a child about his podcast and taking the piss out of Michael Irvin's polo-shirt. Not enough time assessing what we're actually seeing on the field and — given the camera angles — who we're seeing.
Here are the quarterback jumps:
Vertical jumps:
Desmond Ridder — 36
EJ Perry — 34.5
Kenny Pickett — 33.5
Jack Coan — 33
Bailey Zappe — 30
Brock Purdy — 27
Kaleb Eleby — 25.5
Broad jumps:
Desmond Ridder — 10-7
EJ Perry — 10-3
Kenny Pickett — 10-1
Jack Coan — 9-7
Skylar Thompson — 9-4
Kaleb Eleby — 9-3
Bailey Zappe — 9-1
Fair play to Jack Coan. Not only did he throw the best from group one, he's a better athlete than anyone expected.
Forty yard dash times (quarterbacks)
EJ Perry — 4.60 & 4.68
Kenny Pickett — 4.67 & 4.69
Brock Purdy — 4.81 & 4.76
Desmond Ridder — 4.50 & 4.49
Skylar Thompson — 4.89 & 4.86
Bailey Zappe — 4.83 & 4.78
Desmond Ridder looks in fantastic shape and is having a big-time day in terms of testing. That will make a difference in a class with no clear QB1.
Forty yard dash times (receivers)
Chris Olave — 4.26 & DNP
Kyle Phillips — 4.50 & 4.53
George Pickens — 4.43 & 4.40
Alec Pierce — 4.33 & DNP
Makai Polk — 4.50 & 4.59
Charleston Rambo — 4.53 & 4.51
Wan'Dale Robinson — 4.38 & DNP
Braylon Sanders — 4.42 & 4.47
Khalil Shakir — 4.35 & 4.40
Tyquan Thornton — 4.21 & DNP
Jalen Tolbert — 4.50 & 4.44
Tre Turner — 4.44 & 4.50
Christian Watson — 4.28 & 4.31
Isaiah Weston — 4.39 & 4.43
Devon Williams — 4.63 & DNP
Garrett Wilson — 4.37 & DNP
Michael Woods II — 4.55 & 4.50
Didn't expect that from Chris Olave. Wow. He'll be a first round pick with that time. He might as well go home now. Ditto Garrett Wilson.
Alec Pierce and Wan'Dale Robinson are two players I've been rating higher than most. They both ran superbly too.
Tyquan Thornton's 4.21 — if it stands — is a new combine record.
The tight end agility testing results are coming in…
Three cone:
Austin Allen — 7.00
Chase Allen — 7.03
Jake Ferguson — 7.03
Greg Dulcich — 7.05
Daniel Bellinger — 7.05
Cole Turner — 7.06
Curtis Hodges — 7.14
Jeremiah Hall — 7.43
Those times under 7.10 are the ones to focus on. They will be the players on Seattle's radar.
It's very disappointing how few players did the three cone.
More did the short shuttle:
Peyton Hendershot — 4.25
Austin Allen — 4.26
Curtis Hodges — 4.28
Greg Dulcich — 4.37
Cole Turner — 4.41
Chase Allen — 4.43
Daniel Bellinger — 4.47
Jake Ferguson — 4.48
Isaiah Likely — 4.57
Jeremiah Hall — 4.62
Back to the WR/QB drills — I like the way Alec Pierce cupped his hands to the ball during the gauntlet. Garrett Wilson's technique was a bit odd. He jumped to catch every gauntlet pass.
Wan'Dale Robinson's body type reminds me a bit of Golden Tate. Very thick, sturdy. He just made a fantastic low catch on a bad, low throw from Carson Strong (who, for some reason, keeps throwing low).
Kenny Pickett has started well in this throwing session.
Malik Willis and Carson Strong both showed off strong arms in the deep-passing drills. Kenny Pickett's were a bit flatter. Not bad just nothing special. Ridder's second deep throw was a lot better than his first, that was too inside and fluttered.
Strong and Willis threw the last two passes and launched them downfield. Strong needed to show off a bit after a mediocre Senior Bowl. Willis matched his deepest throw in terms of distance.
On the second set of deep-balls, Pickett looked a bit stronger. Ridder ripped it downfield on his second rep. Strong underthrew his first and then overthrew his second on the throws to the right hand side of the field. Willis was the star on the deep throws overall — he was the most consistently strong in this areas. He appears to be separating from the group due to his physical upside.
Daniel Jeremiah treats the broadcast like the boys are having beers and tries to crack too many jokes.
I wish we'd seen more of the drills during this second session. It felt like there were more commercials.
That concludes day one of the combine. I'll end the live blog for today. Stay tuned for my reaction article (posted soon) and don't forget to join us tomorrow for live coverage of the running back and O-line drills (TEF day).
If you enjoy the content on Seahawks Draft Blog then please consider supporting us via Patreon (click the tab below)…