This was a fascinating weekend of college football so be sure to check out the draft notes below on a majorly impactful weekend in terms of the 2023 NFL draft.
Firstly though I want to reflect briefly on the Seahawks and where I think they stand regarding the draft now that they're 6-3.
I continue to believe, even after trading Bradley Chubb, that the best Denver will offer Seattle is a pick in the range they're currently in (#8-12). I do think the Broncos defense, potentially combined with eventual better play from the offense, will allow Denver to at least win some games and avoid being a true bottom-feeder in the NFL.
As such, I think this will take the Seahawks out of contention for the top quarterbacks and top defensive players in the draft. They could trade up but I think it's attractive to add multiple players to the framework they already have. Plus, with limited available cap space (almost none if they re-sign Geno Smith), they will need those picks with only 33 players currently contracted for 2023.
My opinion might change on this but if the Seahawks end up with first round picks in the range they're picking now (#11 & #24) I think the best thing to do is simply go BPA, add the best possible talent and just improve the roster. I appreciate that's a fairly unspectacular take. Yet I think it served Seattle well this year and they've sometimes got into trouble focusing on positional needs early in the draft.
This year the value matched positional needs. If it doesn't work quite that well in 2023, I still think BPA would be best.
I'd prefer a focus on the trenches if they're going to be out of range to draft a top young quarterback to sit behind Geno Smith. Yet increasingly I think the best players available at #11, for example, might be a tight end (Michael Mayer), a receiver (Quentin Johnston) or a running back (Bijan Robinson). That's not ideal — but I'd rather add a possible blue-chip player than take a lesser talent at a bigger need.
The good news is I think there are very attractive options at defensive tackle, center, pass rusher and safety in the day two range (or even #24). Yet as Seahawks fans inevitably begin talk about landing a top defensive player with the Denver pick — I think it's important to discuss what is actually likely to be available in that range.
Tennessee vs Georgia
For the first time in his Georgia career I thought defensive tackle Jalen Carter looked like a top-five pick in this game. He produced several huge splash plays that will have NFL teams salivating about his potential.
With 3:54 left in the first quarter he beasted the right guard, putting him on skates right off the snap. He then threw him off with ease and shoved over Hendon Hooker in the end zone for a sack fumble (should've been a safety, wasn't due to the refs). This was a fantastic example of power and quickness combining to blow up the interior and make a game-wrecking play.
With 11:20 left in the same quarter he swam by the right guard and came up against two running backs left in the backfield as personal protectors for Hooker. Carter barged the first one out of the way then shoved the other right out of the pocket before hitting the quarterback. It was an outstanding play where he just looked like the best player on the field.
He forced a crucial fumble late in the third quarter — again abusing the right guard and then hitting the running back to dislodge the ball. Carter also garnered a lot of double teams, creating opportunities for team-mates in a game Georgia dominated.
I'm going to touch on this in a moment but Tennessee lives and dies by its offensive scheme and its ability to function. At no point in this game did they get into an offensive rhythm. Carter, as much as anyone, was a direct reason for that.
That said — it wasn't a flawless game and some of the inconsistency in his play showed up too. I saw him pancaked once (maybe twice, I'll give him the benefit of the doubt on the second). He had a few iffy reps where he doesn't seem to bother using his hands properly and as a consequence, he loses the leverage battle immediately. There are free-wheeling snaps on tape every game he plays.
To realise his potential at the next level he won't be able to just rely on his talent to outclass overmatched offensive linemen, have his splash plays and nobody care about the bad stuff. He can be a complete defensive tackle if he puts it all together. I hope he can manage that and become a major pass-rushing force. I do wonder, however, if like many good DT's he will need time to figure that out at the next level before maxing out his talent.
Even so — I saw plenty here to improve his grade on my horizontal board.
Regulars will know I haven't been buying into the Hendon Hooker hype. The Vols offense is the MVP and the half-field scheme they use, where Hooker takes his reads from the sideline, doesn't translate. As such, it's hard to project his true NFL potential. So many of his throws are one-read or a simple head-fake then come back to the original target. He has a cluster of wide open throws every game and his accuracy has been spotty when things don't come easily.
In this game he looked limited. He overthrew Jalin Hyatt on a downfield shot. He got the matchup he wanted vs the safety Christopher Smith. Hyatt gained easy separation due to his likely 4.3 speed and Hooker just whiffed. It was a big miss. He had a similar miss to Bru McCoy later in the game.
Other teams haven't been able to turn Tennessee's production tap off. In this game, Georgia kept winning with the same blitz. Nobody on the Vols sideline had an answer to it and Hooker doesn't have the power and ability to make adjustments. He isn't reading the field at the line — he gets instructions pre-snap from the coaches. Hooker took six nearly identical sacks in the game. As a consequence he was hesitant all day.
He will go as far as the Tennessee scheme goes. He won't get a scheme in the NFL that holds his hand in the same way. I have reservations about the upside potential of a 25-year-old rookie who has the table set for him in the way he's had this year.
I'm a big fan of Georgia running back Kenny McIntosh. He would be a terrific receiving alternative to Ken Walker. McIntosh still runs with fantastic violence and finishing ability. Kirby Smith called him, and I quote, "a bad MF-er" this week. He's very much a name to keep an eye on.
Cedric Tillman vs Kelee Ringo was a fun contest and both players had wins. Initially Ringo struggled. On one play Tillman shook him off in coverage then after the catch, made him miss in the open-field with greater agility and quickness. Ringo looked a bit stiff. Then Tillman beat him again on another route and in recovery, Ringo missed the tackle.
Yet with 4:52 left in the first half, Ringo had perfect coverage and position 1v1 on a shot to Tillman in the end zone. He ran the route for the receiver and claimed an impressive interception. It was a tremendous play.
I still think Ringo gets beat too easily and is rough around the edges and that tempers his stock for me. The upside is high but I think he might be a bit boom-or-bust. I think a range of 20-40 is more realistic for the draft than the top-12 placing some are projecting. Tillman deserves attention in round two. He and Jalin Hyatt should go early.
Georgia guard Sedric Van Pran was superb. He created numerous openings in the running game and combined well with his guards. He's adept at letting rushers run themselves beyond the quarterback and then he has the athleticism to drop and step to create that personal protector. He's tough and physical and very capable when reaching to the second level. He's an excellent player with a lot of potential. We'll see if he'll declare.
Left tackle Broderick Jones will be a better guard than tackle for me. I think he looks better than he plays. His physical frame is extremely impressive. Yet I don't see a comfortable, mobile, top-level left tackle. People are projecting him in round one but I don't see it. I think he's a worthy day two pick if you kick him inside.
Clemson vs Notre Dame
This was an absolute hammering. One of the biggest beat-downs I can recall, where one team just flat-out physically dominated the other. Clemson's much vaunted D-line was taught a lesson by the Note Dame O-line. They ran for 263 yards and threw for only 85. That sums the game up.
I've talked up the talent on that D-line as much as anyone but it's time people were honest and realistic about what's happening. I keep reading and hearing that Myles Murphy is a top-10 pick. Yet he can't defend the run. He's 275lbs and can't set an edge to save his life.
There was one play on 3rd and 10 where his initial positioning is great. All he needs to do is hold his edge here (he's on the left side of the line):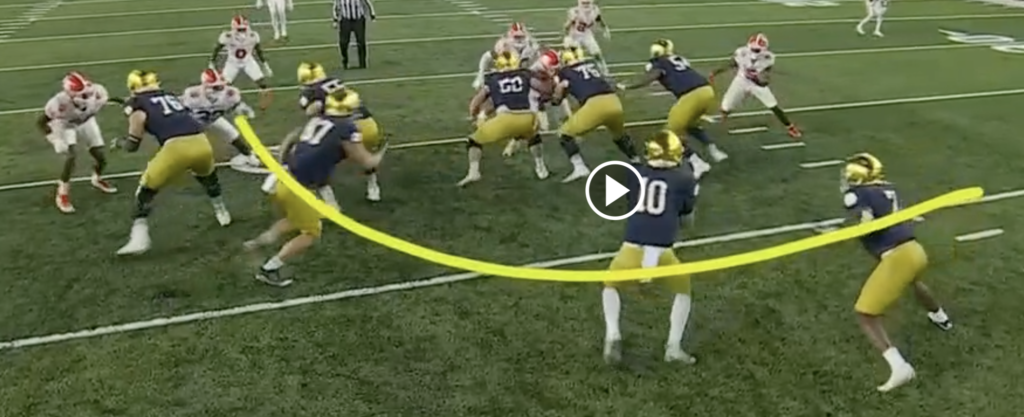 Instead he goes wandering inside trying to peek at the running back to make a play and totally gives up the outside contain. It's a massive gain for a first down:
This isn't good enough gap-control. Yet it goes beyond bad instincts. He shows no power at the point of attack. Would it kill him to put an arm out, just control the blocker and keep his frame clean so he can keep his eyes in the backfield? Again, he's 275lbs. If he can't do this then what are you drafting him for? To be a 275lbs pass rush specialist on third downs? Come on.
He was credited with a sack in the game but it's really K.J. Henry's play. Henry drives the right tackle into the quarterback forcing him off his spot and he ran into the arms of Murphy. This was an unimpressive performance from a player I still think warrants only a fringe first round grade. Play with more fire and physicality. It worries me because his frame is a little bit sloppy (no muscle definition in arms, has moobs). He's clearly very athletic but does he have that fire to be great? Is he one of those players who's always been bigger and more athletic than everyone else and thus — when that alone isn't enough — will he actually be pretty average?
Tyler Davis was the best of the bunch on the D-line. He was active — getting his hands up to tip a pass and stunting to create pressure. He has a prototype NFL body and skill set at defensive tackle and it feels like he will become a very solid starter as a round three type.
It's not good news for Bryan Bresee though. He was totally anonymous and ineffective. I'm not sure if it's a challenging last few weeks or the ACL from a year ago but he's just not impacting games. Linebacker Trenton Simpson also continues to be a ghost. He doesn't seem to do anything but mop-up tackles this year.
Notre Dame tight end Michael Mayer is such a fantastic, consistent player. Every single week he brings it as a blocker and pass catcher. He runs great routes, he's a very reliable target. He has enough short-area quickness and agility to create separation against smaller, quicker defensive backs. Mayer's testing will determine how high he goes but there's so much to like about his game. You can tell he loves football too — every snap is played with 100% intensity. He's a dynamic pass-catching weapon. I don't think it's out of the question he becomes a passing-game focal point. It's just whether the physical upside matches the great tape to determine how high he goes.
Alabama vs LSU
I've been talking up Alabama defensive lineman Byron Young for a few weeks now and I thought he was very impressive again against LSU.
He lined up at defensive tackle early, drawing a holding call after a pressure. He shared a sack with Will Anderson with 10:28 left in the second quarter. Young did a great job beating the right tackle off the snap, showing good power initially then some surprising agility and balance to get around the edge. Anderson swam by the left tackle with an inside move and both players met in the backfield.
I have to say, it was the only play Anderson made all night on another deeply underwhelming performance.
Young had a solo-sack with 11:13 left in the game. He showed great hand-fighting ability against the right tackle, barging him into the backfield. He then disengaged to bring down the quarterback. He did it again with 9:56 left in the game to bring the QB down by his legs. Ridiculously the stats-makers didn't credit him with a sack here or the Anderson one, meaning he 'officially' only gets one sack but it really should be 2.5. He is very underrated and I would love to see him in Seattle as a 3-4 defensive end. He's consistent, shows good power and ability to control the point of attack and he has enough about him to shoot gaps, shake off blockers and get into the backfield.
For me Byron Young warrants a day two grade.
This was not a good game, however, for Bryce Young. It started with a terrible interception in the red zone. Young tried to scramble, saw there were no running lanes available and made a late call to try and throw instead. He threw it straight to a defensive back for a huge error.
After that he was all over the place. He was inaccurate all night. I want to give him the benefit of the doubt and say he looked hurt and that the shoulder injury is still bothering him. He should've had another pick on the last play of the third quarter. He threw behind his receiver and the ball hit a defender on the arm before bouncing to the turf.
Then from nowhere he scrambled away from numerous tackles and had the ability to throw downfield to two wide open receivers for a touchdown. This was Young at his creative best. Even so — that moment of magic couldn't gloss over what was otherwise a challenging night.
I saw this tweet from Jim Nagy during the game. I think it's indicative of how the league views Young. The questions about his size and ability to stay healthy and at his best will remain. How early can you roll the dice? Whether he succeeds or not in the NFL, these are fair, relevant questions. Do not assume he will be a very high first round pick. He is naturally talented and a good player. But there isn't anyone like him to compare to and he will face challenges at the next level. His creative spark might combat a lot of that — but it's also possible teams will see a player who is banged up currently and suffering as a consequence. He will go in round one but it might not be quite as high as everyone thinks.
BJ Ojulari again showed he's a natural as a 3-4 OLB. He's so fluid in space but has the power to drive blockers backwards into the quarterback. He can drop comfortably into coverage. He has a long, lean frame. There's something to work with here.
Jahmyr Gibbs again showed he's an explosive, electrifying talent. This was only a contest because Alabama wisely leaned on Gibbs in the second half.
Safety Brian Branch is growing on me. In this one he delivered a legal jarring hit — the kind you want to see a safety make. His read/react skills are good. He has good size. In previous games I've seen him make some nice plays in coverage. He can play some slot. Testing will be important for him.
A couple of quick final points. The refs were awful all night, making awful decisions that impacted both teams. Also, LSU thoroughly deserved to win.
Other notes
— Not enough evaluators online consider the scheme implications when discussing quarterbacks. It's a huge thing we need to consider. For example, the demands on Will Levis and Anthony Richardson are far greater than Hendon Hooker. They are making adjustments at the line, reading coverages and have protection requirements. Scheme can also manufacture production and we're seeing a lot of that too. You have to look beyond numbers, wins and highlight throws and think about how players translate to the next level. What will the learning curve be? How does a players' skill-set put them in a position to succeed if they need to experience a learning curve? Who will be limited once they leave their college scheme? These are big questions and it's why, so often, traits matter because they are projectable. It's why it can be very dangerous to spend a high pick on a quarterback, even with traits, when they have no experience or tape showing an ability to process, adjust or make progressions/reads.
— Michael Penix is a good example of a player who benefits from scheme. He had an awful pick six against Oregon State to illustrate the problem. He tried to look off the defenders over the middle with a glance to his left (this is what all these half-field schemes have their quarterbacks do) and then throw to the intended target. The problem is — none of the defenders bought it. He threw blind over the middle to a receiver blanketed by a triangle of three defenders. It's because it's a scripted play and he's not reading anything. He's just doing what the sideline tells him to do. C.J. Stroud, Penix and Hooker have all had turnovers like this over the last few weeks.
— Penix clearly has a big arm. A pro arm. Yet he should've had another pick six with eight seconds left in the first half against the Beavers. His throwing motion means he arms a lot of throws and puts his shoulder into it. He throws late. The technique and timing was all off on this play. He will be drafted because of the arm but his scheme, his technique and his injury history will likely keep him in the later rounds.
— I will keep saying it — Anthony Richardson is going to go a lot higher next year than people realise. How many players can do what he does? Another huge 60-yard touchdown run against Texas A&M. Two rushing scores on the day. He's throwing with confidence over the middle on 3rd and 8. He is actually processing at the LOS, adjusting plays and making reads. On the run he's throwing a late pitch on third down to create and make something happen for a conversion, after threatening to run to draw the defenders to him. He can throw on the run without needing to reset his feet and his velocity is fantastic. He threw a very nice, catchable fade for a touchdown. His second passing touchdown showed poise in the pocket, he escaped pressure and found his guy. I'm not sure half the people criticising him have watched his games. Yes there are inconsistencies and areas where he needs to develop. He's only played a handful of games for Florida. Once he's worked things out and gained experience — watch out. I think he'll be a top-five pick.
— Florida linebacker Ventrell Miller again showed he is a tremendous run defender. He flashed great read/react skills against Texas A&M. He was flying to the ball. He's physical. I really hope he tests well enough to be considered by Seattle.
— Texas running back Bijan Robinson ran for 209 yards on 30 carries vs Kansas State. He added two catches for 34 yards. Anyone who doesn't put this guy in the top five of their big board is taking the piss. Most NFL teams will grade him as one of the best three players in the draft — if not the very best. He has everything. Great size. Breakaway speed. Dynamic cuts. Explosive traits. The ability to finish runs. Pass-catching talent. What a talent.
— Will Levis and Kentucky had a lot to prove after the horror show against Tennessee last week and they recorded a vital win at Missouri against a really good defense. The ESPN commentator mentioned before the game he'd spoken to NFL teams and they threw the Tennessee game out (as I suggested they might last week). It was a buzzsaw type of contest where Kentucky had no chance and Levis simply had to try and make something (anything) happen and he pressed. It's to be expected. That type of game can be thrown out if you bounce back — and he did. In this game he felt a whole heap of pressure yet again (the story of his season) and Levis was sacked six more times. Missouri also had 11 TFL's. That's the kind of adversity he's faced all year. He still stood tall in the pocket, delivered accurate passes and had a crucial game winning drive at the end. He finished with three touchdowns and zero turnovers. NFL teams will love that after last week. All of the big name 2023 eligible quarterbacks have had their challenges this year but Levis remains the most pro-ready, the most projectable prospect and for me — still the most likely player to go first overall.
— There was nothing to learn from C.J. Stroud's performance against Northwestern. The weather conditions were so bad he could barely open his eyes at the LOS pre-snap. The numbers look dreadful but the wind and rain was sending the ball all over the place. Neither team could kick let alone throw. It looks like a poor result for Ohio State against a struggling team but I'm inclined to say Stroud actually did well just to get out with a win. He found a way to impact the game as a runner when throwing simply wasn't possible (79 yards rushing vs 76 yards throwing).
— Two defenders we've discussed recently had their moments again over the weekend. Brilliant, physical safety JL Skinner intercepted a Jaren Hall pass and Michigan defensive end Mike Morris had 1.5 sacks in a win against Rutgers.
— Dorian Thompson-Robinson threw a lofted interception on the first play of the game against Arizona State but rallied to score four total touchdowns in another win for the Bruins. He finished 13/20 for 169 yards passing while running for a further 120 yards. A lot of his completions were difficult third and long conversions. He had one amazing run in this game where he hurdled a defender, ran around and got a few extra yards. He was unstoppable as a runner. He's really benefitting from staying in school, developing and growing into the position. DTR even recovered a bad fumble by the running back to avert disaster at the start of the third quarter. UCLA didn't have Zach Charbonnet due to injury and the quarterback picked up the slack. Jake Bobo also made a fantastic catch on a seam-route from DTR for a good chunk of yards (they repeated the act on a shorter completion in the third quarter). I really like DTR. Considering how much hype some other quarterbacks get, he doesn't get enough attention. He's creative, athletic and accurate.
— Has there been a worse coaching job this year than Mario Cristobal at Miami? What a disaster zone that team is.
If you enjoy the content on Seahawks Draft Blog, why not consider supporting the site via Patreon? (click here)