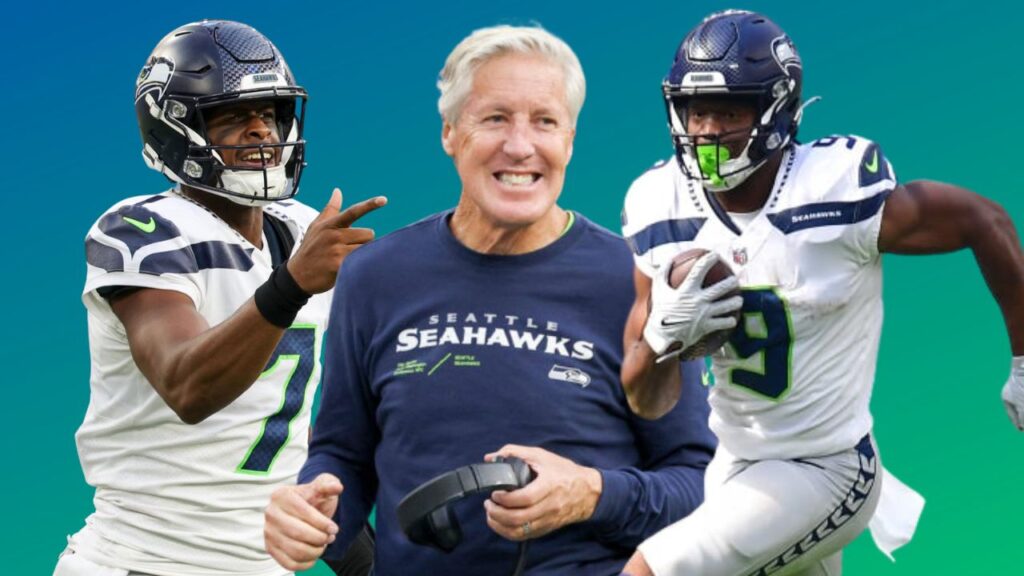 This feels like a good point to take stock of where the Seahawks are, where they're potentially going and what the future holds in terms of team building.
How are things taking shape for the 2023 draft?
A lot has changed since the start of the season and yet things are also still the same in their own strange way.
Many people expected the Seahawks to end up with a top-10 pick and a pick later in round one. They didn't necessarily expect the Broncos to be the ones delivering the top-10 pick, however.
Denver are not just struggling — they are in crisis. There's a very real chance Nathaniel Hackett could lose his job in the coming weeks. Maybe he'll be gone if they lose to the Jaguars in London this weekend.
Russell Wilson is struggling, has suffered two relatively serious injuries and missed the last game against the Jets.
It's not unrealistic for the Seahawks to get a top-five pick out of this mess. At the very least, a top-10 selection feels extremely plausible short of a major turnaround.
Right now Seattle would have Denver's pick at #6 overall and their own native pick at #23 (due to them being currently ranked first in the NFC West and therefore in possession of a playoff spot).
How is Seattle's start to the season changing opinions?
Geno Smith has performed way beyond anyone's expectations (including the Seahawks — otherwise they wouldn't have signed him to a mere one-year contract).
The defense is also showing signs of life after the now annual awful first few weeks.
People are starting to wonder whether Smith could start for multiple years, negating the need to draft a quarterback early.
Is that the right approach to take?
I would push back against that view at the moment.
With any draft class you have to play the cards you're dealt. If this was a fantastic defensive draft at the top of round one, it'd be far easier to make the case for pivoting away from quarterback.
The truth is it's a very poor draft class at the top of round one — apart from at quarterback. There are no obvious offensive linemen, cornerbacks, receivers or pass rushers (outside of Will Anderson) who deserve to go in the top-10.
Alternatively, this is a rich QB class with four players you can justifiably argue could end up being franchise quarterbacks.
So although many fans might be tempted to make the argument that a defensive-focused first round is the way to go — we have to embrace what is actually available in the top-10.
Should they extend Geno Smith now?
Smith has become a cult hero and fully deserves not only the praise he is receiving but also longer-term consideration as Seattle's starting quarterback.
Fans and media are already discussing whether contract talks should begin immediately.
Personally, I think this is something that should wait until the off-season.
The Seahawks would be bidding against themselves, with no real leverage in negotiations.
It's also difficult to project Smith's value. This is a fairly unusual situation, with a quarterback aged 32 enjoying a career renaissance. With the top quarterbacks earning $50m a year and Smith currently only earning $3.5m — there's a lot of space between those two numbers from which to establish fair value.
The danger for Seattle is twofold. If you wait until the off-season, the league will set the market for you. However — you also run the risk of losing him. Yet if you start talks now, you run the risk of spending more than you need to.
As we've noted previously — that would be a problem. Seattle only has $31m in effective cap space for 2023 according to OverTheCap.com. They also only have 33 contracted players for 2023. That's not a lot to play with — and this accounts for a $17m rise in the cap that OTC fits into their calculations.
Contrary to popular belief, the Seahawks don't have that much money to spend.
There's also some risk for Smith. Negotiate now and he can guarantee longer-term security after years of going year-to-year. You avoid the potential for regression later in the season impacting your value.
At the same time — if there's a robust market for his services next year, he stands to benefit from a bidding war. It remains to be seen, however, whether such a bidding war would take place.
Clearly it's a complex situation for both parties, deserving of greater thought than the too frequent 'pay the man' shouts on social media.
What's the ideal situation for Seattle?
An A+ outcome for the Seahawks would be waiting until the end of the season and the market remaining sceptical that Smith can repeat his success with another team. You would then have the opportunity to find common ground with Smith on a 2-3 year contract that doesn't eliminate most of your cap space for 2023 — enabling you to make some choice additions in the market and retain or replace key starters.
Ideally you then draft someone as an understudy. Geno becomes at worst a bridge to the future, much like Alex Smith in Kansas City before he handed off to Patrick Mahomes. At best, he remains a productive starter and you don't worry about covering your arse with a quarterback draft investment at the most important position in the sport.
Wouldn't it be best to draft an understudy outside of round one?
Again, you've got to play the hand you're dealt.
I don't have all the answers and will never claim that I do. But unlike most people, I've dedicated the last few months of my social life to watching all of the quarterbacks eligible for this draft (I know, what an exciting life I lead…).
Draft media is very good at rolling with a narrative. As noted yesterday — you'll often see Jalen Carter and Bryan Bresee mocked in the top-10 yet Mazi Smith is clearly, for me, the top defensive tackle in this draft.
At quarterback there are four players you can make a very strong case for drafting early — Will Levis, C.J. Stroud, Bryce Young and Anthony Richardson. Levis, Stroud and Richardson all have outstanding physical traits. Young is a creative yet extremely undersized natural talent. Levis is as pro-ready as you'll see from a quarterback. Young could be able to start quickly, too. Stroud and Richardson would benefit from time and development.
Beyond these four, there's a ton of depth and people will have heard several names being mentioned and touted as possible targets.
Personally, I think this is overstated. You can make an argument to draft someone like Hendon Hooker in the middle rounds but he plays in a half-field, cheat-code offense and despite his extreme success this year — the truth is, when you watch the tape, his accuracy is erratic and he has a lot of easy throws.
People will make a case for Mike Glennon, errr, I mean Tanner McKee. Players like K.J. Jefferson and Dorian Thompson-Robinson (who I like a lot) are more suited to the round four or five range and I can't say with any certainty they have the necessary skills to ever become a starter in the NFL. Washington fans will ask about Michael Penix Jr. I think he has a good arm and size but he's a one-read quarterback who locks onto intended targets, playing within a QB-friendly scheme. He will get a shot in the NFL but he won't be a high pick.
There are a ton of others too. I have 15 quarterbacks tentatively graded between rounds 5-7. The chances of any becoming NFL starters, though, are slim.
I would prefer to draft a quarterback who can become a great starter, rather than someone you're 'taking a flier on'. That would likely be a wasted pick. A third rounder on a player destined to be a backup, to me, would be more egregious than a top-10 pick on someone who could be the next football superstar in Seattle. And I believe the top-four quarterbacks in this draft carry that potential.
Also — I've been compiling by horizontal board and right now — there are some very attractive non-quarterbacks in rounds 2-4. It's worth repeating — a draft isn't an idealistic process where you target 'preferred positions' when it suits you. You have to act accordingly based on what's available. At the top of round one — it's simply a fact that quarterback is the strong position in 2023.
What were the Seahawks thinking before the season?
I think they spent a large chunk of their 2023 cap (which is why they only have $31m remaining in effective cap space) because they fully expected to be starting a rookie quarterback next year.
Joe Burrow's year-one cap hit as the #1 pick in 2020 was just $6m. Based on what Seattle did this year, I think they expected to be paying that as a maximum in 2023 for their starting QB.
This is something to consider as they move forward. As noted, they are probably as pleasantly surprised as the rest of us that Geno Smith is playing at the level he is. They can pivot to retain him — and they should do, if his play continues at the level we've seen so far. But a plan is a plan and this is a puzzle you have to piece together — the draft, the cap, the players on your roster.
If Smith becomes too expensive, it might be a situation where you have to stick to the original idea.
What if key quarterbacks aren't available?
This is certainly possible and could force Seattle's hand. While it's certain that Levis, Stroud and Young will turn pro — it's possible Richardson could return to Florida. He would almost certainly benefit from another year starting in college. However, I also think he'd equally benefit from getting into a pro-playbook and preparing for life in the NFL — much like Mahomes did at Kansas City.
On top of this, the Seahawks might not be in position to draft a quarterback. If their first pick is only in the #6-12 range — they might be on the outside looking in. They have the draft stock to trade up. They should consider doing so, given this is looking like one of the worst first rounds in some time. It's very top heavy. However, you also don't want to blow a ton of stock on one player, eliminating the ability to repeat what you did in the 2022 draft in building great foundations.
If Richardson opts not to declare and the top three quarterbacks go in the top-four, meaning the Seahawks miss out, what could they do?
As much as I remain sceptical that Will Anderson is a Bosa-brother, Myles Garrett, Von Miller level player — he's still a very talented prospect and a top-five lock.
The player likely to receive the highest grade on most boards will be Texas running back Bijan Robinson. As much as I celebrated the Ken Walker pick and wasn't one of the voices noisily pushing back against it on Twitter — I think it'd be a hard sell to pick a 'RB2' in the top-10 even if he has the highest grade on your board.
Even so — the dearth of alternatives in the top-10 may push the Seahawks to consider it as merely a representation of value. Prepare yourself for that. The alternatives simply aren't there I'm afraid.
You can make a strong argument for Mazi Smith. He's so disruptive despite his nose tackle size and while he's unlikely to be a game-wrecking pass rusher at the next level — there aren't many players with his physical profile. He will be a combine superstar and his tape is a lot better than people realise. For me, he is a player who deserves legit consideration in the top-12.
Notre Dame tight end Michael Mayer is also very good but again, that position is a hard sell with a top-10 pick.
After that, it's very difficult to recommend alternatives. I still think Bryan Bresee and Jalen Carter are second half of round one types rather than legit top-10 types. Bresee played better against Syracuse and might be able to make a late charge in the second half of the season.
This is a class with a serious shortage of top-end players outside of the quarterbacks, Anderson, Robinson and Smith.
Which positions are strong beyond round one?
It's the #25-65 range where you'll likely get your best value on the defensive line.
I have six centers graded for day two. None of them fit the Austin Blythe/Rams model for a center, which makes me sceptical that the Seahawks will show much interest. Even so — it's a good center draft.
There are tremendous options at receiver again, with nice depth at the position. This is an annual occurrence these days.
There's edge rush depth going into day two. I think some of this group will get pushed into round one as teams scramble to identify legit first rounders. Overall it's a class with a lot of upside at the position but not a lot of proven, dominating quality.
If they want to replace Rashaad Penny with a draft pick, they'll have no problem doing so. This is a good looking running back class.
Which positions are weak?
There's a black hole at offensive tackle. Good job the Seahawks found their answers this year. There are no viable first round options at linebacker or safety. Tight end is thin again.
Could trades come into play?
The fact there's a dearth of legit first round prospects increases the chances of trades taking place before and during the draft. This year we saw Devante Adams and Tyreek Hill dealt pre-draft, then Marquise Brown and A.J. Brown followed during the first round.
It won't be a surprise if several teams see more value in trading for veterans than using picks in the #18-30 range. I wouldn't count the Seahawks out of that either. They've been burned on big veteran trades in the past but they've equally been burned reaching on inadequate players in the early rounds.
If they end up with pick #23, as they're currently projected, I don't think it'd be a mistake to see what's out there. Just make sure it's a premium position, this time.
What should be the key priorities?
Come up with a long term plan at quarterback (preferably combining Geno Smith with a very talented rookie understudy).
Upgrade the defensive line. If you can create a fearsome D-line for the long term, this team has the potential to go far.
Who are the 10 best players you've seen who are eligible for the 2023 draft?
The four quarterbacks — Levis, Stroud, Young and Richardson.
Two running backs — Robinson and Jahmyr Gibbs.
Two defensive linemen — Will Anderson and Mazi Smith.
One offensive tackle — Darnell Wright.
One tight end — Michael Mayer.
After that, the next group are more prospects based on potential that proven production. This includes players with a lot of talent but mixed tape and/or injury issues such as Kelee Ringo, Bryan Bresee and Jalen Carter.
I would also include the two Clemson pass rushers here — K.J. Henry and Myles Murphy, plus Tennessee receiver Jalin Hyatt. Receiver Jaxon Smith-Njigba can work into range if he gets healthy plus Quentin Johnson has wowed in flashes, as has Zay Flowers.
Who are some lesser known draft prospects to watch?
Chris Rodriguez (RB, Kentucky) — Incredibly powerful, drives through contact, always finishes runs. A pleasure to watch, just like UCLA's Zach Charbonnet.
Jonathan Mingo (WR, Ole Miss) — A 6-2, 225lbs receiver who runs with great fluidity, is an explosive play specialist and can be a real mismatch weapon lined up in the slot.
Olusegun Oluwatimi (C, Michigan) — Mr. Consistency at the heart of Michigan's offensive line. He might lack the flashy traits but Oluwatimi just gets the job done.
K.J. Henry (DE, Clemson) — A legit pass rusher with 5-star tools and a passionate approach to football and leadership. He gets after it and flies off the edge.
Byron Young (DE, Alabama) — Big bodied 3-4 DE who doesn't look amazing and probably won't test brilliantly but every game he is disruptive by breaking into the backfield with a combo of sneaky quickness and brute force.
Ventrell Miller (LB, Florida) — A heart and soul leader who leaves it all on the field and has just made play after play for the Gators this year.
Christopher Smith (S, Georgia) — Pulsating safety with the quickness and range to cover ground quickly, great ball skills and a nose for the football.
Abraham Camara (S, TCU) — He can line up in the slot, at free safety or in the box. He'll knock your block off and he's a fierce hitter — but he has quickness and agility to cover ground superbly.
Who are the overrated players?
I think Georgia linebacker Nolan Smith is a second or third round pick and not the first rounder the media says he is. I am not convinced Paris Johnson Jr is a first round pick at left tackle and I think Peter Skoronski is better suited to kicking inside to guard.
What about early suggestions for free agent targets?
It's too early to say with any certainty but here are five names I'll throw out there:
Isaiah Wynn — it hasn't worked at tackle for Wynn in New England but he always projected best during his Georgia days to the guard spot. The Rams blocking scheme, which Seattle is using, has had great success using converted tackles at guard.
David Edwards — a guard for the Rams, he already knows the scheme and would be a plug-in-and-play type who presumably won't break the bank.
Garrett Bradbury — hasn't lived up to expectations at center in Minnesota but he has the size/profile the Seahawks and Rams are looking for in a center.
Daron Payne — the Commanders are going to find it very difficult to pay everyone on their D-line. Payne would be a terrific addition and worth spending a pretty penny on. He's at a good age, he's physical and tough and provides pressure and size.
Zach Allen — perfectly sized to play 3-4 DE and he always seems to perform against Seattle. He currently has a PFF grade of 76.0 with 18 total pressures.
Notice a theme? The trenches. That is where Seattle should be spending their resources as they continue to develop this roster.
If you enjoy the content on Seahawks Draft Blog, why not consider supporting the site via Patreon? (click here)