Apologies — I'm a day behind on these because I need to wait for people to upload practise tape to YouTube. Here are my day two notes…
There was no Dawand Jones at practise on Wednesday (he didn't practise today either). That's a shame but his day one performance was good enough to leave a lasting impression.
Keeanu Benton had some more wonderful reps on day two. He's perfectly sized and is flashing quickness and technique in Mobile to win repeatedly. At Wisconsin he was used as a nose tackle but in Mobile he looks like a complete DT. He had a dominant rep against Jake Andrews. His get-off is great and he used a violent rip/swim to avoid the block and explode into the backfield. He did have one bad rep too against Andrews, where he slipped trying a spin-move and just fell over. Benton was also controlled on one occasion by McClendon Curtis. Overall though he's showing he thoroughly deserves second round consideration and depending on how he tests, there's genuine potential here.
YaYa Diaby showed off a great burst in day one and he looked really athletic again on Wednesday. He made Blake Freeland look silly with a stunt to the outside then a dart back inside. Freeland virtually lost his shoes trying to change direction.
Jaelyn Duncan was silky smooth protecting the edge and had a nice win against the talented K.J. Henry, walling off and not allowing him to bend and straighten. Duncan also lost in a fairly basic way to Lonnie Phelps, giving up the outside too easily. However, he also had a controlling, dominant rep against Isaiah Foskey — claimping into his chest and not letting go with ideal hand-placement. He also stoned Andre Carter on a left tackle rep, getting lower than the defender and again shooting his hands inside to control. It was an impressive showing from Duncan. He's a great athlete who is expected to test very well but his lack of ideal length could lead to a move inside. A reminder that Seattle's scheme — brought in from LA — has often used converted tackles at guard.
On Foskey — he is sadly one of the more overrated players in this class and he also had a rough time against Ryan Hayes on Wednesday, being sent to the turf too easily when rushing from the right hand side. He's not shown much pop in his 1v1 reps so far — appearing fairly average.
Steve Avila had one of the reps of the week against D.J. Dale. He lined up at center and locked on to Dale off the snap, fought to get his hands inside and just completely controlled the block. He straightened his back, won the leverage battle and just dominated.
I'm as a big fan of Darnell Wright as anyone but Will McDonald got the better of him on day two. Remember, Wright is the man who shut-down Alabama's Will Anderson during the season. McDonald's technique leaves a lot to be desired but when you have freakish quickness, agility and length you can still find ways to win. He got to the edge quicker than Wright on the first rep. McDonald's hand-placement is non existent but because he's so quick, Wright couldn't get across to wall him off. They gave them a second rep against each other straight away and scarred from the previous 1v1, Wright compensated outside. McDonald sensed it, to his credit, and beat him with a nice spin move to penetrate inside. It might take McDonald a year or two to realise his potential — and he may never truly realise it. If he does though, watch out. The physical tools are there to be amazing. He's just never been able to put it all together.
Andre Carter — great physical profile. Bags of developmental potential. At the moment though, he's not strong enough and he's basically a project for later on.
Twitter was interesting yesterday. People are awarding wins in the 1v1's that are actually losses. A case in point — I couldn't help but challenge this tweet praising O'Cyrus Torrence. It led to a long, frustrating back and forth as people desperately tried to claim this constitutes a win for a right guard: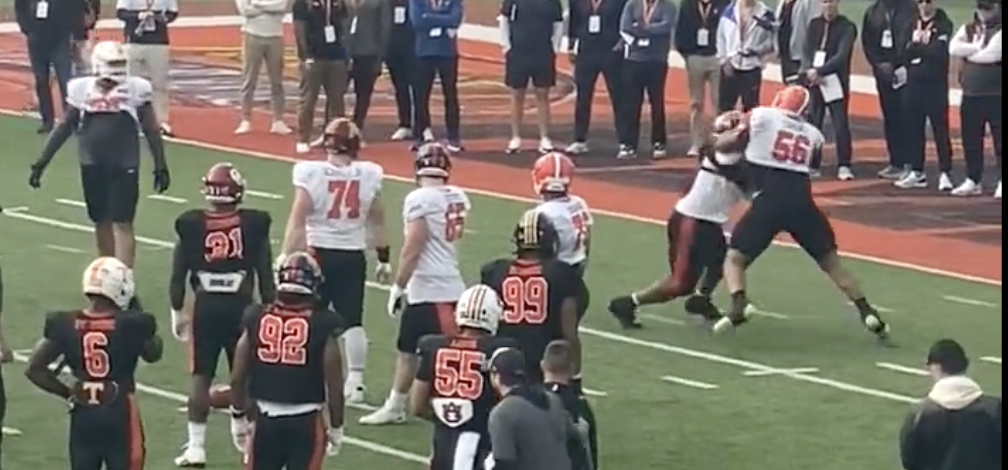 As we all know, any time your guard gets shoved six yards into the backfield, right into the spot the quarterback would be standing — that's a clear win. I don't know about you but I can't get enough of those moments where the rest of the line have to turn around fully to see what's happened to the right guard.
I can remember Pete Carroll talking many years ago about the need to push the pocket as a D-line. Clean wins are nice but difficult to achieve in the interior. Driving your blocker back and moving the QB is integral. There are seemingly people online who think being pushed this deep into the backfield is a win — just because the defender doesn't disengage and release. It highlights how challenging it is to trust analysis on the internet.
On another rep, people were hailing Torrence for blocking Byron Young of Alabama because Young ended up on the deck as he slipped over at the end of the 1v1. The thing is, they engage at the 10-yard line and Young slips at the five-yard line. At Alabama Young was adept at disrupting plays not with clean wins but by shoving blockers backwards or playing his gap well. I don't want a guard ceding ground five or six yards into the backfield. I want him to square-up, anchor and stall the pass-rusher as best he can.
It's been the same with Cody Mauch for most of the week too. He's looked quite aggressive and fun attacking people in the running game but in his pass-pro reps he gives up too much ground. Watch his second rep in this video against Karl Brooks.
That isn't a win for Mauch. He gives up too much ground and then Brooks works back to the QB. That's a pressure or a sack. Yet it's contained within a tweet describing a 'dominating' performance.
I had Tyjae Spears graded in round two in my latest horizontal board. He is so electric and despite being lighter than ideal (205lbs) he has such a proportionate frame with a thick, explosive lower body. He had a big run during team drills — a well blocked play it has to be said — where he took advantage to explode through the whole and then make the safety Chris Smith of Georgia miss at the second level. He's a dynamite player and someone who could be a nice complement to Ken Walker. That said, he was demolished by Aubrey Miller on a pass-pro rep (before battling back on the subsequent rep).
This isn't an easy week to judge tight ends but Luke Musgrave look so smooth running routes and catching the ball. He's a total natural, a great athlete and he's got so much next level potential.
For all the talk of dominant performances by Keion White and Adetomiwa Adebawore, I saw White well handled by Ryan Hayes on one rep and then 'Ade Ade' was easily controlled by Jarrett Patterson. On their next 1v1, Adebawore got revenge by pulling Patterson's jersey and releasing to get a clean break and burst into the backfield. After that, Adebawore used a euro step from the interior and then a swipe of the hands to dodge a block by McClendon Curtis. He had the skill to then capitalise and bend to the QB.
White lined up inside on Wednesday and had a good battle with Cody Mauch. People on Twitter were saying Mauch won but I see it differently. White has him five yards into the backfield off the snap and just bursts upfield. Mauch tries to hang in there and he stops White releasing to get the sack but by that point he's right in the QB's grill. It's a win for the defense.
Mauch had a really ugly rep too against Nesta Jade Silvera where he was just driven backwards. Fun player he might be but as noted earlier, Mauch looks like he lacks the core strength to drop the anchor.
White couldn't disengage from McClendon Curtis on a different occasion. I'm impressed with White's quickness and athleticism but I want to see better use of speed-to-power and a more cultured game-plan to disengage. He just ploughed into Curtis on this rep and didn't have any thought on how to release.
Ali Gaye never delivered on his potential at LSU but he's a well sized edge who flashed a couple of times on Wednesday. He easily beat Warren McClendon with a speed rush to the edge on one play (he was barely touched) and then at the other side of the line, he showed power and leverage in run-combat. Speaking of his inconsistency though — in the rematch against McClendon he just ran into the right tackle and was shut down.
Tennessee's Byron Young isn't the biggest but he really gave his all in the run-reps — leveraging well and extending his arms and driving through contact. He also drove Wanya Morris right into the backfield on two pass-rush reps.
I've been really impressed with Cameron Young. In a run-rep he easily handled Nick Broeker (who I like and hasn't had a brilliant first two days). He also shoved back Nick Salidveri (who I also like). On a pass-rush 1v1 against Saldiveri he again drove him backwards and eventually Saldiveri slipped (as a lot of players have done this week). Later on he dominated Emil Ekiyor. I will be looking at Young's tape next week and I'm very intrigued by what he has shown in Mobile.
If you enjoy the blog and appreciate what we do — why not consider supporting the site via Patreon — (click here)