It's very clear there are healthy pass rushing options in this draft class, particularly at defensive end. It's a top-heavy group at defensive tackle — but if you want an 'EDGE' you can get one even on day three.
However, the more I study this class — the more attractive the offensive line options are becoming too.
Here are further notes on three players…
Obinna Eze (T, TCU)
A blog favourite for some time, I originally wrote an article about Eze when he was at Memphis two years ago.
In 2020 I thought he had first or second round potential as a pass-blocking stud who was light on his feet despite his great size. Here's what I wrote in the piece:
The first thing that stands out on tape is his really light feet. In terms of pure agility and mobility — there aren't many college tackles who can move like this. He drops with ease, there's no labouring in his movement and his feet are so smooth he wouldn't wake a baby with his kick-slide.

When he's asked to defend a speed rush he drops with suddenness to wall off a route to the quarterback. He surprises defensive ends with his ability to mirror and often they're forced too wide and deep — making it really hard to work back to the quarterback. He's not troubled or fazed by speed in the slightest and that's a good start for any prospective left tackle.
On the negative side — he needed technical work (he was more of a 'catcher' than a lock-on, attacking blocker) and his run blocking wasn't a plus. He also needed to refine his frame.
As I've been putting my horizontal board together, I've been watching a lot of Eze's 2021 tape to see what kind of developments he's shown. It's been tremendously impressive.
Some of the same issues remain. You'd never mistake him for Trevor Penning in the aggression stakes. A lot of his run blocking duties were to force his opponent inside to try and create an edge. At the next level, he'll face a much more varied challenge and I wanted to see more evidence of him getting off the ball and really driving his defender off the LOS — or subtly turning his man to create lanes.
Nevertheless, the positives are evident. There simply aren't many players with his combination of size and athleticism.
For that reason I'm giving him a second round grade.
He's 6-6, 327lbs and has 36 1/8 inch arms and an 86.5 inch wingspan according to Shrine Game measurements. He is huge — and would feel at home playing either tackle spot or kicking inside to guard in some schemes.
The immediate thing that stands out is how easily he slips into his set and looks comfortable handling the edge rush. I love the way he plays inside/out — a challenge a lot of tackles struggle with. When you have +36 inch arms — make your opponent take the long route to the quarterback. Don't let them counter inside and shorten the journey. Eze often begins his rep by reaching out his right arm to touch the left guard, shutting off the inside. From there, his kick-slide is smooth and athletic. He can wall off against speed and handle everything that comes his way.
These are basic skills he does very well.
When he locks on and engages he's incredibly hard to shake off. I felt more at ease with his less-attacking style watching him for TCU. If you can manage the inside counter, get into position well and just hold your position — you can do your job at left tackle. He doesn't give up a lot of edge pressure. That's what you're after.
In fairness, he man-handled Oklahoma's undersized pass rush. How he'll fair against the Nick Bosa types is another challenge. You can only judge what you see on tape though. Eze's combination of length, athleticism and experience showed well enough to believe he has a legit shot for the next level.
Adding to that — and this is always good to see — he combo blocks very well. He is often blocking his man initially then shows awareness to pass that defender off if the opportunity arises and seal a second block. He would progress from block A to B in a way that was very satisfying to watch. It's something Jack Conklin did very well at Michigan State and Eze is impressive in this area.
For me he's a highly underrated prospect.
Testing will be key. If he struggles in the vertical, broad and bench — it will limit his stock. Teams across the league value explosive traits. An athletic run in the forty or strong agility testing might help — but more than anything, teams want explosive offensive linemen. We see it in the profiles of early draft picks every year.
Here's a quote from Florida State coach Mike Norvell on Eze, when they were both at Memphis:
"Obinna is going to be successful no matter what he does… He can play this game for a long time. Whenever the last day of football comes, he'll continue to have success, because of the drive he has in every aspect of his life."
He's a player worth keeping on your radar when the combine begins.
Nick Petit-Frere (T, Ohio State)
When NPF was being mocked as a top-15 pick all over the internet, I pushed back and called him overrated. It's funny how this happens a lot. The 'draft media' types get a lot wrong during the season — then they adjust, for whatever reason, and provide more realistic analysis.
Take Roger McCreary, for example. It's not that long ago one analyst (who generates a lot of traction online) declared he was a 'top-20 lock' on Twitter. A well known former NFL scout chimed in to say he hadn't spoken to a single team with a higher grade than round two. Low and behold, when said analyst posted a top-100 prospects list recently, McCreary was at #43 — one spot below average mid-round lineman Darian Kinnard (who is listed 33 spots higher than Boye Mafe).
I do not have all the answers in the slightest. I am a bloke with a blog and a comparatively tiny audience. But come on. This is absolute rubbish.
Kinnard (#42 overall) was tried at guard at the Senior Bowl and is limited strictly to the right hand side, where he'll get tight end support, or right guard. I think he's a fringe third or fourth round pick. In this top-100 list, he's 41 spots higher than Abraham Lucas and 47 spots higher than NPF.
Anyway, enough complaining. You watch the tape and make your own minds up.
When a player is promoted well above their station, you end creating a dislike for no real reason. I didn't like NPF in the top-15. But now he's being talked about as a late third rounder, I feel obliged to flip and say he's become underrated.
Yes, you can linger on the Michigan game. Unlike Rasheed Walker (see my Friday piece), he had a torrid time against Aidan Hutchinson. It flagged some issues.
Unlike Eze he doesn't do a good enough job playing inside/out. There are inside counters he concedes that are easily avoidable. He needs to engage better with his hands. The hand placement is poor or at times, non-existent. He doesn't attack blocks well enough and he's just too passive and defensive.
You fear a little bit if Hutchinson can get after him so easily, what will other quality rushers at the next level do?
However — his Oregon tape was a lot better. His Minnesota tape was somewhere in the middle
NPF is very good at dropping into his set and you can see he's very athletic. You can see why he was a five-star, #13 overall recruit. He blocks superbly on the move and his kick-slide eliminates the speed rush threat. I think he'll do a better job against the quicker edges where he can match-up as an athlete. He needs to be able to show he can do a better technical job against the more brutal power ends. That could be a case of tweaks to his technique and some extra strength training.
I want to see his length measurements at the combine. The inside moves are a concern and while Eze trusts his length, NPF is the opposite. Is there a reason for this?
Even so — he clearly is a tremendous athlete with left tackle potential. And whenever you talk about players with his apparent profile and upside — you have to remember how desperate the league is for this type of player.
All of the tackles in this class have warts. Charles Cross doesn't bend his knees properly and has played in a pass-friendly offense for two-years which has called for a very limited set of tasks. Trevor Penning showed he has a fair bit to work on with his technique after a very hit-and-miss Senior Bowl. Bernhard Raimann struggled in Mobile.
You are not going to draft the perfect tackle in 2022. Whoever you go for, they will present a set of challenges. They all need development.
The Seahawks are likely going to need to add at least one tackle this off-season. I'm not convinced they'll retain both Duane Brown and Brandon Shell. They might view Stone Forsyth as an option but he's a sixth rounder who generated little buzz in year one. Nobody on the staff talked him up publicly as a 2022 starter.
There will be options for Seattle at #41 and #72. While it's a tackle class with a lot of rough diamonds — it's also a class that could provide great value and a ton of upside.
Cameron Jurgens (C, Nebraska)
I know I wrote about Jurgens on Friday already but I felt obliged to share more after watching a couple more games. There's a reason why I've put him in gold on my horizontal board.
His aggressive playing style is beyond enjoyable. Watching him play is a treat.
When I put together a mock off-season for the Seahawks and had them paying Brian Allen a small fortune, that was before I properly studied Jurgens. Frankly, he's a far cheaper, viable alternative.
I love how he pulls and blocks on the move. He can snap quickly, drop and pivot to the left hand side and actually block the edge in space, while moving laterally. His athleticism is incredibly impressive. Everything is controlled. It's controlled violence.
There was one block against Minnesota where he got on the move after the snap and I can't believe he got across as quickly as he did to take on the unblocked defensive end. Not only that, he still managed to get his hands inside for the perfect placement, he anchored and stoned the rusher. You just don't see many center's do this.
On the next snap he literally did the same thing to the right side. How many teams have their center peel out to block edge rushers in space, on the move?
It's interesting that they occasionally pulled him into space so quarterback Tyler Martinez could roll out. Jurgens was basically his personal protector on the move. You couldn't help but wonder if some designed bootlegs for Russell Wilson, with Jurgens wheeling out to the right, could work for Seattle.
He'll gladly progress to the second level when given the opportunity. He plays to the whistle, often looking for someone to hammer if there's no direct responsibility in front of him. When he turns defenders he gets them on skates, driving them off the spot to create interior rushing lanes.
There are viral clips online of him progressing to the second level and running defensive backs out of the play 40 yards downfield, before throwing them to the turf:
Watch @HuskerFBNation Center #51 @CameronJurgens on this play! #Effort #Finish pic.twitter.com/uFrNczBYpS

— Joe Moore Award (@JoeMooreAward) September 19, 2021
On some snaps he'll hit three different defenders. It was like watching Gimli recording kills in Lord of the Rings.
Again against Minnesota he engaged a defensive lineman, blocked him out of the play with a powerful turn — then identified a stunting linebacker looping around. He passed the D-liner off to the right guard and slammed the door shut on the linebacker.
Look at this pocket — and look who's holding position from the interior, not allowing any interior pressure: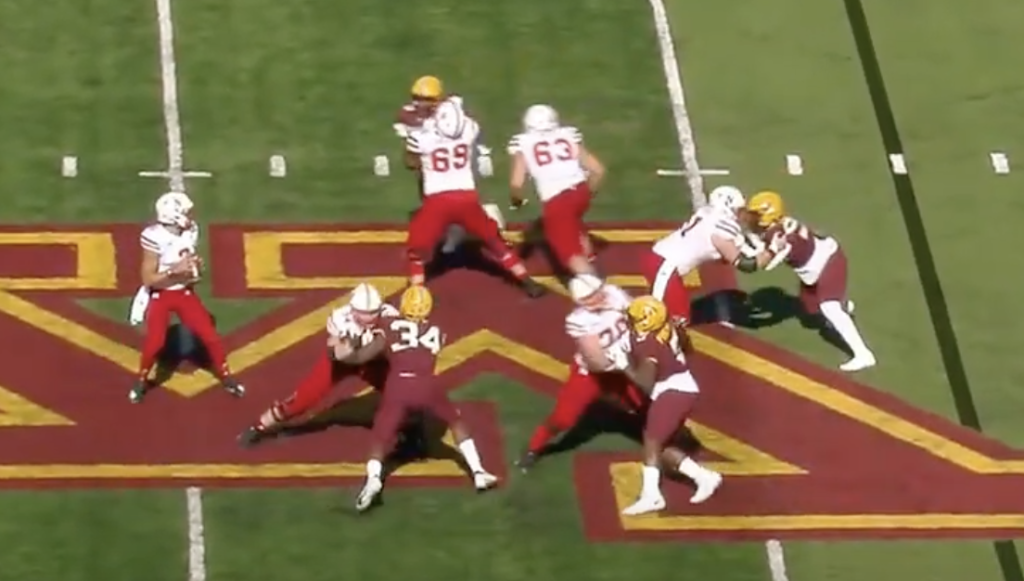 Check out the power and movement he creates:
good Monday to Nebraska center Cameron Jurgens (#51) and no one else pic.twitter.com/aoU21g2yMu

— Mike Golic Jr (@mikegolicjr) July 19, 2021
Everything about Jurgens is impressive. The athleticism, the power, the attitude, the agility. He has a BAMF vibe.
At SPARQ he ran a 4.98 forty and jumped a 32 inch vertical which suggests he's explosive. That will help his stock. I really hope he has +33 inch arms but even if he doesn't — I want the Seahawks to consider drafting him. For me, he's the right combination of physical profile and tone-setting ability. He is a similar size to Brian Allen — who excelled in the Rams' blocking scheme.
I'm putting Jurgens in round two on my board. He's seriously underrated and one of the more exciting players to watch in this class.
Horizontal board
(Click on the image for a better view)
If you enjoy the content then please consider supporting the blog via Patreon (click the tab below)…