Maybe the relationship is permanently broken?
Perhaps this article is a total waste of time?
Certainly when Richard Sherman departed Seattle, it felt right for both parties.
The sideline blowup when Darrell Bevell chose to throw at the one-yard line. The articles littered with critical anonymous sources, talking of dysfunction. Threatening to 'ruin' a journalist's career for asking a fair question.
By the end, Sherman seemed angry and disillusioned. Perhaps justifiably so? The Seahawks had a legendary team and failed to capitalise with titles. The crushing defeat to New England was always going to leave scars.
Yet at the same time, s**t happens. The Seahawks shouldn't have let that one horrible moment define them. Instead of being a great motivating factor, it appeared to split the team. They still battled and fought and tried to reach the pinnacle once more. Yet whenever things started to go wrong, the old wounds reopened.
The reset at the end of 2017 was necessary. The Seahawks needed a fresh start with new personnel. Players like Sherman also, arguably, needed a fresh start too. A move to a division rival was right up his street. Just as the presence of Jim Harbaugh was beautiful motivation early in his career, now an opportunity to sock it to Seattle was equally appealing.
The move paid off and he came close to another Super Bowl ring.
Ultimately though, I wonder if that defeat to Kansas City was an epiphany moment. You can plan and prepare and execute. You can put yourself in a position to win. Sometimes, you just don't.
The images that more or less defined Kansas City's comeback were of Sherman getting beat by Sammy Watkins or face-planting as Damien Williams clinched a go-ahead score.
Anyone can make mistakes. Sherman wasn't to blame for that loss, just as Bevell or Russell Wilson or Pete Carroll didn't deserve total blame for one heartbreaking moment in a game where Seattle carried a 10-point lead into the fourth quarter and were the walking wounded by the end.
I don't know if the Super Bowl earlier this year delivered an epiphany. Maybe it could be the catalyst for a come-together moment in the future?
Here's what I think I do know, however…
One, Sherman is still a hell of a player. He returned from injury against the Rams and the 49ers defense immediately felt different. He was tight in coverage throughout. He made plays against the run. It was classic Sherman and he gained a PFF grade of 80.4 as the Niners upset LA.
Secondly — Sherman will always be synonymous with Seattle. This spell in Santa Clara is a mere footnote in a long, detailed tome. A statue of 'the tip' should still be built. When he enters the Hall of Fame, it'll be a moment celebrated by the entire Pacific Northwest and he will do so as a Seahawks legend.
I think it's clear he still has affection for the city. This is Richard's team. We all know it really.
Many relationships are still firmly in tact. Look at this embrace between Sherman and Bobby Wagner on the night Seattle beat the Niners: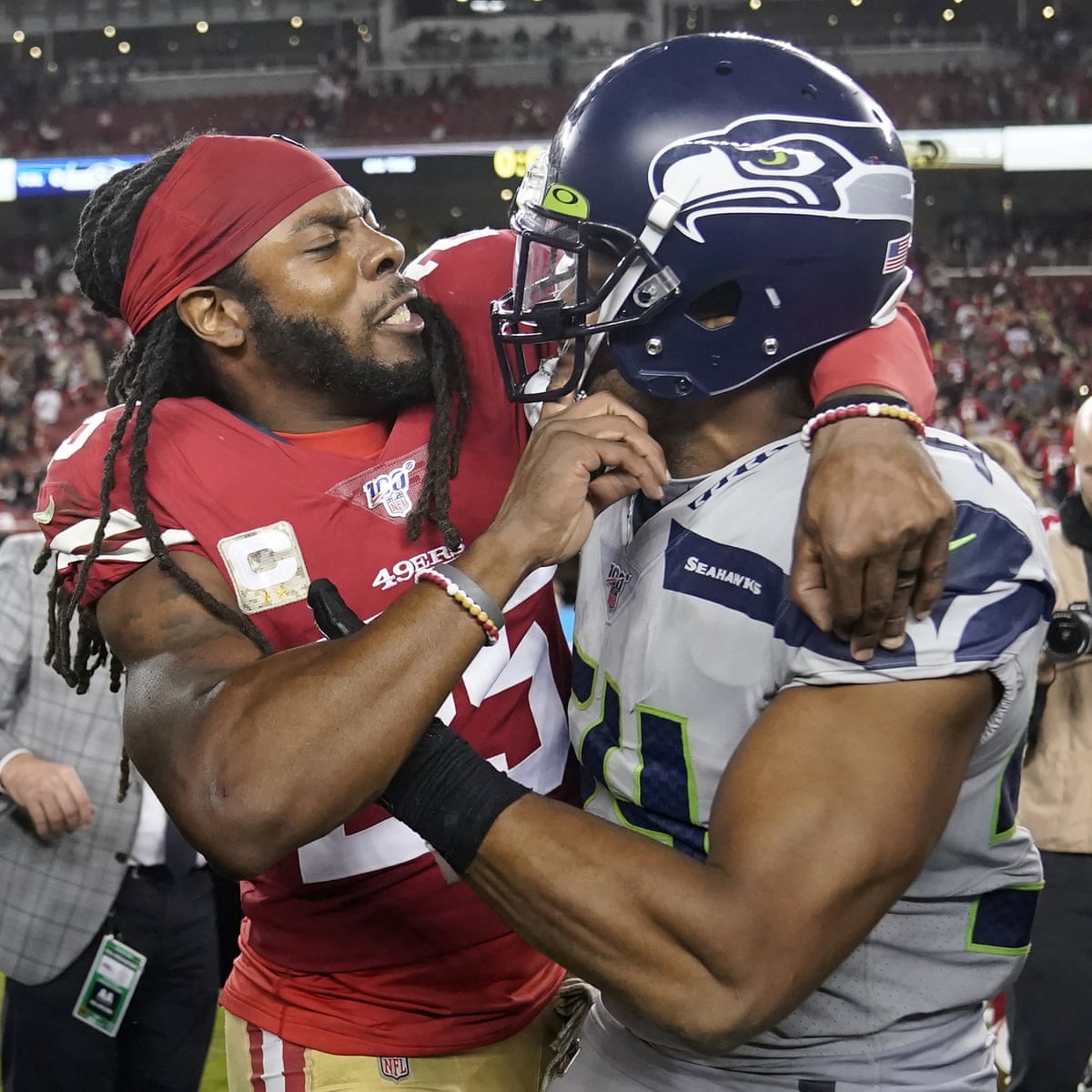 Here's Russell Wilson with Sherman after the same game:
Here's Sherman working out with several Seahawks during the off-season:
Here's some more photos of DK Metcalf, Richard Sherman, Josh Gordon and Bobby Wagner all training together pic.twitter.com/4ZnkPA8h6b

— Vountee🐢🇲🇽 (@vountee) May 21, 2020
The one relationship that matters the most though, is Sherman and Pete Carroll. I think it's clear that Carroll felt hurt by the way it ended with Sherman. I think it was sadness rather than anguish though. This is very different to the Earl Thomas situation.
I also wonder if Sherman will ever forgive Carroll for cutting him and moving on — especially as he was injured at the time. It might've been right for the Head Coach but that doesn't mean it was necessarily right in the eyes of Richard. When trust is broken, it's hard to get it back.
This image suggests, to me, it's not an irreparable situation: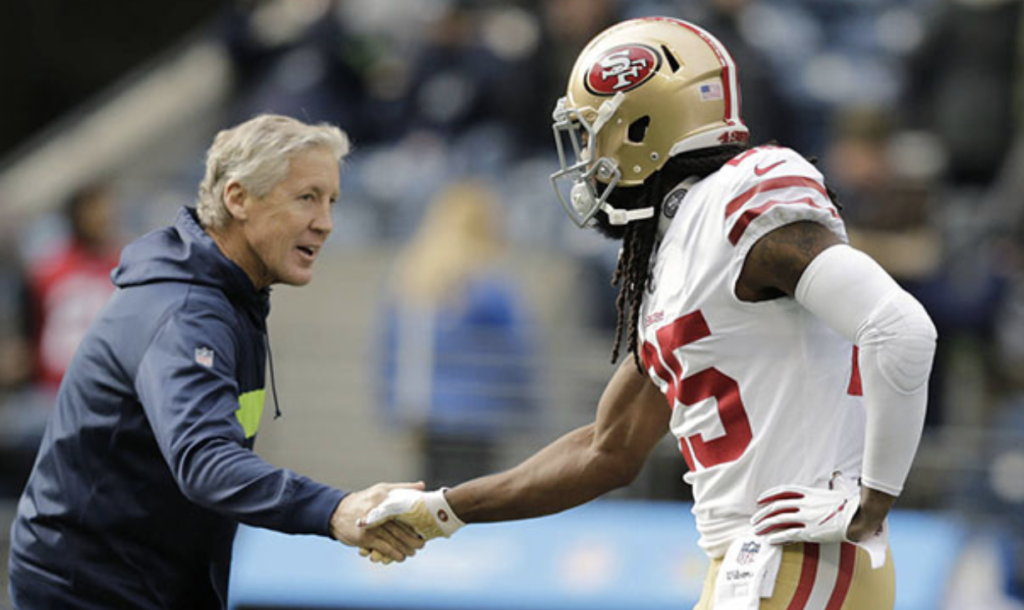 Sherman or Carroll might think the past is the past and it's time to move on. I hope, however, that the pair can see the mutual benefit of a reunion.
The Seahawks are facing a bleak situation at cornerback in 2021. Shaquill Griffin, who hasn't played especially well this year, is a free agent. The Seahawks should be prepared for him to depart if the price is too high. Quinton Dunbar feels like a one-and-done. The only other cornerbacks on the roster are Tre Flowers and D.J. Reed.
They only have three draft picks. Signing outsiders for this system simply hasn't worked over the years and the well has run dry in terms of development.
The Seahawks need a proven, experienced, quality cornerback. There is simply no one better than Sherman for that role.
It's a clear solution to a huge looming problem. It would also be a moment to cherish for the team, the player and the fans.
He would provide expert cover skills, knowledge, leadership, guidance and perhaps most importantly — toughness and turnovers.
You might point to his injury record (he's missed most of this season). It is what it is. Players get hurt. Dunbar and Griffin are a good example this year. The simple fact is you're not going to find anyone better to come in and produce immediately at the cornerback position for this defense.
What's in it for Sherman? The chance to come home. The opportunity to address, as Marshawn Lynch put it, 'unfinished business'.
Beast Mode came back. It's time for the man who delivered the most iconic moment in Seattle sports to do the same. Be the hero again. Rekindle the legend.
There's every chance San Francisco will work to re-sign him. I'd be surprised if they didn't. They're in a similar situation at the cornerback position.
I'm not one for encouraging illegal acts but maybe, just maybe, it'd pay off to somehow get the message through the back channels to Sherman that Seattle seriously wants him back. Place the possibility of a homecoming in his mind. It might just get him onto the open market where you can talk.
If both parties needed a fresh start in 2018, now they arguably need each other again. Like a warring couple who, deep down, really love each other — it's time to have a date night to sort things out.
The perfect finale to a storybook career. The ideal person to fill a glaring need. A moment to excite fans. A chance to get another Championship, together.
Bring Sherm home in 2021.
You can now support Seahawks Draft Blog via Patreon by clicking the tab below.