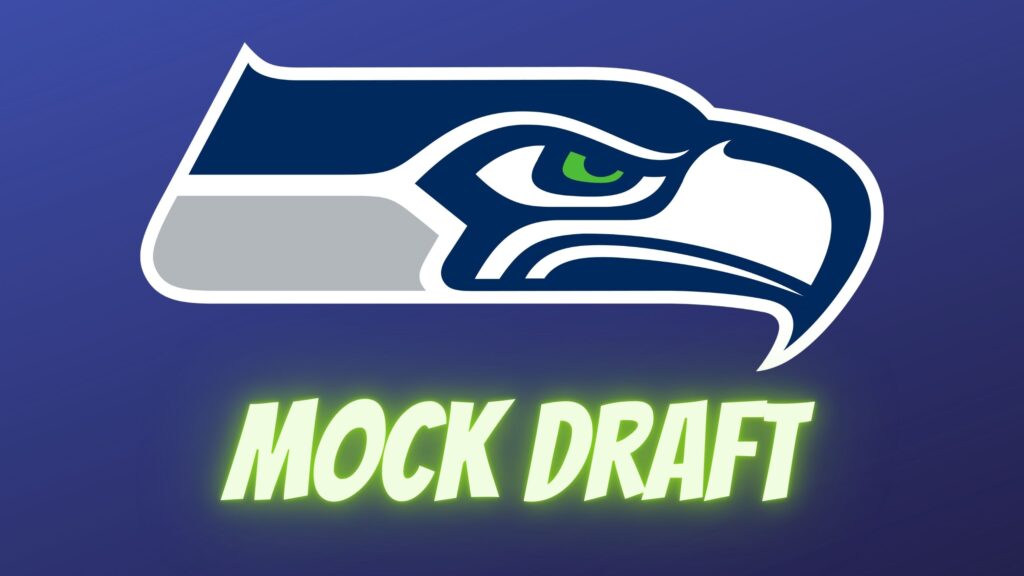 This mock is heavily influenced by three things.
1. Pete Carroll speaking honestly about the need to improve the defensive front seven
2. My conversation with Jim Nagy on Tuesday
3. An interview John Schneider gave to 710 Seattle Sports this week
Everyone can see the Seahawks need to upgrade on the defensive line and at linebacker. The fact Carroll spent considerable time publicly stating it has influenced me in this latest projection.
Jim Nagy made me consider a couple of things after our conversation. The key one was his point about the Manning Passing Academy, which he attended last year. He says all the big names were there barring C.J. Stroud and the two players who stood out physically way beyond everyone else were Will Levis and Anthony Richardson.
We are about to embark on a series of events where Levis and Richardson will be able to show-off their physical prowess. Don't underestimate the impact this will have.
The other thing was the players he mentioned when I asked for a 2023 answer to Tariq Woolen. He suggested Army's Andre Carter and Georgia Tech's Keion White — both defensive linemen. Although Woolen lasted well into day three, I wonder if the Seahawks will draft either of these two to try and find a unique difference maker — an X-factor — for their pass rush.
Then there was Schneider saying their approach to the draft last year was to ignore need and focus on adding talent. It produced an excellent 2022 class and you'd have to think they'll create a similar plan this year.
This is just one proposal, one mock draft. I will do several before April. This isn't definitively what I think is going to happen. It's a conversation starter. In a week where the Head Coach spoke openly and honestly about the dramatic improvement needed in the defensive front seven — I wanted to show what that could mean.
Here's the mock, it's a two-rounder with thoughts below…
The mock draft
The big trade at #1 overall
I have Carolina trading from #9 in a deal with Chicago for the #1 pick. In return the Bears get the 61st overall pick plus the Panthers' first round picks in 2024 and 2025.
First round
#1 Carolina (v/CHI) — CJ Stroud (QB, Ohio State)
Why might the Panthers out-bid teams here and tempt the Bears to drop out of the top-five? David Tepper is not an inactive owner. They've been chasing a quarterback splash for years. I think Chicago would ideally stay in the top-five but if the Panthers offer their first round picks in 2024 and 2025, plus additional compensation, I'm not sure the Colts will match that. It would depend on how much Indy values one specific quarterback over the others. Why Stroud? Tepper has been seeking special for some time and if he watched Stroud against Georgia, the best team in college football, he would've seen what special looks like. The Panthers have a better roster than we think and play in a weak division. A quality QB could make them a serious threat, so expect a bold strategy to try and get the top pick.
#2 Houston — Will Levis (QB, Kentucky)
There's been a lot of nonsense spoken about Levis — a player handed a hospital-pass of a situation in Kentucky. He played behind a shocking offensive line, with few weapons in a loaded SEC. In 2021 when he played for Liam Coen and had a second round receiver, he looked fantastic. He has everything pro-teams are looking for in a signal caller, has excellent upside and is a prototype passer.
#3 Arizona — Will Anderson (EDGE, Alabama)
Many will have dreamed of having Anderson in Seattle and there's now a very real chance he'll be playing at Lumen Field every season, only for the Cardinals.
#4 Indianapolis — Anthony Richardson (QB, Florida)
As with Levis, there's been far too much focus on the negatives with Richardson. Here's what he offers — incredible physical tools, superstar potential and good character. It's a winning formula. Yes he's inexperienced and will need time but his upside is through the roof. Someone is going to take a chance on Richardson and if he's managed properly he could be a special talent.
#5 Seattle — Jalen Carter (DT, Georgia)
I am worried about the reported character concerns surrounding Carter, which I think are connected to the issues with his conditioning that surfaced against LSU and Ohio State. However, we know the Carroll Seahawks. We know they're willing to roll the dice and back themselves. We know they're attracted to blue-chip players. Carter carries a big question mark but he also might be the most talented player in the draft. However much concern I have, he is exactly what they need up front. They'd have to get his conditioning on point otherwise he'll be stuck playing 40% of the snaps but if you can get him going, watch out. If they want a player who can be a factor, he's a factor. One thing I will say — Fletcher Cox's scouting report from 2012 is quite similar to the way we're talking about Carter. The top three physically impressive QB's being off the board makes this an easier call for John Schneider but I think he'll have a lot of interest in Stroud, Levis and Richardson.
#6 Detroit (v/LA) — Tyree Wilson (DE, Texas Tech)
I was reviewing Wilson's tape recently and it hit me. We all know he has great length and size. I just focused on his frame for one whole game and I've not seen a body type like his before. He is unique. His testing will be key because he won't go sixth overall purely due to long arms and a great body. If he can show quickness, agility and explosive traits, he will be seen as special.
#7 Las Vegas — Bryce Young (QB, Alabama)
This will be the suggestion that has everyone howling because the mainstream media have convinced everyone that Young is destined to go first overall. Let's be clear — Young is a brilliant talent. Putting him seventh overall is hardly a damning review. I think people are underestimating how teams will view his size. He's supposedly up into the 190lbs range and after downing a couple of jugs of water, I'm sure he'll sneak above 200lbs at the combine. The reality is though that he's smaller than anyone who has ever been talked about going this early in the draft and teams will worry about durability. Especially when there are three other 'prototype' quarterbacks who will also receive high grades. This would be a good spot for Young in this offense with Davante Adams, Hunter Renfrow and Darren Waller to throw to.
#8 Atlanta — Bijan Robinson (RB, Texas)
Terry Fontenot has shown he's the type of GM who likes to go BPA. I'm not sure you can pass up arguably the best player in the draft just because Tyler Allgeier had a decent rookie season. Imagine Robinson, Kyle Pitts and Drake London on the same field. Whew.
#9 Chicago (v/CAR) — Myles Murphy (DE, Clemson)
He's a pussycat in the running game, he lacks college production despite playing on a loaded D-line, his pressure rate in 2022 was only 10% and I fear he's an athlete who 'gets by' rather than someone who is pissed off to be great. That said, his size and athleticism will have coaches believing they can get him going and deliver on his potential.
#10 Philadelphia (v/NO) — Brian Branch (S, Alabama)
A Rolls Royce of a defender who is so versatile and can do a bit of everything. He is going to rise and rise throughout this process.
#11 Tennessee — Michael Mayer (TE, Notre Dame)
This would be a perfect pick for the Titans. Mayer is one of the best prospects in the draft and will be a very good player early in his career.
#12 Houston v/CLE) — Quentin Johnston (WR, TCU)
Mayer would be an ideal fit for the Texans but failing that, Johnston has the physical profile to dominate the combine and go this early.
#13 NY Jets — Darnell Wright (T, Tennessee)
So underrated. He shut down Will Anderson. Enough said.
#14 New England — Christian Gonzalez (CB, Oregon)
He's such an intelligent player with great physical tools and he could be a really good NFL corner.
#15 Green Bay — Mazi Smith (DT, Michigan)
When he blows up the combine he'll finally be taken seriously.
#16 Washington — Joey Porter Jr (CB, Penn State)
A highly competitive player with a great personality and maturity.
#17 Pittsburgh — Jordan Addison (WR, USC)
In an attempt to make life easier for Kenny Pickett, why not add a receiver he helped to win the Biletnikoff in 2021?
#18 Detroit — Devon Witherspoon (CB, Illinois)
Hits like a hammer and gives absolutely everything as a competitor in coverage. A very typical Detroit-type pick.
#19 Tampa Bay — Cam Smith (CB, South Carolina)
A long, lean and competitive cornerback. I think teams will really like him.
#20 Seattle — Drew Sanders (LB, Arkansas)
The Seahawks need players in their front seven who can play in attack-mode — players with physical traits who have shown they can impact games. Sanders played most of his snaps at Arkansas as a conventional linebacker but was also used to rush the edge — registering 9.5 sacks. He has excellent size at 6-5 and 230lbs (with room to add more bulk) and he's a former big-time recruit who initially played for Alabama before transferring. He jumped a 35 inch vertical at SPARQ and ran a 4.31 short shuttle. He is aggressive, hits hard, has an old-school mentality, flies to the ball-carrier and most importantly he plays forwards and attacks. He might end up being a 'must-have' for Seattle, given the way they're talking.
#21 Miami — forfeited
They needed this pick.
#22 LA Chargers — Zay Flowers (WR, Boston College)
Flowers is an incredibly talented player who could go earlier than this. His ability to change direction and accelerate is the best I've seen since starting the blog in 2008.
#23 Baltimore — Jalin Hyatt (WR, Tennessee)
He has a sixth gear that allows him to create late separation and it can be deadly on downfield shots.
#24 Minnesota — B.J. Ojulari (EDGE, LSU)
A very athletic, long and lean edge rusher who is comfortable dropping into coverage as a 3-4 OLB.
#25 Jacksonville — Josh Downs (WR, North Carolina)
Reminds me a lot of Tyler Lockett.
#26 NY Giants — Jaxson Smith-Njigba (WR, Ohio State)
JSN's stock could be impacted by a lost season to injury and question marks about his speed.
#27 Dallas — Peter Skoronski (G, Northwestern)
Skoronski is difficult to assess. He has to kick inside due to a lack of length and he can be out-leveraged due to his short arms. Is he powerful enough? There are things to like though — he's a natural lineman with reasonable technique and he has NFL bloodlines.
#28 Cincinnati — Dawand Jones (T, Ohio State)
An absolute mountain of a man who has quickly become one of my favourite players in the draft. For his size, his mobility is out of this world. I love him as a prospect.
#29 Denver (v/SF) — Lukas Van Ness (DE, Iowa)
Looks like he could play the lead in a Super Hero movie and has good, powerful reps on tape against the better blockers in this class.
#30 Buffalo — Bryan Bresee (DT, Clemson)
Too many injury and health issues, not enough consistency. Bresee is a great athlete but there are a lot of question marks.
#31 Kansas City — Calijah Kancey (DT, Pittsburgh)
An extremely underrated player and the closest thing to Aaron Donald since 2013. A smart team will not be put off by his lack of size and length and will take a shot on his talent.
#32 Philadelphia — Jahmyr Gibbs (RB, Alabama)
Gibbs warrants consideration here as a major X-factor talent. He's a tremendous receiver and could be reliably used in the passing game and during two-minute drills. At times he carried Alabama last season and was a threat to score every time he touched the ball. If he doesn't run in the 4.2's or 4.3's it'll be a surprise.
Second round
#33 Pittsburgh (v/CHI) — JL Skinner (S, Boise State)
The closest thing to Kam since Kam.
#34 Houston — Luke Musgrave (TE, Oregon State)
A brilliant athlete and a complete tight end — teams will love him.
#35 Arizona — Tuli Tuipulotu (DE, USC)
The Cardinals continue to build up their defensive front with a player who may be unorthodox but finished the season with 13.5 sacks.
#36 Indianapolis — Dalton Kincaid (TE, Utah)
He's just such a dynamic playmaker and I think a team like Houston will view him as a (new) QB's best friend.
#37 LA Rams — Broderick Jones (G, Georgia)
A player who can step in and help secure LA's interior offensive line. Needs to sort his technique out.
#38 Seattle — Keion White (DE, Georgia Tech)
An incredible athlete at 290lbs who blew up so many plays in 2022 and could be a star at the Senior Bowl. He carried Kenny McIntosh downfield on a wheel route in coverage at his size which is staggering. He plays with great intensity and physicality and his motor (and conditioning) is on the opposite end of the scale to Jalen Carter's. It's enticing to imagine what he could become in time — White legitimately has the upside and potential to become a star. If you want to get impact players with size, disruption and athleticism up front — pairing Carter and White together could set you up for years to come.
#39 Las Vegas — Kelee Ringo (CB, Georgia)
Ringo is a great athlete with amazing size but he gets beat far too often — on both deep routes and shorter inside slants.
#40 Carolina — Rasheed Rice (WR, SMU)
I'm looking forward to seeing how he tests because the tape gets you going.
#41 New Orleans — Chris Smith (S, Georgia)
He had such a good season for the Bulldogs — flying around as a free safety, running up to the line and hitting with a powerful punch. I think someone will fall in love with him.
#42 Tennessee — Luke Wypler (C, Ohio State)
I've always thought he was just steady but the Georgia game suggested he might be 'steady' even against top opponents and that has some appeal.
#43 Cleveland — Cedric Tillman (WR, Tennessee)
He's had a few injury issues and now that he's missing the Senior Bowl it makes me wonder if he might last a bit longer than originally thought.
#44 NY Jets — Trenton Simpson (LB, Clemson)
Simpson did not have a good 2022 season and will rely on good testing numbers to stick in round two.
#45 Atlanta — K.J. Henry (EDGE, Clemson)
Of all Clemson's D-liners, he was the most disruptive in 2022.
#46 Green Bay — Zach Harrison (DE, Ohio State)
Harrison will go to the combine, put on a show and some teams will throw out the lack of production and inconsistent play and believe they can make him a starter.
#47 New England — Jonathan Mingo (WR, Ole Miss)
He's such an underrated player with great size, athleticism and soft hands. He can play outside or as a big slot. The Giants double-dip at receiver and add a big target to their offense here.
#48 Washington — Paris Johnson Jr (T, Ohio State)
I've always felt underwhelmed watching him.
#49 Detroit — Nolan Smith (LB, Georgia)
An elite athlete and a great character but he's the definition of a 'tweener'.
#50 Pittsburgh — John Michael Schmitz (C, Minnesota)
He's a good player but he is what he is — a big powerful center.
#51 Tampa Bay — O'Cyrus Torrence (G, Florida)
This is a bit early for my liking but Torrence will fit certain schemes and this is one of them (or at least it has been).
#52 Miami — Siaki Ika (DT, Baylor)
On some plays you absolutely love him. On others you think, 'how is he such a liability vs the run at that size?'
#53 Seattle — Tucker Kraft (TE, South Dakota State)
This is not an immediate need. However, two of Seattle's tight ends are free agents after the 2023 season and Will Dissly has just picked up another injury. They might invest in someone for the future and there are good TE's in this draft. Teams are going to love Kraft. He has great size, surprising speed, elusiveness and he has fantastic athletic bloodlines. His blocking is on point and it won't be a surprise if he goes on to have a very productive NFL career. John Schneider said a year ago they didn't feel any pressure to reach for need and in this range they might think Kraft is too good to pass up.
#54 Chicago (v/BAL) — Kenny McIntosh (RB, Georgia)
Kirby Smart called McIntosh a bad MF so that's good enough for me.
#55 LA Chargers — Byron Young (DE, Alabama)
Young is another underrated player who just created so much disruption up front. He can anchor and play the run but he also bursts into the backfield and impacts the pocket.
#56 Detroit (v/MIN) — Steve Avila (G, TCU)
I thought he had a fantastic season and thoroughly deserves to go to a team that loves to kick your arse.
#57 Jacksonville — Isaiah Foskey (EDGE, Notre Dame)
I can't get that excited about Foskey and his 9.9% pressure rate in 2022 is very 'meh'.
#58 NY Giants — D.J. Turner (CB, Michigan)
He will test brilliantly at the combine and that'll give his stock a bump. Doesn't have great size though.
#59 Dallas — Zach Charbonnet (RB, UCLA)
Ideal size, explosive traits, good in the passing game — Charbonnet is the real deal and would be a good replacement for Zeke Elliott if he moves on.
#60 Cincinnati — Ji'Ayir Brown (S, Penn State)
The vocal and emotional leader at Penn State — Brown is also a great athlete with a knack for interceptions.
#61 Chicago (v/CAR) — Keeanu Benton (DT, Wisconsin)
He can anchor the line but also provide some much needed interior rush.
#62 Buffalo — Anton Harrison (T, Oklahoma)
I was underwhelmed watching him but plenty of people have him graded higher than I do. He plays a premium position I guess.
#63 Kansas City — Andre Carter (EDGE, Army)
He has such enticing length, size and agility but he needs technical work and some patience to reach his maximum potential. That could keep him on the board into this range.
#64 Philadelphia — Will McDonald (EDGE, Iowa State)
He's a praying mantis with his length and athleticism but he had a poor 2022 season and he needs work. If it clicks into place, he can be really good.
Seattle's picks
Jalen Carter (DT, Georgia)
Drew Sanders (LB, Arkansas)
Keion White (DE, Georgia Tech)
Tucker Kraft (TE, South Dakota State)
Thoughts on the Seahawks' picks
Personally it would be frustrating to come out of the Russell Wilson trade without a big investment in the future at the quarterback position and I'm not convinced Geno Smith will ever be able to take this team to the promise land. However, with Stroud, Levis and Richardson off the board your hand might be forced, although I do really like Bryce Young as well.
There's a serious risk/reward factor with Jalen Carter. People assumed Todd McShay's report over character concerns implied that Carter was a bad person. I don't think it's that. It's more a case of effort, attitude, commitment. He was telling the media last April his priority was improving conditioning so he could increase his snap percentage. Yet in the biggest games of his season, he looked absolutely exhausted. Embarrassingly so, he admitted. If he isn't getting in shape when there's millions on the line — despite stating it was his key focus last year — teams will be wary about how motivated he'll to improve that situation with a big fat guaranteed contract.
Schneider mentioned in his interview yesterday that they spend considerable time now assessing how a player speaks — even citing press conference interviews online (which was reassuring given it's something we've done for a while to try and get intel on who a player is). This is an area where Carter does not excel.
For more on this, watch this video.
If you're going to draft Carter your staff are going to need a game-plan to get the best out of him and get him working on his stamina. You are also going to need tone-setters in the position group. You don't want to draft Carter and have him be the big man on campus. You want seasoned vets pushing him. You need to create an environment where he won't want to let his guys down. That's a key reason why I would consider trading for or signing someone like Da'Ron Payne. He's been a presence at Alabama and Washington and along with Al Woods and potentially Shelby Harris, you have a leadership core in place.
A defensive front three of Woods, Payne and Carter would be impactful and can be a factor in games — just as Carroll wants.
Put Drew Sanders at linebacker with his 6-5 and 230lbs frame (with the potential to get up to 240lbs) and let him fly to the ball carrier. He is an attack-minded, move-forwards player with legit speed and agility. He can hit with impact, he can be a playmaker and on key downs he can rush the edge.
Keion White has the outstanding athleticism, size and motor to get into the mix too. You would, in one off-season, create a very exciting looking defensive front. With this much potential disruption from the interior and with Sanders at linebacker, it can only help the likes of Uchenna Nwosu, Darrell Taylor and Boye Mafe working the edge.
Is it too much focus on defense? Listen to Carroll speak. Watch the defense play. This unit needs serious investment. These moves at least create a plan where you can imagine the front seven becoming a much greater factor in games. Why not go all-in to improve the unit if the top quarterbacks are out of reach?
I wanted one of the two second round picks to be similar to the Ken Walker pick a year ago. An offensive player who isn't a desperate need but is too good to pass-up. Schneider specifically talked about not reaching for need. I was torn between the running back, receiver and tight end for this selection but there's enough depth at receiver and running back to wait until rounds 3-5. Tucker Kraft is flying under the radar and is as good as any of the TE's in this class not named Michael Mayer. I can well imagine him being drafted with 2024 in mind — when you might've lost or moved on from pending free agents Noah Fant, Colby Parkinson and potentially Will Dissly.
I think a mock like this shows why nobody should be uncomfortable taking a quarterback at #5. You could still add defensive players like Sanders, White then another such as Andre Carter. If you were able to sign someone like Da'Ron Payne as well, that'd be a decent haul.
Fans might question the lack of interior offensive linemen included in the mock but I'll highlight again that the Rams have a way of doing things on the O-line. Seattle is copying their scheme. They've taken college tackles and kicked them inside to guard and they've used a certain type of cost-effective center. I'm not convinced there'll be a big splash on the O-line this year but we'll see.
It's worth noting blog favourite Sedrick Van Pran opted to return to Georgia for the 2023 season. He would've been a top-40 pick.
It might be that the Seahawks look later in the draft for O-line options. Jim Nagy suggested there will be some good players at the Senior Bowl to monitor, including Old Dominion's Nick Saldiveri — who sounds just like the kind of tackle convert the Rams love to kick inside to guard.
Anyway — let me know your thoughts in the comments section.
If you enjoy the blog and appreciate what we do — why not consider supporting the site via Patreon — (click here)