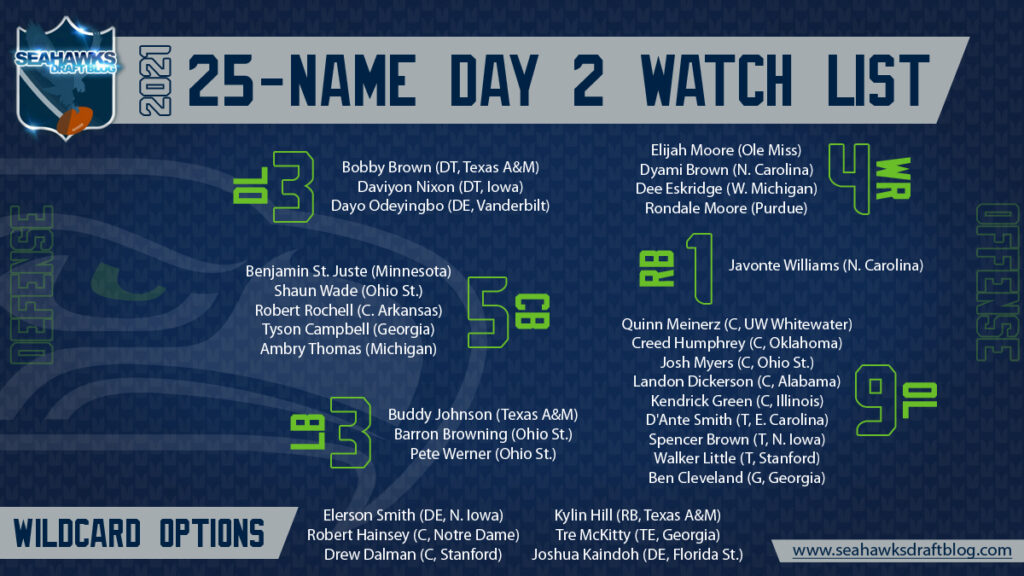 — For those interested in the Huddle Report mock draft accuracy scoring, I finished in the top-10 again this year (and am now in the top-10 for five-year average).
— I think based on how Pete Carroll spoke on Wednesday, the Seahawks are primed to draft for what they will perceive to be value. Trading down from #56 would seem like a near certainty with only three picks but my prediction is they won't drop any lower than the range they took Damien Lewis a year ago (#69 overall).
— There are plenty of attractive options available, with strong depth on the O-line, receiver and at cornerback (all possible target areas). I hope the Seahawks would also be willing to consider a player with outstanding upside at a different position, such as Texas A&M defensive tackle Bobby Brown.
— What could the Seahawks have done at #23 had they not made the Jamal Adams trade? Looking at what's available, they could've traded down into the top of round two and still had a shot at Elijah Moore or Dyami Brown, any of the top centers, Javonte Williams, Teven Jenkins or rolled the dice on Azeez Olujari. There are plenty of good players at great value on the board.
— Here are some of the names I'm keeping an eye on and why…
Elijah Moore (WR, Ole Miss)
Having assumed he would be a top-25 pick I'm intrigued to see where he lands. He plays above his size, is incredibly competitive and dynamic. It's a surprise Rashod Bateman and Kadarius Toney went ahead of him.
Dyami Brown (WR, North Carolina)
Brown does two things really well — he gets downfield and makes huge chunk plays and he runs the routes to enable you to move the chains. I've had him pegged as a top-40 pick but if he lasts, he would be a fine option for Seattle.
Bobby Brown (DT, Texas A&M)
Quite simply one of the best athletes in the draft. The Seahawks have had a lot of success in the late second and early third going for upside. Brown is 6-4 and 321lbs with 35 inch arms. He ran a 1.68 split, a 4.58 short shuttle and he's explosive. His tape is good too. He has massive potential.
Ben Cleveland (G, Georgia)
Whether guard is a need or not any more, there isn't a tougher player in this draft. He's the Mountain from Game of Thrones and he'll kick your arse. The Seahawks need more players like this.
Quinn Meinerz (C, UWW)
He ticks every box for the Seahawks — explosive traits, size, length, character, strong Senior Bowl performance. If he lasts to the late second he should be seriously considered.
Creed Humphrey (C, Oklahoma)
A very explosive, dynamic center who plays with an edge, excels at combo-blocking and loves to reach to the second level.
Josh Myers (C, Ohio State)
Big, physical and consistent. Myers should find a home in the top-50 but if a lack of testing drops him, get ready.
Landon Dickerson (C, Alabama)
His injury record is horrendous but someone, eventually, will take him and he has All-pro potential.
Javonte Williams (RB, North Carolina)
He screams Seahawks. A tough, punishing runner who is a yards-after-contact machine. He probably won't last too long today.
Kendrick Green (C, Illinois)
A player as explosive as Quinn Meinerz simply without the length. As an alternative he could be a good option. Like Meinerz he's played predominantly at guard but he's spent a bit of time at center.
D'Ante Smith (T, East Carolina)
Long, explosive, athletic and tough. He had a good Senior Bowl. He needs time in the gym to work on his pro-physique but he'd get that in Seattle, settling behind Duane Brown.
Spencer Brown (T, Northern Iowa)
Incredibly athletic, explosive tackle who is a lot taller than Seattle usually goes for but many people see him as a project left tackle who just needs time to work on his technique.
Dee Eskridge (WR, Western Michigan)
Ultra-quick and dynamic, a player who can both move the chains and get downfield. He competes for the ball and he's a special teams dynamo.
Buddy Johnson (LB, Texas A&M)
A much loved, heart and soul linebacker who shone at Texas A&M and had the agility testing Seattle craves at the position.
I could add about 20 more. There are plenty of others who also 'fit' the Seahawks. I just didn't fancy writing out my whole draft preview again (click here to see it).
Here's an updated horizontal board with the players already taken removed:
— I loved the Jets trade in round one, essentially only really giving up a third rounder to go from #23 to #14, to get Alijah Vera-Tucker. They are building through the trenches and now have two studs to anchor their O-line. Superb.
— I was very content to see San Francisco take Trey Lance. He is not worth three first round picks. And sure, neither was Mac Jones. I was a lot more fearful though of Jones executing in Kyle Shanahan's offense though.
If you've enjoyed the draft coverage this year, please consider supporting the blog via Patreon (click the tab below)…