With Antonio Brown's suspension eligible to end after week 8, the Seattle Seahawks are now positioned to make a push to sign him, though they're not alone, league sources tell ESPN. Other teams also are interested. pic.twitter.com/ykn1NJ6LUm

— Adam Schefter (@AdamSchefter) October 21, 2020
I was in the process of writing an article about Antonio Brown when the tweet above was posted. So here we go…
Tyreek Hill, Travis Kelce, Sammy Watkins, Mecole Hardman, Le'Veon Bell and Clyde Edwards-Helaire.
The Kansas City Chiefs have taken every opportunity to surround Patrick Mahomes with weapons. High picks, massive salaries and bold moves.
As far as Any Reid and the Chiefs are concerned, their star cannot have enough weapons.
The Seahawks themselves have a decent arsenal for Russell Wilson but to their credit — they seem to share Kansas City's mindset.
You can never do too much.
D.K. Metcalf has joined Tyler Lockett to create a really dynamic double-act at receiver. They've spent money and picks at the tight end position and are well stacked with Greg Olsen, Will Dissly, Jacob Hollister, Luke Willson, Colby Parkinson and Stephen Sullivan.
They used a first round pick on Rashaad Penny to join the ultra-dynamic and physical Chris Carson in the backfield. They spent money on Carlos Hyde and used picks on Travis Homer and Deejay Dallas.
They paid to retain David Moore, added Phillip Dorsett and Freddie Swain is showing early promise as a rookie.
Clearly, however, they feel they need more. They've been waiting on news on Josh Gordon for a long time. Strangely the NFL has allowed both David Irving and Randy Gregory to return but they are yet to clear Gordon. A decision is long overdue.
We're nearly seven weeks into the season. How much longer can the Seahawks wait?
We all know the defense is a big problem in Seattle. However, there are not many obvious solutions. We can all sit here and discuss possible trades for anyone from Ryan Kerrigan to J.J. Watt to Whitney Mercilus or whoever else. If teams aren't willing to do business, or are asking for too much in return, what can you do?
This doesn't completely excuse the Seahawks of course. They should've done a better job fixing their defensive line in the off-season when they had money and picks to spend. They failed to sufficiently address their self-confessed priority and it's their cross to bear.
Pumping your offense with even more weapons won't necessarily solve your problems. However, if this a season where you need to be the aggressor and apply scoreboard pressure to win games — you can make a strong case for taking advantage of any opportunity to further bolster Russell Wilson's playmaking options.
Antonio Brown has many issues and if you don't want to see him anywhere near the Seahawks, I sympathise with that point of view. Certainly I wouldn't want the team to be blasé about signing him. If this truly is on the cards, I'd like to assume significant work has gone into this prospective signing.
Private checks on his prior legal issues, information to counter serious accusations, a fact-finding mission to see if he is remorseful and/or a changed man.
Pete Carroll has never been afraid of a reclamation project. This would arguably be his most high-profile one to date. Maybe even his most controversial.
If the Seahawks have put in the hours — and as I noted earlier, I'm going to assume they have — they have to be really sure about this one.
Even then I think they need to handle this in a particular way.
Russell Wilson has seemingly gone to bat for Brown. They worked out together and Wilson was happy for that to be public knowledge. Various reports have said Seattle's quarterback has pushed for the receiver to be signed.
They appear to be quite close: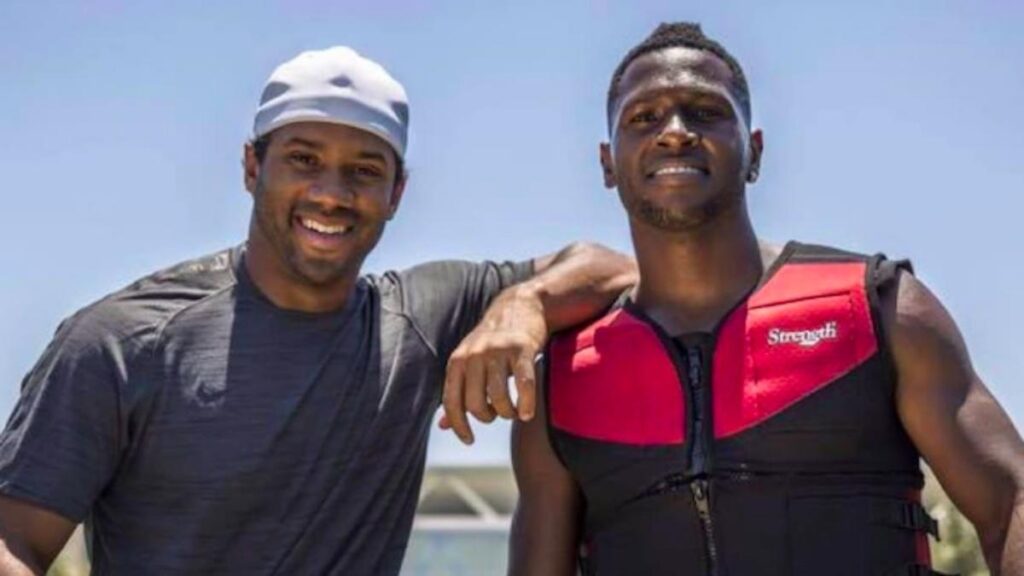 If Wilson wants Brown — then here is what I think the Seahawks should do. They should put the responsibility of keeping him in check on Wilson. You want him? You want to campaign for him to be here? It's up to you to make this work.
Any nonsense and he's out the door immediately — and you'll need to be the one to tell him so.
I would make that abundantly clear to both players. Does Brown want to let down the man who appears determined to salvage his career? Does Wilson truly believe this is going to work?
One thing is for sure — if Wilson's agent is not so subtly going to tell Mike Florio that some form of ultimatum was made about the offensive approach this year, he can have very little comeback if the Seahawks make this move and it flops.
Maybe, just maybe, this is the Seahawks calling the bluff. You want superstars? You want this guy? You want us to listen to you, meet your needs and bring in the guys you want? Fine — but you need to make it work.
Strictly from a football perspective, you can make a compelling case for the signing. Brown, now aged 32, might not be the same player who was once considered the best receiver in football. However, as a third wheel to Metcalf and Lockett — the Seahawks would have an assortment of weapons few can match.
How does a team game plan to stop that trio? On top of the tight ends, the running game and the possibility of Chris Carson catching passes out of the backfield?
The Seahawks are already ranked #1 in the NFL on offense per DVOA. Yet it still feels like they have room to be even better.
Think of it this way. We talked a lot about receivers prior to the 2020 draft — Jalen Reagor, Brandon Aiyuk, Chase Claypool and others. There was room for another top target on this offense. That still remains the case — whether it's Josh Gordon or Antonio Brown.
If the Seahawks have exhausted all options on defense and simply don't see a viable trade to make to improve their flailing pass rush — the only thing they can do is keep adding in other ways.
Like Gordon, I can't imagine Brown is going to be an expensive project. He needs a shot on the right team with the right quarterback. As with Snacks Harrison — he probably needs this culture and this coach and this franchise as much as the team needs the player. So the cost might not even rule out a defensive trade down the line.
I also wonder if the Seahawks were happy for this report to appear today. Gauging reaction is important for a move that has consequences and the best way to gauge a reaction is to have Adam Schefter break a story.
For more on this, Robbie and I recorded a podcast:
You can now support Seahawks Draft Blog via Patreon by clicking the tab below.