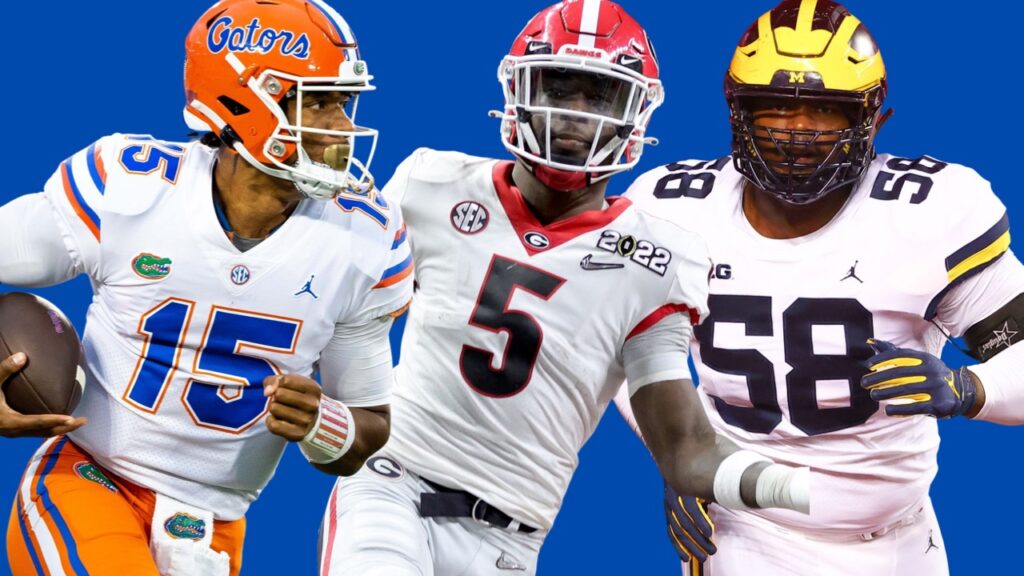 If the season ended today the Seahawks would own the #7 and #14 overall picks in round one and #38 and #45 in round two.
I want to look at some (admittedly premature) scenarios for the options they might have with those picks.
Firstly, I want to repeat the reality of Seattle's 2023 off-season. They have $32m in effective cap space with only 33 players contracted for next season — including zero quarterbacks.
Only the Chiefs and Raiders have fewer contracted players for 2023 currently.
So basically, there's a lot of work to do and not a lot of money to play with.
I really think they budgeted to have a rookie quarterback next year. I think they spent accordingly, expecting to draft a QB in 2023 and be making a big saving at the position, allowing them to spend elsewhere.
For all the talk of re-signing Geno Smith, even if he was given a $15m contract next year — which would be incredibly modest based on his performances so far — that would be half your available cap space gone with only 34 signed players.
People are legitimately saying give him a three-year deal worth $20-30m. The only way to do this would be to severely back-load the deal. It would mean the final year of the contract would essentially be meaningless short of Geno playing at an elite level. The team would need an easy 'out' with limited dead money. His willingness to accept such an agreement would depend on what interest other teams show in him.
This would allow you to potentially keep the 2023 cap hit down, with something like a $45m cap hit in 2025. You can see, now, why you'd need a way out.
I do think the Seahawks will consider this. You have to be adaptable and the truth is Smith has over-performed everyone's expectations (including Seattle's — otherwise they would've signed him to more than they did for only one season).
Of course it's possible he won't have much of a market. He is, after all, a journeyman quarterback who is suddenly playing well. It's one of the reasons you have to wait this out really and let the market come to you. Geno and the team need to find out what the rest of the league is saying he's worth.
Adjusting spending plans at quarterback would mean making sacrifices elsewhere and thus creating new holes.
Based on what we've seen so far, there's no way they can justify Quandre Diggs' $18m cap hit in 2023. Cutting him post-June 1st will split the dead cap hit between 2023 and 2024 and you'll save $14m. That could be enough to retain Geno Smith but would create a hole at free safety — a hole that can be filled in the draft (more on that in a moment).
Gabe Jackson will also surely be cut to save $6.5m — but how the Seahawks worked out a way to be stuck with $4.7m in dead money in year three of his contract is mind-blowing. They have not handled their cap well over recent years.
I think we've possibly seen the last of their big investments on the O-line. The Rams' blocking scheme, which they are mimicking, has been very productive over the years by introducing 'types' of players at a cost-effective price. They love to convert college tackles into guards and like the Austin Blythe/Brian Allen types at center. If the Seahawks replace Jackson it could be someone like Jake Curhan or Stone Forsyth already on the roster — or it could be a later round pick.
I'm not against more high picks on the O-line — especially with a good looking center class — I'm just suggesting what could be more likely.
Onto the draft picks…
Let's start with their top choice which, courtesy of Denver, is currently #7 overall.
I think it's increasingly likely Will Levis will be the #1 overall pick. He's an easy projection for teams because everything about him is transferable. The traits, the arm, the size, the pro-style offense.
We all love to have our opinions and people argue endlessly on the internet about players and prospects. A GM picking first overall needs a hit. He needs to look at the owner and say, 'this player is going to be the guy' and then provide evidence to back up the argument in basic terms.
Levis provides the easiest set of answers at the most important position. It also helps you can play this clip in the meeting room:
If you're into Will Levis just had a friend send me this from the Northern Illinois game. Whew. pic.twitter.com/HLAdx74BBK

— Landon Oliver (@Landon3MR) October 7, 2022
I would predict the top three players will, at this early stage, be:
Will Levis (QB)
Will Anderson (DE)
C.J. Stroud (QB)
After that, we could see Bryce Young (QB) come off the board quickly depending on how teams picking in the top-10 view his size.
Then, things get tricky.
Bijan Robinson (RB) will be the highest graded player on a lot of boards but positionally, it's always a debate as to how high a running back should be taken. In this draft, I think he'll go high because the alternatives just aren't there.
Jahmyr Gibbs (RB) could find himself in the same situation.
The other name I would mention is Anthony Richardson (QB). I know he's had a very up-and-down season for Florida. However, this is all about projection. Richardson has everything required to be special. He is a physical phenomena. He is a player who, on Saturday, had an 81-yard rushing touchdown and a 51-yard touchdown pass in the same game. If he is developed and fine-tuned, he could be a superstar.
His bad games have been very, very bad this year. His good moments have been eye-catching. In fairness, it was a similar story for Josh Allen at Wyoming. He was awful in college and took two years in the NFL to become the player we see today. Allen was a meme in the early days of his Buffalo career.
Richardson could take a similar path. With time, he has everything to be special. If he declares — with so few options in the top-10 — I promise someone will roll the dice.
I don't think it's too unrealistic that a top-six could include, therefore:
Will Levis (QB)
Will Anderson (DE)
C.J. Stroud (QB)
Bryce Young (QB)
Bijan Robinson (RB)
Anthony Richardson (QB)
Again, Bryce Young might be the biggest question mark as teams consider whether a 5-10, 185lbs quarterback is a wise investment. Yet his talent, competitive nature and playmaking quality could tempt someone to look beyond those size limitations.
So the first question is — are the Seahawks better off staying put at #7 or moving up?
Having a quarterback who can learn and develop behind Geno Smith would be a wise move. A Smith/Richardson combo, for example, could create Seattle's answer to Alex Smith/Patrick Mahomes (although Richardson is far less experienced than Mahomes was at Texas Tech).
Levis and Young would be better prepared to start early if you needed to replace Geno. Stroud, I think, would need time to adjust to the pro-system he'd be entering.
I don't see Will Anderson as a game-wrecking Bosa brother or Myles Garrett/Von Miller type. He's a very good pass rusher but you only have to see the way Darnell Wright handled him on Saturday to realise he's perhaps not going to be an unstoppable force — rather a very useful starter. Still — the Seahawks might be prepared to take a chance on him being special and to be fair, his 2021 season was one for the ages — even if he has underwhelmed at times in 2022.
I wouldn't be against trading #7 and #14 in this draft to move up if you truly believe in one of the top players. The options in the teens, so far, are not looking great.
If they stay at #7 though — and the six names above are gone — my suggestion right now (and it's too early to make a firm prediction) would be to pivot to Mazi Smith (DT). He's an incredible athlete with insane agility, quickness, power and explosive traits. His 0.5 sacks for the season totally bely the consistent pressure he's provided despite his nose tackle size.
3rd & 10
Obvious 4.
It's just a 4 man rush but Mazi Smith is able to push the LG away with 1 arm and get to Petras for a reall good, hard pressure. pic.twitter.com/CtQKQWkHBS

— Due# (@JDue51) October 2, 2022
There aren't many 6-3 325lbs defensive linemen with his physical profile. A 33 inch vertical, a 9-5 broad, a 4.41 short shuttle, a 6.95 three cone. Incredible.
Smith gives you a chance to draft an impact defensive lineman with special upside. For me, he is the clear #2 D-liner in this class after Will Anderson and will likely go in the top-12.
At #14 — you could make a case for Jahmyr Gibbs (RB) or Michael Mayer (TE) based on talent — but neither position will be coveted by Seahawks fans. Perhaps if a Brian Bresee (DT) is available you roll the dice on his massive physical upside but it hasn't led to great results on the field at Clemson. I think Jalen Carter (DT) is a bit overrated as a top-10 pick and could also be available.
If you wanted the freakiest cornerback pairing in football, Kelee Ringo (CB) playing across from Tariq Woolen would be interesting. He's 6-2 and 215lbs and supposedly runs a 4.3. I have to admit — that would be something to witness. Yet Ringo hasn't played that well this year — not even against Vanderbilt at the weekend in a blow-out. So there's some projection with him (but I guess there was with Woolen too).
If the Seahawks needed a tackle I would mention Darnell Wright (RT) here. However, they have nailed that position down.
You can talk yourself into players but there's a lot of potential and not a lot of college production among some of the names being touted as early picks.
Given the way the defense has played it would be very appealing to add high-upside talent to try and create a better unit. I do worry, however, about a team leaning on 32-year-old Geno Smith at quarterback and ending up being another Washington-type with some good defenders but an offense that's constantly looking for 'the guy'. Geno's play has been a nice surprise but I hope it's simply creating a more attractive bridge rather than being seen as a long-term answer.
That said — I do like investment in the trenches and at premium positions. For me Seattle's biggest needs are clear — a long term answer at quarterback and creating a defensive line capable of doing more to impact games. They should set an aim of creating a terrifying defensive front.
There are some quarterbacks you could target later on but I would urge some caution for fans thinking there are loads of options beyond the top-10. I think the middle rounds are a fair range for players like Dorian Thompson-Robinson and Hendon Hooker if you want to take a punt there. Some teams will like Tanner McKee (I think he gives off Mike Glennon vibes) and I'm not sure there's a lot to get excited about after that. BYU's Jaren Hall has really fallen off recently, for example.
At picks #38 and #45 — this would be a good spot to consider adding someone like Christopher Smith (S). His range and playmaking quality would be a welcome replacement for Quandre Diggs.
I'm very intrigued by Clemson's K.J. Henry (DE) and Kansas State's Felix Anudike-Uzomah (DE) also has a lot of appealing tape. I have both players with fringe first round grades.
I'd love to think the four centers would be an option — John Michael Schmitz, Joe Tippman, Ricky Stromberg and Olusegun Oluwatimi. I suspect they're more likely to retain Austin Blythe or find someone similar.
Although taking another running back early will upset certain sections of Seattle's fan base — I wouldn't be upset at all if they were able to land a Zach Charbonnet or Chris Rodriguez in round three. Charbonnet's quick feet, size and speed could push him into round two. Rodriguez is Marshawn-like in his ability to hammer defenders and create yards after contact.
Kentucky RB Chris Rodriguez was a beast against Mississippi State. Felt like he broke at least one tackle every time he touched the ball on his way to running for 197 yards on 31 carries and 2 TDs—including this game sealer. Tashawn Manning was also very impressive. pic.twitter.com/Hx2RjqTzmA

— Bobby Football (@Rob__Paul) October 17, 2022
As I've said quite a lot already — it's early days. There's still so much that will shape this class — the rest of the college football season, the Senior Bowl, the combine. I'm watching anywhere between 8-12 games a week at the moment and still only scratching the surface of what this class is.
But I do think I've got a good feel for the first frame. There are good options in the first few picks. Then there's a sheer drop.
If you enjoy the content on Seahawks Draft Blog, why not consider supporting the site via Patreon? (click here)