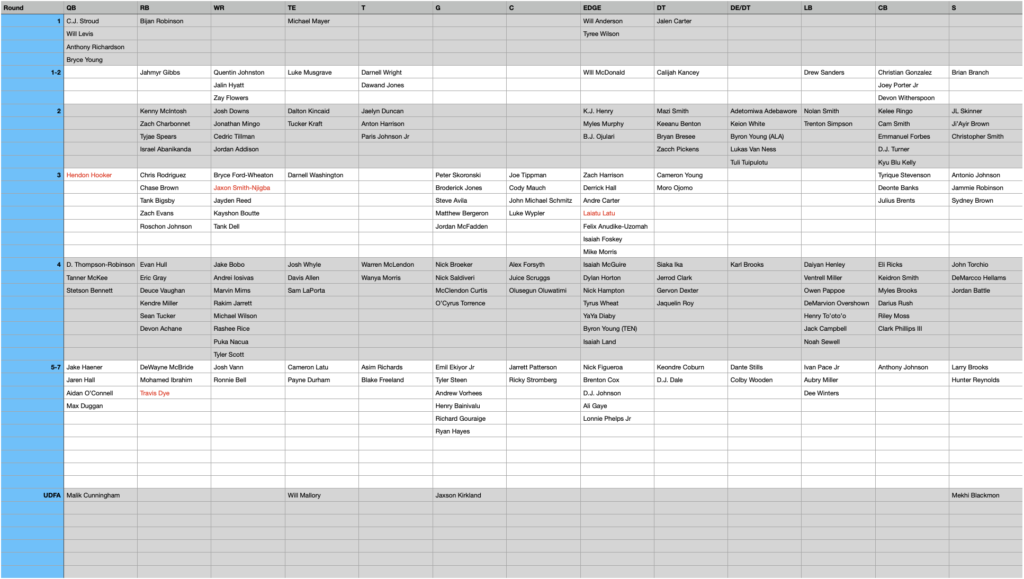 Not as sold on the interior O-liners as others are
A lot of people have started mocking John Michael Schmitz in round one (often to Seattle). I also read a lot of mocks putting O'Cyrus Torrence in round one.
I just don't see it.
I thought Schmitz had a decent Senior Bowl and there are some things he does very well. In particular for Seattle's scheme — you see him chipping at the line then progressing to the second level well. He showed that in Mobile too. There's a degree of aggression to his game which is appealing and he plays with a lot of effort. He has a chance to become a solid if unspectacular player.
When you're talking about a first round center — a collectors item it has to be said — I think you need to see more.
Schmitz appears to be limited athletically. He isn't a dominant force in college which makes you wonder about how he'll make the step-up. He can be overpowered at times and his anchor isn't top-level. He has a tendency to overextend and we saw at the Senior Bowl you can attack his shoulder and he struggles to take the correct angle, failing to cut-off the route to the QB. A lack of length doesn't help. I didn't think his tape was a very exciting watch.
A lot of Seahawks fans are on board with taking Schmitz at #38 and some are even open to the idea of taking him at #20 (or later in the first round after a small trade down). I can't agree with that. I've given him a modest third round grade that I'll revise up to a second rounder if he tests better than expected. I don't think there's a big difference between Schmitz and Luke Wypler or Joe Tippman (who is expected to have a great combine). I also think Cody Mauch showed in limited snaps at the Senior Bowl that his best position could be center at the next level — and he jumped off the screen during the game in Mobile when he lined up inside. I thought he was legitimately exciting as a center convert.
I even think someone like Juice Scruggs (who was the top O-line performer in 1v1's at the Shrine Bowl) could provide far better value than taking Schmitz early. As noted earlier this week, I'd be very willing to take on Garrett Bradbury as a scheme-fitting reclamation project if the former #18 overall pick is available at a reasonable price in free agency. Either way, I'm not a fan of taking Schmitz in the top-40 and I'm not convinced the Seahawks are going to find their long term fix from this class.
Then there's Torrence — possibly the most overrated player in the draft. I thought he had quite a poor Senior Bowl. He gained credit for a lot of losing reps. He received a lot of praise for reps where he was driven back 5-7 yards into the backfield. Typically that isn't a win for the offensive lineman. There was also the ugly moment in the game where he was dumped on his backside by undersized linebacker Ivan Pace.
Torrence isn't a great athlete. He had a sloppy frame at Florida and benefitted from a lot of support from the right tackle against key opponents such as Jalen Carter. He doesn't overpower and smother defenders for a 337lbs lineman. To me he looks like someone who's happy to hold blocks and contain. I wonder what the better athletes at the next level will do to him and I think he's limited to blocking schemes that don't ask their guards to move around.
I think we see players like this come into the league every year and they typically become average or below-average starters or backups.
I think in this draft McClendon Curtis would provide much better value. He has similar size at 6-5 and 331lbs. He has greater length (35 inch arms) and just looked more dominant at the Senior Bowl. He controlled and overpowered opponents and flashed more than Torrence did in the week of practise. I'd even say if you just want size at the position — take a chance on converting someone like Tyler Steen inside.
For a zone-blocking system I would prefer converted tackles Nick Broeker and Nick Saldiveri (both excelled during the Senior Bowl game). Matthew Bergeron and Jordan McFadden could provide mid-round value and we know the Rams' blocking scheme traditionally favours guards who played tackle. I also think Ryan Hayes as a day-three pick has some developmental potential.
I can't imagine Torrence going in the first round and I don't think he's the plug-and-play dynamo many think he's destined to be. I think he's an underwhelming player.
Quick-hitting thoughts on players
Anton Harrison (T, Oklahoma) — I went back and watched two of his games and moved him up to round two. His run-blocking is a lot more impressive than I initially gave him credit for. He's a waist-bender and looks like he has athletic limitations but if nothing else, he could be a road-grader in the running game.
Rashee Rice (WR, SMU) — he just lacked any kind of juice or suddenness running routes in Mobile and he didn't look like much of a playmaker, so he moves down the board.
Will McDonald (EDGE, Iowa State) — what a performance in Mobile, hinting at the potential to be something special at the next level. After the combine, I might give him a legit first-round grade.
Adetomiwa Adebawore (DL, Northwestern) — nobody else got the D-liners fired up during 1v1's like 'Ade Ade'. His combination of special athletic qualities, long arms and low centre of gravity make for an intriguing package.
Juice Scruggs (C, Penn State) — controlled most of his 1v1's at the Shrine Game. Yes, the competition wasn't great. However — he stood out among offensive linemen and it'll be interesting to see how he tests.
McClendon Curtis (G, Chattanooga) — big, long and aggressive — one of the standout performers in Mobile.
Cameron Young (DT, Mississippi State) — if he tests well I might shift him into round two. I'm not sure why more people aren't talking about him. He has ideal size (6-3, 304lbs) and incredible length (35 inch arms). He put on a show in Mobile.
Israel Abanikanda (RB, Pittsburgh) — he blew me away watching tape, much like Tyjae Spears. Abanikanda has a great frame, superb burst to accelerate from defenders in the open field, he has excellent cut-back ability and he can drive through contact. A very interesting player who should be on our radar at the combine.
General draft thoughts
This class is lacking in a number of areas. There isn't a left tackle worthy of a top-10 pick. There isn't a receiver you can comfortably say deserves to go in the top-10. We might see a cornerback sneak into the top-10 but it might be a bit of a reach.
Your blue-chip players basically come down to four quarterbacks, two defensive linemen, one running back and a tight end. At least in my opinion, pre-combine.
It doesn't really matter for the Seahawks though. With the #5 pick they are guaranteed to be in position to draft one of the top-four quarterbacks or one of the top-two defensive players. This is a really attractive position to be in.
There's even better news. I have nine players I've given 'legit' first round grades (would be first rounders any year) and a further 14 players with 'fringe' first round grades (would be happy to take them in the first round).
Basically, the Seahawks should be able to get a good player at #20. I wouldn't pay much attention to these mocks that put Bijan Robinson in the 20's (he'll be the top player on many boards) but the realistic options include aggressive, quick linebacker Drew Sanders, the two hulking offensive linemen Dawand Jones and Darnell Wright, the brilliant interior rusher Calijah Kancey and classic Seahawks-style pass rusher Will McDonald.
As I've been discussing this week, I think McDonald is a player to put a ring around. He is exactly the type of player the Seahawks tend to love at his position. He's 241lbs with 35-inch arms. He's expected to jump a 42 or 43-inch vertical. He set a school record for sacks.
They already have Darrell Taylor, Uchenna Nwosu and Boye Mafe on the roster so whether they want another EDGE type remains to be seen. Yet McDonald showed at the Senior Bowl he has the rare qualities to bend around the arc and straighten to the quarterback with incredible balance and explosion. He's strong for his size. He has a killer spin-move that we saw in Mobile when he beat the excellent Wright of Tennessee on back-to-back reps.
If you're looking for special, difference-making traits — McDonald has them.
Seattle's pressing need defensively is to get better in the trenches but as they try to create a defense that can scare opponents — it's hard not to look at McDonald and think they'll love what they see.
Can the Seahawks improve defensively if they take a quarterback at #5?
Undoubtedly, yes.
They could take McDonald at #20 to get a defender with elite-level traits. They could select Keeanu Benton at #38 — or perhaps after a small move up the board to ensure they get him.
You could keep adding. Alabama's Byron Young continues to be underrated by many. Cameron Young at Mississippi State had a very good Senior Bowl. Moro Ojomo has intriguing potential at Texas.
I still believe if the Commanders tag DaRon Payne with the intention of trading him — you should be ready to offer a deal using one of your second round picks. That would immediately inject proven quality into your defensive front, taking the pressure off the draft. It would take a pricey contract but they're going to have to spend to elevate to the next level. Payne is at a good age (he doesn't turn 26 until May).
So while many people think the only right thing to do is pour resources into the defense — you can plausibly add a young, talented quarterback for the future and still reinforce your D-line.
That doesn't mean I'm against taking a defensive lineman at #5. I understand the argument and will not criticise the Seahawks if they do that. I think John Schneider deserves some faith when it comes to quarterbacks. If he passes on a player, it won't be because they're neglecting the position.
I also hope fans give him the benefit of the doubt if he does take a quarterback. It's extremely viable to add a young QB at #5 and still improve your defense.
If you enjoy the blog and appreciate what we do — why not consider supporting the site via Patreon — (click here)