I've updated the horizontal board today (click the image to enlarge).
This will likely be the final update. I'll post it again ahead of the draft if you want to use it to follow along.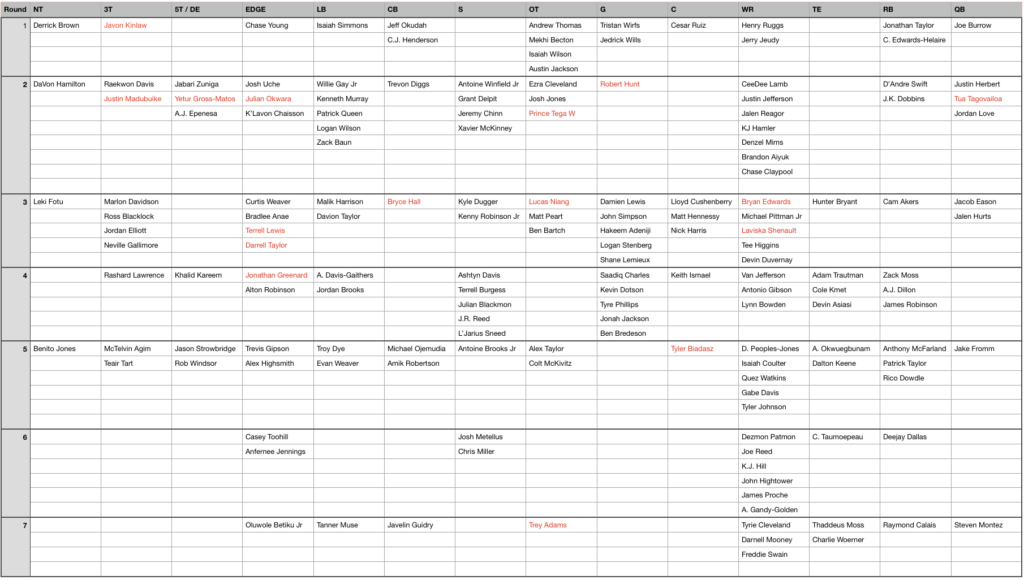 It's a few years since John Schneider stated the aim was to become the bully again.
It hasn't really happened.
Seattle has some very physical players — such as Duane Brown and Chris Carson. There are also a handful of individuals on defense who fit the bill.
They haven't, however, been able to impose their will on opponents as often as they'd like.
The clearest example of that is their home record in recent years. They're 14-10 since 2017. The problem reached a crescendo when they lost half of their games at Century Link field in 2019.
What happened to the intimidating, daunting prospect of facing the Seahawks in Seattle?
They had one-point victories against lowly Cincinnati and the LA Rams, needed overtime to beat the Buccaneers and nearly blew a handsome lead against the Vikings. Those were the four wins.
The four losses including three games where they were whipped in the trenches — O-line and D-line. Yes there were turning points against Baltimore (Russell Wilson's bizarre pick-six), New Orleans (special teams mistakes) and Arizona (injuries). It was also difficult to watch all three opponents push the Seahawks around once the game started to ebb away.
Their final home game — against the 49ers — isn't really fair to judge. By this point the Seahawks were decimated by injuries and facing the NFC's top team. Yet the way that game ended masked what really happened. Seattle were clearly second best for three quarters and comfortably so. Russell Wilson finding a groove at the end almost pulled off a famous and improbable QB-inspired upset. The Niners are better up front, though. The Seahawks will need to close the gap to win the NFC West.
That's not to say anyone should expect clean and unbeatable at home. They've never been that in the Carroll era. They had frustrating, close and strangely difficult home games even in 2013 and 2014.
However — they also had an ability to be the intimidating force. Marshawn Lynch on one side of the ball, Kam Chancellor on the other. Lines with physical players who could help 'complete the circle' as Carroll likes to call it.
They're still trying to complete the circle in this reset.
They fixed the running game in 2018 and it felt like they'd reconnected with their identity. Yet in 2019, the collapse of the defense put them almost back at square one.
So how do they address this? Because they're not able to recreate Beast Mode or Bam Bam.
The best way to connect the offense, defense and special teams is to become even bigger, tougher and better on both lines.
That's why I think Tony Pauline has been reporting it'll be Seattle's focus in this draft. I suspect those games against New Orleans and Baltimore have stuck in the mind.
It's not the only focus, of course. Drafting a receiver early isn't going to make Seattle's defense and pass rush any better and it's not going to make the Seahawks any tougher to beat. They could still draft one in the first two rounds and tap into this great wide out class. They don't need to spend #27, #59 and #64 all on the lines to achieve their goal.
They do need to concentrate primarily on the trenches though. If you want to play the way the Seahawks want to play, you've got to commit to both lines.
They've done that a bit with their O-line free agency moves. Only a bit, mind, because they'be added journeymen. They've also done nothing to address the glaring D-line need aside from replace Quinton Jefferson and Ziggy Ansah with two more journeymen. Presumably they will sign a veteran edge rusher in the coming days or shortly after the draft.
Tougher, bigger, stronger, faster might seem like mere buzz words but that has to be the target in the draft.
That's why players like Robert Hunt could be 'must haves'. It wouldn't even be that surprising if the Seahawks were willing to trade back from #27 into the early 40's with Hunt in mind. It's why Isaiah Wilson's size could be appealing in the late first round. It's why they're probably going to take a defensive tackle early. The bigger and stronger the better — and that's why we've looked at guys like Raekwon Davis, DaVon Hamilton and Leki Fotu. Tough, big, brutish defenders. They've got to compliment that with speed off the edge. Raw, sudden speed. They'll need to find that somewhere — whether it's an early investment in someone like Josh Uche or a later punt on a Darrell Taylor type.
From rounds three-to-seven they might seek out second level defenders who pack a punch — such as a Kenny Robinson. They might be willing to keep adding to the linebacker spot — and nobody can question the toughness of Willie Gay Jr, Logan Wilson or Malik Harrison.
They can no longer rely on the Rasheem Green's and Cody Barton's to get them where they need to go. The Seahawks roster in 2012-14 was about as physical as a team can be. They can't regenerate Marshawn and Kam. They can certainly go and add some size and some edge and some nasty.
Whenever week one takes place, they need to be the intimidating team on the field. Especially on defense. That'll continue to be the case while ever they're playing Pete Carroll's brand of football. That's the only way Carroll completes his circle and avoids Groundhog Day with another wildcard or divisional playoff defeat.
And as noted earlier, it doesn't mean you fight the board to avoid the skill positions. They have to add a running back at some point. Preferably that's also a physical player — such as Clyde Edwards-Helaire or Zack Moss (Jonathan Taylor, J.K. Dobbins and Cam Akers are also physical runners). Receiver is a different situation. You want explosive — and they can find that with players like Jalen Reagor and Chase Claypool. You also want dynamism and speed and that could mean a different and more diminutive target such as K.J. Hamler.
We know the Seahawks like to tap into the strength of a draft class. This year, that's the receivers. So at some point they're going to address it along with running back.
Ensuring that both lines are sufficiently bolstered could and perhaps should be the priority though. They've got to come out of this draft as a more robust, more physical and faster team.
If you missed yesterday's interview with Raekwon Davis, don't forget to check it out…
You can now support Seahawks Draft Blog via Patreon by clicking the tab below.