I will be hosting a live stream with Robbie Williams at 1pm PST. Log onto the blog or YouTube to watch along.
The Seahawks need an injection of quality.
It doesn't matter if their preferred method is to go bargain shopping in free agency. It hasn't worked.
They have one playoff win in four years — against an Eagles team who won the NFC East by default and had Josh McCown at quarterback.
A number of disappointing draft classes should be forcing Seattle's hand. Whether Russell Wilson stays or not — they need more talent.
The cheap and cheerful approach produced the following results a year ago:
— Spending $4.2m on Branden Jackson and Joey Hunt, squandering money that could've been used elsewhere in the first few weeks of the new league year
— Spending $9.2m on B.J. Finney, Cedric Ogbuehi and Brandon Shell. Meanwhile, all-pro right tackle Jack Conklin cost the Cleveland Browns $8m in 2020
— Using $13m on ageing players Greg Olsen and Bruce Irvin. Both missed most of the season through injury
— $12.1m was spent on Benson Mayowa, Jacob Hollister, Quinton Dunbar and Mike Iupati
The Seahawks ended up blowing about $50m and didn't add a single difference maker.
This kind of depth filling is fine if you have a loaded roster and continue to draft well. When you're not doing either of those things, wasting money on backups and fringe starters isn't a pathway to success.
The Seahawks will likely try to capitalise on a unique market and let things come to them again this year. It's a perfectly plausible plan given the economic circumstances. It might work.
But when's the last time the market did come to the Seahawks?
When was their last great recruiting job? 2013?
Will they just continue to overplay their hand, missing out on the best options?
Will they end up going into training camp and the regular season with huge needs again? Banking on last minute trades or dragging guys off the couch?
It's time for a more pro-active approach. Despite a 12-4 record last season, the Seahawks weren't close. The playoff defeat to the Rams brutally exposed their flaws.
They only have a few draft picks, including one in the first three rounds. That'll change if they trade Russell Wilson — but that in itself will only increase pressure on the Seahawks to improve the overall quality of their roster.
They don't have any long term answers at left tackle, cornerback or defensive end. They have a highly dissatisfied franchise quarterback.
Their main investment has gone into the safety and linebacker positions.
None of this is good.
You're not going to find 8-10 year solutions at the key positions on the open market but at least you can try and add some real quality.
They need to be creative, somewhat aggressive and mix calculated moves to take advantage of the market with at least a couple of pro-active splashes.
They did it in 2011 — adding Sidney Rice and Zach Miller. It's time to do it again.
Can they legitimately go after the best names available? Perhaps not. They haven't made the moves necessary to shift resource from linebacker and safety to the trenches — so I'm not anticipating anything big.
If you looked at my off-season plan, you'd know that's exactly what I would be doing. So far though, their only move has been to cut the best pass rusher on the roster to save money.
They're not back in the draft and at the moment will pick just once in the top-130. How do they improve with one high-ish pick and bargain shopping in free agency?
They have to do more. Frankly, it's absurd to trade as much as they did for Jamal Adams (the ultimate aggressive move) only to stick so steadfastly to an approach in free agency that has simply delivered below average players.
Admittedly it could be difficult to sell a top free agent on joining the Seahawks with Wilson's future up in the air. This feels like a dysfunctional franchise at the moment and with nobody addressing a story that has dominated the NFL's news agenda for five weeks, short of a resolution in the next 24 hours they will not be putting their best foot forward to prospective signings.
Fans deserve some hope too. The silence over the Wilson issue might be the best plan if you're trying to win a PR battle with your franchise quarterback. Yet the mystery surrounding this situation has just left fans in the dark — wondering what's really going on.
Equally fans see a roster littered with gaps, limited cap space, not much to look forward to in the draft and a playoff shellacking to a division rival still lingers.
Clarity is needed for this team. Where are they heading? How are they going to get there? Some answers need to emerge in the coming days.
Here are some of the names I would target. I'm not suggesting they land all of the names below. I know that's not possible. Two or three would at least show some initiative:
Corey Linsley (C, Green Bay)
I don't care how likely it is. This is the type of move they should be making. You've got to block Aaron Donald at least twice a season. You've had a revolving door at the position for years. Linsley had a PFF grade of 89.9 in 2020. It's time to actually make the line of scrimmage a big priority. O-line and pass rush. This should start with a big splash and be followed up with a high draft pick at left guard. Alternatively go and get Joe Thuney and draft a center. They should also create the resource to upgrade the D-line. There's no point doing the same thing that hasn't worked for the last few years. Time to make the trenches a focal point.
Add proper pass rushers
Rasheem Green and LJ Collier aren't good enough. Seattle's pass rush was abysmal last season prior to Carlos Dunlap's arrival. The Seahawks have done an appalling job with their pass rush over the years and that needs to be sorted pronto. The Super Bowl should've been a wake-up call with the way Tampa Bay played. The Seahawks need to sign two players. Getting Dunlap back would be a start but if not — they need to do what they should've done last year. Add quality. There are plenty of names out there — Dupree, Lawson, Hendrickson, Clowney, Dunlap, Judon, Ngakoue, Okwara, Floyd, Smith. Fix it, for goodness sake. Add two and pair them with an expanded role for Alton Robinson. Alternatively, if they do end up back in the draft — there are plenty of athletic edge rushers available in this class that would appeal to the Seahawks, as you can see in my horizontal board: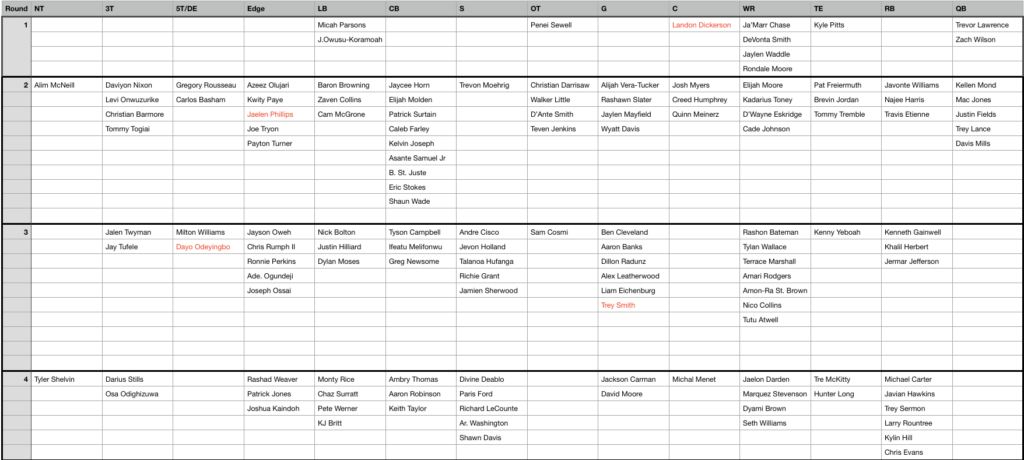 Haason Reddick (LB, Arizona)
I've long been a fan of Reddick's and the chance to weaken a rival and improve your own roster is appealing. He's only 26 and just had a 12.5 sack season for the Cardinals. He has the length (33 inch arms), quickness (1.59 split) and explosive traits (36.5 inch vertical, 11-1 broad) that Seattle loves. He'd be a real asset as a SAM linebacker who can move up to the LOS for passing downs. If they plan on running more bear fronts moving forward, he provides flexibility there. Reddick improves your speed, pass rush and physicality.
Aaron Jones (RB, Green Bay)
I know — don't pay running backs. Here's the thing — I don't think anyone is going to pay them. I suspect there's a chance the ones in this market might be left looking at short-term contracts similar to Melvin Gordon's two-year deal worth $8m a season. The Seahawks don't have much in the way of draft picks and it's not a great class for runners. Javonte Williams will be off the board by the time they pick in round two and if they get Chicago's #20 — do you really want to use that on him? Jones is one of the best players on the market and the Seahawks need some reliable quality at the position. A short-term commitment wouldn't be the end of the world financially.
Any legit #3 weapon
Regardless of who is playing quarterback, any modern NFL team needs an arsenal of weapons. Two isn't enough. You need three or four these days. So whether they invest in a dynamic tight end such as Jonnu Smith or Gerald Everett, a dynamic outside receiver such as Kenny Golladay or Will Fuller or a potential X-factor such as Curtis Samuel — the Seahawks need to add someone. Then they need to get back in the draft and add another — with appealing options at both TE and WR in this class.
Richard Sherman (CB, San Francisco)
Despite a lot of talk about wanting to be the bully, the Seahawks are not a physical football team. They don't have an edge. Nobody fears playing them. Teams like the Giants march into Seattle and kick their arse. Signing Sherman alone won't change that but it's a start. They need some attitude and intensity.
Meanwhile, there's a little update on Wilson today. Ian Rapoport says interested parties are expecting to discover 'in a day or so' whether the Seahawks will trade him. Mike Florio says the issues between team and player have not been resolved.
If you missed my interview with Payton Turner on Friday, check it out here:
You can now support Seahawks Draft Blog via Patreon by clicking the tab below.