We're a week on from the first flush of a new Russell Wilson saga.
Despite the claims of one or two members of the media that this is a storm in a tea cup and the almost desperate denial of sections of the fan base, this is a very serious issue that warrants care and attention.
Because although you'll have heard or read many people denouncing the possibility of a trade because of the $39m dead cap hit, the reality is that anything is possible if there's sufficient motivation.
How else are the Eagles, currently $50m over the cap for 2021, going to be able to take on a dead cap hit for Carson Wentz?
Mike Tannenbaum has a solution for Wentz and there's no reason why it wouldn't work for Wilson and the Seahawks:
If Wilson pays back a $30m bonus before the end of the month, the dead cap hit would be dramatically reduced. And there's nothing stopping the buying team (who are only inheriting his base salary) compensating that money back to Wilson once a trade is consumated.
So if Wilson is suitably motivated to force a trade, there is a clear and distinct opportunity to make it happen. It's unique. It's creative. But it exists.
Fans are also increasingly suggesting this is simply an overreaction to some fairly non-explosive words about needing to improve the offensive line. That the media are creating a story out of nothing.
This is simply a convenient and reassuring piece of denial.
The reality is that Wilson's agent, Mark Rodgers, is feeding information to the media to make it known that he's unhappy. He's not sneakily doing that behind Wilson's back. He's his agent. That's why you're seeing the Jason La Canfora articles. That's why Mike Florio is actively reporting the story.
These are media contacts Rodgers has used in the past.
You've also got Brandon Marshall speaking in very candid terms about Wilson wanting out. You can write him off as a loudmouth talking head if you want but you'll merely be doing yourself a disservice.
Marshall has been in the media for years — dating all the way back to his playing days in Chicago. Part of his schtick has never been to offer wild hot takes on the future of former team mates.
If what he was saying was off-base, you can imagine Wilson would be on the phone immediately telling his friend to offer a full retraction. That hasn't happened.
Is Mike Garafolo a specialist in clickbait now? So when one of the most respected and reliable reporters in the NFL media says it "smells like a guy with one foot out of the door or kind of wants out" — do you write that off too?
And let's not forget the reported (and not disputed) ultimatum from Wilson to the team before the season to 'let him cook' or the talk in May that league sources expect, sooner or later, that Wilson will be playing elsewhere.
The proverb 'no smoke without fire' has never been more apt.
If you're ignoring and denying all of this, then you're simply unwilling to face the seriousness of this situation. I'm afraid, you are in denial.
And if you think the media needs to create drama at a time when Deshaun Watson is seeking a trade, Tom Brady has just won a seventh Super Bowl, Andy Reid's son has left a child in hospital, Carson Wentz is on the brink of being dealt and Dak Prescott's future is up in the air — then you're doing an incredible impression of 'comical Ali'.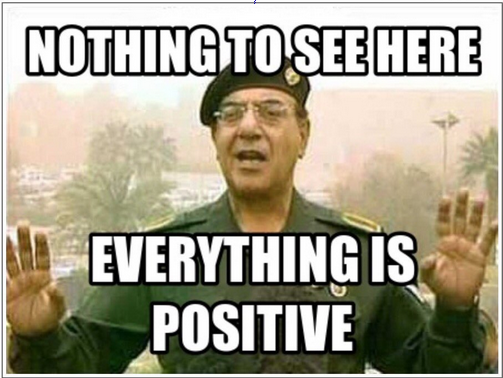 This story is in the media because Wilson and his camp want it to be.
It really is as simple as that.
The idea of Wilson leaving Seattle is tough for many to handle. It would also be a highly unusual and explosive situation for a player of his caliber to insist on a move. That, in part, is why fans and media gravitate towards dismissing this outright.
Yet if you're willing to actually break this down and read the tea leaves — it's not difficult to piece together what's going on.
An inconvenient truth is, sadly, still a truth.
The idea that Wilson is simply applying a bit of pressure and will then 'see how it goes' this year also isn't realistic.
He turns 33 in November. He's a couple of years away from being tagged as an ageing quarterback. He constantly talks about legacy.
He's in a hurry. Time is of the essence. Wasting another season seeing if things shift to his way of thinking isn't an option. Mainly, because he knows it won't happen. This is the Pete Carroll show. Not the Russell Wilson show. And he knows it.
I suspect he wants to go somewhere where it does become the Wilson show.
This is a quarterback who wants to compete for MVP awards. He wants to win multiple titles. He's approaching 33 and hasn't even received a MVP vote in his career. The Seahawks haven't come close to a Super Bowl run in pushing seven years. Since then, Tom Brady has won four more titles.
He's seen Brady leave the team where he was a legend and go somewhere else where everything is catered to the quarterback. It took one season to win a title.
One season.
There's also a trust factor here. Wilson made the ultimatum before the season and, in fairness, was allowed to cook. He carried the team and made up for a disgrace of a defense for weeks, leading the Seahawks to a 5-0 start.
Yet at the first sign of trouble, Carroll wrestled control of the offense.
Some people in the media and large sections of the fan base haven't even acknowledged how much of a factor that could be.
The ultimatum was never disputed. So how can anyone fail to see how much this could be influencing Wilson's position today?
It's the perfect illustration of a clash of philosophies and the trust issues that exist from both sides.
Put yourself in Wilson's shoes. You carry the team on your back and set up a 5-0 start. 'Carrying the team on your back' barely feels like an adequate description. The defense was on a historically bad pace. It was Wilson vs the world — he was having to score at a historic pace himself in order to deliver wins.
Then at the first sign of trouble, that was the end of that. No more cooking.
You have to be prepared to consider how Wilson felt about that. Do they not trust him to right the ship? Did the first five games mean nothing? Why aren't they giving me a chance to get back on track?
And in the end, were the Seahawks better for the change? They were humbled by the Giants. They beat a bunch of bad or banged up opponents and then were swiftly dumped out of the playoffs in the wildcard round.
Do you not think Wilson is bugged by that? You took control and where exactly did it get us?
Then there's the very clear and distinct philosophical differences — emphasised by how Carroll and Wilson spoke about the team immediately after the season (detailed here).
If you think this is purely a desire for better offensive linemen, you're not just barking up the wrong tree. The tree's a lamp post.
Philosophy. Trust. Control.
You would think journalists would be hammering the phones at this point, trying to figure out what's going on. Instead, several are simply resorting to condescending 'he won't be traded' statements they have no business making.
Because while it might be totally inconvenient for the Seahawks to trade Wilson — that's completely missing the point. This is all about the quarterback and how he feels. If he wants out, it doesn't matter how inconvenient it is for the Seahawks.
The moment a franchise quarterback decides he wants to play elsewhere, you only have two choices.
You either cave to his demands — which in this instance means giving him control of the offensive philosophy and making aggressive moves in free agency to appease him, which means freeing resource that you've already invested in other areas.
Or it means trading him.
The idea of simply doing nothing and hoping it'll blow over doesn't exist.
This isn't like a Kam Chancellor or Marshawn Lynch holdout. Yes, they can act as distractions. But the two people who have to be bought in, leading the way and sharing a vision are the Head Coach and franchise quarterback.
Having a dissatisfied quarterback, actively opposing the philosophy of the coach, is a recipe for disaster. It will infect and infiltrate the rest of the roster. How can you possibly succeed in that environment?
Even if they turn down all offers and Wilson is forced to accept his fate and go to training camp, rather than hold out. That isn't conducive to success. And the drama, the saga, will never end.
Every bad result will be filled with talking points about Wilson's future. Every time he succeeds, it'll lead to talk of him deserving more power and respect.
That's why you have to either make things right or the divorce papers need filing.
So all the people online currently insisting Wilson won't be traded are in no position to do so. They're only looking at it from the perspective of the team. They're not considering the perspective of the quarterback — who having made his dissatisfaction clear, will now be expecting a response.
Carroll ceding control to Wilson in terms of offensive vision seems completely unrealistic, given what we witnessed in the second half of the season and with the way Carroll spoke after the Rams loss.
Yet without that, there's every chance Wilson will ask for a trade. Mike Florio, citing his source (Mark Rodgers), says the situation is 'fluid' with regards requesting a trade. That means it hasn't happened yet — but it could.
And if you think the Shane Waldron appointment solved any problems, I refer you to this tweet:
Something to keep in mind re: Russell Wilson. Two sources I've spoken with indicated he was lukewarm on Shane Waldron, but felt he was the best candidate for the coordinator role. He wasn't ecstatic about other alternatives.

— Corbin Smith (@CorbinSmithNFL) February 10, 2021
So my thought today, as we approach a week where the rumour mill will continue, is why haven't the Seahawks talked publicly yet?
It could be that they simply don't want to rise to it. They may feel that speaking in any way will be unhelpful, even if it's just to outright rule out a trade. That could simply shake the cage.
Here's the thing though. At the moment, Wilson is winning the PR battle. He is creating a situation where he's making it clear he's unhappy and that he wants the team to lean towards his way of thinking.
The silence in response neither pushes back nor sets things straight. There's just a complete mystery, short of Dan Patrick's report that the team is unhappy with Wilson and his team for going to the media to voice their concerns.
If the Seahawks want to play the game, they should come out — as Nick Caserio the Houston GM did — and say the quarterback isn't available for trade in any circumstance and that all offers will be rejected.
If they do that, Wilson is faced with the prospect of either getting on with the job or requesting a trade (as Deshaun Watson did). Yet I sense Wilson is very cautious of making that move and being seen to be agitating for a departure.
As much as he might wish to go somewhere where he can have Tom Brady-esque authority, with an autonomy on the offense, playing for an offensive minded Head Coach — I also don't think he wants to walk out the door a hated figure.
As Brandon Marshall put it, he wants to find the classiest way to move on.
Unfortunately there's no easy way to initiate a divorce. So if the Seahawks return the ball to his side of the court by saying no trade is happening, he either needs to get on with life or request a trade.
Something has to happen quickly. The Seahawks have a lot to get done this off-season. They need to make a decision on Jamal Adams' contract and then either sign him or trade him — a negotiation which may be tricky. They need to find ways to create cap space and potentially get back in the draft. They have a host of starters to re-sign or replace.
They have a much harder job evaluating the draft prospects this year with no combine, no official-30 visits and limited pro-day access.
Having to deal with an unhappy quarterback on top of this is a potential back breaker. I would suggest, sooner rather than later, they need to know where they stand.
That means Pete Carroll sitting down with Russell Wilson and having it out. By the end of that meeting, or shortly after, they need to have a decision on whether he's staying or going.
If he's staying, there can be no more public complaint, no more Mark Rodgers leaking info to the media.
If he's going, they need to get on with finding the best offer and thus the best replacement quarterback. They need to be creative to lower the dead cap hit. And they need to have the time to plot the future of the Seahakws.
This dragging on for much longer is unthinkable and won't be conducive to success. There's a cloud hanging over the franchise.
If you missed our podcast discussing the Russell Wilson saga, check it out below…
You can now support Seahawks Draft Blog via Patreon by clicking the tab below.