Before we get into the piece, on Tuesday I appeared on 950 KJR to talk to Softy & Dick about the Seahawks. You can listen to the full interview here:
Quite aside from the unresolved situation with their franchise quarterback (which many people will gloss over now — and that would be a mistake) — there's another issue that lingers for the Seahawks.
There's nothing wrong with being penny-wise in the early stages of free agency. It's often where good or average players are paid elite money.
But eventually there comes a time when you've got to do more than dip your toe in.
Last year was a classic example. As Seattle waited and waited for Jadeveon Clowney, other opportunities slipped by.
It's not just a 2020 problem. The free agent additions Seattle have made in recent years have generally been quite poor.
Rather than acquire talent at good value, more often than not they've added average, replacement level players.
We're already approaching the second wave of free agency and a host of names remain available. This should be the time when you capitalise.
The Seahawks aren't the only ones shopping, of course. But with only four draft picks — including just one in the top-120 — this is really their only chance to get better.
Look at Tampa Bay last season and consider their defensive line — anchored by Ndamukong Suh and Vita Vea, with Shaquil Barrett and Jason Pierre-Paul rushing the edge. Three of those players were free agent signings.
With the likes of Carlos Dunlap, Haason Reddick, Sheldon Rankins, Jadeveon Clowney, Ryan Kerrigan and others still available, the Seahawks could put together a competitive D-line.
The alternative is another year of what we saw at the start of the last season. You bring in a Benson Mayowa type, give him far too many snaps, rely on Rasheem Green and L.J. Collier and pray something emerges before the trade deadline.
They surely can't do that again?
And wouldn't it be nice to have a proper rotation up front?
Sticking with the Buccs — look at the weapons they had for their quarterback too.
The options available on the market are pretty remarkable still. Kenny Golladay, Curtis Samuel, JuJu Smith-Schuster, Will Fuller, Sammy Watkins, Gerald Everett, AJ Green, Antonio Brown.
Will there be a better chance to add a proven #3 target? Potentially at a good age?
At running back there's currently just a great big mystery. Signing Leonard Fournette, which appears possible, or bringing back Chris Carson would add a name and a body. Yet the depth and talent at the position still remains lacking. The hope should be to add at least two players here.
The Seahawks, with the way they play, need a bell-cow. It's not clear how they achieve that this year. The only other alternative is to have a great rotation. Mike Davis and others could help provide that on top of, say, a Fournette addition.
They're yet to make any significant signings to the O-line — with the likes of Rodney Hudson, David Andrews and Nick Martin available at center.
They've signed Ahkello Witherspoon and the value/fit makes sense. Yet it's impossible to look at Seattle's cornerback position and have any real faith that it's sorted. It feels like they need more — competition and talent. Richard Sherman is still available, as is Kevin King.
I could keep going. They have the second fewest contracted players in the NFL currently, so depth is an issue too. Other players — such as KJ Wright — will need to be re-signed or replaced.
In a way the Russell Wilson saga has acted as quite a distraction to an equally important topic.
How do the Seahawks actually build a team in 2021?
A year ago at this point they still had millions to spend and a collection of draft picks, including three in the first two rounds.
Now they have #56 and a whole lot of nothing. Their available cap space has halved just by signing Witherspoon and extending Poona Ford. Unlike in previous drafts when they've had no picks — there's no real means to trade down because they don't have a first rounder to bargain with.
They've not done anything to create cap space yet.
They've taken a decision not to trade Russell Wilson, according to reports, yet they aren't restructuring his deal (which they can do without his permission) which kind of suggests they're leaving the door open.
But even if their intention is to proceed with Wilson for now (and who knows, really, given Tony Pauline reported just last week that they're as ready to move on as he is?) — they haven't re-worked any other deals or traded anyone to provide cap relief or extra picks.
So it does feel like a big few days for the Seahawks. Firstly, they need to create some stock. I don't know how — but they need to. Whether it's picks or salary cap relief. Unless the plan is to start Phil Haynes at left guard, Kyle Fuller at center, Rashaad Penny at running back, Colby Parkinson at tight end and Freddie Swain at receiver. And maybe that is there plan? I would argue, however, that would make for a completely pointless and futile 2021 season.
They need more to work with. They have done for weeks.
So can they acquire some stock, then rekindle the 2013 magic and come up with some eye-catching additions to bolster their roster?
Or will the penny-wise approach develop into a pound-foolish one again if they end up trying to fill out the roster with duds? Without even a draft to look forward to where you can add cheap, young talent.
Can they avoid doing what they've done for the last couple of years — failing to address key needs going into training camp, then needing to scramble around for solutions at the last minute?
In the last four years they've used two firsts, three seconds and three third round picks on deals either just before or just after the season started. That's insane.
The problem is, this is a franchise that feels like its lost its mojo when it comes to player acquisition. Every year they have an opportunity to get it back — and they never seem to.
And the rest of the NFC West remains highly active. The 49ers have just retained Trent Williams and signed Alex Mack to bolster their O-line. The Cardinals have signed JJ Watt and the Rams continue to be creative with the cap, retaining Leonard Floyd.
What is Seattle's blueprint for progress?
Meanwhile, Ian Rapoport says the Seahawks only decided not to trade Wilson to the Bears yesterday — and that it was Pete Carroll's call not to pull the trigger.
It does sound awfully like the franchise has made another decision somewhat based on the emotion of the day from their all-seeing decision-maker.
Jason La Canfora claims the Bears bailed too early, adding "If Wilson is dealt, it will be close to the draft."
It's another hint that the dysfunction will continue and drag on for some time, following Adam Schefter's suggestion that the Seahawks simply weren't in a position to make a trade yet and that nothing had been ruled out:
"To date they've not said, 'we're not trading Russell Wilson' publicly"
He also provided this update this morning, flat out suggesting Wilson could still be dealt before the draft:
Adam Schefter essentially saying Russell Wilson could still be traded before the draft #Seahawks pic.twitter.com/RE4RzmIKjf

— Rob Staton (@robstaton) March 17, 2021
Brandon Marshall also said this:
"I don't think it's over but I think they want more time to think this through."
"If they don't figure it out now, there's going to be a trade partner here pretty soon."
Mark Rodgers' next move will be interesting.
Last week we argued that this was a situation that had to be resolved, one way or another. Either with a truce or a trade.
Letting things fester and linger was not the answer — and yet it appears to be the chosen path for Carroll.
Finally, today is the Georgia pro-day. Azeez Olujari will be among those working out.
In anticipation of the Seahawks potentially acquiring the #20 pick, I went back and re-watched all of the top pass rushers in this class. Off the back of that, I've moved Olujari to a legit first round grade on my horizontal board.
He's a terrific player and for me, could easily find a home in the top-15.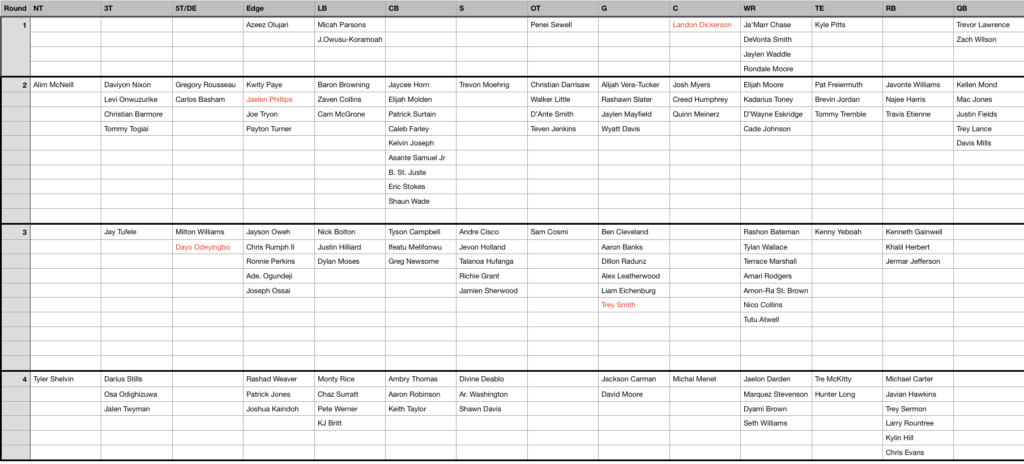 Olujari measured today with 34.5 inch arms — ideal length and he's destined to be a high pick.
Ben Cleveland ran an unofficial 4.85 forty. Obviously this is a 'pro-day' 40 but it validates the expectation that he could've run sub-5.00. I've always maintained he's a far better athlete than some in the media are suggesting. The strongest player in the draft. He's a definite name to keep an eye on, as early as #56.
Tight end Tre McKitty and cornerback Eric Stokes are two others. Stokes measured with nearly 33 inch arms — that is fantastic length and he has a shot at the first round.
There are so many good options in this class at defensive end, receiver, offensive line and cornerback. There are some tight ends worth pursuing — and at least one running back who fits like a glove.
We don't need the underwear Olympics to appreciate this. The Seahawks need a way back into this draft.
You can now support Seahawks Draft Blog via Patreon by clicking the tab below.