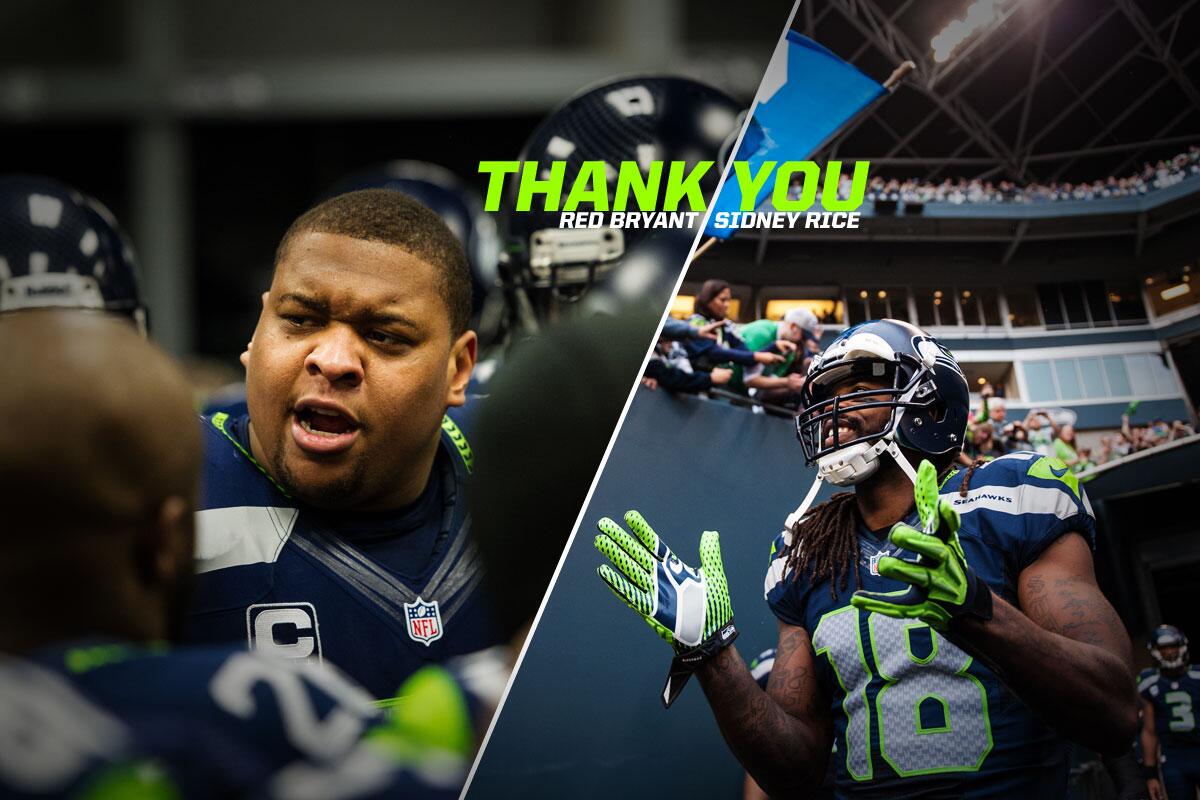 This wasn't a big shock.
The news was already out there, the moves both inevitable. Sidney Rice and Red Bryant weren't going to go any further with the Seahawks.
And yet there's still a sense of disappointment today.
Rice was a big free agent addition in 2011 — at a time when Seattle had very little quality on the roster and needed an instant injection of talent.
When he was snatched away from Minnesota, he was seen as a potential #1 receiver. Unfortunately the injuries that plagued his career with the Vikings had a similar impact in Seattle.
His signature, however, still provided plenty of momentum at a time when it was absolutely needed.
He never put up huge numbers — but he provided plenty of big plays. None bigger than the play-action touchdown to beat the Patriots in 2012.
The amount of love I have for the #12thman and the @Seahawks organization! Thanks for a wonderful… http://t.co/dgyuUTVw9q

— Sidney Rice (@sidneyrice) February 28, 2014
Bryant was one of the few players that survived from the Ruskell era. A fierce competitor, he'd been the heart and soul of the team.
It was Bryant who made "we all we got, we all we need" the rallying call in 2010.
It suited a meandering 7-9 outfit punching above its weight. It equally befit a 13-3 Championship roster three years later.
Whatever your opinion of Bryant's on the field play, teams didn't want to face him. It was an obstacle that had to be passed.
He set the tone for the defense, long before the likes of Earl Thomas and Richard Sherman took the baton.
12s never forget the heart (Big Red) that brought this Super Bowl to Seattle. With out him there was no beat no pulse no nothing !!!

— Breno Giacomini (@68Breno) February 28, 2014
He'll go somewhere else and be just as impactful. And just as underrated.
Seahawks have released Sidney Rice and Red Bryant. Hearing Red Bryant will be of interest to the Kansas CIty Chiefs, per a source

— Aaron Wilson (@RavensInsider) February 28, 2014
Yet this is where the Seahawks are at right now. This is no longer a rebuild — it's a maintenance job. Keep the key players you can't live without. Replace the ones you can.
We talked about it throughout the 2013 season, and there were a few candidates who could've been cut.
Brandon Mebane's contract is just as cut-able as Bryant's — yet he played as well as any one-technique in the league through the second half of the season and the playoffs. It became no contest.
Rice's ACL injury made his departure a formality. They paid millions to two injured receivers in 2013, while a bunch of UDFA's and cheap replacements won a title. Percy Harvin isn't going anywhere, but Rice's deal couldn't be retained.
It's also possible that neither player will need to be replaced — another key reason why they've gone and the likes of Chris Clemons and Zach Miller remain.
Most people expect Seattle to add a receiver with one of their first two picks in the draft. Personally, I think it's a nailed on certainty.
But even if it doesn't happen — they'll have the same crew that were good enough to win a Super Bowl if they re-sign Golden Tate.
In fact the prospect of having Harvin for more than a couple of games stands to add a significant boost to the position.
They can live without Rice if they retain Tate.
Bryant's size will be a loss to the defense, but this is a unit that has constantly found ways to adapt and evolve. They intend to keep Michael Bennett — and there's no reason why he can't feature more prominently at end.
Today's news could open the door for Bennett, Clemons and Cliff Avril to take more snaps together. This trio wreaked havoc together in the post season.
If they find a way to keep Tony McDaniel — or replace him with a similar sized player — there's no reason why they can't thrive without having a 320lbs monster playing early downs.
There's also a chance Greg Scruggs and Jesse Williams come into the fold — and the later rounds of the draft could offer up a Justin Ellis, DeAndre Coleman or Da'Quan Jones.
Don't get me wrong, I'm not saying Rice or Bryant won't be replaced. As noted, it's a great draft for receivers. I also projected 303lbs Stephon Tuitt to the Seahawks in my last mock draft.
But if they'd released Zach Miller instead, they'd have to replace him as a priority. A capable run blocking tight end is vital to this offense. The options in free agent are pitiful, and do you really want to be handcuffed into looking at a Troy Niklas in round one?
Likewise Clemons would need to be replaced.
Benson Mayowa remains untested. Bruce Irvin appears destined to remain at linebacker (according to Dan Quinn in a recent interview). O'Brien Schofield is a free agent.
You can't go into the season with just Avril and Mayowa as your edge rushers. And it's a rotten draft for LEO's.
Both players could be cut in the future — or they could be asked to restructure their deals.
But they're very much safe for now.
If either was going to be cut before free agency, it would've happened today — at the same time as Bryant and Rice.
In the case of Clemons, one thing could change that of course — the strong options available in free agency.
What if the market is cold just as it was a year ago?
What if there's an opportunity to talk to a Michael Johnson, Brian Orakpo or Jared Allen?
If there's a short term deal to be done, just as we saw with Avril and Bennett, Clemons could become expendable — saving an extra $7.5m in cap space.
Things are starting to get interesting — and with other deals now being completed around the league, prices are being set. It wouldn't be a total shock if we hear something on Tate or Bennett over the weekend.
So where are we at in terms of the cap?
Seahawks save $16M in cash, $12.8M in cap space by releasing Rice & Bryant.

— Brian McIntyre (@brian_mcintyre) February 28, 2014
It was revealed today that the budget is set at $133m for 2014. The Seahawks are able to roll over just under $3m from last season, taking the grand total up to about $136m they'll have available.
With the cap increasing by $10m, the $3m rollover and the $12.8m saving today — there's plenty of room for the Seahawks to play with here.
With a further increase of around $10m expected in 2015 (plus another $10m in 2016) — suddenly some of the long term problems are easing.
Really, they should have no problem extending the contracts of Thomas, Sherman and Russell Wilson. The annual cap rises plus the departure of other top earners will provide copious amounts of room to get those deals done.
Bennett will be pricey, as will Tate to a certain extent. Retaining the other free agents will really be down to market value and testing the water.
Yet theoretically you could pay Bennett $8m per year and Tate $5.5m per year and still have around $10m to play with.
If you wanted to go after Johnson — who's almost certain to leave the Bengals — you make an offer knowing you can cut Clemons and save another $7.5m immediately.
So with Bennett and Tate in the bag, you'd be going into the market with a cool $17-18m to play with.
More than enough to at least make a few enquiries and also look into re-signing Steven Hauschka, Breno Giacomini, Tony McDaniel and Clinton McDonald.
Re-signing Earl Thomas this off-season shouldn't have any impact here. His cap hit is already $5.5m in 2014. You could sign him to an extension that pays close to $10m per year on average, and you could still keep that cap number at around $6-8m in 2014.
The extended cap rise really is a gift from the football gods as Seattle tries to keep a Championship team together.
But the most exciting part is — they could get even better.
And if there's any further incentive to get busy in the market — remember this. Seattle is the most fashionable place to play in the NFL right now. A lot of free agents are going to want to come here.
Come and be part of the dynasty. Come and play for the team that lets you be yourself.
Come and play for the team that won the Super Bowl and intends to win more.
If you can improve an already productive defensive line going into the draft — it frees you up to target receiver and offensive line with the first two picks.
The only stumbling block could be the amount of free cash elsewhere. Jacksonville has around $60m in cap space. Oakland is in a similar position. With teams like that needing to force major rebuilds, they'll likely get the cheque book out.
But again — players want to play in Seattle. That's the joker in the pack.
I'm not sure they feel the same way about playing for the Raiders and Jags. And it'll test their desire to really overpay in order to land key free agents.
Draft notes
— Stephon Tuitt ran a forty yard dash at a specially arranged pro day today. Nobody seems to be reporting anything about this, but the player himself says he ran a 4.8. That's an impressive time if it can be confirmed.
Ran a 4.8 at pro day at 303

— stephon tuitt (@DOCnation_7) February 28, 2014
— Austin Seferian-Jenkins underwent foot surgery today, according to this report. He's expected to miss around eight weeks, which sounds generous. With the draft starting later this year (early May), he might be able to squeeze in a pro-day.
— The weirdest story of the day involved the Miami Dolphins, who appear to be shopping Dion Jordan. It's only a year since they traded up to take him with the #3 overall pick. It'll be interesting to see if they get any takers. After such an underwhelming rookie season and persistent shoulder problems, I'm not sure I'd be racing to make a deal.