Continued from parts I II and III
Michael Brooks, DT, East Carolina
6'2⅜", 294 pounds.  5.01 in the forty.  No video on youtube.  Classic 3-tech measurables.  Likely to be undrafted.
Ryan Robertson, QB, Central Washington
6'2⅜", 202 pound quarterback.  No video on youtube.  Likely to be undrafted.  You can read his bio page here, which for some reason mentions that he has an older sister, and lists her name and age.
Justin Veltung, WR, Idaho
5'11", 182 pound receiver.  A highly impressive athlete:  4.46 in the forty with a 42.5″ vertical jump.  His 20 yard shuttle, 3-cone, and broad jump numbers would be in elite company at the NFL combine.  His speed is on the good side of average- comparable to Doug Baldwin.  I really like him as a "moves" runner.
Zac Dysert, QB, Miami-Ohio
I see a lot of John Skelton in Zac Dysert.  I'm not a fan.  That said, I'd be supportive of the pick because Dysert will enter the NFL as a "cool to like" prospect.  Reputation is the driving force behind market value.  If Seattle makes Dysert look good, a lot of teams will remember how much they liked Dysert's arm talent coming out of college and think Seattle proved him to be the real deal.  It would make trading Dysert at a profit easier.  It's a similar situation to Nick Foles in Philly, so drafting Dysert as a future trade hopeful makes a degree of sense, even if I personally don't think much of him.  Then again, I didn't think much of Foles, either.
I do think Dysert fits our system as the Seahawks highly value mobility plus arm talent, and Dysert's combination of those traits is very good, particularly on the arm talent side.
Anthony Watkins, SS, Oregon State

6'1½", 213.  No official forty, but his estimated time isn't very good.  Pure in the box safety.  Probably won't be drafted.
His youtube video was created and posted on youtube by BW video productions, a company that has rendered just one other service for an NFL hopeful:  Justin Veltung.  The same guy from 60 seconds ago.  Weird.
Greg Herd, WR, Eastern Washington
The onslaught of local football players continues.  Why do NFL teams still track local guys an inordinate amount?  If I'm ever so fortunate as to interview John Schneider I must ask him this question, because you'd assume that scouting departments wouldn't care as much about proximity these days.  Maybe it's because undrafted free agents might prefer to stay closer to home?  Jermaine Kearse, Lavasier Tuinei, and Jeron Johnson fit in with that theory.
Anyway, Herd:  6'3″, 202, 4.53 forty at his pro-day.
Given his talent, size, and athleticism, it's interesting that Herd wasn't able to elicit a scholarship offer from Washington State.  He wound up being the number one receiver of one of the FCS's (aka Division Ia) best teams the last few years.  I still wish the Seahawks had given his former quarterback, Bo Levi Mitchell, a tryout.  Getting his top receiver in for a close look is a nice rebound.
Semisi Tokolahi, DT, Washington
I'm a Huskies fan, and I have no idea who Semisi Tokolahi is.  There was a time aeons ago when I was more a Huskies fan than a Seahawks fan.  Now I'm hearing a Huskies' players name for the first time while writing about him on a site called Seahawks Draft Blog.
This list of names gets better, I promise.
After looking him up, he's a 341 pound run stuffer.  Maybe I'm reading too much into things, but if Seattle thinks Tokolahi is even worth considering, then you'd have to think they'd have a good deal of interest in Brandon Williams or Montori Hughes.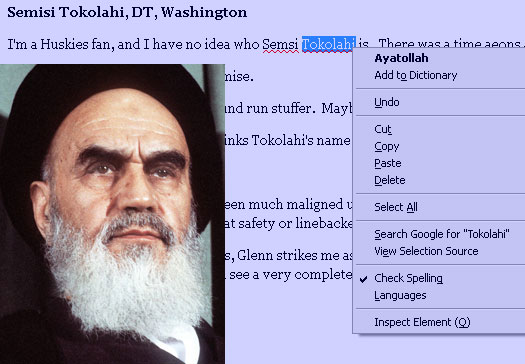 Random Note: My spell-checker thinks Tokolahi's name should be "Ayatollah."  Colin Pumpernickel (49ers) had better watch his ass.
Justin Glenn, SS, Washington
Though Washington's defense has been much maligned up until the 2012 season, it's had some very impressive talent in the secondary.  Though I think Desmond Trufant is slightly over-rated on draft sites, he has a real chance to be a 1st round pick and Shaq Thompson is a probable future high pick himself (though it's not clear if he will stick at safety or linebacker, as he can play both).  Sean Parker is not highly touted but is one of Washington's best defenders.  Justin Glenn is a great player himself, but was limited by injuries and stiff competition.
Of all the players in this entire series, Glenn strikes me as the most likely to be a future UDFA for Seattle.  It would take a local team to know the quality of Glenn's play (don't forget the Sarkisian/Carroll connection, either).  His measurables don't jump out at you- he's just 5'10, 210, and ran a 4.59 forty.  That said, when you put on the tape, you see a very complete football player.  Jeron Johnson would be a pretty good comparison.  Huskies fans that follow the team closer than I do were constantly singing Glenn's praises and counting down the days when he'd return from injury.
Isaac Remington, DT, Oregon
Remington (6'6″, 298) has a build much like new addition Tony McDaniel (6'6″, 305).  Remington is pretty unique.  It's not every day you see a defensive lineman with a pro-day forty time in the 5.3s (while weighing under 300 pounds) getting phone calls from NFL teams.  I'm curious to know how Seattle views Remington.  3-tech?  Run stuffer that needs to add weight?  Red Bryant role?
Cooper Taylor, SS, Richmond
You might remember that over the past few months I've linked a couple of my mock drafts from Seahawks.net here.  Cooper Taylor is a player I've been on in the late rounds forever, and I've included him in nearly every one of my mocks to date. The video above is probably the most impressive highlight I've ever seen that was recorded by a potato.  Or maybe it was a lime?
Standing just a quarter inch under 6'5″, Taylor ran a 4.49 forty at his pro day while weighing in at 228 pounds.  Incredible.  He'd only need to add a few pounds to play linebacker in the NFL, and if he did, he'd be one of the fastest linebackers in the league.  He hits like a linebacker on tape, too.  If he stayed at safety, he'd be one of the biggest strong safeties in the league and not many of his big safety contemporaries would run a 4.49.  He's Taylor Mays physically, but he might not be Taylor Mays mentally.  If you catch my drift.
Possessing remarkable tools and size for the safety position, Cooper Taylor offers incredible scheme versatility to a team like Seattle that blurs the line between their big defensive backs and fast linebackers.  At a minimum Taylor would likely be an excellent special teams contributor, but it's hard to read Taylor's measurables and watch him explode into tackles in his highlight reel and not be left coveting his services.
Fun fact:  The Richmond Spiders football program has one very famous NFL graduate- who also played defensive back.  He goes by the name Todd McShay.
Who picks "spiders" as their school mascot anyway?
Christine Michael, RB, Texas A&M
http://www.youtube.com/watch?v=LCVqxFeWFoU
I've only taken the time to write about one running back this draft season, and that was Christine Michael almost exactly one month ago.  I'm not saying Michael deserves to be the first running back drafted, but he's my favorite this year and I really like his value in the 50-100 range.
He's not without red flags, but his athletic talent is off-the-charts impressive.  His height, weight, speed, college tape, and even some of his problems are extremely similar to former 3rd round pick Ahman Green.  To say the least, I was more than a little happy to see Michael's exuberant twitter extravaganza regarding his (until then) secret trip to the VMAC.  You think Seattle had hoped to keep that visit on the down low?  I think they did.