Christine Michael, my reaction in GIF form:
For those that didn't see it, I mocked Christine Michael at #56 in my final "
what I think will happen
" mock draft posted a few days ago.  Michael was a player that was quickly becoming one of my favorites in the entire draft the more I evaluated him.  Though I wrote an article a while back touting Ryan Swope and John Simon as my favorite players regardless of draft stock, in recent weeks Michael had climbed up to #3 on my personal wish list which I've mentioned a few times in the comments here at the blog.
Of course, what I think doesn't matter.  What matters is how he grades for Seattle.  Back in February, John Schneider revealed that his team grades for athleticism first before grading for anything else.  Seattle entered this draft without a true immediate need, so it stood to reason that they'd draft the highest graded player available.  I could count on one hand the number of running backs I've scouted with Michael's burst and athleticism.  I can scarcely say I was surprised when I later learned that Michael set the vertical jump record for a running back (43″).  He also finished #1 this year in the 3-cone and 20 yard shuttle among the running backs.  And he did that in a 220 pound body.
Michael was the only running back I
covered on this blog
this draft season, and in that article I mentioned that he was my favorite high ceiling running back in this draft.  I was more than a little excited to hear about his undercover trip to the VMAC a few weeks ago, which might have gone undiscovered until Michael decided he couldn't contain his enthusiasm for the Seahawks via twitter.  I even commented a few days ago that Seattle probably hoped to keep that visit on the down low, because Michael wouldn't have been that excited to be a Seahawk before the draft if Seattle wasn't excited about him first.
As far as my thoughts on Michael, you can read my scouting report on him in the link above if you didn't see it last month.
As far as my reaction?  I loved this pick.  Last year my two favorite players in the draft regardless of draft stock were Bruce Irvin and Russell Wilson, so yeah, that draft was rewarding to say the least.  When the #62 pick arrived this year, my 2013 favorites John Simon and Ryan Swope were available, but a wave of last minute self-hype over Michael left me hoping for Michael the most.  His upside is the highest of the three and his opportunity to achieve it is the greatest.  Shouts and high fives erupted as soon as I heard "Chris…"
I fully appreciate that Michael has risks.  He's had two serious leg injuries (though the Seattle regional scout responsible for this pick said Michael
checked out medically
).  I'm not really worried about the dischord Michael created with the 2012 Texas A&M coaching staff as it seems those fences have been mended since then.  The head coach himself admitted that his status as a new coach with a harsh approach played a factor and he didn't seem to hold any kind of grudge against Michael at all.  Further, Pete Carroll has created the kind of team atmosphere that is perfect for players that are competitive to a fault such as Percy Harvin and Christine Michael.
The reason I'm so jazzed about this pick is because Michael has the athleticism, size, and physical upside of Adrian Peterson.  He even looks like AP a little bit.  And as I found out today, they both spent time doing offseason workouts together in Texas.  Peterson has better lateral agility and doesn't have a fumble problem, but in terms of physical dominance, Michael's potential is sky high.  I think Michael has 1800+ yard potential during a career year.
Again, he's high risk, high reward.  I was once super high on Jahvid Best and that looked justified after he had a stellar debut in Detroit.  Then he got hurt the next week and he's never been the same since.  The same could happen to Michael.  But similar to the Wilson pick last year, if Seattle hit on this pick, it's out of the park.  You might have noticed too that Seattle has done pretty well on their home run swings to date.
Jordan Hill, my reaction in GIF form: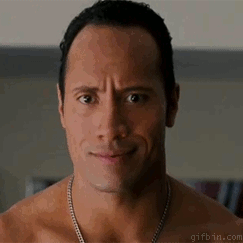 Jordan Hill was a player I really liked a ton early in the process, but drifted away from once I noticed that he's more of an "effort" DT than a physically imposing one.
Back in January I liked him more than most and for a brief time I thought he deserved to be in the conversation with the draft's top defensive tackles (Floyd, Sly Williams, Short, etc). In fact, when I wrote my DT article back in late February I included Jordan Hill in my analysis of the top DTs even though most sites had him listed as a late rounder.
I eventually cooled on Hill and stopped talking about him once I realized that he's essentially a poor man's Sharrif Floyd, and I was NOT a fan of Floyd's, essentially considering him the Aaron Curry of defensive tackles. (Or perhaps a more accurate comparison would be him as a Floyd/Short hybrid: He has Sharrif Floyd's two-gapping ability and lack of pass rush combined with Kawann Short's quickness and gap slipperiness but also Short's poor run anchor and lack of strength).
Here is what I wrote about Hill two months ago:
Jordan Hill:

Hill isn't very big nor does he anchor well, but he is probably good enough against drive blocks to be a non-specialist defensive tackle. He partially makes up for this by being consistently very fast off the snap, and keeps a good pad level.

Hill's uses his arms a lot like a 3-4 defensive end would, excelling at disengaging via extension, not unlike Greg Scruggs but with shorter, weaker arms. He has excellent backfield vision and tracks the ball well. If I had to highlight Hill for being the best at anything out of this group, I think he might have the best short area quickness. He can cover two yards side to side very fast, and despite being weak to interior drive blocks he's actually an asset against slower developing stretch runs because he can disengage and cover short areas of grass very quickly. Not only is he very quick, but he's exceptionally instinctive and knows where to move to keep a runner in front of him while keeping his shoulders square.

Unfortunately, Hill can't seem to use his shed ability to actually swim past defenders, which I theorize is from a lack of functional upper body strength. If he had it, I think he'd be using it. He also lacks lower body strength and is impotent as a bull rusher.

Hill is a bit like Kawann-Short-lite as a 3-tech. He can sometimes slip through exploitable mistakes but he doesn't force guards back. He could be a serviceable 3-tech, but not a star. I like him more as a 3-4 defensive end, where he can use his quickness around the edge more and will get more mileage out of his talent for two-gapping and reading the football. Then again, Hill stands just 6'1″ and doesn't appear to have the longest arms, so he'd be a bit of a gamble in such a role. Those factors might explain why he's expected to be drafted in the mid to late rounds despite having some talent.
Bottom line, I think Hill is a high floor, low ceilling option at defensive tackle that might make a nice option for the Red Bryant role in the future while manning either defensive tackle spot in the short and intermediate term (1-tech in emergencies).  He's good for a few nifty plays a game in the backfield, but he's not a dominant force. In terms of upside, there were many other DTs who are better that Seattle passed on for Hill. In fairness, Stefan Charles may have the highest upside of them all and he could last into the late rounds, and it's not inconceivable that Seattle could draft a second defensive lineman with a late pick.
I don't think John Schneider is immune to reach picks. I don't think Irvin was a reach, and I don't think Carpenter was a reach and I absolutely didn't think that Wagner was a reach. That said, I felt EJ Wilson was a big reach in 2010 as was Kris Durham in 2011. I wasn't wild on the value of the Jaye Howard pick either. Though I like Hill, I think I'd feel safe calling this pick a reach. I feel pretty good about Hill reaching the 5th or 6th round, and even if he didn't, there were better options available when Seattle picked him.
Not a horrible pick, but I think in four years time every Seahawks fan (if not every NFL fan) will know Christine Michael's name, but only the dedicated among the Seahawks faithful will know who Jordan Hill is, because I think he's pretty likely to be an NFL average player.
Now that I've said all that, Hill was a player I liked a ton early in the process, so part of me smiled a bit with this pick.  There isn't a ton that separates Jordan Hill from Kawann Short and Short was a player I was hoping for in the late second but didn't make it that far.  Short is much better at penetrating the line but both have very similar strengths and weaknesses and Hill brings consistently high effort whereas Short is known to take plays off.  There are probably 40-50 players I would have preferred over Hill in the late 3rd round, but in an ordinary draft Hill would be essentially a BPA type talent in the late 3rd.  It's not terribly fair of me to hold it against him that he came out in a historically deep draft.
Overall, I think Jordan Hill will be a John Moffitt type 3rd round pick. John Moffitt is not a star but he's a perfectly adequate NFL starting guard in my view. The reason he's struggled for playing time is because Seattle values upside (rightfully so), and that is an area where Moffitt lacks. I see Hill getting playing time and being a rock solid contributor, but never a star. That's a good return for a 3rd round pick, though I felt Seattle could have done better with the options that were available at #87.