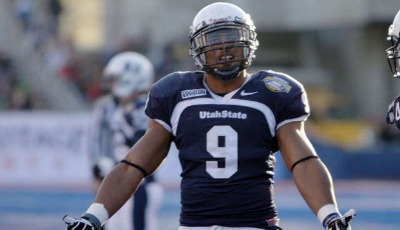 Written by Kip Earlywine
Rundown: Bobby Wagner (not to be confused with Robert Wagner) is the star "middle" linebacker in Utah State's 3-4 defense.  After improving each season, Wagner was named WAC defensive player of the year last season.
Age:  21 (June 27, 1990)
Height: 6'0″ (6003)
Weight: 241
40 time: 4.45 (pro-day)
10 yard split: n/a
3 cone: 7.03 (pro-day)
Vertical Jump: 39.5″ (pro-day)
Compilation Videos:
Positives:
Fast
Nose for the football, tackle machine
Can slip off blocks when pass rushing from the line
Scheme diverse experience
Effective in man coverage
Intelligent
Pursues well
No major, glaring flaws
Negatives:
Small school competition
Boring tape- would struggle to fill a highlight reel
Could be more aggressive / he lets the play come to him too much
Finesse player, not very physical
Very slightly undersized / struggles to get off blocks
On paper, Robert Wagner sounds like a can't miss prospect, which in combination with his blazing fast pro day forty time has vaulted him into fringe 1st round consideration.  A lot of people are penciling Wagner in as a "top 40" pick, which would obviously put him right in Seattle's cross hairs at #43.  Seattle is close to a deal that would bring back David Hawthorne for a time, but the long term plan is to get faster in the second level, and middle linebacker is no exception.
Wagner attended the combine but sat out for the workout portion, as he had a case of pneumonia.  He performed instead at his pro day, and posted some very impressive numbers including a forty time on par with Mychal Kendricks'.  That said, I'm generally a bit wary of pro-day numbers.  It seems like athletes almost always post better performances at their pro-days than at the combine.  Maybe its the extra time to get in shape?  Maybe its the lack of jet lag?  Maybe the track in Indy is slightly more harsh than most other places?  I don't know the exact reason, but athletes almost always seem to improve their numbers at their pro-days.  Another thing is that pro-day numbers tend to be somewhat less scientific than combine numbers, and can lead to a variety of reported times, which Rob pointed out the other day.  So for a lot of reasons, I think Wagner's numbers should have a bit of an asterisk next to them, at least when compared to other players who's numbers were taken at the combine.
Additionally, track speed and field are not the same thing.  Kendricks official forty time was 4.47, which is "slower" than Wagner's 4.45 (reported as 4.46 some places), but as soon as you put on the tape, you can clearly see that Kendicks is noticeably faster and more explosive than Wagner looks (at least in my opinion).  So take Wagner's forty time for what you will.  I get the feeling that this front office cares more about how fast a player runs in pads than how fast he can run in shorts.  Bottom line, Wagner has above average speed which will appeal to the Seahawks, but after scouting him for four games, I'm not buying into the hype about his speed.
Wagner's height and weight are both very slightly undersized, and in terms of style, he plays like an undersized linebacker.  He doesn't deliver very many hard hits and seems to prefer making tackles at an angle rather than squaring for a bone jarring hit.  Some scouts may view that as a good thing, as avoiding big hits would mean fewer injuries and greater longevity.  I'm not a scout nor have I been trained as one.  I have no idea if its a good thing or not, but I generally have a bias strongly in favor of mean or nasty linebackers in the mold of Patrick Willis or Ray Lewis.  Hawthorne and Hill may not possess sub 4.5 speed, but there is an impact from the physical nature of their play, and if possible I'd like to see Seattle get faster at linebacker without sacrificing that chip on the shoulder.  Wagner is a bit too finesse for my tastes, with most of his tackles being of the assist variety, a product of his pursuit ability but also his lack of aggression.
Wow, I'm getting a bit ahead of myself by stating conclusions before I've even finished explaining my appraisal, so I'll back things up a bit.
Bobby Wagner is a good football player, at least for a WAC defender.  He had 114 tackles in his first season as a full time starter at 4-3 middle linebacker in 2009.  He had 133 tackles in the same 4-3 role the next season.  During those two 4-3 scheme seasons combined, he amassed only 0.5 sacks and only 15 tackles for loss total.  Wagner is a consistent performer game to game, and that includes him consistently not making plays in the backfield.  Wagner saw a big spike his in his 2011 statistics, jumping to the following all-star level stat line:  147 tackles, 4 sacks, 2 INT, 11.5 TFL.  Those numbers are deceptive though, as that season Utah St. switched to a 3-4 defense and played Wagner at outside linebacker for many of his snaps.  From the four game sample above, he was lined up at the line of scrimmage on roughly half his snaps, and nearly all of his tackles for loss and sacks that I witnessed came from his use in a 3-4 outside linebacker role, which doesn't really help Seattle as they will presumably already have a 3-4 outside linebacker type on the team in either Upshaw or Ingram by the 2nd round.  Having that diversity is nice for helping Wagner get drafted high, but its not especially useful to Seattle.
In conclusion:
When Wagner is lined up at inside linebacker, he doesn't blitz inside well.  He doesn't shoot gaps to rack up tackles for loss.  He almost seems to fear contact (though not as skittish as Zach Brown) and relies heavily on assisted tackles.   If Seattle drafts Wagner to play middle linebacker in their 4-3, he'll be good in man coverage, decent (but not great) against the run, and nearly non-existent in the pass rush (barring further improvement).  Wagner may have ran a 4.45 forty time at his pro-day, but on the field he looks closer to a 4.60, which is still pretty fast but not amazing.  I don't always see things eye to eye with this front office and prospects, so I can't predict if they will share this evaluation, but I'd personally grade Wagner as a 4th round guy, especially considering how severely 4-3 linebackers have been devalued recently.  Wagner will very likely be a top 63 pick though- his well rounded game, excellent underwear athleticism, consistent play, knack for staying healthy and scheme diversity will put him somewhere on the radar of every NFL team.  Especially after running a 4.45 forty.
Still, Wagner is a possibility for the Seahawks, because even though linebackers with Wagner's skills can be found much later in the draft, linebackers with his speed cannot, even if you are as pessimistic about his speed as I am.  I wouldn't hate the pick, but there are plenty of other names in the 2nd round discussion who excite me more.  Wagner won't transform a defense, but he's a safe, if boring, bet.