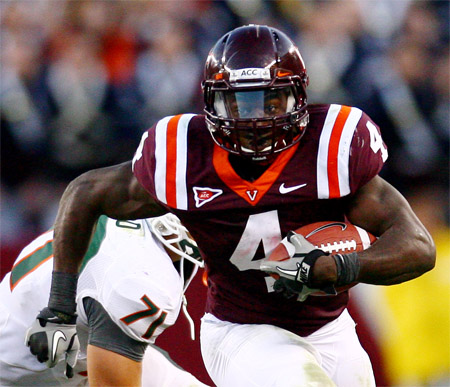 Written by Kip Earlywine
Rundown:   David Wilson is a junior running back from Virginia Tech.  In 2011- his first and only year as the team's featured back- he posted 1,709 rushing yards, a school record.  He was named ACC player of the year last season.
Age:  20 (June 15, 1991)
Height:  5'10″
Weight:  206
40 time:  4.49
10 yard split:  1.55
3 cone:  7.09
Vertical Jump:  41.00″
Compilation Videos:
Positives:
High top gear
Strong
Disciplined (doesn't deviate from play call often)
Young
Productive
Negatives:
Lacks vision and instincts; robotic
Stiff, linear running style; not very shifty
Long strides
Only explosive or fast when running straight ahead
Not much of an asset as a blocker or receiver
Poor ball security
David Wilson is one of, if not the most athletic running backs in the draft- at least among the names you might recognize.  I list vertical jump for some positions as it is believed to correlate well with explosiveness.  Wilson's 41″ vertical jump was the best out of 67 running backs who attended the combine.  Only two other running backs managed 40″ or more.  Wilson's 4.49 forty time was roughly 80th percentile among that same group.  His ten yard split and three cone were similarly ranked.  In terms of raw athleticism, it could be argued Wilson is a 1st round talent.  Wilson shows that athleticism on the kind of Golden Tate styled improvised field reversals that cause coaches to lose their hair.  When in the open field, Wilson has an extra gear; in those moments he looks faster than his 4.49 combine time.
Wilson doesn't break as many tackles as I'd like given his athleticism, but he is strong enough to push defenders for an extra yard.  He doesn't maximize yardage like Richardson or Polk, but there are moments when his ability to keep his balance and continue a play is impressive.  Despite these gifts and the bounce-it-outside temptation that often comes with them, Wilson remains disciplined as a runner and almost always ends up going where Frank Beamer would want him to.  Wilson follows his blockers consistently, which in the sample I viewed led to an impressive ratio of rushes for gains of four yards or more.
Wilson has his issues, which I will cover in a moment, but time is on his side.  Wilson is one of just a handful of draftable running backs under the age of 21.  Funny enough, the draft's youngest running back is none other than Trent Richardson- and Wilson is only a month older than Richardson is.  Despite his youth and lack of experience, Wilson was one of the most productive rushers in the country last year.  Only three other running backs finished with more yardage nationally.  Of those three, only LaMichael James has a prayer of being drafted ahead of Wilson.
That said, Wilson is a project at a "you have it or you don't" position.  Vision, instincts, burst, shiftiness, breaking tackles, having a nose for the endzone… these kind of things are gifts and can't really be coached.  Its possible that with the benefit of a few more years, Wilson could further hone his craft and make a few improvements*, but I doubt he'll ever truly discover any of those innate qualities.  When Wilson gets the ball, I already know where he's going a second before he goes there.  He lacks fluidity and runs to a spot almost like how some system quarterbacks throw to a spot and not to the receiver.
*(improving his blocking and ball security in particular)
Wilson is not especially tall, but he has long legs for his size, and this has in turn given him the curse of being a long stride runner.  Short strides are generally believed to be superior for short distance sprinting, but in the NFL they are useful for other reasons too.  Its easier to make cuts or change direction when your feet are are touching the ground in shorter intervals.  Because of this, Wilson does not look nearly as explosive, shifty, or as athletic on the field as his combine measurables would make you think, and he's only able to tap into his impressive top gear when he can run in a straight line.
According to Rotoworld, Wilson had 7 fumbles in 290 carries last season and scored poorly in pass protection (he lost a fumble and looked unimpressive in protection in my sampling as well).
In Conclusion:
Ever see a movie that you didn't really care for, but most people liked it and you figured, "what the heck, why even argue about it?"  That's pretty much how I feel about David Wilson.  Wilson is a kick returner posing as a running back.  He could end up being a productive NFL back, especially in a "one cut and go" zone blocking system, but he's not my kind of back.  Seattle may very well feel differently, especially since Marshawn Lynch is under contract for the next four years and Wilson (who is very young) would have plenty of time to improve and develop if drafted by Seattle.  I'd personally give Wilson a 4th round grade, but he will probably be a second rounder- maybe even a second rounder by the Seattle Seahawks.