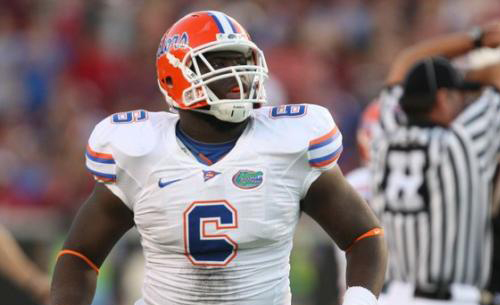 Dan Quinn built a strong reputation as a defensive line coach, joining the Seahawks in 2009 and helped the line retain respectability in 2009 and 2010 even when there wasn't a ton of talent there.  He left the Seahawks last year after being offered a promotion to coach as a defensive coordinator for the Florida Gators.  It's only fitting then that the first gator to be drafted in 2012 was a defensive lineman, going to the Seattle Seahawks no less.
Quinn has a reputation for developing and improving defensive linemen, so Howard's big step forward in 2011 should hardly be surprising.  Howard is likely going to be a situational contributor at the next level, but the fact that he comes with the Dan Quinn seal of approval is no minor detail.
Howard tallied 5.5 sacks last season and was one tackle for loss short of the team lead.
Productive pass rushing defensive tackles are one of the NFL's rarest commodities.  There are three qualities that most successful interior pass rushers share:
Stellar snap recognition with a lightning quick first step
Outstanding hand use, upper body strength, and overall technique
The quickness to step around a blocker once they've won the hand battle
There are some exceptions, as rarely you will see a defensive tackle so physically dominant that he can win with power alone (guys like Ndamukong Suh and Cortez Kennedy), but for the most part your top NFL pass rushers at tackle will excel in the skillset above.
So what does Howard do well?
As far as the three features listed above, Howard grades out very well.  I'd give him a 2.5/3.0 from that list.
Howard has rare quickness and can explode off the snap when he anticipates the snap count.  Unfortunately, for every time that Howard guesses the snap count right, there are two times where he's still sitting in the blocks after the gun is fired.  This is a critical area of improvement for Howard, because when he does anticipate the snap and fires off quickly, he's extremely tough to block, sometimes blowing right by guards as if they were matadors.  The very quick first step is already in Howard's arsenal, he just needs to improve his consistency with it.
Howard's biggest strength is how he uses his decently long 33 inch arms.  Not only does Howard have long arms with a lot of upper body strength, but his arm usage is pretty fast too.  Club moves and swim moves don't often look quicker or more fluid than Howard's moves do.  He's also adept at winning the arm battles with guards.  Something I was taught from my own personal playing days was that "the guy with the inside hands always wins," which is why arm length is so crucial.  Howard wins hand position as much as any defensive tackle I've scouted.  Howard uses his power and leverage to push up the pads of his blockers, although he lacks the lower body strength to capitalize on that leverage with an effective bull rush.
A few times a game, Howard will get a great first step and then pair it with a great club/swim.  Howard has quick feet and knows the proper footwork to get around a body in the blink of an eye after completing steps one and two.
When Howard gets into the backfield, he's fast for his size, looking every bit the 4.82 forty he ran at the combine.  Having that speed is good for a lot of reasons, but one of those reasons that might not get talked about all that much is how it can disrupt screen passes.  When Howard is unblocked, he can reach the quarterback more quickly than the quarterback is used to, which means the screen is thrown before the blocking is completely set up.  I've also seen a play where a quarterback threw a hitch to a tight end, and Howard was 8 yards behind the play but still tracked the tight end for the tackle downfield.
While Howard is by no means an asset against the run, he uses his long strong arms and good technique to close for the tackle with impressive consistency.  He didn't miss a single tackle in my sample.
What are Howard's weaknesses or areas for improvement?
As said before, Howard needs to improve his snap recognition in order to reach his full potential as a pass rusher.  He's not going to win with power, he's going to win with quickness, so getting a quick start is absolutely key for him.
Howard plays with a high pad level, and also lacks lower body strength, which is an unfortunate combination of traits for any defensive tackle, even a pass rushing one.  You might say that Howard is the anti-Mebane, as Brandon Mebane's game is built around a consistently quick first step, good leverage and a ton of lower body power.
As a result, Howard struggles as a bull rusher despite his excellent arm use, he badly struggles against any kind of double team, and he's an abject liability against run blocking.  There are moments in every game where Howard can be found with a couple of linemen shoving him three to five yards downfield.  Even for a three technique, that's unacceptable.  And despite Howard's excellent arm use as a pass rusher he struggles to disengage from run blockers for some reason.
I came away slightly concerned about Howard's effort level at times.  Howard interviews well and certainly doesn't fit the stereotype of a lazy defensive lineman, but he doesn't "play angry" against the run and he seems to quit quickly when double-teamed.  I can sympathize with him as I know those aren't areas of strength for him to begin with, but often times an NFL defensive lineman can negate an area of weakness through sheer effort.  We saw a good example of that last year with Von Miller, who was supposed to be weak against the run coming out of college but turned into a solid run defender to compliment his pass rush.
Maybe in his own mind, Howard is saving his energy on plays he thinks he can't win for plays that he knows he can, but I don't like seeing that attitude, and coaches don't like seeing it either.
In conclusion:
Unfortunately, for as promising as Howard looks as a pure finesse interior rusher, he's far too big a liability against the run right now to be a three down player.  Until he can improve in that area, he'll never be more than a situational rusher in the NFL.
If Howard can improve against the run and develop a consistently fast first step, he has the tools and the skills to become the next Geno Atkins (a 4th round pick from 2010). I'd put the odds against it, but there is something to like about Howard possessing the more uncommon talents (arm use, quickness) while lacking in some areas that are potentially fixable.  Lower body strength can be added with offseason work.  Recognition and effort can be improved with coaching.
I think this was a decent pick for Seattle in the sense that the Seahawks already have good depth at the position but could make good use of a situational rusher with talent.  Howard will compete immediately for a role as a 3rd down specialist.
Compilation videos: