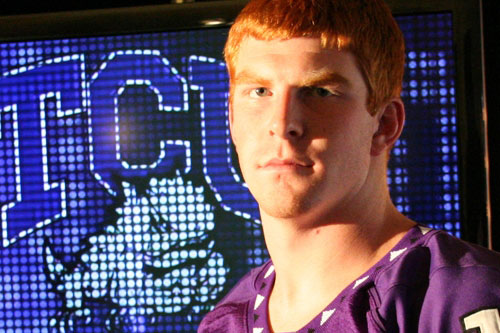 Written by Kip Earlywine
Last year, Rob and I made it no secret that we weren't exactly the world's biggest fans of TCU quarterback Andy Dalton.  Dalton wasn't without his merits, but ultimately I felt that as an athletic quarterback who would play whole games without checking a second read, he wasn't much different than Charlie Whitehurst.  Obviously, many NFL front offices value intangibles more than we do.  Even our own front office rated Dalton as their #3 quarterback ahead of guys like Jake Locker, Ryan Mallett, Christian Ponder, and even Cam Newton.
Regardless of what we thought, Andy Dalton was widely considered a 2nd round prospect by NFL GMs.  His selection and rookie success rewarded the Bengals for what was probably just a typical stubborn move by owner/GM Mike Brown.  Andy Dalton the prospect was never the thinking man's quarterback, rather, he was the quarterback for someone who just wants a winner and cares little about the details.  That said, even if on the surface the over-drafting of Dalton doesn't appear terribly nuanced, I have to give Brown a lot of credit for thinking it through.  The Bengals realized that getting both AJ Greene and Andy Dalton could net a better result than drafting Blaine Gabbert or Jake Locker and pairing him with a nondescript second round receiver.
So what happened?  Andy Dalton posted numbers slightly superior to Sam Bradford's offensive rookie of the year season and his team won 9 games (and a playoff berth) while playing in the same division as the Baltimore Ravens and Pittsburgh Steelers.  He did that on a team that finished 4-12 the year before with Carson Palmer at quarterback, and who lost their best defensive player (Johnathan Joseph) in free agency.  Andy Dalton still has long odds of ever being an All-pro quarterback.  But given the full context, it could easily be argued that he had one of the five most impressive quarterback debuts in NFL history.
I just finished watching Dalton in a losing effort against the Texans.  While it would be easy to pick on a guy after a 31-10 loss, Dalton impressed me today.  He went on the road against arguably the toughest pass defense in the NFL.  The Texans were on the inside track for home field advantage throughout the playoffs before Matt Schaub went down, and both the fans and players were energized for the first playoff game in the franchise's history.  Dalton didn't have a particularly great performance, but I saw a lot of technical improvements over his TCU days- he actually did check beyond his first read this time.  To put it in very simple terms, Dalton actually looked like a real NFL quarterback.  I may not agree with the draft pick spent on Dalton, but it appears that Mike Brown somehow won this one, just like he somehow won the Carson Palmer fiasco despite playing his hand completely wrong.  Hey it happens.
But it never would have worked out if not for the Bengals securing AJ Greene first.
Enter the 2012 draft.  Andrew Luck is unofficially officially the #1 pick.  After that, you have a couple teams that would consider investing in a quarterback, but aren't exactly "ready" for a quarterback either.  Barring a surprise entry such as Tyler Wilson, Robert Griffin pretty much stands alone as the only legit first round quarterback from the second pick onward.  The new car smell on Griffin's Heisman trophy coupled with Matt Barkley's conspicuous absence has vaulted Griffin into lofty draft territory by an overzealous media.  Griffin could absolutely go top five, but a mini-fall should not be unexpected either.  Like Jake Locker, he has sublime potential, but a laundry list of things to nitpick him on.  It could be argued that Griffin's timing is better than Locker's, and as a result those flaws might be less examined or less emphasized.  But like all top 10 range quarterbacks, Griffin will be put under a microscope and mountains will be made of mole hills, which could be a problem for Griffin as his resume has a bit of a mole infestation going on.
Long story short, there are two teams (Cleveland and Washington) who are in a remarkably similar situation to the Bengals last year.  Might they view Dalton's success as a roadmap?
In the 2011 draft, the Bengals picked 4th overall and had access to the #2 quarterback on the board at that point, but lacked weapons to accommodate a drafted quarterback.  In 2012, the Cleveland Browns will also pick 4th, have access (presumably) to the #2 quarterback on the board and lack weapons to accommodate that pick.  As much as I kick myself for not hyping up Greg Little (who I thought the world of last April), Little isn't yet a true #1 receiver and Cleveland's offense in general is pretty barren outside of the offensive line.
The Redskins will pick sixth and are in a similar situation.  They have a semi-promising young running back in Roy Helu and a productive tight end in Fred Davis, but their leading receiver last year was 31 year old Jabar Gaffney.  Roy Helu- a running back mind you- started all of five games and finished 3rd on the team in receptions, ahead of all but Gaffney among the team's wide receivers.    While its clear that quarterback is the top need in Washington, wide receiver is not far behind.
The early second round of the 2012 draft will likely feature both Ryan Tannehill and Brock Osweiller, who are at least on par with Andy Dalton as prospects, even if they missed the crazy hype train.  The early first round will have no shortage of hyped wide receivers, with Justin Blackmon leading the pack.  He may not be AJ Greene, but in terms of hype, he's not terribly far off.  Its possible that Dwight Jones could enter the discussion as well.
Some may question the wisdom of passing on Griffin for any reason, but for a pair of former hotshot west coast offense gurus entering a critical put up or shut up year, the Andy Dalton path to quick success has a lot of appeal.  Drafting Griffin, starting him right away, and denying him the kind of weapons he enjoyed at Baylor is a faulty short term strategy.  And unfortunately for both Holmgren and Shanahan, short term thinking probably has more value to them at this point.
Now I am not saying that I expect Cleveland or Washington to pass on Griffin, but I do think that teams could look at the Dalton formula and believe it could work for them as well.  And while I doubt that Griffin would ever reach the 11th or 12th pick, every pick that he falls is good news for the Seahawks should they be interested in his services.