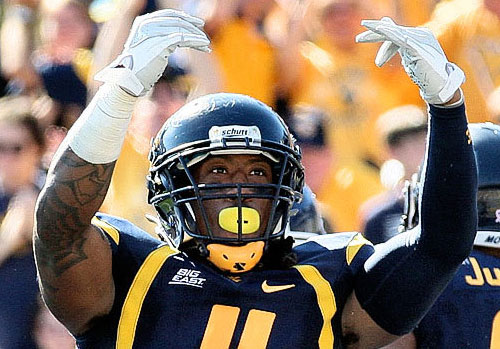 Written by Kip Earlywine
Bruce Irvin is one of the draft's most intriguing athletes.  He's also one of the draft's most interesting stories.  Irvin dropped out of high school in the 11th grade, ran in with the wrong crowd, and on two occasions missed jail time by the narrowest of margins.  If you have a bit of time, I'd encourage you to read his story.  Its pretty amazing.  He also sat down and gave an interview about his difficult past and how he turned his life around.
Irvin was recently in trouble for knocking a sign over and breaking it, but it sounds as if Irvin did not intend to break the sign and you could probably just chalk up that incident as innocent horseplay.  After working so hard to come this far, its pretty hard to believe he'd actually want to throw that away for no reason a month before the draft.  It may have been stupid, but I don't think it was malicious.
Irvin played running back and wide receiver in high school, and when he later joined a junior college football team, he was initially a free safety.  Irvin was later moved to defensive end, and in his first full season at end he totaled 15 sacks.  This caught the attention of coaches for several major programs, and Irvin was eventually recruited by West Virginia.  Irvin had 14.5 sacks and 14 tackles for loss in his first West Virginia season (2010).  He posted 8 sacks and 14.5 tackles for loss in 2011.
The drop in production is a direct result of West Virginia switching to a 3-3-5 scheme last season and attempting to use Irvin as part of a three man line.  Irvin is a deadly pass rusher, but only when his contact with offensive tackles is minimal.  By Irvin's own admission, his coaches never really taught him pass rushing techniques, and only used him as a pure athlete rushing the passer.  As a result, Irvin produces plays almost exclusively by running around or inside of offensive tackles- almost like a running back who's attempting to run around a defensive lineman.  He resists engaging and when he's caught in the tackles grasp he looks even more helpless than Melvin Ingram, which is saying something.  By putting Irvin in a three man front, it gave him less of an angle to use when running around the tackle.
Now, I'm not saying that to excuse Irvin's shocking lack of technique, but it is what it is and West Virginia should have known better.  Irvin isn't truly a pass rusher, he's an great athlete posing as one.  Lining him up as a five technique for most of his snaps last year wasn't a great idea.
There is some good news for Irvin though.  He's got decently long arms- arms that are nearly a full two inches longer than Melvin Ingram's.  Whereas Ingram's struggles to disengage scare the heck out of me because his arms won't get any longer, Irvin's problem was lack of coaching and technique.  Irvin's problems could certainly be fixable.  Irvin is also a bit like Mychal Kendricks in that they both have a bad habit of sinking their shoulders into blockers hoping to drive them back when instead they should be using proper arm technique.  If trained to hand fight and disengage, Irvin would benefit tremendously.  On the downside, if he fails to learn how to do this, he probably won't have any future as a three point stance player in the NFL.
Normally, a player as raw and as lightweight as Irvin wouldn't be drafted very highly.  The reason Irvin could be drafted as early as the 2nd round is because he's a special athlete.  His 4.50 forty time was among the very best among front seven players at the combine, as was his 6.70 three cone time.  Those times are both nearly identical to those put up by the draft's fastest linebacker, Mychal Kendricks.  Its not easy to accumulate almost 40 sacks over three college seasons without any technique.  That speaks very highly of Irvin's raw athleticism and intriguing potential.
Irvin plays his ass off on every down, and never quits on a play.  Because of his inability to disengage, a very high number of his sacks were of the hustle variety.  That's a backhanded compliment at best, but if there is such a thing as having talent for hustle sacks, Irvin's got it.
Irvin is a liability in the running game.  He struggles to shed blocks against the run just as badly as he does against the pass.  At best, he'll occupy space and hope for a teammate to make the stop.  On the positive side, I was pleased to see Irvin was at least able to hold his ground without being driven back by single blockers.  Irvin can be swallowed up in the running game, but at least he's not getting blown back and opening running lanes on a consistent basis.  Irvin may not have strong arms, but isn't without power in his lower body, and that helps him hold the point of attack surprisingly well for a 244 pound player.  Overall, I personally think Irvin's run defense issues have a lot more to do with technique and strength than size.  Which is good because those kinds of things can be worked on.  With improved hand use and some increased upper body strength, its not unthinkable that Irvin could develop into a passable run defender a couple years down the line.
Its crucially important that wherever Irvin goes, he has a coach that quickly and effectively coaches him up in the art of pass rushing and hand use.  Irvin skated by at the college level on his elite athleticism alone.  That won't continue in the NFL.
In conclusion:
Despite some massive flaws, Bruce Irvin is my favorite pure pass rusher in the 2012 draft.  He reminds me of a (much) smaller Jason Pierre-Paul with a bigger heart for the game.  The Giants drafted JPP in the mid first round hoping they could coach him up and reap the rewards of his amazing athleticism.  They succeeded, and now JPP is one of the league's elite pass rushers.  For a team that doesn't need pass rush help right away and is willing to take a chance, Irvin makes  a lot of sense at some point after the first round.  Buffalo in particular would make a lot of sense as a potential landing spot as they have their short term pass rush needs addressed but are thought to be looking for long term developmental pass rushers to play behind their current $140 million duo.
The Seahawks are another team that could make sense for Irvin.  Though interest in Irvin is mostly limited to 3-4 teams looking for outside linebacker help, unconventional 4-3 teams with time and patience could be suitors too.  Seattle is an unusually good place for Irvin by 4-3 standards since the team's LEO position is a 9 technique which is ideal for a player like Irvin that does so well in open space as a pass rusher.  It is also a position that values run defense a little less than a base 4-3 end normally would, which is another good fit for Irvin.  With Chris Clemons under contract in 2012 and a free agent in 2013, it gives Irvin a little time to develop while hopefully grabbing the reins of the LEO spot in 2013 or 2014.
While I do not expect Seattle to show any interest in Irvin during the first three rounds, if he falls to Seattle's 4th rounder, there is a chance Seattle could pull the trigger.  When Pete Carroll wants to fix something, he doesn't do it half-assed, as evidenced by taking offensive line with his first two picks in the draft last year and then later signing Robert Gallery in free agency.  Drafting a 1st round pass rusher and then a second pass rusher later is certainly a possibility.  Irvin also fits the profile of the intriguing but flawed mid to late round prospect that Carroll and Schneider have repeatedly targeted in the last two drafts.
Irvin has double digit sack potential in the NFL, but he also has a disturbingly high chance to be a complete bust with little to no redeeming value.  He has the speed and athleticism to play multiple positions on both sides of the ball, but he'd have to learn how to play those as well.  The risk and uncertainty that comes with Irvin could keep him out of the 2nd or even 3rd round despite his gifts.  That said, it wouldn't surprise me if things will work out and Irvin ends up delivering some metaphorical Muay Thai asskickings every Sunday.
Video sources:
JMPasq:  Bruce Irvin vs Maryland (2010)
JMPasq:  Bruce Irvin vs Pittsburgh
JMPasq:  Bruce Irvin vs Marshall