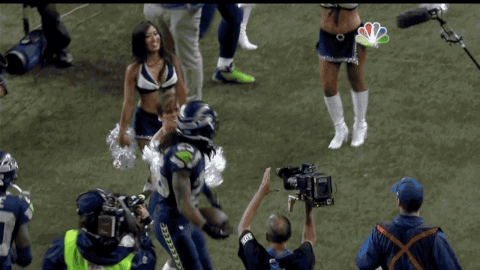 As the game neared it's conclusion, Al Michaels uttered these eternal words…
"A major beatdown. Major."
For all of the scratchy, mistake riddled harshness of the first half — this was a beatdown. A beatdown just as comprehensive as the previous meeting between the teams.
Perhaps a better comparison is the Dallas game in week two last year. A far from flawless Seahawks display, but ultimately a complete physical destruction of the opposition.
Seattle broke San Francisco's will. They made Colin Kaepernick look hopeless. They ran all over a much vaunted defensive line and linebacker group. They shut down Anquan Boldin. Vernon Davis couldn't finish the game. They didn't run the ball all night.
This wasn't about Russell Wilson heroics, gadget plays or fortune.
It was just football.
And on tonight's evidence, Seattle is better at football than San Francisco.
And they're better at football without Russell Okung, Percy Harvin, Chris Clemons and Brandon Browner.
As good as Kaepernick looked last week against Green Bay, he looked completely lost in this one.
Sure, his supreme athleticism allowed him to make a few plays with his legs.
As a passer? He couldn't get anything going.
Part of that was the brilliance of the pass rush. Michael Bennett and Cliff Avril played just like two snubbed free agents missing out on the big bucks. Clinton McDonald, re-signed just this week, played like a job was on the line.
The secondary suffocated the 49ers. Richard Sherman had a classic Sherman pick — baiting the throw and making the interception look easier than it was. Walter Thurmond was a sensation. The rest played their part too.
On a night when Wilson struggled for rhythm and had to rely on Paul McQuistan blocking his blind side, the running game really stepped up to the plate. The offensive line to a man deserve huge applause (despite a few too many penalties, particularly from Max Unger). Marshawn Lynch was the key benefactor and without doubt the best offensive player on the field.
Tonight was a sign of how far Seattle has come. Gone are the days when a crucial injury meant the collapse of an entire game plan or even the end of a season. They took the loss of Okung to turf toe in their stride, adjusted, and destroyed the Niners.
Later this evening Colin Kaepernick and Jim Harbaugh will give two more pointless interviews to the media, snarling out three word answers. They'll need a lot more words to explain this one in private.
They better hope they don't suffer a similar fate to the Cowboys last year.
They never recovered from their ass kicking in Seattle.