Today is the final day of combine workouts. These are the cornerbacks to keep an eye on (because they all have +32 inch arms):
Chris Campbell — 33 4/8 (79)
Carlton Davis — 32 6/8 (79 3/8)
Brandon Facyson — 32 5/8 (78 4/8)
Holton Hill — 32 (77 2/8)
Chris Jones — 32 6/8 (78 2/8)
Jamarcus King — 32 7/8 (78 3/8)
Tarvarus McFadden — 32 4/8 (78)
Isaiah Oliver — 33 4/8 (80 5/8)
Chandon Sullivan — 32 3/8 (76 6/8)
Jordan Thomas — 32 (77 6/8)
D'Montre Wade — 32 3/8 (76 7/8)
Levi Wallace — 32 6/8 (77 3/8)
Isaac Yiadom — 32 3/8 (75 6/8)
It's also worth keeping an eye on three safety's in particular — Jessie Bates III from Wake Forest, Justin Reid from Stanford and Kameron Kelly from San Diego State.
(Players with 32 inch arms in bold)
Jaire Alexander — 4.43 & 4.38
Anthony Averett — 4.40 & 4.36
Tony Brown — 4.37 & 4.35
Chris Campbell — DNP
Andre Chachere — 4.61 & 4.50
Carlton Davis — 4.53 & 4.55
Duke Dawson — 4.49 & 4.46
Dee Delaney — 4.47 & 4.50
Brandon Facyson — 4.55 & 4.54
Rashard Fant — DNP
Rashaan Gaulden — 4.64 & 4.61
Grant Haley — 4.49 & 4.44
Davontae Harris — 4.44 & 4.47
Holton Hill — 4.50 & 4.54
Mike Hughes — 4.53 & 4.54
Donte Jackson — 4.32 & 4.37
J.C. Jackson — 4.49 & 4.47
Joshua Jackson — 4.49 & 4.60
Danny Johnson — 4.49 & 4.44
Taron Johnson — 4.51 & 4.52
Chris Jones — 4.58 & 4.63
Michael Joseph — DNP
Jamarcus King — 4.70 & DNP
Avonte Maddox — 4.40 & 4.42
Tavarus McFadden — 4.67 & 4.76
Quenton Meeks — DNP
Kamren Moore — DNP
Nick Nelson — 4.52 & 4.56
Parry Nickerson — 4.32 & dnp
Isaiah Oliver — 4.51 & 4.59
Darius Phillips — 4.60 & 4.55
D.J. Reed — 4.51 & 4.53
M.J. Stewart — 4.54 & 4.55
Greg Stroman — 4.52 & 4.49
Chandon Sullivan — 4.61 & 4.61
Jordan Thomas — 4.66 & 4.65
Henre Toliver — 4.64 & 4.65
Kevin Toliver — DNP
D'Montre Wade — 4.58 & 4.62
Levi Wallace — 4.48 & 4.68
Denzel Ward — 4.32 & 4.36
Isaac Yiadom — 4.53 & 4.54
Another day, another hamstring injury. Parry Nickerson pulled up after running a 4.32. Donte Jackson cramped up too after his run. This has been a major problem over the four days.
Pete Carroll here, looking like your dad trying to work a Microsoft Surface:
Overall that was a forty yard dash session lacking in headlines. Denzel Ward ran well but had to given his size. There aren't many first round options here.
Deion Sanders just called Mike Hughes' backpedal 'horrible' during the first set of drills and then went over to 'coach him up'. He trotted back over after and said, amusingly, 'it won't happen again'.
Levi Wallace is light (179lbs) but looked quite polished and smooth in his backpedal. Louisville's Jaire Alexander hasn't got 32 inch arms but he's arguably been the most impressive looking corner in the early drills. Quick, loose hips, good transition and he ran a good forty earlier.
Tarvarus McFadden hasn't looked good. He ran poorly in the forty and just doesn't look quick in transition or backpedal. 'Laboured' is the best way to describe his workout.
Isaiah Oliver is a little bit tight hipped but his transition was really good. He looks big too and ran a decent 4.51. Shame but he'll probably rise a little bit in this underwhelming corner class. Would be a good option for Seattle albeit from round three onwards. Not early.
According to Tony Pauline, Roquan Smith and Lorenzo Carter have been medically red flagged by some teams:
Lorenzo Carter and Roquan Smith of Georgia both had terrific combine workouts. Carter, who I've always believed was a first-round talent, ran under 4.5 in the 40, bested everyone in his group with a broad jump of 10-feet-10-inches and posted a vertical jump of 39.5 inches. Roquan Smith ran 4.51 and will do the rest of the drills at his pro day. I have been informed both players were red-flagged medically by a number of teams due to past injury history. While I don't expect the medical evaluations to be a drag on the draft stock of Carter and Smith, it is something likely to be part of the debate on draft day when each player is being considered.
Josh Jackson gets a few words for a sloppy start to a backpedal and find the ball drill. He was quite lethargic. The coaches also remind the DB's they want them to high point the football. Chris Jones and Quenton Meeks just mistimed their jumps trying to go up and get the football.
Tarvarus McFadden didn't even try to high point the ball, just ran under it and caught it in his arms. For all the hype McFadden had after the 2016 season for all the picks, there's very little to get excited about here (and it was the same for his 2017 season in general).
Levi Wallace is putting on a bit of a show. Lovely backpedal, high pointed the football better than any of the other DB's. Of all the players here so far that fit the Seahawks, he's the one who stands out. He just needs to add some weight.
The NFL Network has now switched to an interview with Bill Belichick who is standing in the booth, telling Rich Eisen and Mike Mayock that they do an amazing job. Which is great for them. Not so entertaining for those wanting to watch the drills. Fair play to Belichick though, he just handed what appeared to be a substantial cheque to Eisen for his charity. And to be honest, Belichick is as relaxed as he ever is here. The mask has come off, he's positively engaging and telling anecdotes. It was enjoyable to see him in a different light.
For the second time, the coaches aren't happy with Josh Jackson. He had to re-start a drill twice because they wanted to see him working faster. It's a backpedal, change of direction, flip-your-hips and run downfield drill.
Here are some of the official forty yard dashes: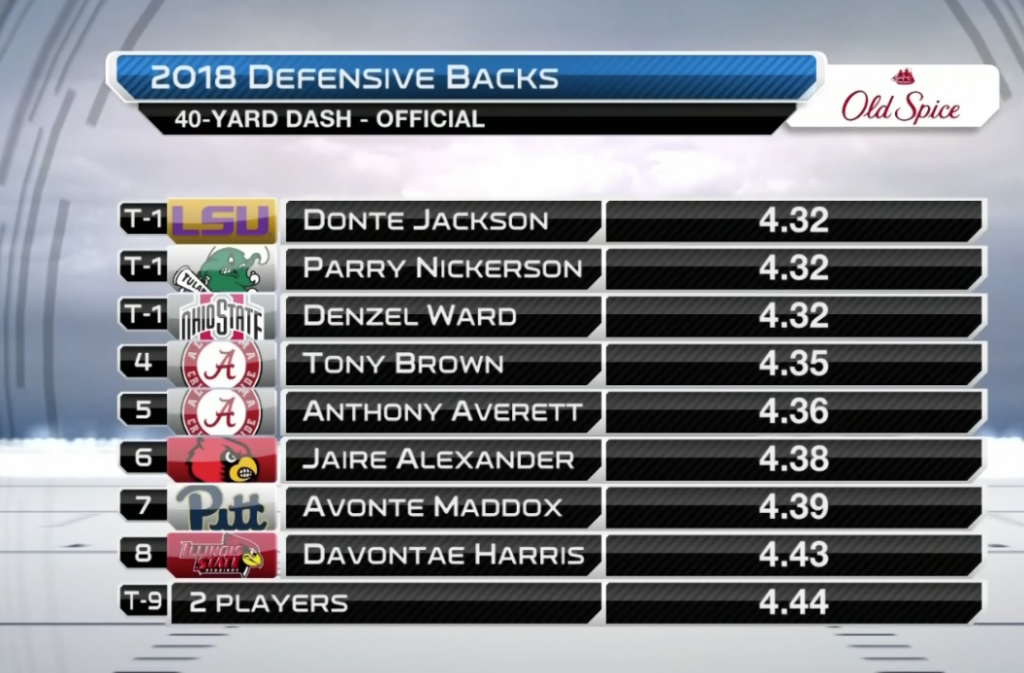 Anthony Averett was forced to re-start his 'W' drill twice. A bit like yesterday, some of the execution on the drills has been off.
Mike Hughes hasn't looked much like a first round prospect. Holton Hill was good moving through the motion of the 'W' drill but lacked explosion at the end.
Unbelievably, for a third time Josh Jackson was stopped by the coaches because they weren't happy with the way he was conducting the drill. Jackson has been absolutely atrocious.
Deion Sanders summed up this cornerback session well: "We're missing the energy givers, the guys who know, man, I am the guy. I'm not seeing that yet in the corners."
Some of the safety jump results are coming in. Minkah Fitzpatrick had a 10-1 broad and Derwin James a 40-inch vertical.
Mike Mayock: "I think I've seen more guys get stopped in these drills than I've ever seen. Which is not a good thing."
Denzel Ward didn't do any of the drills after running the forty.
This has been nearly a three hour session. Similar to the QB/WR drills on Saturday, it's just too long. We've had a long series of gauntlet drills and it all feels a bit unnecessary.
Safety broad jumps:
Minkah Fitzpatrick — 10-1
Joshua Kalu — 11-2
Derwin James — 11
Terrell Edmunds — 11-2
Safety vertical jumps:
Minkah Fitzpatrick — 33
Joshua Kalu — 41.5
Derwin James — 40
Terrell Edmunds — 41.5
Terrell Edmunds with an incredibly explosive performance there.
Here are the safety forty yard dash times:
Troy Apke — 4.35 & 4.39
Jessie Bates III — 4.51 & 4.56
Quin Blanding — 4.64 & 4.65
Sean Chandler — 4.67 & 4.66
Dane Cruikshank — 4.44 & 4.42
Terrell Edmunds — 4.48 & 4.50
Deshon Elliott — 4.58 & 4.62
Minkah Fitzpatrick — 4.47 & 4.51
Tre Flowers — 4.45 & 4.50
Marcell Harris — DNP
Ronnie Harrison — DNP
Godwin Idwebuike — 4.45 & 4.47
Natrell Jamerson — 4.40 & 4.46
Derwin James — 4.48 & 4.48
Joshua Kalu — 4.59 & 4.58
Kameron Kelly — 4.66 & 4.67
Siran Neal — 4.57 & 4.60
Max Redfield — 4.69 & 4.74
Justin Reid — 4.44 & 4.40
Stephen Roberts — 4.54 & 4.58
Dominick Sanders — DNP
Van Smith — 4.61 & 4.63
Trey Walker — 4.52 & 4.54
Armani Watts — DNP
Damon Webb — 4.63 & 4.69
Kyzir White — DNP
Jordan Whitehead — DNP
Troy Apke from Penn State is 6-1 and 200lbs with 32 2/8 inch arms. He just ran a 4.35. Trey Flowers is 6-3 and 202lbs with 33 7/8 inch arms. He ran a 4.45. Two very interesting guys there.
The safety times have been a lot more impressive than the cornerback times. It's not even close. There's a few guys here we'll need to go back and look at.
Justin Reid's 4.40 could easily push him into first round range.
Terrell Edmunds is the latest player to hurt himself running the forty.
That was a very impressive group. Troy Akpe, Terrell Edmunds, Dane Cruikshank, Tre Flowers, Justin Reid, Natrell Jamerson. There's some tape to watch after the combine.
Derwin James looked really good with his backpedal and transition. Very smooth for a player of his size. Tre Flowers is long, athletic and lean. He looks like a Seahawks corner. There's a name to keep an eye on.
Justin Reid is built like a tank. He looks incredible. Troy Akpe has really good hips. The guy can move. Loved seeing his range in the deep drop. Interesting prospect. Akpe's official forty time is a 4.34 and he managed a 41 inch vertical.
Tre Flowers looks so much like a corner. Great big, long, lean guy.
Here are some of the official DB forty times: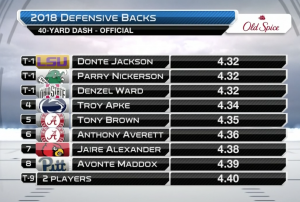 The NFL Network has now cut away from the drills in order to show 'Run Rich Run' — Rich Eisen's forty yard dash attempt. They might've had time for this and the drills had the cornerback session not dragged on for three hours.
He ran a 5.97.
I'm going to finish the live blog for now. The Network is finishing up with the Rich Eisen simulcam clips. Thanks to anyone who stuck with the live blogs over the last few days, really appreciate it. Review piece on the way shortly looking at the day and the combine overall.