Welcome to our coverage of the 2019 NFL combine. Every day we'll be updating events as they happen in Indianapolis, posting workout numbers and information.
This post will be updated constantly so keep hitting refresh.
The live blog is going to end a little earlier today. However, tonight's review piece will be an extensive review of the combine overall including where things stand for the Seahawks and we'll have our final combine daily podcast. I want to say a big thank you to Brandan Schulze for the time and effort he's put into putting the podcast together. We'll have done nearly four hours of analysis in total by the end of the day and I'm extremely grateful for his fantastic work and hope you've enjoyed our daily broadcasts.
I wanted to start today with a quick reflection on yesterday. In 2014 the Seahawks drafted Cassius Marsh in round four. There was a big reason for this — Pete Carroll had recruited Marsh at USC and had a significant background with the player. Yet his workout at the combine was quite similar to some of the other players performing yesterday.
Cassius Marsh
Height: 6-4
Weight: 252lbs
Arms: 32 3/4
Forty: 4.89
10-yard: 1.70
Vertical: 32
Broad: 9-0
Short shuttle: 4.25
Three cone: 7.08
Marsh excelled in the short shuttle and three cone. Seattle used him as a hyrbid linebacker/EDGE. He didn't have a particularly brilliant spell for the Seahawks and it's unclear whether they'll be rushing out to draft a player with a similar physical profile. Yet all we have is history to determine what they look for at certain positions.
Eastern Michigan's Maxx Crosby topped Marsh in a number of drills. He's a similar size (6-5, 255lbs) and has the same kind of arm length (32 7/8 inches). However, he ran a much faster forty (4.66) and 10-yard split (1.60), faired a lot better in the explosive tests (36 inch vertical, 10-2 broad), ran a faster three cone (6.89) and a faster short shuttle (4.13).
I'm not sure if they'll be looking for another hybrid SAM/LEO type with Barkevious Mingo and Jacob Martin already on the roster. Crosby's workout, however, would suggest they might consider him. I need to go and look at the tape after the combine and see if it's a role he suits. Is he just a pure EDGE? Does he have the kind of movement and agility his testing results suggest to play in space?
We talked a bit about Chase Winovich yesterday. I've watched a lot of his games and without a doubt he's been one of the most fun players to watch in college football. Relentless effort, an underrated pass rusher. I've long felt, however, that he's better suited to playing outside linebacker in a 3-4 and isn't the kind of long, lean LEO the Seahawks usually go for. I can't really imagine, for example, a pass rush duo of Winovich and Frank Clarke (even if they're both former Michigan guys). I think they're more likely to go for a longer, more natural EDGE as they've tried to do with Dion Jordan. It's one of the reasons why I think they might pursue Anthony Barr if the price is right in free agency. He's a natural fit for Seattle as an EDGE, even if he played linebacker in Minnesota. The two obvious options early in the draft are Montez Sweat and Brian Burns, with Ben Banogu a player I need to go back and look at again after his tremendous workout.
Even so, Winovich does test very well in comparison to Marsh. He's a similar size (6-3, 256lbs) with similar length (32 3/4 inch arms). He was a lot faster in the forty (4.59) and 10-yard split (1.57). He jumped a 30.5 inch vertical and a 9-8 broad. In the agility tests he beats Marsh with a 6.94 three cone and a 4.11 short shuttle.
It's really about what Seattle feels it needs. Most of all they need someone who can rush the EDGE as they were hoping Jordan could in 2018. They also likely need a replacement starting WILL. Whether you rate Mingo or Martin highly or not, the SAM/LEO type position is somewhat covered. What we're doing here is just running through possibilities, looking for trends and leaving no stone unturned. The purpose of the blog isn't to nail the exact 6-8 players Seattle will draft. It's to discuss the likelihood of scenarios, discuss options, cut through what isn't likely and cover as many bases as possible. I'm not sure the Seahawks will draft either Crosby or Winovich but the Cassius Marsh profile offered a talking point.
Today the defensive backs workout. Here's the list of cornerbacks who fit Seattle's strict size preference:
Blace Brown — 6-0 3/8, 32 arms, 76 3/8 wingspan
Blessuan Austin — 6-0 5/8, 32.5 arms, 76 7/8 wingspan
Deandre Baker — 5-11, 32 arms, 77 1/8 wingspan
Alijah Holder — 6-0 6/8, 32.5 arms, 77 2/8 wingspan
Mike Jackson — 6-0 5/8, 32.5 arms, 77 2/8 wingspan
Isaiah Johnson — 6-2 1/8, 33 arms, 79 1/8 wingspan
Lonnie Johnson — 6-1 7/8, 32 5/8 arms, 77.5 wingspan
Justin Layne — 6-1 6/8, 33 arms, 80 1/8 wingspan
Rock Ya-sin — 5-11 6/8, 32 arms, 77 3/8 wingspan
Joejuan Williams — 6-3 5/8, 32.5 arms, 78 wingspan
Derrek Thomas — 6-2 7/8, 33 6/8 arms, 82 wingspan
Jordan Miller — 6-0 5/8, 32 7/8 arms, 76.5 wingspan
Jamal Peters — 6-1 6/8, 32 3/8 arms, 77 5/8 wingspan
Ryan Pulley 5-10 5/8, 32 6/8 arms, 77 5/8 wingspan
Saivion Smith — 6-0 7/8, 33 2/8 arms, 78 7/8 wingspan
Ken Webster — 5-10 7/8, 32 arms, 77 wingspan
Keep an eye on Marvell Tell too. He's 6-2 and 198lbs with 33 1/8 inch arms. That's cornerback size for Seattle and watching his tape, he has the lean frame that they like in a corner convert.
Cornerback forty times
(Players with +32 inch arms in bold)
Deandre Baker — 4.53 & 4.63
Corey Ballentine — 4.48 & 4.47
Kris Boyd — 4.45 & 4.46
Blace Brown — 4.76 & 4.75
Jordan Brown — 4.53 & 4.52
Sean Bunting — 4.43 & 4.45
Hamp Cheevers — 4.54 & 4.52
Xavier Crawford — 4.50 & 4.48
Davante Davis — 4.58 & 4.68
Jamel Dean — 4.31 & 4.33
Rashad Fenton — 4.53 & 4.76
Mark Fields — 4.37 & 4.39
Montre Hartage — 4.69 & 4.69
Alijah Holder — 4.65 & 4.61
Michael Jackson — 4.46 & 4.50
Isaiah Johnson — 4.40 & 4.45
Lonnie Johnson — 4.52 & 4.61
Justin Layne — 4.51 & 4.51
Iman Marshall — 4.54 & 4.60
David Long — 4.47 & 4.46
Julian Love — 4.54 & 4.58
Jordan Miller — 4.49 & 4.55
Trayvon Mullen — 4.46 & 4.54
Byron Murphy — 4.55 & 4.56
Amani Oruwariye — 4.48 & ?
Jamal Peters — 4.66 & 4.63
Ryan Pulley — 4.62 & 4.69
Derrek Thomas — 4.45 & 4.54
Ken Webster — 4.49 & 4.43
Greedy Williams — 4.38 & 4.45
Joejuan Williams — 4.65 & 4.69
Rock Ya-Sin — 4.59 & 4.52
The NFL Network showed a very satisfied looking Pete Carroll noting the forty times for the big cornerbacks in this class: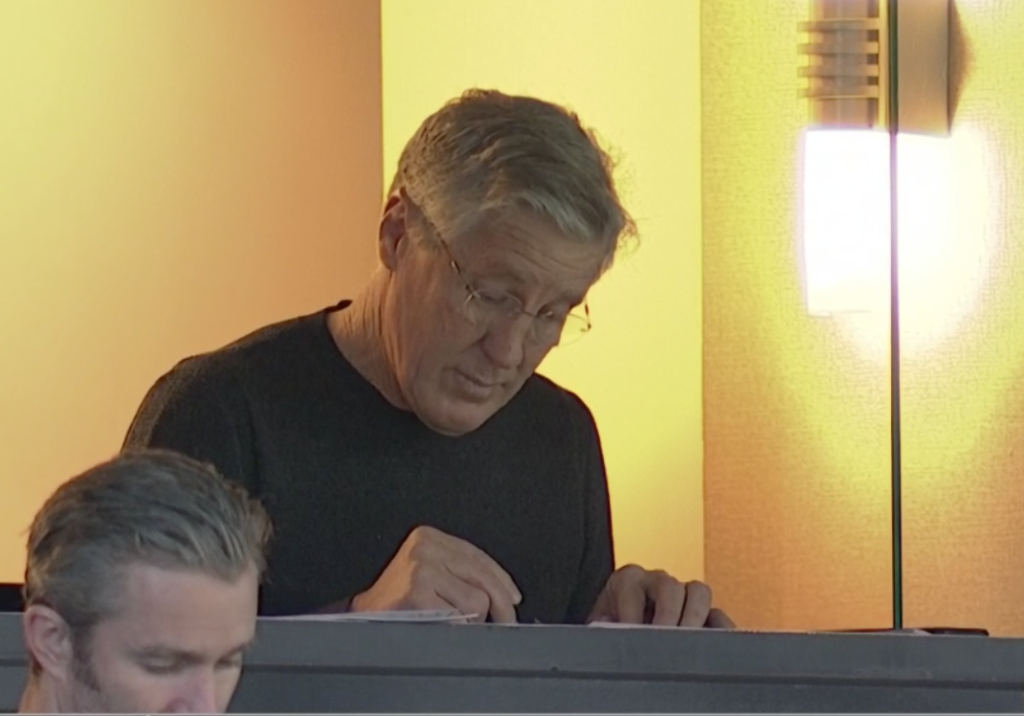 Carroll is the only Head Coach, for what it's worth, who has been filmed making notes during every session of forty runs. Most of the other coaches are simply observing or they're away chatting to other people. Carroll, every year, is right at the heart of the scouting at the combine.
It seems like the best options might be Lonnie Johnson and Jamal Peters. Isaiah Johnson was touted as a second round pick by Daniel Jeremiah (that would be too early for Seattle). Justin Layne is equally expected to go early. Johnson and Peters ran slow enough to last a little, as did Joejuan Williams. Jordan Miller at Washington ran very well and looks lean and long. Derrek Thomas looked incredibly long and fast. Michael Jackson is very athletic for his size.
Nasir Adderley isn't working out with the safety's today. He has an ankle injury.
Onto the on-field drills. First it's the back pedal. Isaiah Johnson was a little clunky and hunched over. David Long, the Michigan corner, had a very smooth and technical rep.
I like the look of Jordan Miller. He's not quite as tall as some of the other 32-inch corners but he looks smooth and capable.
Saivion Smith didn't run a forty but is doing drills.
Greedy Williams' back pedal was horrendous. He was flat-footed, he was leaning back and as he transitioned and flipped he lost balance and nearly fell over. His second rep was all over the place too. Poor.
Deandre Baker struggled on his flip too. The technique is off, the feet too close together and they're not unlocking the hips and exploding to finish.
Michael Jackson's rep was a lot better. I like the look of him. Big corner, lots of bulk and length. Looks physical but he unlocked with a lot of ease and quickness.
Jordan Miller fell over on his second rep in an ugly fashion.
Derrek Thomas isn't running this drill which is a shame because he looked great running the forty.
I'm really like Michael Jackson. His transitions are quick with little wasted movement, he covers ground well in his back pedal. This is a very impressive performance. Lonnie Johnson just had a good rep with several sharp transitions. There's a bit of stiffness there but it's fine. He looks the part.
Jamal Peters is also not doing drills. He got hurt in Mississippi State's bowl game and still isn't 100%.
Here are the official cornerback forty times:
Lonnie Johnson had a wonderful rep a moment ago. Nice transitions and then high pointed the ball wonderfully downfield.
Justin Layne is going to have a great vertical jump based on the way he just high pointed a football.
Greedy Williams says he's giving up for the day. He's cramping up apparently. Not a great day for him. Cramps?
The prospects are performing better in the 'W' drill than last years shower. Lonnie Johnson, Jordan Miller and Michael Jackson all had good reps.
They also do a variation of the 'W' that ends with a catch. Joejuan Williams had the best rep of the group.
Lonnie Johnson just looks great. Terrific size, faster than his forty suggests. Very fluid. Could be a big target for the Seahawks.
Byron Murphy is getting good reviews from the NFL Network team.
The cornerback workouts ended with an elongated and slightly unnecessary gauntlet drill. I'm going to post the safety forty times and then close the live blog. I'll have a huge combine review piece posted later and of course we'll have our final podcast too.
Johnathan Abram jumped a 33.5 inch vertical and a 9-8 broad.
Sheldrick Redwine jumped a 39 inch vertical and a 10-10 broad.
Marvell Tell had an incredible 42 inch vertical and an 11-4 broad jump. Now we're talking. That's special. Earlier I suggested he could be a Seahawks target at cornerback. With those numbers, if he runs a quick forty too he's going to go flying up boards.
Juan Thornhill went even further. He had a 44 inch vertical and then an 11-9 broad jump. Special, special, special.
Safety forty yard dash times
Johnathan Abram — 4.50 & 4.45
Ugochukwu Amadi — 4.52 & 4.54
John Battle — 4.68 & 4.71
Mike Bell — 4.84 & 4.84
Marquise Blair — 4.48 & 4.51
Lukas Dennis — 4.65 & 4.73
D'Cota Dixon — 4.81 & 4.62
Malik Gant — 4.64 & 4.66
Chauncey Gardner-Johnson — 4.49 & 4.50
Saquan Hampton — 4.48 & DNR
Will Harris — 4.45 & 4.42
Amani Hooker — 4.53 & 4.49
Jaquan Johnson — 4.69 & 4.74
Mark McLaurin — 4.80 & 4.78
Taylor Rapp — DNR
Sheldrick Redwine — 4.45 & 4.50
Darnell Savage — 4.39 & 4.37
Marvell Tell — DNR
Deionte Thompson — DNR
Juan Thornhill — 4.43 & DNR
Darius West — 4.40 & 4.51
Khari Willis — 4.56 & 4.72
Donovan Wilson — 4.59 & DNR
Andrew Wingard — 4.58 & 4.57
Zedrick Woods — 4.37 & 4.30
Evan Worthington — 4.69 & 4.64
Marquise Blair was described as a 'Seahawks style' safety by Jim Nagy at the Senior Bowl. He just ran a 4.48.
Pete and John are having a good look at the safety's.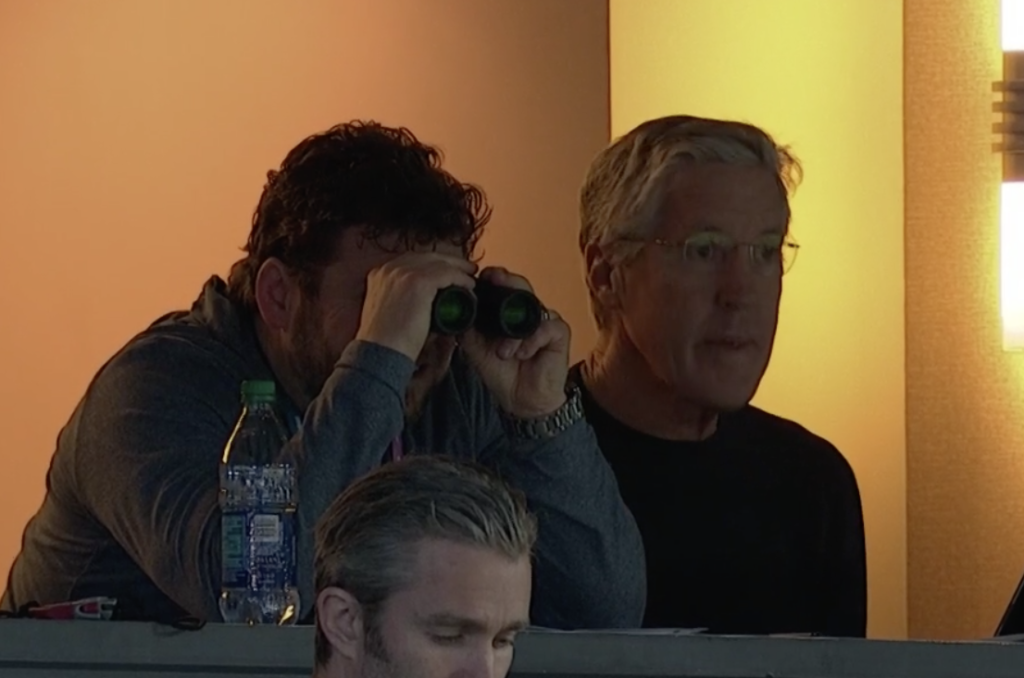 Taylor Rapp, Marvell Tell and Deionte Thompson are not running the forty yard dash.
Darnell Savage ran an excellent 4.37. He was a good SPARQ tester in High School and this was a good run. Juan Thornhill doesn't look overly fast on tape but he just ran a 4.43.
Johnathan Abram running a 4.45 is a great time for him. That will boost his stock.
Andrew Wingard has come to the combine dressed as Axl Rose.
I'm ending the live blog for now. The comments section is available to act as an open thread. Later today we'll have our final podcast and a comprehensive review of the combine with thoughts on where the Seahawks go from here.