Welcome to our coverage of the 2019 NFL combine. Every day we'll be updating events as they happen in Indianapolis, posting workout numbers and information.
This post will be updated constantly so keep hitting refresh.
We'll end each day with a separate 'review' piece and a podcast. Today is a special day. A potentially legendary defensive line class works out with as many as 10-12 possible first round picks involved and depth deep into the later rounds. The Seahawks need pass rushers and they'll likely need help at linebacker — so this is a big one not to be missed.
Yesterday was a fantastic day for the TE's and WR's (if you missed our review piece click here). Today could be even better for the defensive tackles, ends and EDGE rushers.
Here are a few things to remember:
— The Seahawks haven't drafted a defensive lineman with sub-33 inch arms.
— They seem to really value the short shuttle for defensive tackles and inside/out rushers.
— 10-yard splits are important. Look for the EDGE rushers running in the 1.5's and the inside/out types who run in the 1.6's.
— The defensive linemen always test better than the offensive linemen in terms of explosive traits. After today's session we'll put the D-line class through TEF and see how they compare with previous drafts.
— Seattle is likely on the look out for a linebacker. They love top-level, SPARQ'd up athletes. Forty times, explosive testing and the short shuttle/three cone — it all matters at linebacker.
— Tony Pauline is predicting Oregon's Justin Hollins and Montez Sweat will have fantastic workouts. I think Dexter Lawrence will also impress.
Kim Jones reported on the NFL Network that Ed Oliver is only going to do the broad and vertical jump. He's choosing not to run or do any drills. Gerald Willis III isn't working out due to a groin injury.
Defensive tackle forty yard dash times
10-yard splits in brackets
Terry Beckner Jr — 5.19 & 5.30 (1.86)
Isaiah Buggs — 5.15 & 5.18 (1.82)
Demarcus Christmas — 5.09 & 5.14 (1.77)
Greg Gaines — 5.17 & 5.17 (1.80)
Kevin Givens — 5.09 & 4.87 (1.59)
Trysten Hill — 5.05 & 5.07 (1.74)
Albert Huggins — 5.13 & 5.13 (1.81)
Dre'Mont Jones — 5.13 & 5.19 (1.77)
Kingsley Keke — 4.95 & 4.96 (1.77)
Dexter Lawrence — 5.05 & DNP (1.76)
Daylon Mack — 5.14 & 5.11 (1.74)
Dontavius Russell — 5.19 & 5.16 (1.82)
Khalen Saunders — 5.01 & 5.04 (1.73)
Chris Slayton — 5.13 & 5.16 (1.81)
Jerry Tillery — 4.94 & 4.97 (1.71)
Armon Watts — 5.24 & 5.26 (1.81)
Christian Wilkins — 5.10 & 5.05 (1.76)
Quinnen Williams — 4.87 & 4.84 (1.67)
Daniel Wise — 5.31 & 5.29 (1.80)
Renell Wren — 5.02 & 5.03 (1.75)
Right on cue… Daniel Jeremiah mentions he was in Baltimore when they drafted Haloti Ngata. We've only heard that story in every single interview or broadcast he's ever done. Might as well have it again.
Dexter Lawrence injured himself during his forty yard dash (an impressive 5.05 at +340lbs). For context — Lawrence ran a faster time than 281lbs Dre'Mont Jones. He'll sit out the rest of the day with a quad injury.
Pete and John, again, were observing intently. Unlike a lot of coaches, Carroll is constantly making notes and paying close attention to the forty yard dash times.

Carroll looked perturbed by something. It was when Ed Oliver was supposed to run (he's sitting out). My speculative guess is they were wondering why he isn't running a forty (aren't we all?).
Khalen Saunders ran a superb forty yard dash. What a fantastic athlete. Major potential and he'll just keep rising after a superb Senior Bowl.
Quinnen Williams had a fantastic forty and 10-yard split. He was a top-five lock anyway. This simply confirms it.
Kevin Givens ran a 1.59 10-yard split at 6-1 and 285lbs. If that's accurate, it's incredible.
The defensive tackles are onto the drills. First up is the 'wave' (change of direction). Most of the defensive tackles performed well. For me, Trysten Hill, Kingsley Keke and Christian Wilkins were the best. Very sudden shifts in direction. Jerry Tillery looks very athletic but stalled on his rep trying to guess the direction he had to run. Surprisingly, Quinnen Williams wasn't great in this test. He probably had the worst rep. He slipped, was guessing way too much and it fell apart.
Now onto the agility drills. Demarcus Christmas has had a good start to his workout — moving quickly and showing off some athleticism. Trysten Hill had a good rep here, moving quickly in-and-out of the bags with good pad level.
Dre'Mont Jones had a good rep here looking really quick and athletic. Jerry Tillery looks to be on a different level though in terms of movement. He has incredible feet for his size, great hip-flexion and he's moving incredibly well. Christian Wilkins also looked very good.
Daniel Wise's short area movement in these drills is a lot better than the straight-line speed he showed in the forty.
Onto the bag/pad drills. Kingsley Keke had a violent rep, slamming the bags and showing tremendous quickness and power. His Senior Bowl and combine performances (so far) are absolutely miles better than his somewhat average tape.
Next it's the stack and shed. Keke's motor continues to rev. Jerry Tillery again had a good rep and has been one of the standout performers in this group. Christian Wilkins also had a good rep. Renell Wren and Daniel Wise finished things off nicely.
Ben Banogu just jumped an 11-2 broad — a record for defensive linemen.
The coaches had Dre'Mont Jones run linebacker drills which was interesting.
Here are the official forty times:
That concludes the defensive tackle drills. The EDGE rushers are up next.
Kyler Murray to Arizona at #1?
Sunday Combine Notes: Kliff Kingsbury telling people it's a "done deal" the Cardinals will select Kyler Murray with the first pick of the draft. Plenty more here -> https://t.co/Tke8GyScfm pic.twitter.com/MqVy9MpTUt

— Tony Pauline (@TonyPauline) March 3, 2019
EDGE rusher forty yard times
10-yard splits in brackets
Zach Allen — 4.95 & 5.01 (1.65)
Ben Banogu — 4.58 & 4.62 (1.56)
Nick Bosa — 4.84 & 4.79 (1.60)
Jordan Brailford — 4.72 & 4.66 (1.62)
Brian Burns — 4.56 & 4.64 (1.57)
Malik Carney — 4.70 & 4.76 (1.60)
L.J. Collier — 4.85 & 4.96 (1.75)
John Cominsky — 4.66 & 4.71 (1.62)
Byron Cowert — 5.15 & 5.23 (?)
Maxx Crosby — 4.64 & 4.67 (1.60)
Jamal Davis — 4.66 & 4.65 (1.58)
Rashan Gary — 4.61 & 4.59 (1.62)
Carl Granderson — 4.81 & 4.80 (1.71)
Gerri Green — 4.66 & 4.64 (1.66)
CeCe Jefferson — 5.03 & 4.95 (1.73)
Jalen Jelks — 4.93 & 4.95 (1.70)
Jonathan Ledbetter — 5.15 & 5.21 (1.81)
Shareef Miller — 4.71 & 4.70 (1.67)
Anthony Nelson — 4.83 & 4.83 (1.65)
Charles Omenihu — 4.97 & 4.93 (1.71)
Jachai Polite — 4.84 & DNR (1.71)
Wyatt Ray — 4.84 & 4.87 (1.68)
Sutton Smith — 4.70 & 4.70 (1.72)
Montez Sweat — 4.42 & 4.46 (1.55)
Chase Winovich — 4.60 & 4.69 (1.57)
Oshane Ximines — 4.86 & 4.79 (1.72)
The NFL Network is now indulging itself in a Mike Mayock interview during the EDGE rusher forty times, splitting the screen and completely ruining one of the big moments of the combine this year. Furthermore, their TV timer stopped working meaning we're not getting any 10-yard splits.
The coverage has been massively frustrating. It's also meaning we don't get ANY 10-yard splits at the start. Then just as they got the system working, what did we get? Mike Mayock intercepting Dan Marino, adverts and then a Mayock montage of him on TV at the combine. Come on guys.
Josh Allen didn't run — unless he's working with the linebackers. Clelin Ferrell didn't run.
Rashan Gary's 4.61 and 1.63 split is fantastic for a 277lbs defensive lineman. Brian Burns posted an elite 1.5 split and a fantastic forty time. Jachai Polite ran a disappointing time.
The NFL Network just went its 156th advert break today. On return, Rich Eisen said, 'welcome back… you've missed… a lot'. Exactly Rich. So have a word and tell them some of us actually want to watch these drills.
Montez Sweat ran a blistering 4.42 at 260lbs. That will be a combine record if it's official for a pass rusher. Wow. That's the kind of performance that gets you into the top-10. Every screamed about D.K. Metcalf's 4.33 at 228lbs. Sweat is carrying an extra 40lbs.
Charles Omenihu and Jachai Polite were both slower than expected. Polite didn't run his second forty because he's been struggling with a hamstring injury. He won't do drills.
Rich Eisen most common phrase during the combine:
"And we're back…" (after an advert break)
Daniel Jeremiah most common phrase during the combine:
"That was a great rep…"
Now onto the drills after yet another advert break. It's the wave/change of direction drill. Clelin Ferrell is working out despite not running a forty (which is pretty lame). Ditto Joe Jackson. He didn't run but is doing the drills.
Rashan Gary has incredible movement and change of direction skills for such a big lineman.
In the agility drill, Ben Banogu and Nick Bosa had a good rep. L.J. Collier didn't run fast and has looked a bit stiff. It seems he's a better football player than tester.
Clelin Ferrell had a good rep but he's spent both of the first drills pulling his pants up. Rashan Gary is putting on a show. Charles Omenihu had a good rep in the agility drill.
Montez Sweat struggled. He was tight in his step and struggled to get in and out of the bags without looking at his feet. He clipped a bag and tripped up a little.
Now onto the club/rip. Joe Jackson had a nice rep, slamming into the pads with power. Charles Omenihu had the coaches leading the drill barking in delight for his rep — he looked incredibly violent and quick.
Montez Sweat's official forty yard dash is a 4.41. That's incredible.
L.J. Collier had a great strike on the bag, kept his frame protected and belted the second bag before finishing. Nice rep.
The coach halted the drill to remind the players to finish with a sprint not a jog.
Rashan Gary is getting a lot of praise from the coaches on the field.
CeCe Jefferson is struggling badly. He ran poorly and he drew the ire of the coach leading the club/rip drill twice. He almost ran between the pads on the first attempt and on the second — his strike was tame and he didn't finish. "That's not good enough" shouted the coach. After Jalen Jelks' rep another coach was heard saying, "this is sloppy". The lead coach added again, "it's not violent enough on these reps. Violent." Charles Omenihu came along just in time to provide another rep that drew high praise. They seemed to like Chase Winovich's effort too.
I'm not seeing Brian Burns out there for these drills.
The stack and shed was pretty straight forward. Montez Sweat's stance looked good and I like the patience Omenihu showed to do the drill properly rather than race through. You want to see the guys punch with power and progress with a wide stance, balance and show an ability to stay clean.
Here's confirmation of Sweat's blistering forty time:
Nick Bosa looks in great shape and moves very quickly just look his brother. Brian Burns is carrying the new weight well and he's fluid running in space and changing direction. L.J. Collier moved well in the drill that calls for the player to double-back, round a cone and sprint/finish.
Sweat obviously ran an amazing forty but in fairness during the drills he's shown hip tightness changing direction.
They're now onto the outside linebacker drills. Ben Banogu looked very smooth in coverage. Brian Burns also looked very good and made a stunning catch on his rep too. Chase Winovich looked very comfortable dropping into space and had a good workout.
Brian Burns and Nick Bosa both move very, very well in space. Sweat has the great straight line speed but he's not even running these linebacker drills. He's stiffer and tighter in the hips than Burns and Bosa.
It's pretty remarkable seeing Rashan Gary so at ease during the linebacker drills at 277lbs.
That concludes the EDGE session. Just the linebackers to go. However, it'll be very interesting to see the DL/EDGE three cone times, short shuttle and explosive testing marks.
Quinnen Williams managed a 30.5 inch vertical and a 9-4 broad.
Dre'Mont Jones jumped a 31.5 inch vertical and a 9-2 broad.
Trysten Hill had an excellent 35 inch vertical and a 9-7 broad. He's had a big day.
Ed Oliver recorded a 36 inch vertical and a 10-0 broad. He's a 3.72 TEF tester.
Devin Bush jumped a 40.5 inch vertical, Devin White a 39.5. That's a great start for the linebackers.
Linebacker forty times
Otaro Alaka — 4.83 & 4.84
Dakota Allen — 4.78 & 4.77
Josh Allen — 4.70 & 4.64
Bryson Allen-Williams — 4.88 & 5.02
Jeff Allison — 4.83 & 4.83
Cody Barton — 4.67 & 4.64
Ben Burr-Kiven — 4.57 & 4.57
Devin Bush — 4.44 & 4.52
Blake Cashman — 4.52 & 4.51
Ryan Connelly — 4.67 & 4.72
Tyrel Dodson — 4.61 & 4.63
Emeke Egbule — 4.66 & 4.78
Joe Giles-Harris — 4.76 & 4.79
Porter Gustin — 4.71 & 4.69
Terrill Hanks — 4.99 & DNR
Justin Hollins — 4.51 & 4.53
Gary Johnson — 4.43 & 4.46
Jordan Jones — 4.62 & 4.65
Bobby Okereke — 4.61 & 4.59
Germaine Pratt — 4.58 & DNR
Cameron Smith — 4.70 & 4.76
Ty Summers — 4.52 & 4.58
Sione Takitaki — 4.63 & 4.67
Drue Tranquill — 4.60 & 4.58
Devin White — 4.42 & 4.45
They didn't provide the 10-yard splits for the linebackers sadly.
Devin Bush's 4.44 and his 40.5 inch vertical is why I've been mocking him in the top half of round one. Elite athlete and it shows on tape. He has some issues in coverage and vs the run but his potential is off the charts.
Here are some of the vertical/broad jumps from the LB's:
Devin Bush — 40.5, 10-4
Porter Gustin — 35.5, 9-11
Christian Miller — 38.5, 9-10
Cam Smith — 39, 10-3
Devin White — 39.5, 9-10
Mack Wilson — 32, 9-9
Josh Allen — DNJ, 9-10
Mack Wilson says he has a sore hamstring so won't be working out.
The feeling in the league was Devin Bush and Devin White were very similar prospects. Their workouts are almost identical.
Devin White broke down in tears when he spoke to his family after running a 4.42 forty. A great moment: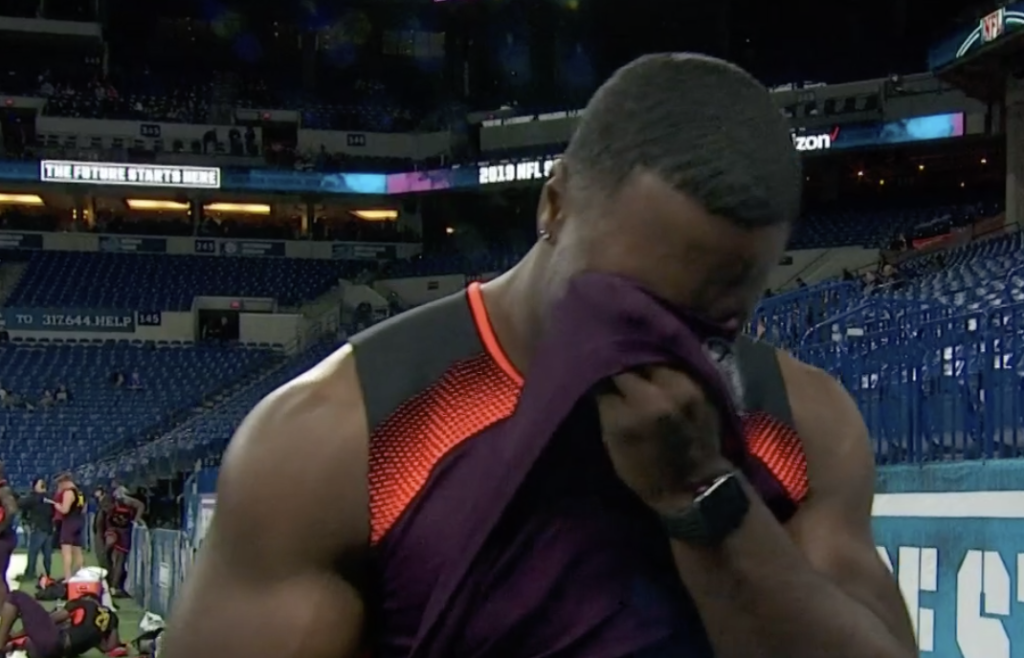 The NFL Network are over-egging the speed of the linebackers here. 4.7's are not great times. Bush and White running in the 4.4's is great but this isn't anything like the kind of lightning class of LB's they're making out.
A year ago, eight linebackers ran a 4.5 or faster. This year there were ten. So it's nothing out of the ordinary.
Onto the drills. Justin Hollins looked good in the movement drill, side-stepping well with good balance and drop. Gary Johnson also looked really quick.
Christian Miller looked really stiff, slipped during his drill and tripped up on his finish — ending with a forward-roll.
Josh Allen struggled on the in-and-out drill stepping over the bags. He had to have a second go and didn't seem comfortable. Then on the coverage drill he had a false start. He also seemed a bit stiff opening up his hips.
Bryson Allen-Williams looked a lot more comfortable unlocking his hips, dropping and changing direction.
Devin Bush was a bit stiff too which isn't a surprise. He's very fast but he's had issues in coverage at Michigan.
It's a real shame we can't see Mack Wilson run these coverage drills. He'd put on a show.
Texas' Gary Johnson ran well and has looked very fluid during drills. He's quick, changes direction with minimal wasted movement and he's getting the job done.
Christian Miller looks uncomfortable doing linebacker drills. Either he's hurt or this performance is making clear he's simply an EDGE.
Here are the official forty times for the linebackers: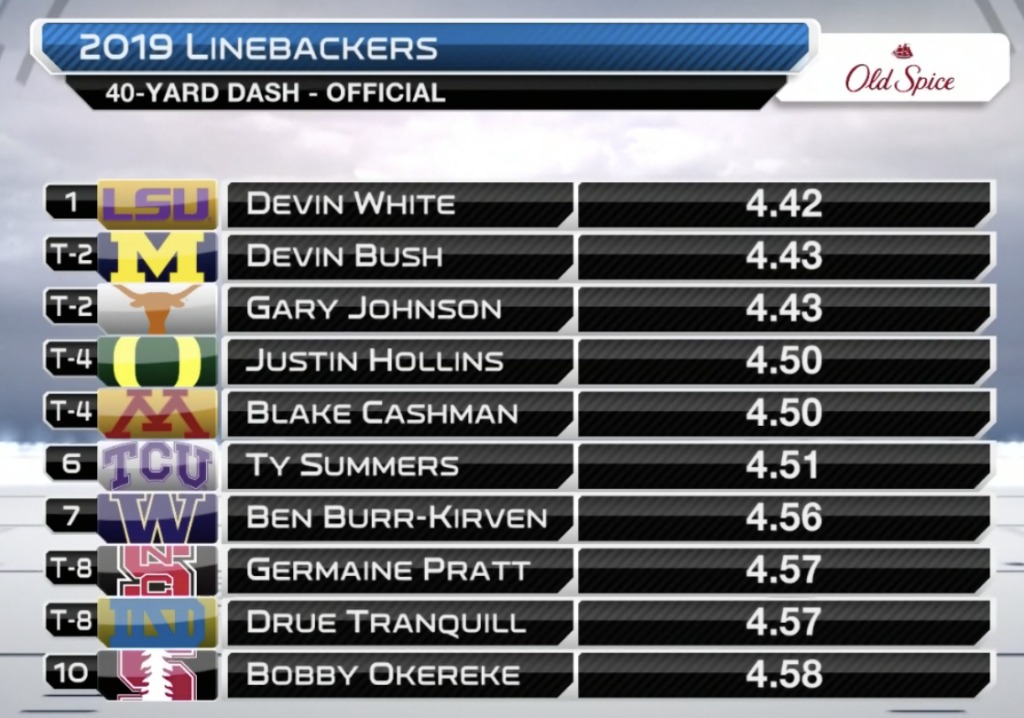 Remember — the Seahawks love outstanding athleticism at LB. There aren't many outstanding athletes based on these forty times but let's see how the short shuttle, three cone and explosive tests went down.
Justin Hollins looks like a good athlete with some real potential to act as an EDGE, LEO or SAM for Seattle. He has the length, the forty time and he's looking smooth during drills.
The three cone times have been released for the defensive linemen:
Here are the top short shuttle times:
Seattle always looks for great agility from their inside/out rushers or defensive tackles. So these numbers are important to remember:
Anthony Nelson — 4.23
Rashan Gary — 4.29
Jerry Tillery — 4.33
Zach Allen — 4.36
Charles Omenihu — 4.36
Daniel Wise — 4.36
John Cominsky — 4.38
Trysten Hill — 4.38
Keke Kingsley — 4.46
Dre'Mont Jones — 4.53
Renell Wren — 4.53
Christian Wilkins — 4.55
On that note I'm going to end the live blog for today. The review piece will be up soon.