Welcome to our coverage of the 2018 NFL combine. Every day we'll be updating events as they happen in Indianapolis, posting workout numbers and information.
This post will be updated consistently so keep hitting refresh.
Today is a big day. Along with interior O-line and running back, linebacker is one of the strongest positions in the draft. There are multiple first round prospects and plenty of depth. With change expected on Seattle's defense, it's quite possible they'll be looking for front-seven defenders among the players working out today.
What do you need to look for? If it's an EDGE rusher, focus on the 10-yard splits. Anything in the 1.5 range is considered elite. I'll post the splits below.
Quinton Jefferson, Jordan Hill, Jaye Howard and Malik McDowell all tested superbly in the short shuttle (4.37, 4.51, 4.47 and 4.53 respectively). This appears to be an important test for interior pass rushers.
Dynamic quickness is also a trend for EDGE players. Bruce Irvin (4.03) and Frank Clark (4.05) both ran incredible short shuttles. Cassius Marsh's 4.25 and Obum Gwacham's 4.28 were also really good.
It's also worth noting they haven't drafted a defensive lineman with sub-33 inch arms.
Keep an eye on the following players: DL — Josh Sweat, Rasheem Green, Dorrance Armstrong, Jeff Holland, Da'Shawn Hand, Andrew Brown, Kentavius Street and Marquis Haynes. LB — Lorenzo Carter, Darius Leonard, Malik Jefferson and Kemoko Turay.
Later today I'll post the TEF scores for all the defensive linemen and EDGE rushers.
Forty yard dash — DL Group One
(10-yard splits in brackets)
John Atkins — 5.42 & 5.39 (1.92)
Taven Bryan — 5.08 & 4.98 (1.68)
Foley Fatukasi — 5.30 & 5.33 (1.76)
Joshua Frazier — DNP
Rasheem Green — 4.83 & 4.74 (1.66)
Zay Henderson — 5.20 & 5.17 (1.76)
B.J. Hill — 4.99 & 5.00 (1.74)
Maurice Hurst — DNP
Justin Jones — 5.11 & 5.10 (1.76)
Lowell Lotulelei — DNP
Reginald McKenzie Jr — 5.17 & 5.15 (1.78)
Bilal Nichols — 4.96 & DNP (1.73)
Derrick Nnadi — 5.44 & 5.34 (1.81)
Kendrick Norton — 5.26 & 5.52 (1.79)
Da'Ron Payne — 5.02 & 4.91 (1.67)
Harrison Phillips — 5.21 & 5.22 (1.79)
Deadrin Senat — 5.16 & 5.24 (1.77)
Tim Settle — 5.41 & 5.38 (1.90)
Nathan Shepherd — 5.10 & 5.15 (1.77)
Taylor Stallworth — 5.29 & 5.33 (1.83)
Trenton Thompson — 5.06 & 5.11 (1.74)
Vita Vea — 5.11 & 5.11 (1.77)
Eddy Wilson — 5.55 & 5.38 (1.86)
The combine, this year, have separated the interior defensive linemen and the EDGE rushers. It's a good move.
Here's some news on Josh Sweat per Tony Pauline:
Despite his long injury history, Florida State defensive end Josh Sweat has not been given any failing medical grades at combine exams. Sweat has well-documented knee issues which go back several years, but I've been informed he's been stamped with a middle-of-the-road medical grade, which is not a major red flag.
Pauline also says this about the Seahawks:
The Seattle Seahawks traded down in the 2017 NFL Draft, and I'm told they will look to do the same this year. The team has just a single pick in the first three rounds, and though it owns a cluster of selections over the entire draft, the Seahawks would prefer to trade down and gather more ammunition in the top 100.
In the initial change of direction drills, Taven Bryan, Rasheem Green and B.J. Green had trouble keeping their pants up. Under Armour didn't do a very good job dressing these guys. A wardrobe malfunction is imminent.
Da'Ron Payne and Taven Bryan moved very well. Impressive. Fluid change of direction, quickness. Both look athletic. Tim Settle is an incredible mover for his size. It's unreal and doesn't get talked about as much. He looked so fluid in the change of direction aside from an unfortunate slip near the end.
Here's Bryan's performance:
Taven Bryan lateral movement pic.twitter.com/dVr90zBQrI

— Billy Marshall (@BillyM_91) March 4, 2018
The linemen are now going over and around the bags. Derrick Nnadi looked quick for his size. It was another good drill for Payne. Harrison Phillips looks a bit stiff. Tim Settle struggled in this drill and tripped over the bags. Nathan Shepherd had an incredible drill here — wow. Flew around the bags like he was dancing on a cloud. Very impressive.
They're on to the club/rip drill now. Rich Eisen is very excited about the first sighting of this bad boy:
Vita Vea has injured his hamstring and isn't competing in drills. Shame.
In the stack and shed drill, this is a drill that every year the players don't seem to execute properly. Taven Bryan barely tickled the pads, let alone punch. B.J. Hill executed it fairly well. Derrick Nnadi got it completely wrong. He treated it as a speed drill and barely touched the pad.
Harrison Phillips, thank you! Someone who did it truly properly. Belted all the pads and shed. Really good. Da'Ron Payne did well too, as did Nathan Shepherd.
It has to be said, Shepherd is looking good. He's sub-33 inch arms and Seattle hasn't taken a sub-33 inch armed defensive linemen before but he's putting on a good workout performance today.
Jim Tomsula is now operating a change of direction drill. Justin Jones moved well and just looks like a powerful dude. Really well put together dude. Jones will provide some value for someone. Da'Ron Payne is having a wow performance and excelled again in this drill. He's so light on his feet for 311lbs. Of all the recent defensive linemen from Alabama to enter the draft, Payne looks the most athletic.
Tim Settle arguably looked even better considering he's 329lbs. It's unnatural to see a guy move as well as Settle does at his size.
Here are the official forty yard dash times:
Rich Eisen is currently interviewing the football on a stick…
The defensive tackle drills are complete. Time for the EDGE rushers.
Forty yard dash — DL Group Two
(10-yard splits in brackets)
Ola Adeniyi — 4.83 & DNP (1.68)
Dorance Armstrong — 4.88 & 4.96 (1.70)
Ade Aruna — 4.61 & 4.64 (1.60)
Andrew Brown — 5.11 & 5.04 (1.73)
Bradley Chubb — 4.66 & 4.71 (1.63)
Marcus Davenport — 4.61 & 4.59 (1.63)
Matt Dickerson — 5.07 & 5.14 (1.81)
Duke Ejiofor — DNP
Kylie Fitts — 4.69 & 4.69 (1.61)
John Franklin — 4.79 & 4.76 (1.70)
Da'shawn Hand — 4.84 & 4.92 (1.71)
Marquis Haynes — 4.68 & 4.70 (1.67)
Jalyn Holmes — 4.84 & 4.83 (1.67)
Sam Hubbard — DNP
Arden Key — DNP
Harold Landry — 4.65 & 4.70 (1.59)
Tyquan Lewis — DNP
James Looney — 4.90 & 4.94 (1.67)
Hercules Mata'afa — 4.78 & 4.77 (1.64)
R.J. McIntosh — DNP
Ja'von Rolland-Jones — 4.89 & DNP (1.72)
Olubunmi Rotimi — DNP
Breeland Speaks — 4.87 & 4.95 (1.65)
Kentavius Street — 4.88 & DNP (1.67)
Josh Sweat — 4.57 & 4.53 (1.55)
Chad Thomas — 4.93 & 4.95 (1.70)
Jojo Wicker — 5.16 & 5.20 (1.80)
Anthony Winbush — 4.78 & DNP (1.62)
Trevon Young — 4.78 & 4.79 (1.62)
Josh Sweat and Harold Landry were the only two EDGE rushers to crack the 1.5 10-yard splits. Sweat looks in incredible shape.
Hopefully some of the EDGE rushers working out with the linebackers will run in the 1.5's. Fingers crossed for Kemoko Turay.
Kentavius Street had his leg wrapped after his first forty yard dash. Not good news. Street had the potential to have a sensational workout.
It'll be interesting to see whether the league has anything to say about the number of injuries picked up this morning — and at the combine overall. Lots of players seem to be hurting themselves running the forty (Street, Ronald Jones II, Vita Vea).
Onto the drills. No surprise here but Bradley Chubb and Marcus Davenport are moving well. Arden Key and Sam Hubbard snubbed the forty yard dash for no real reason but are now doing drills.
Da'shawn Hand looks the part in the drill going over and through the bags. Just a 'first of the bus' type of physical talent. Looks the part. Mobile. Arden Key also looks quick. Still not sure why he didn't run the forty.
In the club/rip drill, Andrew Brown looked really violent. Really tore into the bags. Looked the part. Intriguing prospect. Chubb and Davenport were silky smooth getting around the bags with fluidity. Jalyn Holmes looked a little tight but still hit the bags with intensity. Chad Thomas also excelled.
Quite a few of the prospects struggled with this drill. Several took a wide berth to the bags and tried to avoid them. A couple just slapped the bag. Mata'afa slipped over.
In the second go-through, again Andrew Brown had a terrific rep. Violent, intense. Bradley Chubb followed with another incredibly smooth run through.
In the stack and shed, Ola Adeniyi had a good rep. Powerful, in control. Andrew Brown's rep was REALLY good. Brown did what he's supposed to do. Hit the bag, shed, move along the line. Brilliant. Chubb also looked really good. They've been the two standout performers during workouts for me.
Da'Shawn Hand's rep was pretty weak. Tickled the bags and treated it like a speed drill. The coach leading the drill shouted shortly after to 'slow it down'. Every year the same thing happens. The players don't understand the stack and shed drill. They rush through it.
Here are the official forty yard dash times for the second group of defensive linemen: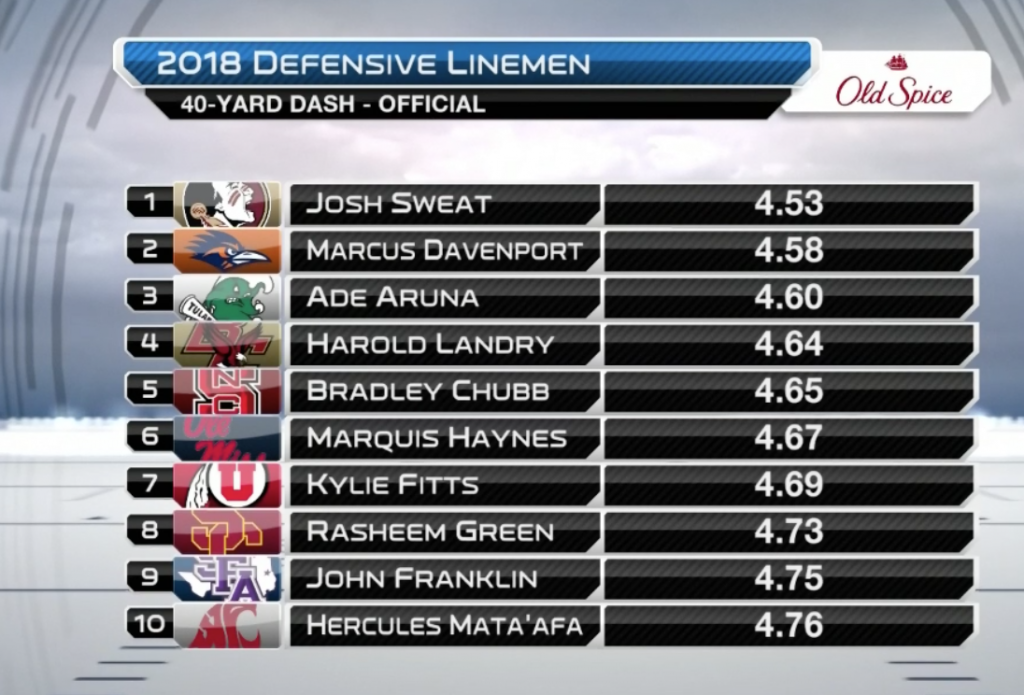 A quick reminder about Josh Sweat's physical potential:
HT: 6-foot-4 3/4
WT: 251lbs
Hand: 10 1/4″
Arm: 34 5/8″
Wingspan: 84 1/8"
Look at that arm length and wingspan. Plus he ran a 1.5 10-yard split. He has an injury history but we're talking about huge athletic talent and size here.
We're now onto the change of direction drills. Hercules Mata'afa just tripped up again on his rep. He's had some footwork issues today. Marcus Davenport continues to impress and look the part. Very smooth change of direction and acceleration.
I didn't see Josh Sweat doing any of the on-field drills.
Some of the EDGE rushers are now being asked to do the linebacker drills. It seemed like everyone was getting a go for some reason. When 281lbs Chad Thomas is running linebacker drills, maybe someone should've had a tighter grip on who was doing what.
Some of the explosive tests are coming in. Taven Bryan had a 35 inch vertical and a 9-11 broad jump. He's an incredible 3.58 TEF tester and one of the most explosive pass rushers we've seen in a while. At 291lbs those numbers are incredible.
Da'Ron Payne looked quick during the drills but he's not the most explosive player. He had an 8-11 broad broad and he only had a 28.5 inch vertical.
Forty yard dash — LB
The NFL Network isn't showing the 10-yard splits for the linebackers for some reason. So we won't get a 10-time for people like Lorenzo Carter or Kemoko Turay.
Genard Avery — 4.60 & 4.63
Jerome Baker — 4.53 & 4.60
Davin Bellamy — DNP
Keishawn Bierria — 4.80 & 4.94
Oren Burks — 4.60 & 4.60
Jason Cabinda — DNP
Lorenzo Carter — 4.46 & 4.54
Jack Cichy — DNP
Chris Covington — 4.80 & 4.79
Nick DeLuca — 4.85 & 4.86
Garret Dooley — 4.92 & 4.81
Tremaine Edmunds — 4.55 & 4.56
Rashaan Evans — DNP
Shaquem Griffin — 4.38 & 4.58
Shaun Dion Hamilton — DNP
James Hearns — 4.90 & 4.89
Jeff Holland — 4.80 & 4.86
Joel Iyiegbuniwe — 4.62 & 4.61
Darius Jackson — 4.87 & 4.87
Leon Jacobs — 4.49 & 4.55
Malik Jefferson — 4.53 & 4.58
Josey Jewell — 4.83 & 4.84
Peter Kalambayi — 4.57 & 4.60
Micah Kiser — 4.67 & 4.73
Darius Leonard — 4.70 & DNP
Mike McCray — 4.76 & 4.77
Skai Moore — 4.74 & 4.74
Uchenna Nwosu — 4.65 & 4.72
Dorian O'Daniel — 4.62 & 4.61
Ogbonnia Okoronkwo — 4.89 & 4.77
Jacob Pugh — 4.66 & 4.69
Christian Sam — 4.76 & 4.79
Tegray Scales — 4.84 & 4.78
Andre Smith — 4.64 & DNP
Roquan Smith — 4.52 & DNP
Matthew Thomas — 4.58 & 4.65
Kemoko Turay — 4.66 & 4.70
Leighton Vander Esch — 4.66 & 4.67
Azeem Victor — 4.73 & 4.74
Fred Warner — 4.66 & 4.64
Chris Worley — 4.86 & 4.87
Kenny Young — 4.66 & 4.60
Incredible time for Lorenzo Carter. We know he's explosive — he jumped a 40 inch vertical at the SPARQ combine but ran in the 4.6's. Now he just ran a 4.46. He'll be pushing round one with a time like that.
Shaquem Griffin ran a very similar time to his twin brother, making a 4.38. He is 227lbs so a little lighter than some of the other players here — but that's still an incredible time at that size. A fantastic run. With this size, speed and grit he won't be lasting to the later rounds.
Pete Carroll's reaction to Shaquem Griffin's 4.38 forty is priceless #Seahawks pic.twitter.com/Ivor3CBIm9

— Rob Staton (@robstaton) March 4, 2018
North Carolina's Andre Smith is the latest player to pull up during a forty with a hamstring injury. There have been way too many injuries at the combine this year and there needs to be a serious review as to why.
Now Roquan Smith is feeling a hamstring problem too and is done for the day. Something isn't right here. Way too many hamstring injuries. Darius Leonard didn't run a second forty. Tegray Scales pulled up in his second attempt. Kemoko Turay pulled up with an injury. What's going on?
The NFL Network is currently interviewing Ryan Shazier instead of focusing on the linebacker drills.
Now they're back on the drills. The coaches praised Leighton Vander Esch for his work in space.
We talked about a need for speed and how Seattle has looked for very quick linebackers. There weren't many spectacular runners in the LB group which was a surprise. Griffin and Carter aside, of course.
Now Griffin is hurt too! During the drills. This is ridiculous.
Vander Esch again is the standout in the agility drill going over and around the bags. He looks incredibly smooth, quick and dynamic. He'll be a high pick.
One of the coaches (from the Rams) is calling out the linebackers now. He says they aren't finishing the drills, strictly told them he doesn't care about their forty yard dashes and wants them to do the drills properly. I hate to say it again but this has been a relatively underwhelming session again.
The Rams coach is still criticising the players. He's not happy with the way they're dropping in an open-field drill. He wants to see them backpedal to each hash and deliver a deep drop each time. They aren't. Very few of them are catching the football at the end either. "Catch the damn ball finish the drill" yells the coach.
Malik Jefferson had a good rep but very few looked sharp here.
I'm going to finish the live blog for today because the D-line broad and vertical jump numbers are out. I'm going to calculate the TEF scores. Review post on the way shortly.