For the first time in four years, Pete Carroll didn't talk about specific team needs in his final press conference of the season.
"(We) don't see anything we need to add. We just have to get better."
"It's not going to be something from outside of us. We have what we need."
He's always been candid and honest in these end-of-season post mortems. Whether it was a determination to improve the running game, get more speed in the front seven or enhance the pass rush — he always laid it out on the table.
I guess when you win the Super Bowl 43-8 against one of the supposed elite teams, you can afford a degree of comfort with your roster.
Or maybe it was a nod to something else.
Perhaps, as of today, he simply doesn't know what his greatest needs are?
He made reference to keeping the group together as best they can. Yet he also knows how difficult that'll be. When speaking to Brock and Danny yesterday, he noted this would be a challenging off-season for that very reason.
Think about the potential scenarios:
Lose Michael Bennett and he'll need to be replaced as a major priority.
Lose Golden Tate and cut Sidney Rice as a cost saving measure and you"ll need to make receiver a big time need.
Lose Breno Giacomini and you have to consider adding to the offensive line again.
"We don't need anything" might be more like "we don't need anything… yet".
Carroll wasn't the only one to speak after today's sensational parade in downtown Seattle. Funnily enough Bennett and Tate were also interviewed, but not to say goodbye.
– Bennett insisted he wanted to end his career in Seattle and wasn't planning on leaving
– He added that no firm negotiations had taken place yet and wouldn't occur until around combine time
– Tate admitted he had a cap number in mind that he would like to negotiate with the Seahawks
– He stated he would be willing to take a "little" discount to stay in Seattle
– Carroll announced Sidney Rice's rehab from a knee injury was going extremely well, suggesting his rate of recovery was "unheard of".
The Seahawks showed in Super Bowl 48 they don't have any glaring holes in the roster. They have the #7 offense according to DVOA, they have the #1 defense and the #5 special teams.
Add that up and you get the #1 overall team. And it wasn't all that close.
That doesn't mean they don't need any new additions — they do — but for the first time since I started writing this blog there aren't the backbreaking needs to prevent this team winning a Championship.
They're already Champions.
It's really just about keeping the band together as best you can.
And while you might be prepared to change the occasional member — you've just got to make sure Glenn Frey and Don Henley are sticking around.
***RANDOM PICTURE INTERMISSION***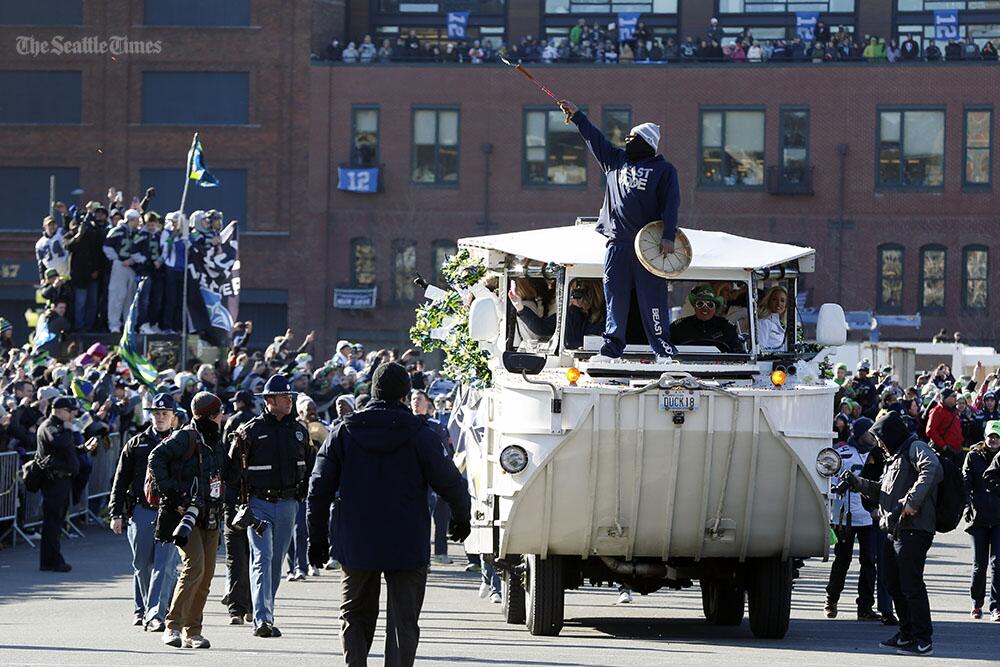 Of course part of the issue is having to cut players or ask them to restructure their contracts. The media are already latching onto this:
How can #Seahawks sign Golden Tate & Michael Bennett with Thomas & Sherman extensions? Likely to cut Sidney Rice, ask Zach Miller to cut pay

— Ian Rapoport (@RapSheet) February 5, 2014
Rice would be an easy cut at $7m but if he's progressing well from his knee injury, they might be able to restructure his deal. He is a very good player on his day — he's just suffered endless injury problems throughout his career.
It would've been interesting to see this receiver group with a healthy Rice and Harvin also contributing. Having said that, both Doug Baldwin and Jermaine Kearse really stepped up to the plate in their absence, and deserve even bigger roles next season.
There's no way Rice survives with his current cap hit of $9.7m. He'd have to strike a new deal.
The problem is, there's probably not a happy medium if you ask him to restructure. The saving is too good for an outright cut, Rice will get offers as a free agent and there's no need to accept a drastically low salary for any other reason than a desire to stay in Seattle.
Providing even greater clarity here is a jam packed receiver class in this years draft.
Seattle can save a further $5m by cutting Zach Miller's contract. I've written in the past about him being a potential cost-cutting victim. The best tight ends in the NFL are not paid like Miller.
While he's been very useful to this team, his salary is just too big. At a time when other players need to be re-signed, he cannot expect to survive on a $7m cap hit having earned a borderline ridiculous $11m in 2013.
He's only 28 so they might be able to restructure the deal, adding years (he's a free agent in 2016) or simply reducing his salary.
He's a nice blocking tight end with some pass-catching qualities but he's not an elite difference maker. And with guys like Breno Giacomini needing to be re-signed as well as your Bennett's and Tate's, Miller surely has to be willing to compromise if he wants to stay.
It's a little surprising Chris Clemons' name isn't mentioned by Rapoport. He's been a real warrior for the Seahawks, but he's due $9.7m in 2014 — the year he turns 33. There's a $7m saving to be had by cutting him.
The likes of Red Bryant and Brandon Mebane may also end up in contract negotiations. Bryant's cap hit is $8.5m in 2014 and while I highly doubt he leaves the team, I think there's maybe a reduction to be had there for the greater good of the roster.
Mebane earns $5.7m over the next two seasons — but the ease in which he can be cut (he has almost no dead money on his contract) makes a re-negotiation very possible.
These are the decisions facing John Schneider and Carroll. But they've acknowledged they have some tough calls to make.
Now we just sit and wait to see how the best team in football tries to stay right at the top of the mountain.
In today's press conference Carroll also listed a series of improvements he wants to see next year:
– He believes Russell Wilson will continue to develop because of his great work ethic, and also called his post-season form "exquisite"
– Carroll spoke with some passion about cleaning up the teams league-leading penalty problems
– A healthy Percy Harvin can help take the offense to another level, with Carroll stating they were only "scratching the surface" on his potential during the Super Bowl
– Carroll says they didn't get the pass rush rolling until mid-season, and it's something they can continue to develop
– He said kick-off returns are another area with major room for improvement — obviously Harvin being on the field helps here
The players and coaches will now take a break, with the next big event the combine in Indianapolis — starting on February 22nd.
Finally here's some more tape to get into as we roll into draft season. This is courtesy of JMPasq, and it's Aaron Donald (DT, Pittsburgh) and Eric Ebron (TE, North Carolina):