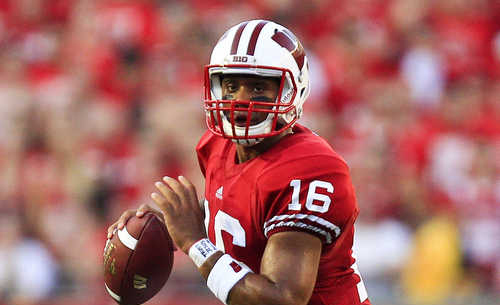 Written by Kip Earlywine
(Be sure to scroll down and check for new content as Rob and I have been posting updates frequently.  If you missed it, Rob gave his day two reaction which you can read here.)
Russell Wilson is not the best Seahawks Draft pick ever.  Russell Wilson wasn't the biggest Seahawks draft day value ever (obviously).  Russell Wilson could be, but probably won't be, the greatest Seahawks quarterback ever.   I'm not saying this is the best pick ever, but anyone that's done a top ten list of their favorite movies probably realized in short order that there is a big difference between "favorite" and "best."
Russell Wilson is none of those things, but there was no pick I ever enjoyed hearing in the moment more than this one.  I've followed the draft as a Seahawks fan for about 20 years, and this was only the second time that a pick made me leap off the couch and scream in celebration.  The other time was in 2007 when Brandon Mebane somehow reached our third round pick and the Seahawks didn't repeat their mistake of passing on him in the previous round.
So why so much emotion?  Its because, well, if there is one thing that is consistent every year, it's that the Seahawks never seem to draft the players I want the most.  This was true for so long that I just accepted it- my favorite players would be playing for other teams- that's just how the world works. The thought of going through this whole draft without getting Rusell Wilson was a painful one for me.  I might be a bigger believer in Wilson than John Gruden is, if you can imagine that.   So as an emotional safety mechanism, I forced myself to assume that he wouldn't be a Seahawk.  Seattle would wait until the late rounds for a quarterback and another team, probably Green Bay or Philly or even Pittsburgh, would make him their pick somewhere in the mid rounds.
When the 75th pick arrived, I wasn't even thinking about Russell Wilson, because picks that I would like this much never happen.  The thought didn't even cross my mind.  Especially since both Lamar Miller and Chris Polk were available (and are still available). Demario Davis was still there too.  We had heard that quarterback was probably going to be a later-than-this priority, and that was before the team signed Matt Flynn.  In that moment, I was thinking about five potential players the Seahawks could be thinking of, and none of them were Russell Wilson.  Hearing his name called was like getting struck by lightning.
Which is weird, because while I had ruled Wilson out emotionally, intellectually I've been saying for months that Russell Wilson makes all the sense in the world for the Seahawks.  I initially covered Wilson in part II of my quarterback series back in late December of last year.  In one of the latter installments I added this:  "The more I think about it, the more realistic Wisconsin's Russell Wilson appears."  In the next installment after that, I even floated the hypothetical that John Schneider was talking up guys like Tannehill and Osweiler "to help them get drafted before Kirk Cousins or Russell Wilson."  Back in early March I wrote a "What I think Seattle's draft could look like" 7 round mock in which I was trying to be as realistic as possible (this was pre-Matt Flynn).  I had Seattle drafting Russell Wilson in round 4.  At the end of my (lengthy) Wilson explanation, I even said that "if it was up to me I'd find a way to draft Wilson even earlier than this."
Just a few days ago I did a post regarding my top ten quarterbacks and my best guesses for the front office's top ten.  I had Wilson 3rd on my list, behind only Luck and Griffin, and gave him a 3rd round grade.  Having Wilson that high is controversial to say the least, if not open for mockery.  Maybe it still is, until Wilson shows everyone what I think he can.  I had the Seahawks ranking Wilson 5th, behind Luck, Griffin, Osweiler, and Tannehill, with an estimated front office draft value in the 4th round.
Now that I think about it, I should have at least anticipated the possibility of Wilson at #75.  Teams reach for guys with perceived 4th or 5th round grades in the 3rd round all the time.  The emotional part of my mind and the thinking part of my mind were more than separated, they were divorced.  The kind of ugly divorce where neither side ever talks to the other ever again.  Hearing Wilson's name being called was surreal.  The most pleasant surprises are often the ones you didn't suspect the most.  Instantly the safety valves released.  I was able to celebrate the player that I had badly wanted, but wouldn't allow myself to hope for.  I erupted in a way that I had not since watching the Beastquake come out of nowhere in the Saints playoff game, when just moments earlier it seemed the Seahawks were sinking further and further into certain doom.  It was one of those moments where on the outside I was shouting and high fiving, and on the inside it felt something like this.
I said yesterday that my two favorite players in the whole draft going in (regardless of round) were Bruce Irvin and Russell Wilson.  I figured there was maybe a 10% chance we'd get one of them.  To watch the Seahawks draft both of them… it feels amazing.  I'm just not used to getting players I like this much.
Russell Wilson may not be a lock for the Hall of fame just yet, but he's got a good chance to be the best quarterback that was actually drafted by the Seahawks.  Since entering the league in 1976, the Seahawks' history of drafting quarterbacks has been abysmal.  Jim Zorn doesn't count, he was undrafted (and that was back when the draft went 17 rounds too).  Dave Krieg also went undrafted (12 rounds that year).  Matt Hasselbeck was drafted, but by the Packers.  Warren Moon was a veteran free agent.  Seahawks draft picks at quarterback include Rick Mirer, Dan McGwire, David Greene, and Mike Teel, to name a few.  I think it says a lot when the best Seahawk drafted quarterback of all time is probably Seneca Wallace.
I'm a believer in Wilson's upside, but even if I'm wrong, Wilson's floor is a better Seneca Wallace without the problems that limited him, and Seneca Wallace has been one of the league's better backups for close to a decade now.  Some might say that paying a third for a good backup is too much, but tell that to Chicago, who had a strong playoff run derailed by a lack of a quality backup option.  The difference between a TJ Yates and a Caleb Hanie can define a season.
Regarding the Wallace comparison, it's important to remember that Wallace wasn't limited by his height so much as his mind.  He drove everyone crazy by running out of bounds for a loss instead of throwing the ball away.  He didn't look comfortable running the offense, and often locked onto receivers.  He was mobile, but lacked pocket presence.  In a lot of ways, he was a shorter Tarvaris Jackson.  By contrast, Wilson is incredibly smart with his decision making.  Size and athleticism aside, they are two very different quarterbacks, with Wilson being easily the superior prospect.
And remember, that's his downside.  His upside is a slightly shorter but smarter version of Michael Vick.  Pete Carroll compared him to Hall of Famer Fran Tarkenton (who played at 6'0″).  I didn't see it personally, but I've heard that Carroll lit up like a Christmas tree in the Seahawks war-room when the Seahawks got Wilson.  Clearly this was a player they really believed in and badly wanted.
This is meant to be a reaction post, so I'll save the heavy analysis for later in the week.  But for now I'll say that Wilson is a guy who intrigues the heck out of me, and I've believed for a while that he had outstanding potential if he went to a team like Seattle, Philadelphia, or Green Bay: a team that runs a mobile quarterback offense and was willing to modify their offenses to compensate for Wilson's shortcomings.  Andy Reid has already done so for Michael Vick, who's only an inch and a quarter taller than Wilson.  Pete Carroll is well known for modifying scheme to get more out of players.  In that sense, I don't know if there was a better match in the league for a player like Russell Wilson than Pete Carroll's Seahawks.
Lately it seems everything that comes to Seattle from the state of Wisconsin has worked out pretty well for us.  Dave Krieg.  Mike Holmgren.  Matt Hasselbeck.  John Schneider.  Now Russell Wilson.  (Hopefully John Moffitt can step things up too).  The Seahawks are now set for not one but two quarterback battles this August, one between a passable starter and the NFL's best backup, and the other between two highly intriguing quarterbacks with upside.  I can't wait to see how things shake out.