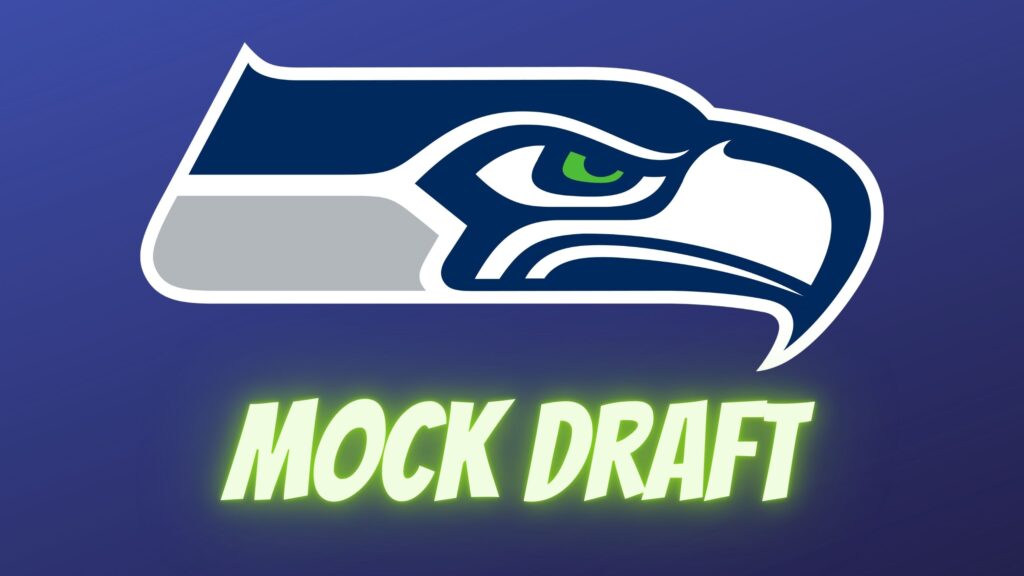 It's bye week and I'm toying with doing a full two-round mock. I think I might save that for next week but wanted to do a Seahawks projection today that I believe makes some sense.
I'm going to do the first three rounds. Here are the picks:
#7, #22, #43, #54, #86
In this scenario, let's assume Geno Smith (and potentially Drew Lock) are kept. I also think there's a chance four quarterbacks will go in the top-six, with Jalen Carter and Will Anderson making up the initial sextuple.
The focus on this mock is going to be defense. Or, more specifically, disruption.
The Seahawks have found a way in recent games to create pressure and gather some sacks. I do think, however, they are still lacking a player who — as Chris Simms would say — 'F's plays up'. That was clear against Tampa Bay. If they can add a couple of those, it could really take this team to a new level.
In the 2022 draft the Seahawks built a foundation with their bookend tackles. Can they do something similar here with an injection of talent on the defensive line?
Pick #7 — Tyree Wilson (DE, Texas Tech)
There are going to be D-line options for the Seahawks here. If, somehow, Jalen Carter was available — that would be a no-brainer pick based on what he's shown over the last fortnight. He is proving to be a true game-wrecker from the interior. I suspect, however, he will be a top-four lock and could even end up being the #1 overall pick if he continues to play at such a high level.
Players like Myles Murphy and Bryan Bresee will be touted for this range and you can make an argument for them based on their size and athletic profile. However, I think Murphy's a pussycat against the run and Bresee simply hasn't been able to find his best form.
Therefore, I'm going with Wilson from Texas Tech.
He isn't a flawless prospect either. He performed superbly against NC State but there are other games where he leaves you wanting more.
However, he has rare qualities you can mould into a top NFL prospect. Wilson has nearly 36-inch arms at 6-6, 275lbs. That length is vital because so often on tape you see him strong-arm offensive tackles by extending to keep his frame clean and from there he controls the block. Time and time again there's a large area of space between Wilson and the tackle and it sets everything up — all of his moves, the ability to duck inside, he can rip through. He knows how to use his length and it's a major weapon.
Wilson also has the necessary quickness to complement his length and power.
One other thing he does really well is when he does make contact with a blocker and can't disengage or swim/rip — he'll often just drive through the lineman, forcing him back into the pocket. Even when he's not just flat out beating his block, he's being disruptive and disturbing the QB. There are so many snaps on tape where Wilson's blocker is on skates.
Because of his size and power it's possible he can be used in a variety of ways. You can imagine him playing early downs in a three man-front. He also has the length and athleticism to play as an EDGE.
Wilson's a very disruptive player with the ability to collect around 10 sacks a year, set an edge against the run, move around the line to attack from different angles and deliver something different to Seattle's front seven.
Pick #22 — Calijah Kancey (DT, Pittsburgh)
I'm perhaps going against my better judgement here because the idea of Seattle drafting a 6-0, 280lbs defensive lineman who will have sub-33-inch arms would usually be fanciful. Yet this mock is about adding disruption to the defense and no player in college football disrupts more than Kancey. In fact, he's arguably the most disruptive player to enter the league since Quinnen Williams.
I spoke about him a lot when I published my first horizontal board so go and check that out. He's a physical freak of nature who will run in the 4.6's and likely deliver outstanding agility testing and show off explosive traits. His first-step quickness is elite. It's a very easy comparison to make that he has the body and at times the tape of fellow Pitt Panther Aaron Donald. While he won't be Donald, I'm struggling to find reasons to steer clear of mentioning their names together. They are so alike.
See for yourself. What do you see?
I'd be willing to take a chance on what Kancey does well — the game-wrecking qualities, the pass rush and the dynamism. There's always a chance a player with this frame just gets overwhelmed at the next level and it's possible he can become a liability if the quickness isn't as effective and if he can't keep his frame clean. Like Donald, he'll need to be the most violent, aggressive player on the field. I do think we see a bit of that on tape, however.
The Seahawks haven't had a dynamic interior rusher in the Carroll era. I'd be willing to try and hit a home-run here. He has rare qualities.
If you put Wilson and Kancey in Seattle's D-line rotation we could be talking about an incredibly forceful, impactful, disruptive unit. You'd see more sacks and TFL's and pressure. You'd be adding players with unique traits. I think it'd be a really exciting first round double.
Pick #43 — Jonathan Mingo (WR, Ole Miss)
I'm really enamoured by the idea of drafting a 'big slot'. I just think it would add another dimension to the offense. I'm also a big believer in the value of a top level third receiver and often the teams who perform well in the playoffs are the ones able to ask questions of opponents with an arsenal that carriers a strong WR3.
This is also about value. This Seahawks found Ken Walker sitting waiting for them early in round two. In 2023 it could be that a really talented receiver is available in the same range. If Mingo or Cedric Tillman in particular were available at #43 — it would be a brilliant opportunity for the Seahawks to just get better.
They're not alone though. We could also see a situation where Zay Flowers, Jaxon Smith-Njigba, Jordan Addison, Bryce Ford-Wheaton and Josh Downs are available. The value at receiver in the second frame could be superb.
Mingo is 6-2 and 225lbs but runs with a gliding quality. His routes are so smooth. He's had 141 snaps in the slot this year (compared to 443 out wide) so he's been mixed around by Lane Kiffin to create mismatch opportunities. He has soft hands.
I just love the idea of trying to find ways to get him matched up on a linebacker or safety and run across the middle, wheel to the outside, get deep down the seam. How do you cover that while also needing to be wary of D.K. Metcalf, Tyler Lockett and the tight ends?
You can see what I'm talking about in his record-setting game against Vanderbilt:
Jonathan Mingo vs. Vandy:
🔵 9 Rec
🔴 247 Rec Yds
🔵 2 Rec TD

The most receiving yards in a game in Ole Miss history ❗️ pic.twitter.com/zqL8nPmf80

— SEC Network (@SECNetwork) October 9, 2022
Mingo is immensely talented and athletic and you'd have another X-factor receiver on your offense, under contract for four years.
Pick #54 — J.L. Skinner (S, Boise State)
I think a perfect storm is coming at the safety position. Quandre Diggs (61.4 PFF grade) isn't playing anywhere near well enough to justify an $18m cap hit in 2023. I don't know how you can pay that — especially when you'll need to create money to retain Geno Smith.
Not only are Diggs' grades poor — he isn't making any plays. He had five interceptions in each of the last two seasons and three interceptions in five games in 2019. This year? Zero interceptions in ten games. He has become a completely ineffective player. There's absolutely no way they can give him $18m next year and his contract has a reasonable out if they make him a post-June 1st cut.
On top of that, they need to make a call on Jamal Adams. His contract has become an albatross and he too is due an $18m cap hit in 2023. They have to speak to him about his deal. They can't just keep hoping this trade and contract is going to work out.
Meanwhile, Ryan Neal has an 80.4 PFF grade and is a must keep. So I think one way or another — some players need to go, some kept and at least one added.
Meanwhile, there are a collection of safeties in the draft that are attractive — making the decision even easier. Alabama's Brian Branch could be a first round option. I really like Christopher Smith and Ji'Ayir Brown. I have them selecting J.L. Skinner here.
We know the Seahawks love a safety who delivers big hits. It's not just Kam Chancellor. Marquise Blair was a big-time hitter at Utah. Skinner is big, fast and physical and knows how to lay the boom:
He's a Seahawk. He might not ultimately end up in Seattle but he's a Seahawk.
Skinner is what they've been looking for since Chancellor departed. Even if Jamal Adams stays — he can play a hybrid blitzing role. Put Neal at free safety (81.2 coverage grade) and put Skinner at strong safety. Bring the fear-factor back to the defense. Make opponents second-guess those crossing routes and dump-offs.
He's long and lean with good quickness and reaction skills too so while his calling card is run defense and hitting — he's not a slouch in coverage.
Pick #86 — Kenny McIntosh (RB, Georgia)
It might be possible for the Seahawks to bring back Rashaad Penny on a team-friendly deal after his latest injury. As such, this might not be a necessary pick and as I'll note in the next section — there are plenty of other players I'd like to consider.
However — I've never seen a player like McIntosh before. We're talking about a 210lbs runner who levels opponents and runs through contact — so much so that even Kirby Smith is telling journalists he thinks McIntosh is a "bad MF-er".
Brenton Cox is going to have to pay for this ride into the end zone by Kenny McIntosh #GoDawgs

— 704 Dawg ➐ (@FSFRecruits) October 29, 2022
On top of that — his footwork and agility to work through traffic, make people miss, dodge and weave through tackles and get the absolute most juice out of every run is pretty special.
Kenny McIntosh pic.twitter.com/lrWPX6lelh

— The Film Guy Fam (@TheFilmGuyFam) November 8, 2022
Yet what makes him so special is despite the size, the violence and the great feet that you'd usually associate with a really good Georgia running back — McIntosh is also an exceptional receiver out of the backfield and a decent pass-protector. He runs routes with a crispness and efficiency you usually see from receivers. He's a major weapon in the passing game and on third downs. He has 564 receiving yards in the last two seasons out of the backfield for a run-heavy offense.
Kenny McIntosh sells the wheel route & cuts inside the defender for a 49 yard reception.. one of the best receiving RBs in the 2023 draft pic.twitter.com/IspKBgdh26

— RanDynasty (@ran_dynasty) November 5, 2022
KENNY MCINTOSH ONE-HANDED 😳 pic.twitter.com/CL1mhCt0iT

— SEC Network (@SECNetwork) November 6, 2021
McIntosh would be the perfect long-term complement to Ken Walker as a relief runner but also a third down dynamo. There's so much to like here. I suspect if the Seahawks don't draft him the LA Rams will.
Other names I considered
I seriously considered Oregon cornerback Trikweze Bridges at #86 because his long, lean frame and remarkable arm-length just screams Seahawks. It'd almost be disappointing if he doesn't land in Seattle.
I don't think the Seahawks are that focused on the linebacker position. Cody Barton is taking 70% of the defensive snaps but there have been games where he's taken 30-40% this season. I don't think it's a big priority to spend a high pick on that position. If they do, however, I suspect Georgia's Nolan Smith in round two or Auburn's Owen Pappoe in rounds 3-4 will be attractive options given their obscene testing profiles (the Seahawks love fantastic athletes at linebacker).
I was really drawn to Alabama's Byron Young in round two. I just think he'd be an ideal fit for the Seahawks as a 3-4 defensive end who can play a ton of snaps, deliver consistent results and provide disruptive production. He's better than a lot of people realise.
I'm not sure we'll see the Seahawks go big on the interior O-line if they're following the Rams' way of doing things. However — Kansas State's Cooper Beebe and TCU's Steve Avila are massive, physical, tone-setting blockers with surprising mobility. I'm a huge fan of both players and would happily consider either in round three. I also like a lot of the centers available in this draft but again — I'm not sure they're going to take a big, mauling center — which is typically what's available in this draft.
If you missed it earlier, Jacson Bevans and I were invited onto the Pedestrian Podcast this week for a bye-week mega-pod discussing all things Seahawks.
Check it out:
If you enjoy the content on Seahawks Draft Blog, why not consider supporting the site via Patreon? (click here)