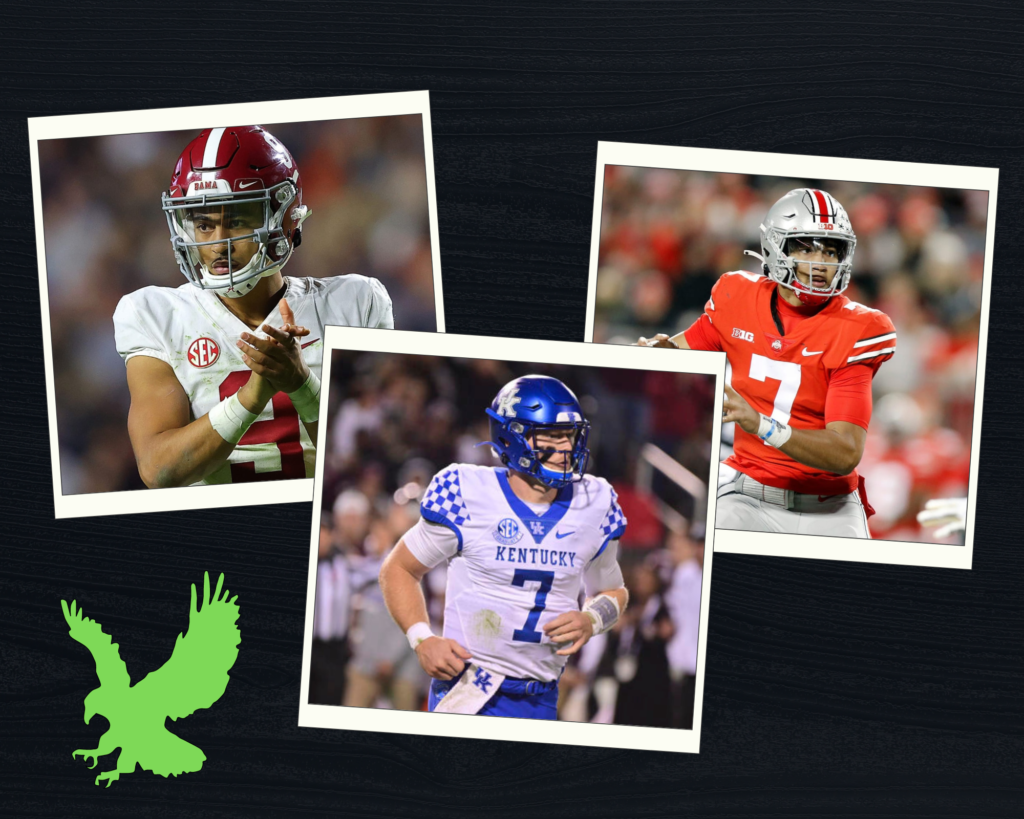 While watching Seattle's latest outing against San Francisco, you may have taken comfort in thinking about next years draft.
After all, the media have done a great job telling you it's a remarkable quarterback class loaded with options.
Unfortunately, after three weeks of the college football season, there are more questions than answers.
Nobody has started in the way Joe Burrow did in 2019 for example. There are some intriguing players but that's the adjective you'd have to use to describe them. Couched language is necessary at the moment.
I'm afraid to say this is not a group so far that is 'other worldly' — as has been portrayed. I want to go beyond the rhetoric of the 'amazing' quarterback class and try and describe what's really going on.
For a variety of reasons the group is yet to really get firing. There's still time for that to happen — but it has been a bit of an underwhelming start.
At this stage I don't think we can assume that the antidote to that performance in Santa Clara yesterday — and the future of this team — is going to be readily available next April.
It is still possible though. There's plenty of time left for fortunes to change and form to be established. There are good quarterbacks (and players at other positions) who will be part of the 2023 draft.
But again — it should be noted that the narrative of this being a mind-blowing class perhaps needs to be toned down.
Here are my quarterback notes from the weekend…
More of the same from Will Levis
Kentucky's quarterback has a legit chance to be the first quarterback taken. Yet his first three games have been a mixed bag.
Youngstown State were never going to provide the sternest test and so it proved. Levis showed off his amazing physical traits, command of the play-action heavy Shanahan-style offense and ability to make impressive throws from a strong base.
He also had another game where his O-line tried to get him injured (his right tackle is absolutely horrendous) and he threw two more interceptions.
His first pass of the game was a great play-action play. He launched it down the middle for a 27-yard gain. Classic Levis — play-fake, set and throw. It will excite the pro-teams how comfortable he is operating in this system.
Levis' first two third down plays resulted in sacks. The second was arguably a coverage sack but the reality is it was another four-sack, multiple-hit day. He faces weekly adversity in the pocket that the likes of C.J. Stroud and Bryce Young never encounter.
He showed off his easy arm strength again and can launch a rocket on an in-route 15-30 yards downfield with a little flick of the wrist/arm. He arrows passes into tighter windows and defenders often can't recover when the receiver separates because Levis is adept at setting, being decisive and getting the ball to the target quickly.
His throwing base and balance is often textbook and when it isn't — it's obvious as we'll discuss in a moment. The positives in terms of technique, his size/frame, his throwing motion, his experience in this offense, his arm strength and the fact he is elevating Kentucky will make him highly attractive to teams and he has arguably the best shot of the 2023 quarterback class to come in and start quickly.
The negative is obvious. He had 13 interceptions last season and it was important to get that number down this year. So far, he has four in three games. Really he only has three because one of those picks was a sack/fumble that looped into the air as he cocked his arm back to throw. Even so — it's too many.
I will say — I'm not overly concerned by it. There are good and bad interceptions. None of Levis' are as bad as Anthony Richardson's (more on him later). Bryce Young has also thrown similar picks to Levis.
I'll repeat this from my article last week:
— In Patrick Mahomes' final year at Texas Tech he had a run of six straight games with an interception. He lost seven games in total. He had 25 interceptions in his last two seasons in college.

— In Andrew Luck's final year at Stanford he ended with a run of six straight games with an interception. He lost two games in his final year despite playing on a loaded Stanford team. He had eight games with 256 passing yards or fewer.

— Josh Allen had 21 interceptions in his final two years in college. He had a completion percentage of just 56.3%. He had three games in 2017 with sub-100 passing yards and he started his final season with six picks in his first seven games.

— Russell Wilson had 25 interceptions in his final two years at NC State. He never had a completion percentage above 60% at NC State. He had 11 games at Wisconsin where he threw 255 yards or fewer — including six sub-200 yard games. He also lost three games in his final season at Wisconsin.
If Levis was being reckless, indecisive, misreading coverages and costing his team games — it would be a worry. I think the reality has been very different.
On his first pick it was a good play by the defender. He tried to look someone off in the red zone, then snap his head back round to the left and throw. It's a risky play-call because you have to hold the right side for longer than you'd want and then throw almost blind to the slant from the left. The defender stuck in coverage well, the receiver didn't run through his route and it led to a pick.
Rich Scangarello, who doesn't mince his words or protect Will Levis during interviews, blamed the receiver for this pick in his post-game interview.
He was critical of Levis for the second pick and rightly so. He doesn't step into the throw, he's leaning back and it sails on him. The pass flies over the head of the intended target and it's an easy interception. That's bad execution from the QB, poor technique.
Here's the thing though. Can you teach a quarterback with generally good technique most of the time to make sure he steps into a throw like this to avoid making a similar mistake in the future? Of course. If Levis' technique was generally bad and he needed his mechanics re-working — that's a problem. If he doesn't read a defender and throws it straight to him, that's a problem.
These picks don't bother me in terms of draft stock. I want to see Levis throw fewer interceptions, 100%. To me it feels completely fixable though and everything else is really good.
With 6:50 left in the first half he broke away from pressure, set off running and picked up 24-yards. He can do that because he's an elite athlete. His two passing touchdowns were made to look simple and easy — a whip-route and a fade both in the red zone.
He threw a post with great velocity over the middle and there were multiple examples of him going through progressions and reaching a third target. Few college QB's do that.
I think a ton of teams needing a quarterback next year are going to look at Levis and feel he has the physical tools, the athleticism, the knowledge of pro-concepts, the technique and the personality to lead their team. And these aspects will outweigh the things he needs to improve. As such, he will be a very high pick.
But there's no doubt he can play better than he has so far and I can't say with conviction that he can be 'special'. I do think, however, that he's very capable of coming into the league and playing at a reasonable level somewhat quickly.
A final note on this game. The referee misspoke on a penalty and accidentally said, "Piss interference, defense". It made me chuckle.
Bryce Young had a mixed game
Having led Alabama to a comeback win against Texas with one wonderful quarter of football offsetting three awful quarters, Young had a similar fluctuating performance in a blowout win against UL Monroe.
He threw a terrible interception in the first half. He had all the time in the world in the pocket but decided to scramble anyway. He tried to create something and just lobbed it downfield recklessly. He didn't come close to giving his receiver a chance to make a play — it just went directly to the defender. It was a hopeless throw-and-hope play.
You can't make that mistake under no pressure.
Strangely, it benefitted Alabama. Two plays later Will Anderson caught a tipped pass and returned it for a pick-six. Then, on the corresponding series, Alabama blocked a punt and returned it for a touchdown. The pick sparked a 14-0 run.
Young showed off his creative ability as a runner on a scrambling TD, twisting away from two defenders to reach the end zone. He also had another sort-off turnover when he threw incomplete on fourth down. It was a rushed play as they tried to get the snap off before the end of the first quarter. Nobody was ready, Young threw it in a hurry and the receiver was nowhere near it. Careless.
There's a lot of RPO stuff in Alabama's scheme which I'm not a huge fan of. It's going to be a lot harder for Young to read defenders in the NFL than it is at Alabama against these overmatched opponents.
He had a tremendous deep pass down the right side of the field — throwing to his tight end in a favourable matchup. Young showed ideal ball placement and a good arm. On the next play he directed traffic to throw to an uncovering receiver in the end zone.
He had a second interception on an inaccurate pass thrown high and slightly behind. It was tipped and picked off. His third score was a dump-off into the flat and the running back ran for 40 YAC.
There's no doubt he's a very naturally talented player. He's creative and can be very exciting to watch. However — it also has to be noted that he has not started as well as he ended last year. He benefits greatly from superior pass-pro and playing on a loaded team. And there isn't anyone like him in the league. He is very slight and undersized.
What is his upside? How good can he be? These are very difficult questions to answer.
While it's very tempting to point to the likes of Kyler Murray as evidence for smaller players succeeding — Young lacks the 'wow' factor that Murray had or the unique physical tools. I think Young is better than Tua Tagovailoa was at Alabama — but I'm not sure he has the upside of Murray or Russell Wilson either.
Jaren Hall continues to impress
BYU laid an egg against Oregon (which was disappointing seeing as I took them +4) but despite the lopsided game, Hall actually played quite well.
When I watched his 2021 tape I thought it was underwhelming. I've watched all three of his games this season and I like what I've seen. He has a good arm (looks better than a year ago), he's creative, mobile, throws with touch but can put a bit of mustard on things when needed and he lofts passes into good areas similar to Russell Wilson at Wisconsin.
He's an older player — a year older than even Will Levis. He'll be a 25-year-old rookie. I don't think he's necessarily a first round prospect but this is the problem with quarterback assessment. We only ever tend to talk about players in first round or undraftable terms.
Hall could be a day two type who can stick. He's intriguing to me. There's something there.
Tyler Van Dyke is being let down
Not to make excuses for him. He can and should be playing better.
However — I detest the Mario Cristobal offense.
Everything is painfully conservative. Cristobal makes Pete Carroll look like a maverick renegade in terms of balls-to-the-wall high-octane new-age football.
Case in point — they were trailing 17-3 late in the game. They're in the red zone. They ran on 3rd and goal from about eight yards out and didn't score. Then kicked a field goal.
I'm not a Miami Hurricanes fan — but I was shouting at the screen at this point.
Over and over again they kept throwing passes behind the line of scrimmage and hoping for YAC. As we saw in Oregon with Cristobal — it's a whole bunch of runs, screens, slants, extended hand-offs and it's boring.
When they needed points, they kept kicking. Despite the fact their kicker was having a rough day.
TVD burst onto the scene last season throwing all over the field, regularly topping 300 yards and looking brilliant. Now he struggles to get to 200 yards, doesn't look remotely comfortable and his draft stock is taking a hammering.
Even so, he still has to do better.
He almost threw an interception on his first drive failing to read the safety properly and throwing to the left front corner of the end zone. His base was poor, he took a big stride forwards to step into the throw which impacted his velocity and he was lucky the safety didn't pick it off.
He nearly threw another pick to the right sideline. He didn't step into his throw properly, double clutched just as he did vs Southern Miss last week. He tossed an ugly looking throw and again was fortunate not to turn it over.
There were other times where he missed the target and his radar felt off throughout. He did also suffer from some bad drops (including a particularly egregious flub by the running back on 3rd and 9 on the second drive).
His top receiver and roommate was also injured and out of this game.
It wasn't all bad and Miami mixed in some good running with the occasional flourish in the passing game. He chucked a nice wheel route to the tight end despite facing heavy pressure.
Yet Cristobal played the entire game like they were leading by three points, not trailing throughout.
I would hate to have him coaching my team. It's boring. The entire game plan is frustrating and dull. The offense doesn't attack opponents and is safe. TVD is not thriving in this system, just like Justin Herbert didn't.
An easy day for C.J. Stroud
A game against Toledo was never going to trouble Stroud but it was an opportunity to show off his physical qualities again.
He flashed wonderful footwork to throw a brilliant post to set up the first touchdown — a red zone shot which is really well caught by Marvin Harrison Jr. He looked brilliant on play-action — dropping, setting and throwing with accuracy, velocity and base.
Stroud had a 'wow' touchdown on the move. He scrambled and extended the play then threw from the right side to the one area of the end zone where his receiver could make the catch. It was terrific improv, skill and creativity.
He throws out-routes with impressive ease.
He also had a somewhat dangerous, fortunate downfield shot to Harrison Jr which was almost picked-off but ended up being a big positive play.
His third and fourth scores were an easy red zone touchdown to Harrison Jr who was wide open, then he threw an equally easy red zone pass to Julian Fleming. It was 42-14 at half-time. The fifth touchdown, again, was a very easy wide open throw in the red zone.
It was very easy but also, I suppose, another strong showcase of what he's capable of. Ohio State don't have a really difficult game until Michigan in late November. They have some Big-10 games that shouldn't be difficult (but you never know) against Wisconsin, at Michigan State and at Penn State.
Stroud has a great opportunity to dominate the Heisman conversation and have an undefeated regular season. There's no doubting the immense physical talent he has. There are special throws in his arsenal. We just need to see him consistently do it against tougher opponents — while improving his processing and intermediate accuracy in those contests.
And that's the key thing. It's all well and good doing it against Arkansas State and Toledo. He was 'off' against Notre Dame. How will he perform in his more challenging Big-10 contests and, eventually, the playoffs? Consistency and exciting plays in those games will define how high he goes.
Some thoughts on Michael Pennix Jr
Although this is a Seahawks Draft Blog — I've never really had Husky or Coug fans pushing for their own.
Until this year.
I'm asked a lot — on Twitter, via email, on YouTube — about Cam Ward (who I haven't watched) and Pennix Jr.
Firstly, I thought Pennix Jr played very well against Michigan State. Washington haven't been a fun or interesting team in a long time. They look fun again.
However — let's not forget that Michigan State had the worst passing defense in college football last season. It looks no better in 2022. They were a fraud being ranked at #11. The good news is — Ken Walker clearly carried that team last year and now he's in Seattle.
On top of that, Kalen DeBoer's scheme is very quarterback friendly. He was appointed for his work at Fresno State where he made Jake Haener look good. The design and scheming is terrific, modern and a real positive for UW. They are in good hands.
But I think people are going to start talking up Pennix Jr as a major pro-prospect and we really need to be careful with that. He is a player who achieved very little in four years with Indiana. Last year he had four touchdowns and seven picks before getting hurt. He's had three major injuries in his career. He's playing in a system that does a lot of the heavy lifting and doesn't demand too much from the quarterback in terms of progressions.
He's in a scheme that is great for quarterbacks and he's enjoyed playing the opponents he has so far. Right now — I'd suggest just enjoying the games and letting this thing roll.
It's time to let Anthony Richardson be
Despite all of the impressive physical tools — Richardson isn't ready for the NFL.
He needs to focus on development this year.
He is yet to throw a touchdown pass and has now delivered four interceptions. He played badly again in a nail-biting Florida win against South Florida. A quick reminder — USF were 28-0 down in the first quarter against BYU two weeks ago.
Richardson did everything he could to help the Bulls pull off an upset.
He threw a dreadful interception on 3rd and 7 with 12:16 remaining in the third quarter. He progressed to his second read and yet I have no idea what he saw to make him think, 'I'm throwing this'. He chucked it over the middle and didn't see the defender, who was just stood there waiting to pick it off. It was a horrible mistake and showed the great processing we saw in week one against Utah was a mirage.
The error blew open the game. Florida was in control and suddenly, they were on the ropes.
Then, in an attempted recovery, he helped Florida to first and goal at the five with 7:58 remaining. Richardson tried to throw a back shoulder fade to the left front corner of the end zone. The defender just read it, gained position and intercepted the pass. He needed to throw the pass higher with more loft.
Florida escaped with a 31-28 win because South Florida duly threw a pick of their own and blew a chance to pull off the upset.
Richardson finished 10/18 for 112 yards, a QBR of 11.6 and again he was a non-factor as a runner — going 7/24.
He simply isn't ready to be talked about as a NFL prospect. He might just be a great athlete, to be honest. We have seen nothing in the last two weeks to think he should even be on the pro-radar. He has the tools, now he needs to become an actual quarterback.
He has a career TD/INT ratio of 7/10. He is off the radar until he plays far better than this. He looks like a player with a handful of starts. At this rate, he might be benched soon.
Closing thoughts
Based on what we're seeing so far — I'm not convinced Tyler Van Dyke and Anthony Richardson will even declare. That could create a three horse race at the top of the first round involving Levis, Stroud and Young.
A lot of teams need a quarterback and appear to be readying themselves to draft one in 2023.
It's still far too early to say definitively how easy it'll be for the Seahawks to find an answer — whether that's based on how the prospects perform or how many games Seattle wins.
However — based on what we saw in Santa Clara — they are going to need to find impact game-changers who dramatically increase the talent level on this team moving forwards.
The plan to do so — moving on from Wilson, getting a bunch of picks — is sound.
Actually being able to execute is a whole different ball game. Ask the 49ers how easy it is to find a quarterback, after they spent a kings ransom to acquire Trey Lance. Ask the Colts — who go from one tired quarterback option to the next year after year. Ask the Bears — who haven't had a franchise quarterback in decades.
The assumption that solutions in the draft would be readily available was comforting and helped justify the direction. It might not be quite as simple as some perhaps considered.
As such, Seahawks fans deserve to see more than they did on the field on Sunday. As they try to see a future that involves competitive football again — the baffling trick-plays in the red zone, the poor tackling, the six quarters of scoreless, impotent offense where they struggle to cross half-way (let alone threaten the scoreboard), the inability to game-plan D.K. Metcalf into any kind of role, the missing-in-action running game — it all needs to be far better to warrant faith in this process.
If you missed our post-49ers reaction show, you can watch it here:
If you enjoy the content on Seahawks Draft Blog, why not consider supporting the site via Patreon? (click the tab below)