This is a guest article by Curtis Allen…
With Geno Smith giving the Seahawks ten games of fantastic play so far this season, he has made a major step from being a stopgap providing a handful of good games to something more. It is now time to start seriously considering his future with the team beyond this season.
Right at the outset, I would encourage you to read this piece with an open mind and a sober perspective. There are many variables to this situation and the Seahawks have several options. They also have many complex factors to consider.
I would never claim to have all the answers and I seriously doubt NFL General Managers have clear answers at this point either. Survey ten of them on Geno Smith's prospects for 2023 and you probably wouldn't get a consensus opinion on how his situation will work out.
What we can do is work through some of the potential options the Seahawks have available to them.
Let's tackle the hardest question first.
What Will Geno Smith's Market Value Be?
That is a real challenge. In the modern NFL that is crazy for quarterbacks, Smith's surge from career backup to star player in his ninth season is not completely without precedent but it is so rare it makes it hard to predict what he will command as a free agent with only one good season to his name at age 32.
Looking at what is out there and gauging for an increase in the 2023 salary cap number, I believe Geno Smith can expect to get a contract between $25 – $32 million per season with about 40-45% of it guaranteed. How did I come up with that range?
There are currently five quarterbacks in the neighborhood of that contract (Tannehill, Ryan, Wentz, Goff, and Cousins). They constitute the lower end of starting quarterbacks that are established on veteran contracts.
Yes, it is easy to look at those players, compare Smith's numbers this year to theirs and reason that he has been outplaying most of them and therefore deserves more than they are getting. That certainly will be Smith's agent's argument.
But two key factors keep his value in check: his body of work and his age.
Smith entered 2022 with a career 58.8% completion percentage and more interceptions than touchdowns. Six full years of little to no activity on the field and only seventeen games as a starter in 2022 make it extremely difficult to project enough success in the next three to four seasons to leverage a contract offer that vaults him into a range of the top 10-15 quarterback salaries.
As for Wentz, Goff, Ryan and even Tannehill — those players are arguments against giving Smith a large contract just as much as they are for him.
Wentz and Goff are the beneficiaries of being extended earlier than they should have in an attempt to get ahead of the exploding market.
The Eagles, Colts and Commanders played 'hot potato' with Wentz' awful contract and he's currently struggling to get ahead of Taylor Heinicke in Washington.
We know all about Goff. The Rams bought out his fifth-year option early and regretted it. They traded two first-round picks and ate $22 million to get him off their roster and bring Matthew Stafford in. The Lions designed a system around his limitations and have had some success on offense this year. Yet as defenses have adjusted, he has regressed back to being just Jared Goff.
Ryan was the same age that Geno Smith will be next year when he signed his last extension. He had an MVP trophy and a Super Bowl appearance on his resume and had an excellent season in 2018 — but has struggled to keep his pace of play up since then. The Falcons ate $42 million of dead cap and only got a third-round pick in his trade to the Colts.
Tannehill has been battling injuries and has yet to really work through the Titans trading away most of their star wide receivers.
Cousins is the best of the lot but we can all agree he has yet to really elevate the Vikings. He also masterfully played himself into a higher tier of pay with the franchise tag game. You could make a case that his $35 million contract is his ceiling.
So, you see the landscape is littered with expensive contracts that players are not living up to.
However, those players above had two things when they signed their contract extensions that Geno Smith does not: a solid, sustained body of work and all but Ryan were at an age that allowed teams to project a reasonable degree of athletic ability without decline over the course of the contract.
Giving Smith a contract that tops those players at age 33 after seventeen games would be a real shot in the dark. Most owners and general managers would want to leverage their risk by not offering any more than what those quarterbacks are currently making. The length of the deal is a real factor at Smith's age as well.
Of course, there is always the outlier. The one franchise that outbids everyone and blows the market up (looking at you, Cleveland). I can accept the possibility that some owner or general manager may be so enamored with Geno they may bid against themselves and offer such an uncomfortably high price that the Seahawks may need to just thank Geno for a fantastic season and walk away.
The Seahawks will enter this process with a set range that is reasonable for them and stick to it. In my view, a $25-$32 million AAV contract is that appropriate range for talks.
It may be that – as Rob has suggested – the Seahawks ask Geno Smith to shop the market and bring the best offer back to them in order to see what they can do. Let the market come to them instead of trying to chase it. The factors I mentioned make that a logical plan.
That is a scary proposition for many fans. The thought of bringing back Drew Lock, another veteran or a draft pick and planning for them to be as successful as Smith has been is not a comfortable prospect. Having been pleasantly surprised by this most unexpected season, fans have rightly expressed a 'let's keep a good thing going' groundswell of positivity that naturally extends to wanting to keep Smith on the roster.
Other than negotiating an extension before the new league year begins, there is only one way to do that.
Is the Franchise Tag a Real Option?
The 2023 tag for quarterbacks is projected to be about $31.5 million. That is within the window I mentioned for an agreeable yearly range. Can the Seahawks make that work?
Yes they can. But should they?
It would be fraught with peril.
First off, it would take a significant amount of the Seahawks' salary cap off the market, at a time where they will need to fill some holes on the roster.
The Seahawks have about $53.8 million of cap space in 2023 currently as projected by OTC. Franchising Smith would take that available number down to $22.3 million. The Seahawks' large number of draft picks in 2023 makes their rookie pool larger – OTC is projecting about $14 million.
That leaves about $8.3 million left to fill the last 8-10 roster spots and leaves zero cap cushion to tender restricted free agents, fill the practice squad and cover injured players or any incentive money that needs to be counted against the cap.
The Seahawks would need to be very creative to make the franchise tag work. That mostly means cutting and replacing expensive players with cheaper models and hoping the drop-off in play is not commensurate. They would need a very deft touch to make it work for them. They could do it — but it would mean playing closer to the razor's edge than they have traditionally been comfortable with.
Secondly, the franchise tag brings implications with it. It is fully guaranteed money. It sets the bar for extension negotiations. $31.5 million guaranteed is the starting point. A second tag nets him a 20% raise to $37.8 million fully guaranteed. A request for a $65-70 million guarantee in this year's negotiations could be put on the table. Again, that may be a bridge too far for the Seahawks.
There is a factor with the tag where his age comes into play again. Players that are franchise tagged typically have a long career ahead of them. Smith might not. Imagine you are a 33-year-old player with $11 million in career NFL earnings (Smith's number according to OTC). And now you have a chance to earn nearly triple that in just one season – fully guaranteed.
Smith might be truly tempted to not want to negotiate a long-term extension. To take that one season tag and bet on himself. If he has a second very good season on his resume, his bargaining position in the free agent market is vastly strengthened. If he does not, he has in one year boosted his career money from $11 million to $42 million and that is awfully hard to be disappointed about.
You cannot project how placing the tag on Smith will precisely work out. Smith has not been a player the Seahawks have easily re-signed each year. He keeps his own counsel and how he would react after a life-changing season is anything but predictable. The Seahawks could tag him thinking they could get an extension done by July to lower the 2023 cap hit and find themselves stuck.
The risks appear to outweigh the benefits at this moment.
Is it worth the gamble of infringing upon your roster-building freedom to tag him with a fully guaranteed contract for one year of play? It vastly limits your options and makes the margin of error very, very thin.
Not tagging Smith is a gamble. But it is a gamble that the Seahawks are well-advised to strongly consider.
An Extension that Could Work for Both Sides
What would the Seahawks' goals be in signing Geno to an extension?
Continuity would be a great benefit — and one that they could negotiate on as something that is mutually beneficial.
The upside for Smith staying is just as high as the Seahawks keeping him – he would get to work with two All-Pro quality wide receivers, three solid tight ends, a brilliant running back with fresh legs in Ken Walker and have his back guarded by bookend tackles. All orchestrated by a coach and offensive coordinator that have proven themselves able and willing to maximize his skillset.
It is very hard to see Smith stepping onto another team and having all those factors available to him.
They also want to reward him for a fantastic 2022. The numbers he is delivering thus far, while making a paltry $3.5 million plus incentives, are phenomenal.
As an organization, the Seahawks have done well at awarding results. Signing him to a healthy extension would be a move that continues to underline to the young players that the team rewards strong play no matter where you were drafted or what your previous record of play was.
The public would also welcome the move – particularly in light of the breath of fresh air that Geno and Seahawks have blown through Seattle in the wake of the Russell Wilson trade.
On the flipside, the Seahawks would also need to address the elephant in the room – Geno's age and the possibility that he had one magical season and could regress in 2023 and beyond.
That and the reality of the upcoming draft. The Seahawks will likely pick very high in 2023 and there are several enticing prospects. Reason and circumstance could dictate that this is their best shot at getting their quarterback of the future.
Both of those factors would strongly argue that the extension, while healthy, should have some potential outs for the Seahawks.
It would also be ideal if the contract includes a 2023 season that is friendly to the cap and allows the team the ability to keep adding necessary pieces.
With those things in mind, here is what I am proposing:
A three-year contract with about 40% guaranteed, with a roster bonus in March 2024.
Since the overall number range is too unknown to absolutely pinpoint it at this time, I used my proposed range of $25 million – $32 million per season and drew up contracts for the high and low numbers: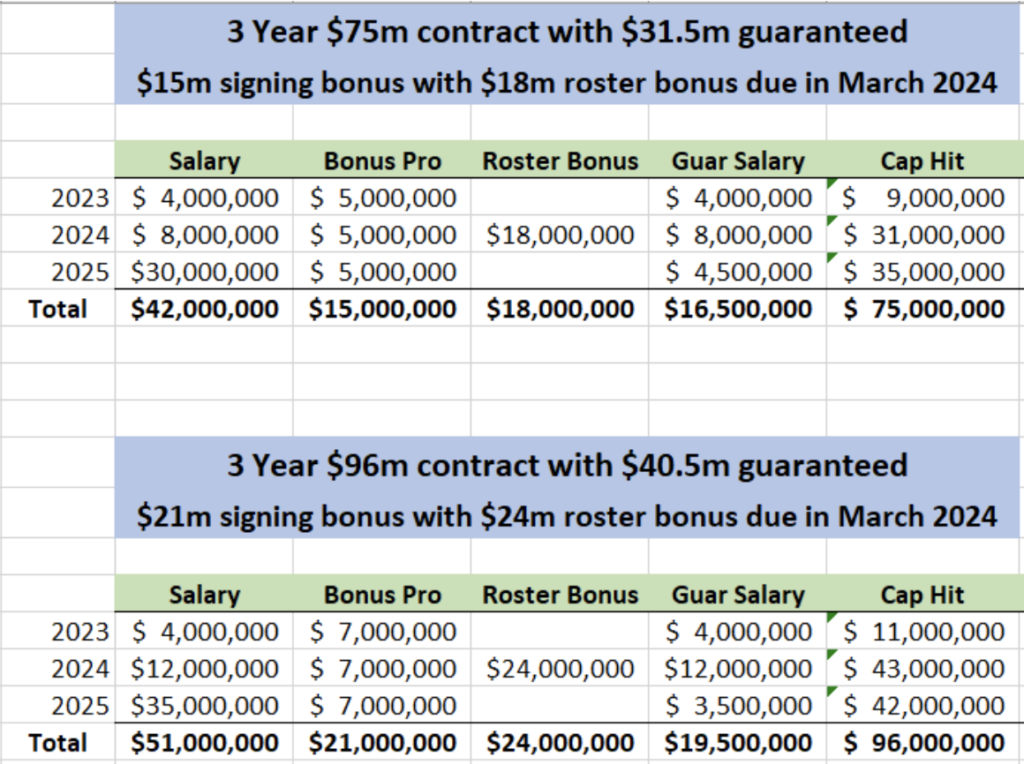 As you can see, this rewards Geno with a first-year payout of $19-25 million (signing bonus plus guaranteed 2023 salary). He immediately nearly triples his career earnings.
It gives him the security of further guaranteed money in future years, at $12.5-15.5 million in salary.
He gets his franchise tag amount guaranteed and a chunk of money up front, gets to play for an organization that has demonstrated it is invested in his success and the Seahawks get continuity and flexibility.
It provides the Seahawks with room on the 2023 cap, with a cap hit between of $9-11 million. They have room to both add and cut players as they see fit in a critical offseason.
They also now have the option of letting the draft come to them if they like. Instead of desperately paying a king's ransom for the #1 or #2 pick to fill their quarterback-shaped roster hole, they can either let a premium quarterback fall to them or ignore quarterbacks completely and take the most dynamic player on their board and stock their roster for years to come.
It also provides flexibility for the Seahawks at the quarterback position itself. If they do draft a quarterback in 2023, they can redshirt him and have him ready to take the reins in 2024. It also offers some protection should Smith turn back into a pumpkin in 2023.
Exploring the Benefit of the Roster Bonus
Teams often use the roster bonus as a tool to force both sides back to the table.
Players like it because it can give them either another chunk of change in addition to their signing bonus or their freedom to explore the market.
Teams enjoy the way to gauge player performance and either be free of an underperforming player, or keep the player and have some cap flexibility in their back pocket to free up some cap money. It also gives the team some security, as it further incentivizes good play. A healthy roster bonus can be quite the carrot to keep a player focused.
For both sides, it could be much more than a decision deadline to pay the bonus or not. It could spur a total reworking of the entire contract and provide further benefits, security and flexibility for both sides.
A roster bonus of $18-24 million due in March lets both sides see where they are after a year. The Seahawks then have options.
*If the Seahawks for any reason want to go in another direction, they can cut or trade him before the bonus is due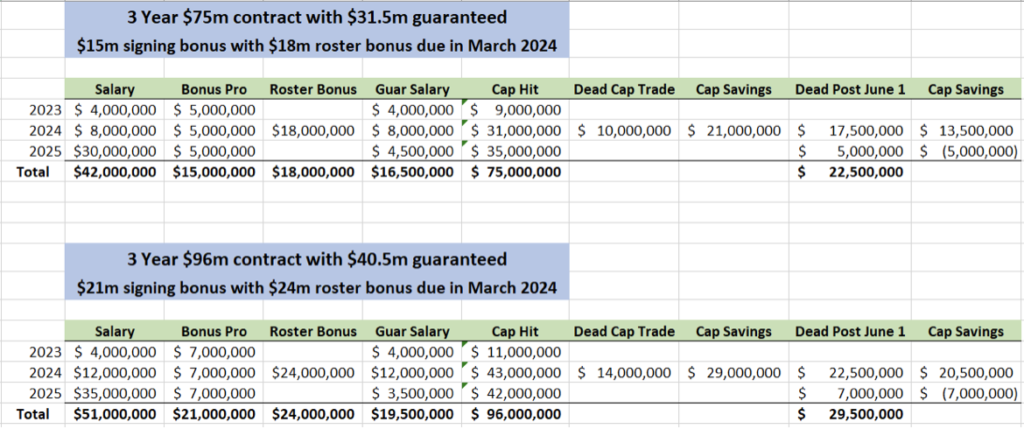 As you can see, if the Seahawks decide to trade Smith before the roster bonus deadline, there is some dead cap to eat: $10-14 million. The cap savings are very real though: $21-29 million.
A best-case scenario could be spun where the Seahawks draft a top quarterback in 2023 and Smith has a terrific season on the field. The draft pick is ready to start in 2024, the Seahawks offer Smith to a trade partner for a nice draft pick, open up a handsome chunk of cap space and the team trading for Smith gets two years of a solid quarterback for a very reasonable cap hit (the roster bonus and contract could also be reworked by the new team, or the Hawks could pay a chunk of the bonus in exchange for more or better picks in trade).
If the worst happens and need to cut him, you can see it will be costly but there will still be significant cap savings.
If the relationship is still mutually beneficial and they want to continue together after 2023, they can either leave the bonus as is or the Seahawks can have language in the contract that allows them to convert it to a signing bonus and spread the cap hit between 2024 and 2025: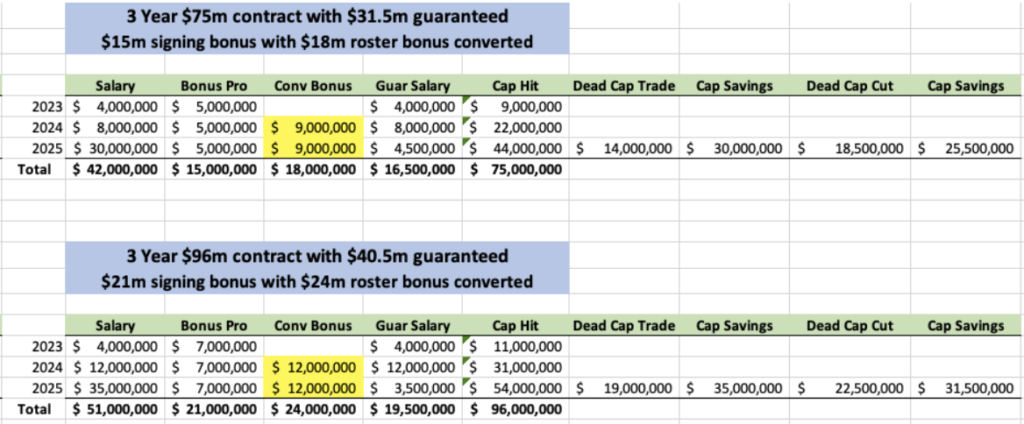 If they split the roster bonus up, they have a very reasonable $22-$31 million cap hit in 2024 for the quarterback position.
And as you can see, if after 2024 they decide to part ways, they can cut Smith and gain $25.5-$31.5 million of cap room.
What About the Dead Cap Money in This Deal?
That is a real concern. However, the contract as constructed gives both the team and the player more than one chance to rework it — with options to ease the cap burden.
But just as is, it would appear that I have set up this contract in every way to accrue dead cap money that is significant somewhere along the line.
I have. That is simply the price you pay for having an excellent quarterback with low early cap hits, a workable amount of risk and some flexibility.
The truth is, if the Seahawks have another great draft, they can afford to spend a little bit of money in this way. They will have rookie contracts with low salaries all over the field contributing greatly and can afford some cap space that is not productive.
Another perspective: The Seahawks have managed to seamlessly go from Russell Wilson to Geno Smith without missing a beat and in some real ways, they're even better. All without the complete tank job of a rebuilding year.
If they play their cards right they could put themselves in a position to keep progressing with Smith or to find his predecessor and keep the transition far less painful than your standard rebuild would be. Or do both!
With the ever-increasing salary cap and the chance to do something incredibly rare, it is worth the risk. If they were to pull it off, this era could create a very special place among the historically great Seahawks teams. A hit of $15-25 million in dead cap charges would crumble and blow away into the dust of history.