This is a guest post by Curtis Allen
With the season over, hope for next year springs eternal for all 32 teams.  Fans are focusing primarily on two questions: "How did this year's teams get to the Super Bowl?" and "What do we need to do to get there next year?"
There are several ways to accomplish it but from an organizational perspective there really is only one overriding way to ultimate success.
Teams need to generate a high level of value from their roster.
It is the same for the professional football world as any business:  to get to the top of the game, you need to generate a bigger return than what you pay out.  The bigger the return, the more successful you will be.
The one big difference in the NFL is there is a salary cap that levels the playing field of expenses.  The richest and the poorest teams alike are capped in how much they can lay out in payroll each season.
That just serves to underline the need to create value on your roster even more.
The two Super Bowl teams this year have generated extreme value on their roster in completely different ways.
Philadelphia have Jalen Hurts on a rookie contract and they are leveraged up to their eyeballs.
Kansas City have top stars outperforming their big contracts in Patrick Mahomes, Travis Kelce and Chris Jones and have supplemented their roster with some solid rookies.  Frank Clark has once again turned into one of the most clutch pass rushers in the NFL when the lights are brightest.
Indeed, there is more than one way to get to the top of the mountain.  With that in mind, I thought I would briefly look at the last four years of Conference Championship participants and chart the areas of extreme value they have created as an exercise to assess where the Seahawks are: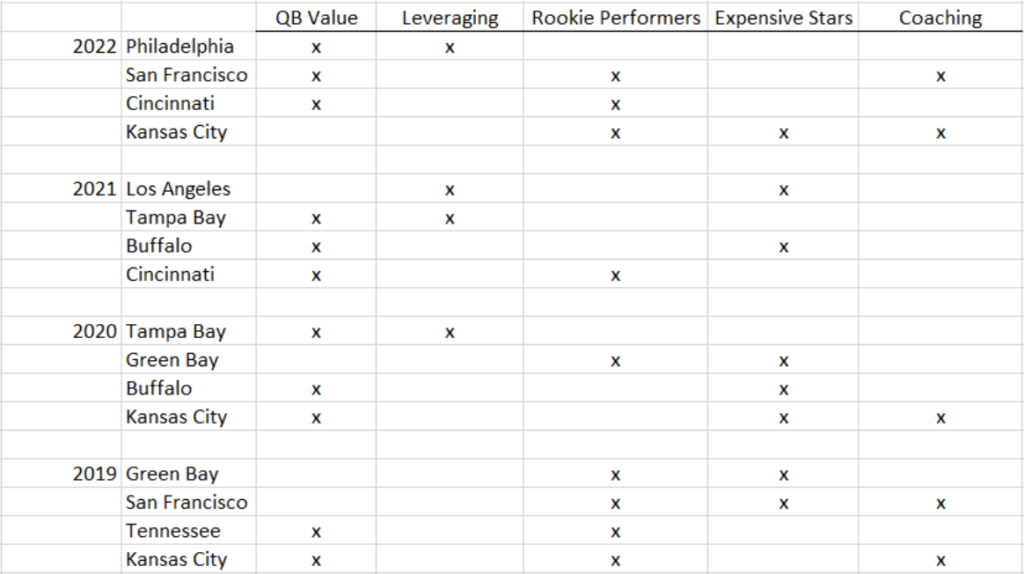 A couple notes before we dive in.  Admittedly, this is rather unscientific and includes a degree of subjectivity.  Not all of these categories are easily quantifiable.  
I also wanted to only credit teams with creating significant value in these categories.  Any team getting this far has good players and good coaches.  More is needed though.  A degree of return that pushes them above the other playoff teams.
To give some insight into the five categories:
Quarterback Value – this seems self-explanatory but there is a little more context needed than just the straight up case of having a rookie-contract quarterback and surrounding him with expensive talent.
Sure, you have Burrow, Allen, Mahomes and Hurts checking that box — but it is broader than that.  I also gave teams credit for getting great value from a quarterback on a below-market veteran contract as well.  
Tom Brady is the prime example here for playing at nearly half his available market rate.  
Also, Tennessee in 2019 is an intriguing case.  The Titans had Marcus Mariota making $21 million on the fifth-year tender but Ryan Tannehill and his $2.25 million cap number overtook him and helped the Titans go deep in the playoffs.
Leveraging – teams have created extreme value by borrowing heavily from the future.  
The Rams have not only restructured their biggest stars to create cap room more than once but they have also traded just about every first-round pick they have for star talent at key positions.  
Another example:  Last year, they sent a second and a third-round pick to Denver to acquire Von Miller and had the Broncos pay the bulk of his salary.  He contributed nine sacks, with four of them coming in the playoffs, with a cap hit of only $722k.  Miller left in the offseason to go to Buffalo.  Two high picks for a handful of games with a premium return and a very affordable cap charge?  A prime example of leveraging.
Likewise, the Eagles traded their first-round pick for a star player in AJ Brown.  
They have also used restructuring and void years to super-size their roster.  They had $65 million of dead money this year and have already accrued $37 million for 2023.  
Just one example:  they signed Hassan Reddick to a 3-year, $45 million contract in 2022.  
That pencils out to a clean $15 million per year, right?  No.  Look at how it is structured by the Eagles per OTC:
The Eagles structured this contract at the extreme end of aggression, realizing only $3.8 million in cap charges for Reddick in 2022.
What did the Eagles get for their $3.8 million?  19.5 sacks – 16 in the regular season and 3.5 in the playoffs.  That is extreme value.  
Even in 2023 they are only on the hook for $7 million.  
The price though?  $34 million in cap charges between 2024 and the future dead money from void years.
Reddick is just one example.  They have backloaded contracts with void years all over the roster.  For 2023-2028, the Eagles have already committed an incredible $131 million to void contracts.  That is cap space dedicated to players who will not be on their roster, all to field more talent in 2022 than the cap traditionally allows for.
I hope they are getting airline miles for using the company credit card that much.
Rookie Performers – this covers all non-quarterback players on rookie contracts that are having a serious impact on the team.  
It is not enough to have a handful of players on cheap contracts getting snaps.  They must be contributing to team success at a high level to generate enough impact.
Look at 2019 on the chart.
The Packers had Aaron Jones with 1,650 yards and 21 touchdowns for $695k.  Kenny Clark got seven sacks for $3 million.  Jaire Alexander emerged as a top corner with a cap of $2.7 million.
Tennessee had Derrick Henry with 2,140 yards and 20 touchdowns for $1.7 million, Harold Landry contributing nine sacks for $1.5 million, Kevin Byard emerging as a top free safety with six interceptions for $4 million, Jeffery Simmons as a rookie and Jack Conklin locking down right tackle for $2.6 million.
Kansas City had Chris Jones with nine sacks from the interior at $1.9 million and Tyreek Hill with seven. touchdown catches on $2.1 million.
And San Francisco, the plum of them all.  On rookie contracts that year:  Kittle, Deebo, Bosa, Warner, Buckner, and Armstead on his fifth-year tender.  Unreal.  I should have given them three x's on that chart for how filthy they were.
Expensive Stars – You expect your highly paid players to provide value with their performance, along with that unquantifiable value of 'making everyone around them better.'  Yet in this category, these players provided more pure value than even their big salary accounted for.
The Packers in 2019 got 29.5 sacks from the two Smiths in the first year of their expensive contracts.
In 2020, Aaron Rodgers threw an insane 52 touchdowns against only seven interceptions.
The Bills have gotten more than their money's worth for Stefon Diggs.  
Aaron Donald and Jalen Ramsey for the Rams are the type of players you can pay handsomely, shape your entire defense around and still come out way ahead on value.
This year, Patrick Mahomes' veteran contract kicked in and he counted $35.7 million against the cap but maintained his magnificent play, taking home the MVP and leading the Chiefs to a Super Bowl win.  All this despite losing Tyreek Hill to the Dolphins.
Coaching – I gave Andy Reid and Kyle Shanahan marks for creating tremendous roster value through their coaching.
Shanahan has been able to coach this team to massive success with a litany of lesser-talented quarterbacks by designing a system that creates opportunities in both the run and passing game.
Reid has brilliantly navigated this team to take advantage of Mahomes' arm talent and off-schedule ability and has found a defensive coordinator in Steve Spagnuolo that gels with his team strategy in a way that deserves more recognition than it gets.
****
I want to be clear; these are not the only ways to reach as far as the Conference Championships.  There are other factors like strength of schedule, injury luck and turnovers.  
From a roster standpoint though — if you are not producing extraordinary value in at least two of these five areas — recent history demonstrates that you will not be having a deep playoff run.    
How do the Seahawks measure up?  What needs to happen for them to create significant value in at least two of these five fields in the near future?
Let's start with the one that has been the hottest topic of debate in recent weeks…
Quarterback Value
The Seahawks have no quarterbacks on the roster currently.  Obviously, what they do in the next two months will dramatically affect the franchise and their prospects for 2023 and beyond.
We can all agree on the standard premise that drafting a quarterback and building a roster around him while he is inexpensive has tremendous potential to provide a big return.  Annually getting $30-40 million of play for three or four seasons on a rookie contract is a direct way to turbo-charge your roster.
Selecting a quarterback early in the draft does not automatically make it happen though.  Caveats apply.
First off, you need that quarterback to actually play well enough to provide that value.
Secondly, the front office needs to be very smart in building the team around that quarterback.  Just having extra cap to spend on free agents or retain your stars on veteran contracts does not automatically translate to putting a successful product on the field.
If the Seahawks choose to tie their future to a quarterback with the #5 pick in the draft, that is a great start.  But filling out the roster with middling veterans that struggle to generate a big return will not get them where they want to go.
Now let's consider a different way to create value at the quarterback position:  bringing Geno Smith back on a veteran contract.
We will start with what we all can agree on – Smith had a much better 2022 than any of us expected.  He checked that box tremendously.  He might have been the Best Roster Value (veteran edition) in the entire NFL, doing what he did for a total of $7 million.  
However, the search for value needs to look forward now, not backward.
Can the Seahawks check that QB Value box by getting tremendous value on an investment in Geno Smith in 2023?
Yes, they can — but under some very limited circumstances.
Assuming the reports of a contract in the $30-35 million annual value range are true, to get extraordinary value they will have to sign him to a multi-year extension with a low 2023 cap hit.  
He will also need to provide them with a fantastic full season.  The Seahawks will need the Geno Smith they got for the first 10 games of the season in 2022 and not the Geno they got for the remainder of the season.  There will be considerable pressure to be consistently good in order to truly provide extreme roster value.
There is a heavy price to consider for that one potentially high-value season though.
Having a very reasonable cap hit in 2023 on a big contract inflates his 2024 and 2025 cap hits and means 2023 will very likely be the only year for the foreseeable future that we can check this box for significant QB Value.  Why?
Those bigger cap hits severely limit the potential for an outsized return from the game's most critical position.  
To illustrate, Patrick Mahomes won the Super Bowl this year with the heaviest cap hit in history for a single quarterback – taking up 17% of the Chiefs' cap this year with a hit of $35.7 million.  The next highest percentage?  Steve Young at 13% years ago.
Signing Smith with a workable 2023 hit means the next couple years of cap numbers will be between that range of 13-17% of the cap.
Brass tacks – will the 34–35-year-old Geno Smith be able to outperform a $30-40 million cap hit in 2024 and/or 2025?  To a similar degree that Patrick Mahomes outperformed his big cap hit this year?  Can he even come close?
To do so, that means Geno Smith will need to be very, very good in 2023 and then take a major step forward and perform as a top-five quarterback in the NFL for 2024 and 2025 to generate that much value.  
Is that something the team feels Smith can do?
It is hard to make the case that he will.  Very hard.  Even the sunniest of Seahawks fans to have to admit that is a lot to ask in order to reach the high altitude of a Conference Championship game.  The standard line of reasoning that 'this is what you have to pay a quarterback these days' is just not enough.
The Seahawks had a big dead cap hit of $26 million on Russell Wilson's contract on the books in 2022.  They are now free from that burden.  Do they really want to spend that enormous roster resource on Geno Smith?
If Smith is a Seahawk in 2023, it could be reasoned that it's your best shot to go deep in the playoffs because with a small cap hit you can check the QB Value box easily.  Yet counting on Smith to provide significant value against those far bigger cap hits in future seasons is a pretty steep hill to climb.  
It really narrows your margin for deep playoff success if you cannot get a massive return on the investment at the game's most important position.
If the Seahawks decide to take this route with a big contract for Smith, they will need to either go all-in on 2023, or dramatically improve in other areas on the team with less cap space to do so.  That makes the climb even more difficult.
Leveraging
It's very likely the Seahawks under this ownership and administration will not ever aggressively create value by borrowing from tomorrow's revenue to buy significant roster returns today.
The administration prefers steadiness on their cap and roster to taking the bold risk of the daring acquisition.  There is a lot of value in that – the roller coaster ride of four-win seasons to 13-win seasons can leave your head spinning.  
Also, when you pay your bills with your credit card, that leads to a dangerous cycle.  What will you do when that credit card comes due and your next round of bills are due?  The easiest route is to pay the credit card off and then pay your bills with the credit card again, repeating the cycle.  
It is a process that does provide significant roster value in the here and now but a reckoning and an ugly roster reset every few seasons is virtually guaranteed.
The Seahawks have occasionally tried leveraging without much success.  They traded first-round picks for star players and have not received the return desired.  It is just not in their wheelhouse.
So that box will likely not be checked soon, barring some significant organizational change.
Rookie Performers
Now we are getting closer to their wheelhouse.
Nearly a quarter of their roster this year will be players on their rookie contracts.  Most of those will be playing roles of great importance for the team.  The Seahawks have set themselves up nicely to potentially check this box in 2023.  
Why do I say 'potentially?'
Remember, we are talking about significant roster value being provided here.  Look at those examples I provided above.  We are talking about devastatingly good seasons from players making a very low wage.  Seasons that return 10 times their contract value, maybe more.
Can the Seahawks get that kind of return in 2023-2024?
Cross and Lucas have had commendable rookie years.  Yet to reach that high threshold of value, they need to take a very big step forward.  Eliminating key penalties, not tiring out in December and some more consistency in pushing defenders around are in order.
Kenneth Walker needs continue his progress.  Perhaps he can integrate some more pass-catching into his game this year.  Also, staying healthy will be critical.
Darrell Taylor will be in the last year of his rookie contract in 2023 but has a very affordable year of team control in 2024.  It is time to provide a season or two of major value to the roster by being a more consistent disruptor.
Tariq Woolen still has so much untapped potential.  Avoiding a sophomore slump is critical.  The Seahawks need to help him find a way to keep improving without forcing on a mental straitjacket with their system so that his incredible physical gifts and instincts are not inhibited.
Perhaps the Seahawks could go the Moneyball-type route, recreating a couple of All-Pro players in the aggregate?  Combining well above-average play from several of the players above with contributions from fine young players like Boye Mafe, Tre Brown, Cobe Bryant, and Dareke Young among others?
All that is before we talk about the impact talent the team will add in the draft this spring, with four very high draft picks on the board.
Optimism about this category being a check mark for the Seahawks is justified.  They are well on their way.
They will need to provide the team all the value they can because the next category might be troublesome.
Expensive Stars
The Seahawks' four players with the heaviest cap hits in 2023 are Jamal Adams, Quandre Diggs, Tyler Lockett and D.K. Metcalf.  Can any of those four provide a value far and above their cap hit?
Metcalf at $13 million in 2023 has the greatest opportunity to provide top-level bang for the buck.  He had a career-high 90 catches this year and had a terrific game against Jalen Ramsey and the playoff game against San Francisco was a nice step in the right direction.
To put a check in this box, Metcalf has to take that next step to being a truly dominant player.  We have seen him take over games.  This year we saw him be a chain-mover as well as a dominant downfield threat.  Yet his ceiling is still yet unreached.  A 110-catch, 15-touchdown season is within his grasp.
He will need to get there in order to threaten this top-value category, as he counts $53 million against the cap in 2024 and 2025.
Tyler Lockett has consistently been one of the best values for the Seahawks over the years.  Due to the team's eagerness to extend him ahead of the market and Lockett's acceptance of their overtures, he is regularly outside the top-15 wide receivers in annual contract pay.
There will not be a negative word spoken about Lockett here.  However, after a $16 million cap hit this year, he counts $47 million against the cap in 2024 and 2025.  The Seahawks will happily take the career value he has provided but can he vastly exceed that value in the next three seasons?  It is hard to say he will.  However, he is the least of the Seahawks' worries when it comes to expensive veterans.
We now come to the two safeties, who hit the cap this year to the tune of $36 million currently.
Can they provide great value on the field relative to their cap hit?
No.  They cannot.  
Adams has been unable to stay on the field.  Recovering fully from his injury in time to play (and play well) in 2023 is a very tall order.
Diggs' value has been vastly diminished, between a horrific injury he clearly struggled to recover from in 2022, to the lack of talent in the front seven, exposing his occasional poor tackling and giving him more responsibility than he can reasonably carry.
You can point to his leadership and the fact that the Seahawks were one of the better teams in the league at defending his territory in the deep middle as providing value.  Yet he hits the cap at $18 million this year.  Providing a huge return on that investment just is not on the cards.
The absolute best-case scenario is that Diggs fully returns to form and the Seahawks approach Adams and rework his contract and cut his cap hit for 2023 way down.  He then fully recovers from a torn quad and delivers a superior season for the team without any major lingering effects of that injury.
It is possible but very, very hard to see happening.
Here is the challenge for the Seahawks in this category — Metcalf and Lockett will at least hold their value.  Providing a massive leap might just be too much to ask though.
For the safeties, they are so highly compensated and their ability to provide serious value so in question, they might actually prove to be a negative value.  It is more than the binary 'yes or no' answer to the question of whether they provide value over and above their cost.  They are very likely to be a drag on the team's roster, potentially negating gains in other areas.
Their best route to being able to find value here might be to sign a big free agent or two and coach them into outperforming the typically lower-hit first year of their cap number by a wide margin.  Not unlike what the Packers did in 2019 with the two big pass rusher signings.  The Packers saw a need, they attacked it vigorously and were handsomely rewarded.
Coaching
Pete Carroll has been a very effective coach in many ways over the years.  Since providing tremendous value by selecting and developing very inexpensive players into stars early in his time in Seattle, however, he has not been able to bring major roster value over and above what other coaches are doing.
Conclusions
As you can see, the Seahawks at this time are set up with a strong possibility to return big value in only one of the categories in the near future.  Their outstanding rookie class of 2022 has energized the team and shown the fanbase that they are building something.
Are the Seahawks good in several areas on their roster?  Yes, they are.  However, if they have serious designs on a deep playoff run, "good" will not pass muster.  They need more.
Both Pete Carroll and John Schneider have spoken about the decisions they will have to make this offseason.  They both acknowledge some of them will be tough.  It is confidence-inspiring that they made two very difficult decisions last year rather than prolong the franchise's descent into mediocrity.  The draft haul and the team's performance in 2022 rewarded those decisions handsomely.
Does that success change their long-term plan?  They have to decide whether it does and very, very soon.
All decisions carry a measure of risk.
Giving Geno Smith a big contract and hoping he can outperform the moderate cap hit in 2023 and the big hits in 2024 and 2025 carries high volume of risk.  There is simply not a thorough enough record of performance to move forward with absolute confidence that he will continue to ascend to the top of NFL.
Let's not fool ourselves, drafting a quarterback and plugging in a stop-gap like Drew Lock also carries significant risk.  If they take that route, the chances that the team will be truly competitive in 2023 are not great.  The team will likely endure some criticism if they regress and particularly if Geno Smith goes to another team and plays well.
However, the opportunity cost of having the #5 overall pick in a draft with four top quarterback prospects measured against the risk of Geno Smith regressing significantly on an expensive veteran contract cannot just be ignored.  It must be considered as a real, viable option to gain significant roster value — and not just for 2023, for the next five seasons.
The upcoming Scouting Combine will likely give us some more clues we will be able to parse about their thinking.
This season, the full proceeds from trading Russell Wilson will be entered into the history books.  The Seahawks will be molded for the next 5-10 years based on the decisions they make.  Creating value over and above what they pay should drive every major decision they consider.