This is a guest article by Curtis Allen. After the game today tune into the instant reaction live stream which will be available on here and on our YouTube channel
When the 2023 schedule was released, most Seahawks fans were intrigued by the first few weeks of the season.  After the big opener against their blockbuster trade partner, they had a very manageable stretch to ease their way into the season.  Games against a rival they have historically dominated (San Francisco) and two of the worst teams in the NFL (Atlanta and Detroit) had fans thinking they might at least split those first four and get some forward momentum for the tough stretch that followed.
Well, here we sit after two demoralizing losses that featured disastrous defensive performances that Pete Carroll is once again struggling to account for.  A 2-2 split would be a welcome sight at this point but what this team needs even more than a win is something to hang their hat on.  Some progress fans can see in order to start building some enthusiasm for 2023.
The Seahawks desperately need to put in a better performance Sunday.  The state of this defense is deplorable and while the offense is not as bad, they are not equipped to handle the pressure of consistently needing to outscore their opponent in a boat race every week.
And yet, that is exactly what we have to look forward to on Sunday.  Both the Lions and the Seahawks have biscuit-dough-soft defenses and some exciting weapons on offense.
The main difference between them?  The Lions are badly banged up.  Star offensive weapons D'Andre Swift and Amon-Ra St. Brown will not play Sunday.  That comes on the heels of losing top safety Tracy Walker for the season as well as a whole random assortment of smaller injuries that other guys are dealing with.
Opportunities like this to play a game against a team without their two primary offensive weapons and one of their top defenders only come once or twice a season.  Seattle must take advantage.
Somebody Has to Make a Play on Defense
They really need something tangible they can point to on defense and say they are making progress.  Right now, they are near the league bottom in several crucial categories and they need something to build on.
The front four are not even lining up properly.  Fully grasping what they are being coached to do seems like a monumental task.  
Jordyn Brooks is struggling to have any impact at all.  Cody Barton cannot stop keying on the fullback and taking himself right out of the play – watch him do it for the second week in a row.
The safeties are overextended between handling their regular assignments and needing to tackle runners who have not gotten touched by anyone on the front seven.
They are historically bad in run defense.  Third downs are being conceded at a 48.56% clip.  Costly penalties are extending drives.  They have averaged 7 missed tackles per game.  
The only way you can play that badly and get away with it is to generate turnovers at a league-best level.  They are not doing that.
Enough is enough.
The veterans on this team should be professionally embarrassed that rookies like Boye Mafe and Tariq Woolen  – three games into their NFL careers – are having a bigger impact than they are.  Uchenna Nwosu is the only veteran addition that is carrying his weight.
Three full games of missed assignments, bad presnap reads and very little impact on the opposition's game plan is more than enough.
Shelby Harris needs to fill a badly needed role on the defensive line by getting some inside pass rush.
Darrell Taylor must remind the Seahawks why they spent so much draft capital and displayed so much patience in his rookie year rehab.
The defensive linemen cannot keep getting pushed around this badly.
Quandre Diggs needs to start playing like Quandre Diggs.
The Lions have been very effective on offense so far this season.  But again, their impact starters are all badly banged up and even their second-level players like Josh Reynolds, D.J. Chark and T.J. Hockensen have appeared on the injury report this week.
Here is the question for the defense.  Can they take advantage of a diminished Lions offense, or will we be reading stories Monday morning of how the Lions' coaching staff still managed to move the ball effectively with their second-stringers?
Another poor defensive performance against this badly handicapped offense will further expose this team and this administration as inept and make the questions grow stronger and louder.
****
That said, how can the Seahawks effectively defend this Lions offense that is scoring 31.7 points per game, good for second in the NFL?
This week, it begins and ends with Jared Goff.
The Lions have put him in a fantastic position to succeed this year.  They have an offensive line that is extremely solid, an effective running game and receivers that really challenge a defense.
That takes a lot of the pressure off him to carry the offense.  He can operate with a limited schedule because of the support staff all around him.
Let me throw some stats at you.  He has been sacked a league-low four times this year.  He is being pressured on only 18.5% of his dropbacks — a fantastic number.  How?  
It is not just the offensive line.  He is getting rid of the ball very quickly.  He is averaging only 2.3 seconds of pocket time per dropback and as the above numbers are showing, it is not because he is constantly under siege.
Look at this graph (and notice who #2 is)
Their offense is working because they consistently call for Goff to get rid of the ball as soon as he possibly can.
The Lions have found something that works with Jared Goff's limited abilities.  Hand it off to your explosive runners and let them move the ball downfield.  Run some play action with designed pass plays that are one-look and throw and let them gain yards after the catch with their athleticism.  Take the snap and throw quick slants.  The margin of error for him is healthy because they are getting yards from the ball being in other players' hands.
Well, guess what.  With his two favorite playmakers out this week and some others banged up, he is going to have to take more of the burden and that is fantastic news for the Seahawks because at the end of the day, he is still Jared Goff.
Watching him play this year, it is remarkable how much he telegraphs his intentions by not even looking at anyone but his primary target.  He practically must throw to his first read for the play to be successful.  Anything else is an adventure.  On one play in the Washington game in Week Two, his primary read was in triple coverage and Goff still tried to fit it in and nearly got picked off.
Yet incredibly, with that simple of an offense to work with, he is still only throwing at a 58.9% completion rate.
With Swift and St Brown out, the margin for error narrows to an uncomfortable degree.
It will be very interesting to see if the coaching staff keeps the bulk of the plays the same and just plugs in the replacement players, or whether they try to roll out some new plays to catch the defense off guard because they have not studied these replacement players in those plays.
I am guessing it will be the former.  Goff is just too limited to get him quickly up to speed on plays with any kind of complication that takes processing power.
If that is the case, the strategy is obvious.  Get the corners up on their men.  Press them, take away the easy catch and run and make Goff hold onto the ball and think.  Safeties and coverage linebackers, read his eyes.  I would be comfortable gambling by instructing the defenders to break on his first read and make him pay for his lack of vision.
Make Jared Goff beat you.
Execute on Offense
For all the flaws on defense, if the offense gets just a little bit better, they beat the Falcons on Sunday.  A bad penalty here, a communication breakdown there and a poor reaction to halftime adjustments have all added up to keep this offense from truly realizing its potential.
The lack of second-half scoring has been well documented.  When the Seahawks were once kings of the halftime adjustment game, they appear to have regressed badly and are getting roundly beaten in this very specific area of game management.
One of the biggest culprits is their tight end production.  The Seahawks have finally started to utilize them effectively after years of wasted resources at the position.  They have three of the team's four touchdown catches, something considered unthinkable in recent seasons.  However, nearly all their gains have come in the first half of play and they've been effectively erased in the second half of the game.
Have a look at the split of their stats as a group through three games:
First Half:  15 catches / 191 yards / 8 first downs / 3 touchdowns
Second Half:  6 catches / 27 yards / 1 first down / 0 touchdowns
That is a serious drop in effectiveness.  The other two offensive areas (running game and wide receiver catches) also are showing a decline in the second half but not nearly as sharp as what the tight ends are doing.
The coaching staff must solve this.  It would appear that teams are rotating their safeties to cover the tight ends more often in the second half to effectively minimize the athleticism gap between the tight ends and coverage linebackers.  It is possible the team could design and utilize some more plays that take advantage of the height and reach of the tight ends to counter this.  Perhaps it is as simple as stretching the field with the wide receivers to make the defense a little more pliable and opening up some room underneath.
If they can solve this second-half swoon with the tight ends, they will get more first downs, which means more series, more chances for impact runs and deep shots to the wide receivers and more rest for the defense.  The impact of addressing this issue successfully needs to be understood by the coaching staff.
Win In the Running Game
The Lions have been only slightly better in run defense than the Seahawks this year.  Where is their defense the weakest?  They have been absolutely gashed between the tackles in the run game.  Miles Sanders (Week 1) and Dalvin Cook (Week 3) have had tremendous success running inside against this defense this year, combining for 115 yards and five explosive runs on only 10 attempts.
The Lions have not significantly added much to their interior defensive line since the last time the Seahawks faced them in Week 17 last year.  That was one of Rashaad Penny's signature performances.  He ran 25 times for 170 yards and two touchdowns.  What area of the Lion defense did he attack?  Have a look: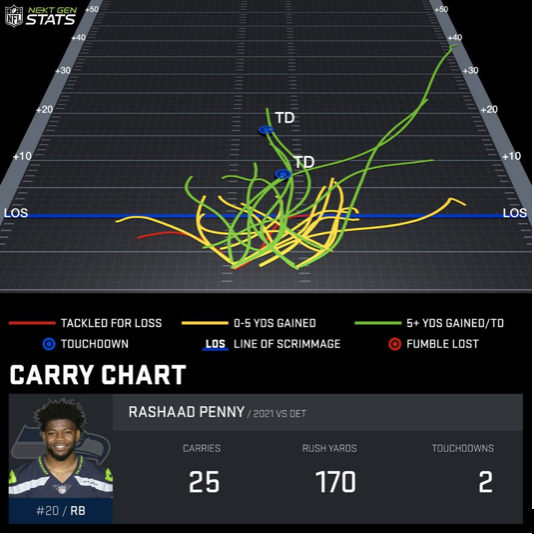 Look at all those green 5+ yard runs right up the gut.
It was a fabulous performance.  Feel free to watch some highlights of his day.  You will see the interior at times giving Penny just enough room to get skinny and at others, just blowing lineman off the line of scrimmage.  It was like an express lane to the second level.  By the end of the day, Lion free safety Tracy Walker was becoming quite familiar with Penny.  Walker had no help from the front seven, as you see him being the lone player to touch Penny more than once.  If Penny can come even close to duplicating that performance this week, that will go a long way towards steering the team towards success.
It is also about time that Ken Walker get more involved in the offense.  He had a tantalizing run Sunday against the Falcons.  He can run inside and be used all kinds of ways outside.  A nice homecoming of sorts for him could be in store.
If these two can have the kinds of performances they are able, the offense can control this game and really build some confidence for the next stretch of games.
But as we know, the running game is not all about the backs.  The interior of the offensive line has been horrid so far this season.  They have made Penny and Walker earn every single yard when they run inside the tackles.  Nothing has come easy for them.
The PFF's for the group are hard to look at.  Lewis leads the group with a 53.7.  Jackson has a 51.9.  Part time starter Phil Haynes is clocking in with a 43.3.  Free agent addition Austin Blythe is somehow making Kyle Fuller look like a preferable option with a terrible 39.6 rating.
What was supposed to be a steadying presence with bookend rookie tackles learning the ropes has been ghastly.  Once again – just three games into their NFL careers – the rookies are showing the veterans up.  That is not acceptable.  The Seahawks need the interior of the offensive line to click as badly as they need the interior defensive linemen to get their act together.