This is a guest article by Curtis Allen. Later today tune into the instant reaction live stream which will be available on here and on our YouTube channel at a slighter later time due to the fact I am attending the game. The best way to know when we're going live is to subscribe to my channel and select the 'notification' button. 
The Seahawks captured the NFL's attention in Week One with a hugely satisfying win over Russell Wilson and the Broncos and they have done so again with an impressive four game winning streak. They are playing as well as any team in the NFL right now.
Tampa Bay is not. At 4-5 they sit atop maybe the NFL's worst division and are not playing particularly well. They did snap a three-game losing streak with a gutty drive to beat the Rams last week.
And yet we all know that Tom Brady can deliver when he steps onto a big stage.
Pete Carroll's teams are no slouches in that area either. They came to London in 2018 and dominated the Raiders. Since that game, however, they have an uncharacteristic 11-8 record in prime-time games including a horrid 0-5 last year.
Everything about this season feels different though. The infectious energy that led them to take on the NFL's greatest challenges and win in years past has returned to the team this year. Belief is more than just a buzzword spray painted on a locker room wall.
Led by a young influx of great rookie talent, a quarterback staging a late-career renaissance and some excellent additions that are fitting right in, this team is going to be a tough out on Sunday for Tampa Bay.
How can they beat the Buccs and go into their bye week a sparkling 7-3? They will need to combine disciplined play mixed with a heavy dose of patience.
Defend Tom Brady
Tom Brady is the Buccaneers offense. Their total rushing attempts are near the bottom of the NFL and Brady is on track to shatter the all-time records for both pass attempts and completions in a season.
Given how vital he is to the offense and that the Bucs have a banged up offensive line, how in the world are they managing to keep Brady upright and so clean? He is only being pressured on a league-low 13.3% of passes and is in the bottom quarter of the league in times sacked with fourteen.
It is definitely not due to his scrambling ability. He only has two recorded scrambles this year.
Tampa has employed the strategy that has become increasingly popular around the NFL — get the ball out of the quarterback's hands as quickly as possible and let your receivers make plays. Brady is averaging an extremely slim 2.1 seconds in the pocket to get the ball out, the quickest number in the NFL. It solves many things — it keeps Brady from getting hit or injured, which let's be honest, at his age is a bigger factor than other quarterbacks. It also keeps the pass rush from teeing off on him, considering they are one of the most lopsided pass/run teams in the league.
What is the tradeoff of this strategy? They are more predictably horizontal than vertical. Brady is averaging career-lows in average depth of target (6.8 yards) and completed air yards per attempt (3.4). In effect, they are substituting screens and other dump offs for a running game and relying on slants and short back shoulder throws to make their offense go while mixing in the occasional throw past the sticks.
Here is the good news. The Seahawks match up very well with this style of play. They have faced several teams so far this year who employ this quick-passing horizontal style. Among them — Arizona (twice), the Giants, the Chargers and the Niners.
Overall, how has the defense fared defending this style of passing? Remarkably well. All of those teams have had dreadful days passing the ball against this defense. They all experienced either season-lows or near their season low in passing yards against this defense. Only San Francisco was able to rely on their running game to pick up the slack.
The Seahawks know how to defend this style. They have patient defenders who can make tackles when needed and keep the game in front of them.
I say that with full knowledge that the Seahawks had a troubling game last week with tackling against the Cardinals. Yet this team overall has done much better than in previous seasons. It is also noteworthy that the offense is supporting them as well or better than they have been, which makes it easier to work around the occasional mistake.
So, this will require a team effort to be good at tackling. Tampa has many weapons to defend and Brady excels at finding matchups that he likes and exploiting them.
For instance, Josh Jones is currently one of the worst tacklers in the NFL in his limited time on the field, missing 22% of tackles. He will have to be better, as the Seahawks seem to have found a player in Ryan Neal and want to keep a lesser player (Cody Barton) off the field, particularly this week given the Bucs throw so much.
With a game plan so terribly focused on quickness, the key will be taking away Brady's first read. If defenders can jam, reroute or simply stick to their men and present Brady a murky picture, their chances of having a successful down go up exponentially.
The Bucs sputtered badly against the Rams last week whenever Brady had to go to a second read as the pressure started to accumulate around him.
Everything about it was bad — Brady's form, his decisions on where to go (frequently short of the sticks on a critical down), his throws did not lead the receivers as much as they should and his receivers did not help him out (Tampa leads the NFL in dropped passes this year with 23).
On the other hand, whenever the Ram defenders played 5-6 yards off the receivers (which they especially did on the final game winning drive), Brady is happy to throw simple routes and take the free 5-7 yards, thank you very much.
So how can the defense force Brady into these types of decisions? Stopping him in the early downs is key. Forcing the offense into a third and five or more will do wonders in keeping this offense in check.
One area that seems very intriguing for the Seahawks to keep an eye on is their running game in the early downs. Tampa runs on first down 40% of the time but it is almost out of obligation, trying to keep up some semblance of offensive balance to keep the defense guessing.
When they run on first down and they gain less than five yards, that sets up the defense to have a good second and third down.
That is true when you are playing against any team. So why is that any more important on Sunday? Answer: You give yourself a little more field to work with and defend against a conversion. On a third and six, if Brady completes a dump off, you have three yards or so to get that defender to the ground instead of maybe just one yard or a half yard.
And if you can get that 'take away his first read and bring the pass rush' combo, you can force Brady to just throw the ball away. He might be the most patient quarterback in the NFL. He does not fret over having to punt. However, the tradeoff is he has got to make the plays late in the game when he needs to. This season, it is not happening as much as it typically has. If the defense can force a few of these wasted series early and the offense can build up a head of steam, it will be too late to mount an effective comeback.
In large measure, that approach is working. Brady is only throwing for a 57.7% completion rate on third downs and the running game is not helping very much, therefore the offense is not nearly as effective as we have come to expect from a Tom Brady team.
Stay Balanced and Patient on Offense
Tampa Bay's scoring defense is currently fifth in the NFL, allowing only 18.3 points per game. That is commendable, but also needs some context.
Four of their games have come against bottom-10 scoring offenses. They have also played well against division opponents with decent offenses but when faced with a really good offense, they have struggled.
They have had two games against top-five scoring offenses. The Chiefs hung 41 points on them and the Ravens two weeks ago put 27 on them. In both games, the Tampa defense could not stop them from moving the ball and the offense could not score enough to hang with them and they ended up losing those contests.
I am not saying the Tampa defense is not good – they have a lot of things to respect – but the Seahawks currently have the #4 scoring offense in the NFL and high-functioning offenses have done very well against this defense in 2022.
Teams that provide a real challenge to Tampa are playing incredibly balanced football:
— Kansas City only got 228 yards passing, but ran for 189 yards.
— Baltimore had an almost identical setup, with 222 yards passing and 231 yads rushing.
— Carolina smoked them 21-3 on the strength of 170 yards passing and 173 rushing.
KC and Baltimore owned the time of possession category in their games against Tampa, winning by nearly 17 minutes. Kansas City did such a great job forcing the Bucs to be one-dimensional, Tampa came away from that game with only three yards rushing. Three!
The punchline being, it is easy to look at excellent Tampa defenders like Vita Vea, Shaq Barrett, Lavonte David and Antoine Winfield Jr and their team scoring numbers and think that this is a serious defense for the Seahawks to contend with.
The truth is, if Shane Waldron and Geno Smith can keep up with the kind of performance they have shown us so far, they should be able to play the game they want to play. They will just need to stay patient and know their shots will come.
Some keys…
Tampa Bay is one of the five worst NFL defenses against tight ends. The Seahawks have been attacking teams and making them cover at least two tight ends and sometimes three on every play. Geno Smith has been able to find options frequently. And not just moving the chains type options but big strike plays like we saw Noah Fant make last week against Arizona. The mixing of plays and using the field from sideline to sideline will greatly help them in attacking this defense.
What about in the run game? Tampa is conceding an average of 122 yards a game in their losses. You can run on them. Baltimore had four different players have explosive runs. Even for a good running team like the Ravens, that is impressive. The Panthers also had four explosives.
Opportunities will be there for the Seahawks to move the ball on the ground.
One caveat: Tampa Bay leads the NFL in tackles for loss. They get about 5-7 per game. If the offense can accept that this will occasionally happen and stay patient, they will have chances for some big gains, especially on the ground.
Where should the Seahawks send their runners? I'll answer that by showing you the run charts for the Carolina's D'Onta Foreman and Baltimore's Gus Evans for their games against Tampa: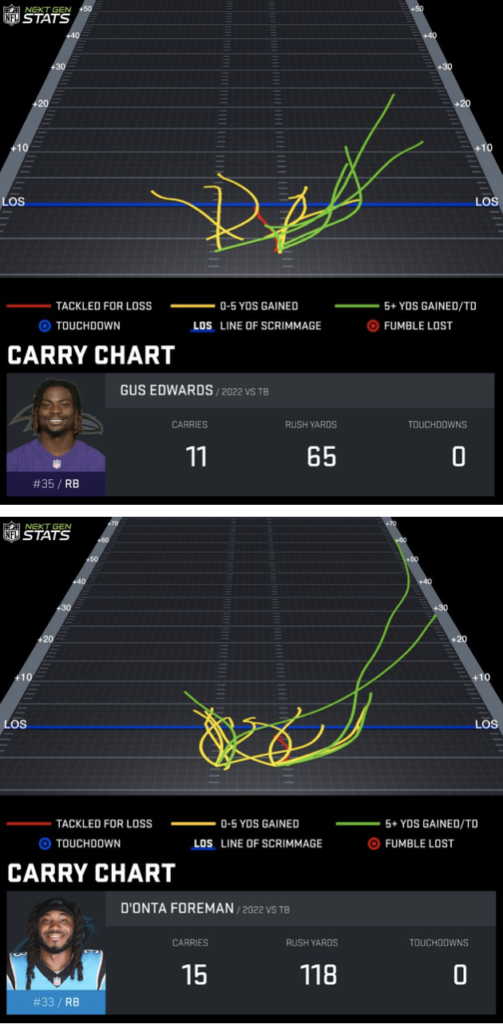 Look at all those green lines running to the right side against the Bucs defense. Abe Lucas might have a really big day in the run game.
There will be multiple opportunities and ways for this offense to move the ball in this game. They have ascended from being a younger team with a questionable quarterbacking situation to a fully functioning offense with a near-complete arsenal of weapons.
Time to show it to the world.
Just over an hour and a half before kick-off #NFLMunichGame #Seahawks pic.twitter.com/ZY1hWEKf5d

— Rob Staton (@robstaton) November 13, 2022